Moving In Japan: Recommended Moving Companies And Services
You may have had a single suitcase when you first arrived in Japan. However, you'll acquire more belongings to fill your home as you continue residing here. What should you do if you're planning on relocating to a new residence? Leave it to Japan's moving experts to be of assistance!
Tips for Moving in Japan: How to Request a Moving Company
Photo by Pixta
As our writer settled in Japan, her belongings began to increase from purchasing new items. When it came time to move, she regretted buying so much stuff.
Fortunately, many Japanese moving companies offer packing services. Some companies even use cushioned cardboard boxes made for tableware, which saves you the time and trouble of individually wrapping plates in old newspapers.
In addition to the major moving companies featured in TV commercials, there are smaller companies and sole proprietors that offer private services. This allows you to compare and choose a company that suits your budget and needs. Even if you only have a single piece of furniture or luggage to move, some companies will transport it for you. This is great for people who want to give away furniture, such as a cabinet or bed, or need to deliver items to a buyer on a flea market app.
Looking for an apartment? Asumirai offers consultations in English, Chinese, and Korean, as well as additional support services.
The Steps for Hiring a Moving Company
A moving company is usually hired to transport belongings during a move. The general steps are as follows:
1. Calculate the number of household goods you own and request free cardboard boxes from the company (Some movers may set a date to get an estimate).
2. Pack your belongings in the cardboard boxes. (Excluding large furniture like shelves, refrigerators, and washing machines.)
3. On your moving day, the company staff will pack and deliver all large-sized belongings.
4. Once they finish carrying out your belongings, you will head to your new home.
This is a rough idea of the procedure. In reality, the move itself requires a lot of work, like deciding which company to go with and packing up.
The Most Recommended Moving Companies
Let's take a look at a handful of moving companies in Japan offering attractive services. The table below has details on each company.
1. Yamato Transport
Pros
Cons
Available nationwide in Japan. They provide great quality service and have a good reputation.
Cardboard boxes are not free. Their single-person moving service only transports belongings that fit on two utility dollies.
2. Sakai Moving Service
Pros
Cons
Offers wide selection of services that fit various budget and needs.
Price quotation requires direct communication with the company.
3. Art Corporation
Pros
Cons
They offer a "Ladies' Plan" for female customers that only assigns female movers.
Price quotation requires direct communication with the company.
4. Dekataku
Pros
Cons
Transportation available at low rates, even for a single item.
Service areas are limited to Tokyo, Chiba, Saitama, and Kanagawa.
1. Yamato Transport
Picture courtesy of PR TIMES
This is one of Japan's major delivery companies, known for their black cat logo. They offer luggage delivery and moving services with security and quality standards.
Until now, it wasn't sensible to choose a major company for a single household with few belongings. This is because Yamato Transport had branded itself as a company that transports a large number of goods.
However, the parcel delivery provider has developed a service for single households called Single-Person Moving. This service transports your belongings in a special cart box that is 104cm (3ft 4.9in) deep, 104cm wide, and 170cm (5ft 6.9in) tall.
A single cart box will be sufficient if you have few belongings. However, you will need two boxes for electrical appliances like a refrigerator or washing machine. Prices vary according to the number of boxes and the distance between your old and new residence.
The company also offers optional services such as washing machine removal and installation, TV and internet wiring installation, and light installation. These are available for an additional charge.
Service Area: Nationwide
Official Website: https://www.008008.jp/en/
*Moving services are handled by Yamato Home Convenience Co., Ltd. under Yamato Holdings Co.
2. Sakai Moving Service
Picture courtesy of PR TIMES
Sakai Moving Service is a major moving company with an eye-catching panda logo. They offer several plans and services for customers.
The Shared Delivery Plan (ご一緒便コース) transports your belongings in the space of their truck. This service is for people with few belongings, who have plenty of time until their arrival date. Other options include the Saver Plan (せつやくコース) where the staff transport only large furniture and electrical appliances and the customer packs everything else. The Comfy Plan Premium (らくらくコースプレミアム) leaves all of the tedious work to the staff—including packing, carrying, and cleaning your new residence.
Optional paid services include house cleaning, internet subscription, landscape services, land freight services to transport your car, and disposal of unwanted items.
Service Area: Nationwide
Official Website: http://www.hikkoshi-sakai.co.jp/ (Japanese)
3. Art Corporation
Picture courtesy of PR TIMES
If you've been in Japan for a while, the company jingle will pop into your head as soon as you see the "0123" logo; the Art Corporation is known for its catchy commercial song.
They offer three primary moving plans. The most economical is the Basic Plan, which requires the customer to pack and unpack everything except for large furniture. The Half Plan will have the staff pack for moving, but the customer must unpack themselves. This plan is recommended for those who prefer to take their time organizing everything themselves. The most comfortable option is the Full Plan, which leaves everything—including packing and unpacking—to the staff.
They also offer a Ladies' Pack for female customers. On this plan, only female staff will assist in moving.
A standout feature among their free services is the After Service. The company will collect your cardboard boxes for free as long as it's within three months of your moving date. Staff will also move large furniture items, such as cabinets and beds, free of charge within one year of your move. Keep in mind that these complimentary services are offered only once within the allocated timeframe.
Moreover, there are plenty of paid options that include collecting unwanted household items, air conditioner cleaning, and house cleaning. Fees will vary based on the size of your residence.
Service Area: Nationwide
Official Website: https://www.the0123.com/ (Japanese)
4. Dekataku
Picture courtesy of PR TIMES
If you're someone with only a few belongings, what should you do when you move?
Dekataku (Japanese) is unique among the companies mentioned in this article. They focus on customers who need to transport a single item, or a small quantity that would be difficult to send via mail.
We suggest you use Dekataku if:
1. You moved your own belongings, but were unable to transport a large piece of furniture or electrical appliance.
2. You sold large furniture online and need to send it to the buyer.
3. You're giving unwanted large furniture and/or electrical appliances to acquaintance(s).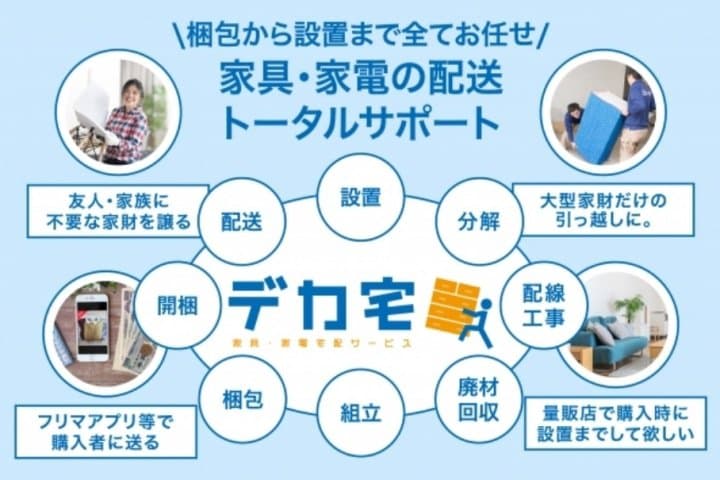 Picture courtesy of PR TIMES
Another benefit of using Dekataku is that you don't need to wrap or pack your belongings yourself. As soon as the staff arrives, they will wrap your belongings in cushioned material and deliver it to the designated address. Bed dismantling and assembly are also available, for additional fees. As for washing machines, the removal is free, but the installation will be an extra charge.
The delivery fee is calculated by the sum of the item's three sides (width, depth, and height) and destination address. For example, sending a top-load washing machine totaling 186cm (6ft 1.2in) from Chiba Prefecture to Tokyo (within the 23 wards) would cost 3,200 yen.
Service Area: Tokyo, Chiba, Saitama, and Kanagawa
Official Website: Dekataku (Japanese)
Ready to Move? Don't Forget to Ask for a Quote
When moving, don't forget to calculate the delivery fee of your belongings in addition to rent and other expenses. The cost will increase the farther you plan to move and the more belongings you have. Carefully decide which company to use by comparing fees among the various options available!

Main image by Pixta

The information presented in this article is based on the time it was written. Note that there may be changes in the merchandise, services, and prices that have occurred after this article was published. Please contact the facility or facilities in this article directly before visiting.