A Checklist For First-Time Movers In Japan
If you're moving for the first time, you may be wondering what steps are involved in the process. This article provides a checklist of procedures and essential documents that require submission. Read on to learn about the do's and don'ts of a hassle-free move in Japan.
How to Handle Your First Move
Those living in Japan for an extended period may have relocated for their work or studies. While friends can assist with moving, specific procedures must be followed. Moreover, you should check the paperwork that needs to be submitted to government offices beforehand.
This article will be a guide to get you through your first move.
Looking for an apartment? Asumirai offers consultations in English, Chinese, and Korean, as well as additional support services.
The Cost of Moving
As a rule of thumb, whatever the monthly rent at your new apartment, the total moving cost will be somewhere between four to six times the rent expense. If you are planning to buy new furniture, the price may increase even more. Be prepared for any fees in advance, so you don't break the bank.
Three Methods of Hassle-Free Moving
Photo by Pixta
There are several ways to transport furniture and belongings, with varying costs. The following is a list of methods, including pros and cons.
1. Using a Rental Car
Photo by Pixta
If you live alone and have minimal belongings, the best method of moving may be using a rental car. However, this might be difficult to do alone, so be sure to ask a friend to lend a helping hand. Don't forget about choosing a driver to handle the transport on moving day.
While this do-it-yourself method is budget friendly, there is a lot of work from packing, planning, to buying gifts for friends who came to help.
2. Using a Moving Company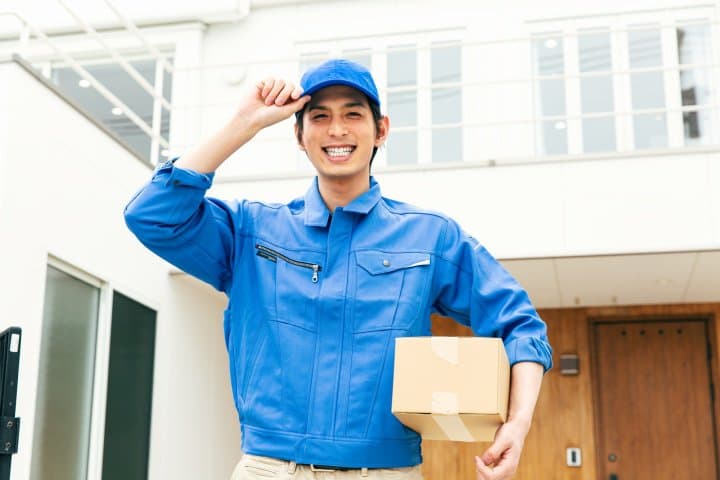 Photo by Pixta
Japanese movers are true professionals and handle large furniture and electric appliances with the utmost care.
Of course, this means it will be more expensive. Fees vary depending on the season, time slot, distance to the new apartment, and the number of belongings to be moved. All told, moving costs may be anywhere from 20,000 yen to 100,000 yen for a single person.
As March and April are the peak season for movers in Japan, relocating in a less popular season November, without  reserving a designated time slot, could result in a relatively inexpensive move.
Every mover has different costs and services, so take a look at this moving estimate site (Japanese link) to make a comparison. Prospective customers will receive a lot of phone calls and e-mails. If you are not fluent in Japanese, look for a site that only communicates via e-mail.
From All About Deliveries In Japan - From Mail Carriers To Receiving Packages (Japanese Link)
Those who speak Chinese should check Top Pro, a moving company that assists Chinese natives living in Japan. The cost is fairly low, and the packing is reliable. All of your items will be insured, so there is no need to worry about potential damage. Top Pro even offers a temporary storage service.
3. Using a Home Delivery Company
Photo by Pixta
If you are moving on your own, we recommend using Yamato Home Convenience, a subsidiary of Yamato Transport. Special boxes are used to store furniture, and the transportation cost varies according to the number of boxes. For more details, please check their official site.
Official Procedures and Paperwork for Moving
There is still additional work to do after deciding on a new apartment, signing the contract, and securing your moving date.
Submit Paperwork at Your Local Government Office
Photo by Pixta
When relocating within the same city or ward, you must file a notification of relocation (tenkyo todoke). A move-out notification (tenshutsu todoke) is required if you will be moving to another city. Ask your local government office about these papers. After filing a move-out notification, visit the local government of your new address to submit a move-in notification (tennyu todoke).
Deadline: It is advisable to file these notifications one to two weeks before your move. Fourteen days after the move is the final deadline. A penalty fee up to 50,000 yen might be imposed if you miss the submission date.
Identification: Every municipal office requires various forms of identification—namely, a residence card, inkan (personal seal), insurance card, and My Number card. Be sure to check their official site before visiting.
| | |
| --- | --- |
| Necessary Procedures | Identification |
| Notification of Relocation (Tenkyo Todoke) | Identity verification documents, personal stamp (inkan), national health insurance card, and residence card/special permanent resident certificate. |
| Moving-Out Notification (Tenshutsu Todoke) | Identity verification documents, personal stamp (inkan), national health insurance card, and residence card/special permanent resident certificate. |
| Moving-In Notification (Tennyu Todoke) | Identity verification documents, personal stamp (inkan), national health insurance card, tenshutu (moving-out) certificate, and residence card/special permanent resident certificate. |
| Residence Card Application | Residence card and application form. |
| Change of Address for National Pension System | National pension notebook, personal stamp (inkan), and identity verification documents. |
Mail Forwarding Procedures
This forwarding service ensures that mail will be redirected to your new address.
You can either file the paperwork at a post office, or sign-up for e-tenkyo (online application for mail forwarding) on Japan Post's website.
Cancelling and Re-Signing Your Utilities Contract
If you are paying utilities, don't forget to cancel the current contract before signing a new one. Most contracts can be changed online, so be sure to check beforehand.
Please note that a resident must be present for the utility company to open the gas valve at your new residence. If you are moving during the peak season, make an appointment with the gas company two weeks before the move. During other times of the year, an appointment should be made two to three days before the moving date.
Final Inspection Before Moving
Photo by Pixta
On the day of your move, the landlord or the management company will check if there for any damage to the apartment. The repair cost will be deducted from the security deposit, and the remainder will be refunded.
How to Get Rid of Unwanted Furniture
Photo by Pixta

To discard oversized objects in Japan, residents must pay a fee to either the local government or moving company. If the item can be re-used, try selling it on a flea market app like Jimoty, Mercari, or Rakuma.

You can ensure a hassle-free move by making the necessary preparations in advance!

The information presented in this article is based on the time it was written. Note that there may be changes in the merchandise, services, and prices that have occurred after this article was published. Please contact the facility or facilities in this article directly before visiting.