AIROS Skyview: Take A Helicopter Tour Of Top Sightseeing Spots
This service includes sponsored advertisements.
AIROS Skyview operates helicopter tours over popular sightseeing spots, such as Tokyo, Kyoto, Hakone, and Mt. Fuji. The fare for this exhilarating experience starts from 17,000 yen. In addition to creating unforgettable memories, it is ideal for a marriage proposal or celebrating an anniversary.
Take in the View From Above
Frequent visitors to Japan may be familiar with the cityscape of Tokyo or Osaka. However, taking in the view from a helicopter will be sure to your perspective!
This article will introduce the helicopter sightseeing tours of AIROS Skyview.
What is AIROS Skyview?
Picture courtesy of PR TIMES
AIROS Skyview operates helicopter tours over popular sightseeing spots in Tokyo, Osaka, and Kyoto.
The flights are all chartered, so it's perfect for celebrating an anniversary with someone special or making a marriage proposal.
Although riding a helicopter may sound expensive, the starting fare is around 17,000 yen as of October 2020. Passengers can casually enjoy a unique experience from the sky.
AIROS Skyview's Recommended Spots
AIROS Skyview currently offers its services in Tokyo, Yokohama, Osaka, Kyoto, and Hiroshima.
The flight time and courses vary, so those interested in booking an inexpensive flight, enjoying a leisurely date, or viewing spectacular nature in suburban areas will all be satisfied with the services.
Tokyo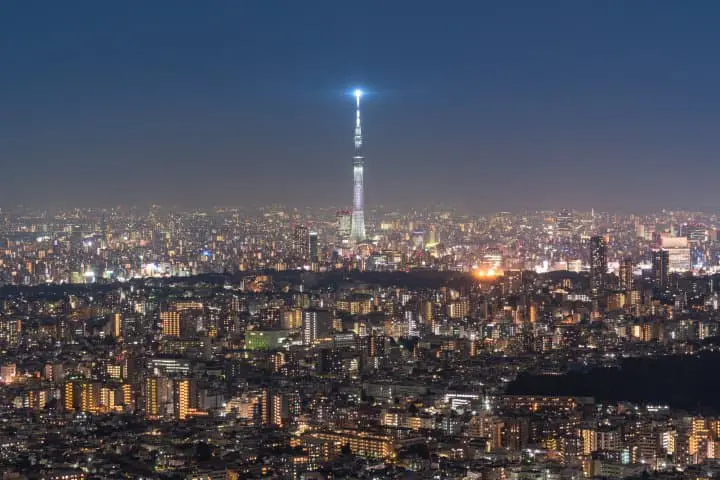 Picture courtesy of PIXTA
Tokyo is full of photo spots such as the skyscrapers in Shinjuku and the Tokyo Skytree. In addition to the inner-city tour, there is a helicopter cruise of the Tokyo Bay area, which showcases Odaiba and the Rainbow Bridge. You can even visit scenic spots such as Hakone and Mt. Fuji during the flight.
AIROS Skyview also offers a flight service between Tokyo and Narita Airport. Since it only takes 18 minutes, it is a convenient transportation route for high-flying business people.
Yokohama
Picture courtesy of PIXTA
The popular tour in Yokohama includes visiting the Minato Mirai district to admire the stunning night view. Since the vibrant Yokohama Bay area has appeared in many TV dramas, the scenery will create a romantic mood for the passengers.
Osaka
Picture courtesy of PIXTA
As pictured above, another popular tour includes cruising cultural heritage sites, such as the tomb of Emperor Nintoku and other ancient burial mounds. In addition to a bayside tour, there is a landmark tour featuring Osaka Castle, Tsutenkaku Tower, and the Abeno Harukas skyscraper.
Kyoto
Picture courtesy of PIXTA
In the ancient capital of Kyoto, you can tour historical spots such as the golden pavilion Kinkakuji, Kiyomizu Temple, and the popular tourist district of Arashiyama. This cruise also includes a tour of Lake Biwa, the largest lake in Japan, which neighbors the city.
Hiroshima
Picture courtesy of PIXTA
Passengers can enjoy the natural beauty of Hiroshima, a seaside city surrounded by mountains. The inner-city tour includes popular locations such as the Peace Memorial Park, Atomic Memorial Dome, and Mazda Stadium. Additionally, there is a tour that includes Itsukushima Shrine: a Shinto shrine selected among the Three Scenic Views of Japan.
How to Make a Reservation
AIROS Skyview has a user-friendly reservation system. Simply follow the instructions below to complete the process.
Advance Booking
Picture courtesy of AirX Inc.
All helicopter flights require a reservation. Select your preferred time and date from the official website. The site can be viewed in Japanese and English, as well as both traditional and simplified Chinese.
Head Directly to the Heliport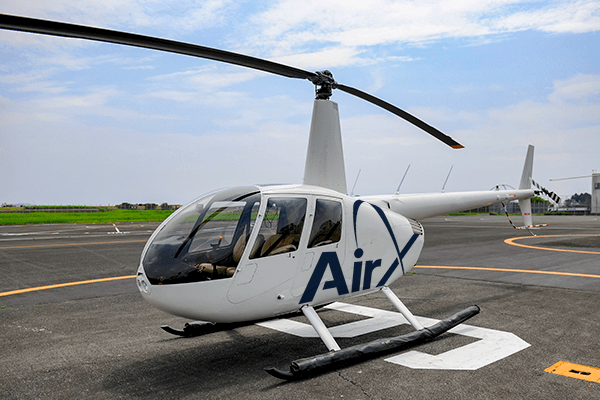 Picture courtesy of PR TIMES
After making your reservation, head directly to the heliport on the day of the flight. The heliport locations are listed on the official website.
If a flight is canceled due to weather conditions, passengers will be notified via e-mail, so don't forget to check beforehand.
Changing Your Flight Date and Cancellations
Those who wish to change their booking must contact AIROS three days before the flight. For a full refund, cancellations must be made four days before the flight, or you will be charged a fee.
Please send an e-mail to the operating company (support@airos.jp) in these situations. For further information, please check the FAQ on the official website.
Create Unforgettable Memories on a Helicopter Cruise
A sightseeing tour aboard a helicopter will be an unforgettable memory of your trip to Japan. Why not give this exhilarating experience a try with someone special?

Main image courtesy of PIXTA


Written by

Editor for MATCHA's Taiwanese website. I come from Changhua, Taiwan. Before coming to Japan, I worked as a tour guide and as a coordinator for press coverages at a television company and a magazine from Japan. I've just reached middle age. Besides, I like to go to izakayas and streets lined with bars that are popular with middle-aged men, so I call myself "uncle MATCHA."

The information presented in this article is based on the time it was written. Note that there may be changes in the merchandise, services, and prices that have occurred after this article was published. Please contact the facility or facilities in this article directly before visiting. Some of our articles contain affiliate links. We kindly ask our readers to exercise careful judgement when making a purchase or booking a service online.