Local Beer, Seafood, and Great Views! Visit Kurobe and Uozu, Toyama
Learn about Kurobe and Uozu, two cities in Toyama, where you can enjoy nature, hot springs, and local food. Popular destinations and festivities include Unazuki Onsen, Kurobe Gorge Railway, and the Tatemon Festival. For foodies, the locally produced cheesecake, beer, and sushi are must-eats!
Witness the Beauty of Kurobe Gorge's Nature by Rail!
Kurobe Gorge in Toyama is a place where you can marvel at a stunning emerald green river flowing through the verdant valley.
Take in the gorgeous sights of Kurobe Gorge by riding the retro Kurobe Gorge Railway. The entire route is 80 minutes one-way, starting at Unazuki Station and ending at Keyakidaira Station.
Our writers boarded a windowless railway car to enjoy the unobstructed views. Entering the tunnel and feeling the soft, pleasant breeze was a thrilling experience.
Photo by Pixta
In fall, you can see the wonderful fall foliage reflected in the jade-colored Unazuki Lake. Other sights include a power plant resembling an old European castle and a beautiful red bridge.
Here's a fun fact! In 2013, Kurobe Gorge Railway and Taiwan's Alishan Forest Railway became sister railways. A plaque commemorating their partnership is displayed at the front of both trains.
Check the official website for timetables and fares
*When visiting in fall, be sure to wear warm clothing. The temperature at Kurobe Gorge in late October is a chilly 10°C.
Disembark at Keyakidaira Station, the last stop, and walk to Okukane Bridge. A spectacular view awaits!
Once you cross Okukane Bridge, you'll see an unusual stone formation called Hitokui Rock ("people eating rock"). The rock resembles a mouth stretched wide, and is quite an impressive sight!
Public bath admission: adults 500 yen, elementary school students 200 yen; towel rental 200 yen.
If you have time to spare, bathe in the hot springs at Keyakidaira Onsen Sarutobi Sanso, the open-air bath closest to Hitokui Rock. If you're lucky, you may be soaking in the hot springs with a panoramic view all to yourself!
A Lavish Vacation at Unazuki Onsen
Picture courtesy of Unazuki Onsen Ryokan Association
The hot springs at Unazuki Onsen are drawn from a source upstream of the Kurobe River. With a history spanning nearly 100 years, it's said to be the clearest hot spring in Japan due to its transparent waters.
The hot water is gentle on the skin, with a slight acidity that promotes the removal of metabolic waste and improves your skin's moisture. It's also known as a "hot spring for beautiful skin" because you'll leave with silky smooth skin.
Visitors can soak in the open-air baths while gazing at the seasonal views of the Kurobe River at any of the hot spring inns or hotels. The outdoor scenery reflected in the crystal clear hot spring water is a calming sight.
Unazuki Onsen Delicacies Made With Its Famous Waters
Unazuki Onsen also has a selection of tasty specialties.
Running to the west of Kurobe River is the Tateyama Mountain Range. Snow melts and flows into the Kurobe River through the fan-shaped valley before finally becoming spring water. This mineral-rich water helps create amazing food.
Alpen Cheesecake: Dessert That Expires in 10 Minutes?
The Illusive Alpen Cheesecake (660 yen with tax *available in limited quantities)
The Illusive Alpen Cheesecake is a popular dessert that expires in just ten minutes! This orange cream cheesecake is made with local milk from Kurobe. The airy texture will also melt in your mouth.
Its pyramid shape is reminiscent of the Tateyama Mountain Range. The white cheesecake could almost be a mountain covered in snow. As it melts in your mouth, savor the pairing of fresh cream and bittersweet raspberry sauce.
Unazuki Beer: A Beverage Whose Yeast Flavor Comes to Life
We also recommend tasting local beer made with the region's famous mineral water.
Unazuki Beer Hall creates a local brew called Unazuki Beer. Following the traditional German technique, the beverage is made with Kurobe water and two-row barley. Unazuki Beer can be sampled at the brewery's in-house restaurant.
Next door, Michi-no-Eki Unazuki Shokusaikan has a selection of souvenirs including original Beer Hall products and local specialties.
Unazuki Beer Selection: (left to right) Jujikyo, Torokko, and Kamoshika (330ml, 550-580 yen with tax)
Unazuki Beer is packed with minerals and vitamins, which means you can taste the flavor of active yeast. Our writer ordered and sampled three kinds of Unazuki Beer.
Jujikyo is light in flavor and goes down smooth. Torokko leaves an aromatic aftertaste while Kamoshika has a pleasant aroma from the barley. In other words, each beer has its own unique traits!
Unazuki Beer with Curry Onion Soup (700 yen with tax)
Don't miss out on Unazuki Beer Hall's curry rice cooked with Kamoshika Beer. You can smell its rich barley aroma after tasting the tingling spices, which gives the dish an amazing flavor. You'll be hooked by the spicy sauce and the natural sweetness of white rice.
Top 3 Street Foods at Unazuki Onsen
The hot spring town of Unazuki Onsen is brimming with stores loved by locals. Now, let's buy some street food coupons at Yumedokoro Unazuki: a hot spring next to Unazuki Station.
A coupon costs 500 yen. You can choose three of the 11 stores in Unazuki Onsen and the nine stores in Kurobe when exchanging the coupon for food.
Yamatoya's Fragrant Soy Milk
At the 70-year-old Yamatoya, you can exchange a coupon for a cup of soy milk. The drink is made with protein-packed soybeans boiled in Kurobe's mineral water, making it sweet and tasty.
Rest Plaza Kashiwaya's Watermelon Soft Serve
Rest Plaza Kashiwaya's specialty is their watermelon soft serve ice cream. This excellent dessert was thought up by the manager after countless experiments using Nyuzen Jumbo Watermelons as the main ingredient. This large watermelon variety is watered and grown with Kurobe's mineral water.
The ice cream is mildly flavored, and the watermelon gives it a firm sweetness. It's the only flavor of its kind!
Rest Plaza Kashiwaya Information:
Address: Toyama, Kurobe, Unazuki Onsen 372
Business Hours: 10:30 – 15:30
(1F) Store/Soft Serve 9:30 – 17:00, (2F) Dining Hall 11:00 – 15:00
Holidays: Irregular
Black Sugar Manju and Rice Crackers from the Historical Tsuboya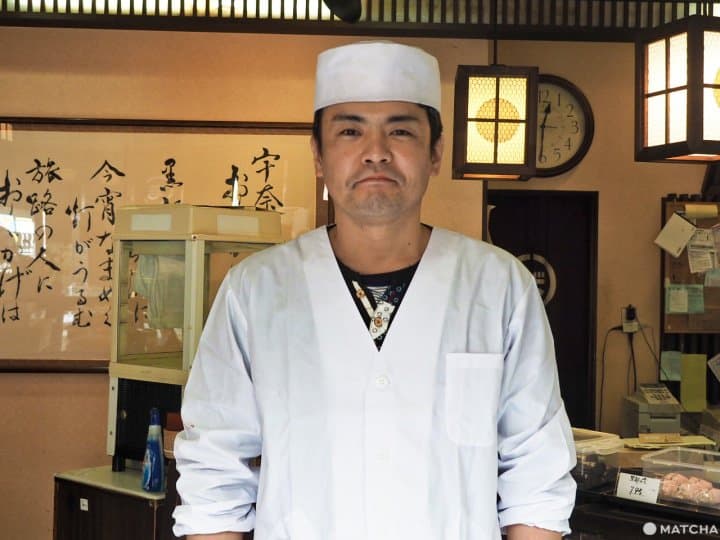 Tsuboya is a wagashi (traditional Japanese confectionery) store established over 90 years ago. The store hasn't closed once since the opening of Unazuki Onsen and has continued to create handmade manju (steamed buns) for travelers to the area.
Mr. Ueno—the fourth generation owner—specializes in making red bean paste for his manju entirely from scratch, starting with the azuki beans.
We exchanged our coupons for their onsen manju (steamed buns), an item made since their establishment, and sembei rice crackers.
The buns are flavored with black sugar, whose aroma spreads in your mouth as you eat the manju. The black sugar flavor goes very well with the red bean paste, which is not too sweet. On the other hand, the sembei crackers, imprinted with an adorable beckoning cat, have a savory flavor. It's quite popular with international visitors.
Visit at Least Once! Uozu's Sea and Grand Festival
Uozu, south of Kurobe, is a city where you can enjoy the landscapes of both the sea and mountains. The area thrives in fishing and has excellent seafood cuisine. Another highlight is their regional festival, which is closely linked to the fishing industry.
Sea Mirage – A Mystical Natural Art
Picture courtesy of Uozu City
A "mirage" typically refers to an optical illusion. You can actually witness one in Uozu!
The sea mirage seen in Uozu is a distortion of light caused by cold and warm air intersecting. The mirage—a natural art that brings together light and shadow—is very mystical.
Uozu is a rare place where mirages frequently appear. The city is especially popular with travelers in spring when many photographers come prepared with tripods.
Click for mirage forecast and traffic information (Japanese)
Annual Tatemon Festival and Marine Fireworks Display
Picture courtesy of Uozu City
Droves of sightseers visit Uozu every year for the Tatemon Festival, a registered UNESCO intangible cultural heritage. The festival is held every year in the city at Suwa, on the first Friday and Saturday of August.
Those in the fishing industry believe that "the gracious deity of Suwa Shrine protects all our voyages." The festival is held to pray for a large catch and safety on voyages. During the festival, floats called tatemon are paraded about by shrine parishioners.
There are seven tatemon in total; they stand 16-meters-tall. More than 90 lanterns are strung together in the shape of a sail on each float. Each individual float weighs approximately five tons and has a sled-shaped base.
The sight of young people sweating as they vigorously pull and parade around the tatemon floats is incredible!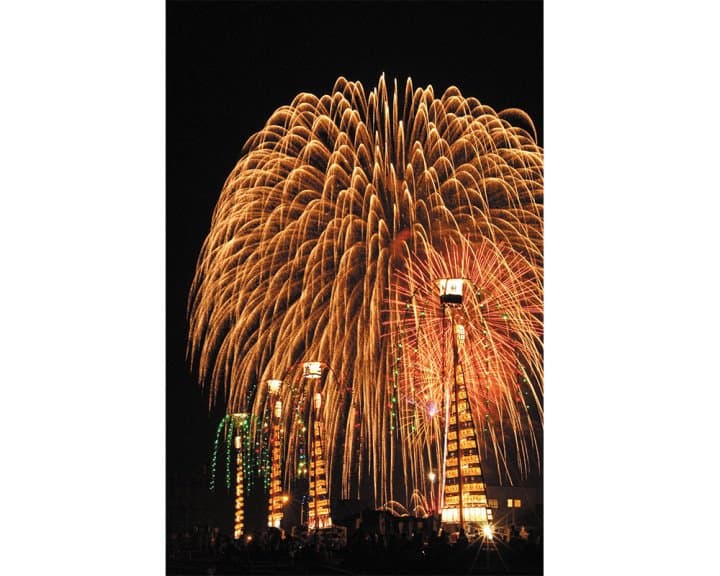 Picture courtesy of Uozu City
On the second night, 2,000 fireworks are launched from the sea. The fireworks are particularly magnificent, as there are no buildings to block the view.
Click for schedules and the latest updates on the Tatemon Festival (Japanese)
A Culinary Treasure Trove! Relish Fresh Seafood and Sweet Apples
All kinds of seafood are caught in Toyama Bay. The locals regularly eat dishes made with fresh seafood.
Uozu is also the southernmost apple production area in Japan. These apples are harvested only when the fruit has ripened on the tree, and are well known for having high sugar content.
Uozumaru – Marvelous Ocean Views and Fresh Seafood
Uozumaru is a diner that looks out on the sea and only operates during lunchtime. This diner is run by the Fisheries Cooperative next to the harbor. It was renovated from a Fisheries Cooperative storage facility in 2019 and transformed with a brilliant blue exterior.
For the people working in the port, this spot is like a second kitchen away from home. The dishes offered include the catch of the day sashimi (thinly sliced raw fish) and daily side dishes. You won't get tired of this diner even if you visit every day.
Their menu has the boss' seal of approval. He didn't like fish until he moved to Uozu, but after eating one of the diner's fresh seafood bowls, there is now almost never a day he goes without eating fish.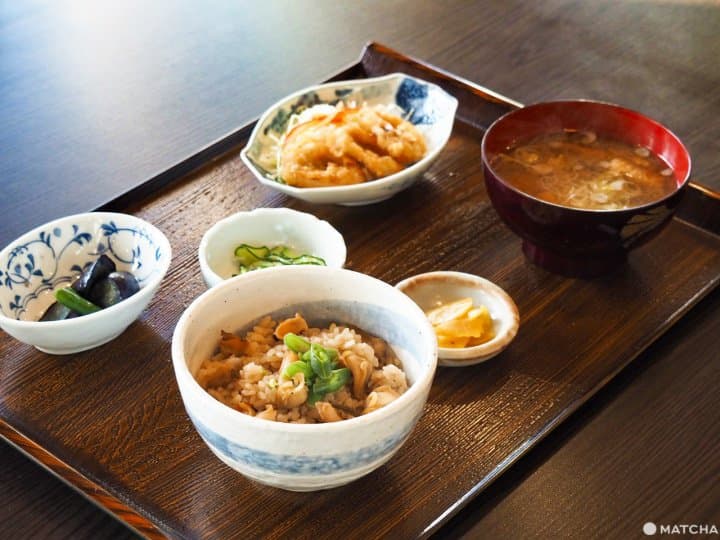 Bai-meshi set meal (1,000 yen with tax)
The Bai-meshi set meal, the diner's specialty, was originally a dish that was cooked for fishermen when they returned from fishing. It's a delicious set meal among locals in the know.
The rice soaks up the broth created from the bai (Japanese babylon, a variety of sea snail) and goes incredibly well with the plump whelks. It's so good that it'll make you want to ask for seconds!
Is It Fruit or Cake? KININAL Sweets
Picture courtesy of KININAL
KININAL, located inside the Uozu Buried Forest Museum, is a dessert shop managed by a 50-year-old Western confectionery store. They have captivated numerous dessert fans since opening with the concept of creating "cakes that aren't like your everyday cakes."
Picture courtesy of KININAL
Their desserts have a unique design and feature bunches of grapes, kiwis, or a seasonally limited apple on top of a cookie dough base. It's truly a cake where the fruit is the star.
Apple cake (850 yen before tax) and apple juice (555 yen before tax)
Our writer ordered an apple cake. The cake contains custard cream, sponge cake, and chestnuts. The cookie is also made from chestnuts. You can fully savor the natural flavor of the fruit with this cake despite it being rich.
Their apple juice is also amazing. The drink contains fruit pulp and almost feels as if you're drinking straight from the apple itself.

Komasa Sushi – Enjoy Sushi Late at Night
Komasa Sushi is open until 4:00 in the morning. Those doing pub crawls at neighborhood bars and food stalls make this restaurant their last stop.
Some sushi restaurants in Japan are expensive and unapproachable. This restaurant, however, serves fresh sashimi-grade fish and sushi at reasonable prices. Many customers come to drink by themselves after work.
Omakase sushi set (880 yen with tax; the chef's choice)
Regulars at the restaurant recommended our writers to get the Omakase Sushi, Crab Chirashizushi, and Buri Daikon (simmered yellowtail with daikon radish). The Omakase Sushi is a nine-piece nigirizushi set with toppings such as the ever popular tuna, salmon, octopus, and squid.
Watching the owner forming the sushi you ordered before your eyes will make the dish taste all the more amazing.
Crab Chirashizushi (1,050 yen with tax)
Open the lid of this wooden container to reveal a jewel-like arrangement of chirashizushi (scattered sushi). The soft crab meat is fresh and filled with sweetness.
Buri Daikon (700 yen with tax)
Buri Daikon is a simmered dish made with buri, or yellowtail, a fish famously raised in Toyama. The broth permeates the daikon radish while the fish is a fatty, mellow flavor. These flavors together make you keep on eating!
Travel to the Beautiful Cities of Kurobe and Uozu
Venture to Kurobe Gorge and the Unazuki Onsen area to be able to relax both mind and body as you soak in the hot springs, all while experiencing the seasons in this beautiful place.

Uozu is where you can encounter sea mirages and other mystical natural landscapes. It's a great opportunity to create memories with the locals by participating in their spirited festival.

On your next trip to Japan, come to see the majestic scenery of the mountains and seas of Toyama and enjoy their local specialties!

Written by Miho & Lin
Sponsored by General Association Toyama Bay, Kurobe, Etchu Niikawa tourist area Council

Main image by Pixta

The information presented in this article is based on the time it was written. Note that there may be changes in the merchandise, services, and prices that have occurred after this article was published. Please contact the facility or facilities in this article directly before visiting.