7 Scenic Views by the Sea of Japan: Maizuru, Kinosaki Onsen, Amanohashidate
Enjoy some of the best views of the Sea of Japan in coastal cities like Toyooka, Maizuru, and Miyazu! We introduce seven scenic locations in this off-the-beaten-track region of Japan, including the view from Mt. Goro in Maizuru, Kinosaki Onsen in Toyooka, and the famous Amanohashidate.
More Than Worth the Trip! Scenic Views Along the Sea of Japan Coast
The cities of Toyooka, Maizuru, and Miyazu are gateways into the fascinating and culturally-rich area along the southern coast of the Sea of Japan. Often overshadowed by the popular 'golden routes,' these cities have flourished relatively undisturbed, filling them with hidden gems perfect for an off-the-trail Japan adventure. With unique, unblemished scenery aplenty, incredible views are around every corner.
Kick off your Sea of Japan tour with these seven must-see spots in Toyooka, Maizuru, and Miyazu!
Toyooka – A Vast City of Treasures
Rather than an interconnected metropolis, Toyooka is a blend of distinct atmospheres, cultures, and histories. From ancient hot spring towns and looming mountain castles to tranquil beaches, Toyooka is brimming with boundless adventures.
1. Kinosaki Onsen - A Charming Hot Spring Town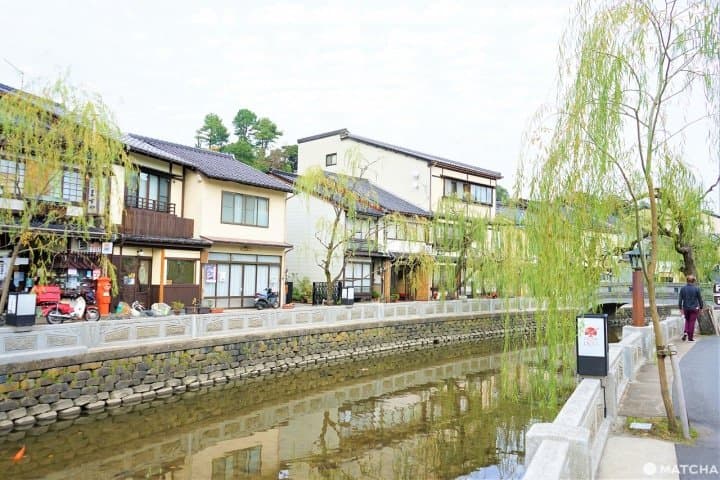 Toyooka's most famous gem, Kinosaki Onsen, is the pinnacle of Japanese hot spring villages. Free of large hotels or shopping malls, Kinosaki is one of the few remaining authentic onsen towns in modern Japan.
The town centers around the Otani River, which connects to the greater Maruyama River flowing into the Sea of Japan. This narrow river was once used to transport goods from the sea inland, naturally creating a commercial district populated by the affluent and cultured.
Kinosaki Onsen is best enjoyed slowly. Book yourself a room at a local ryokan inn, don a yukata and stroll around the ancient yet trendy streets, soaking in the atmosphere. Dozens of onsen dot the town, including seven legendary public baths all boasting naturally-heated, mineral-rich Kinosaki water. If you stay in the town overnight, you'll receive a free pass to all of the hot springs.
The central Kinosaki Onsen area is just a 5-minute walk from Kinosaki Onsen Station.
For more insight into the area's natural wonders, stop by Genbudo Cave, an intricate network of caverns filled with long strips of basalt rock. Nearby is the Genbudo Museum, which details the area's geology and exhibits an impressive collection of precious gems, artifacts, and fossils.
2. Izushi - Traditional Streetscapes in a Castle Town
Izushi is a feudal castle town known for its mountainside torii gates, leading to an Inari Shrine and Edo-era streets. Wandering the town is like stepping into an old samurai film, with classical architecture, shrine-filled forests, and open markets selling all kinds of traditional goods.
Japanese travelers visit Izushi to feel nostalgic, an emotion tapped into by stores selling retro goods like vinyl records. This gives the town an added touch of twentieth century charm.
Start with a small hike up to the scenic remains of the mountainside Izushi Castle. Originally built in 1604, it was a powerful seat of authority until its destruction at the beginning of the Meiji period (1868-1912).
The castle's yagura watchtower, bridge, and the gate have been masterfully reconstructed to allow visitors a taste of the city's former glory. Continue up the torii gate mountain path to an Inari Shrine for a breathtaking panorama of the Izushi landscape!
After exploring the shrine, descend the mountain into Izushi town. Strategically designed in a grid layout to defend the castle, the township is a bustling marketplace of restaurants, souvenir shops, historic samurai homes, and ancient temples.
Nearby is the Shinkoro clock, the oldest clock tower in Japan, which was built upon the castle ruins during the Meiji period. The lavish township embodies the region's prosperity, demonstrating the variety of industries that spawned from the riches of the Sea of Japan.
Izushi can be reached via a 20-minute taxi ride from Toyooka Station. If you're coming by car, no worries, as there is plenty of paid parking available.
3. Takeno Beach - Sunset in a Fishermen's Village
The gargantuan mountain ranges of Hyogo meet the Sea of Japan at the picturesque Takeno Beach. With crystal-clear water and pristine sands, it's the choice summer spot for locals.
Strolling through the beachside town's narrow labyrinth of lanes and charcoaled wooden homes is a surreal, dreamlike experience rarely found elsewhere. The layout of the town is carefully designed to block out the particles of sand and salt brought by the sea breeze, making the streets peaceful and serene.
At 16:20, head down to the Tajima Fisheries Cooperative to watch locals bid for the day's freshest catches at the seafood auction.
This authentic peek into a society that lives and prospers by the Sea of Japan will most surely result in a newfound appreciation for all the hard work that goes into each catch.
Picture courtesy of Toyooka City
Hike up the nearby Jaja Mountain Park for a stunning beach panorama framed by the Nekozaki Peninsula.
Takeno Beach is a roughly 20-minute walk from Takeno Station.
What to Eat in Toyooka
Photo by Pixta
If you've come to Toyooka's Izushi, don't miss out on the local soba noodles! Izushi soba is loved all around Japan, and dozens of traditional restaurants can be found across town serving the simple, yet delicious noodle dish made from scratch.
With origins in the early 1700s, Izushi soba is served as several small portions on locally-made porcelain plates. Each serving is freshly prepared by hand and is renowned for keeping its taste long after being made.
Toyooka is also famous for Matsuba crab, the regional name for locally-caught snow crabs. From early November to late March, you can enjoy fresh Matsuba Crab all across Toyooka, including at the esteemed Kaichuen in Kinosaki Onsen. You can also witness the lively crab auction, which is held at the Tsuiyama Fishery Cooperative every morning during crab season.
Maizuru – The Ultimate Sea of Japan Lookout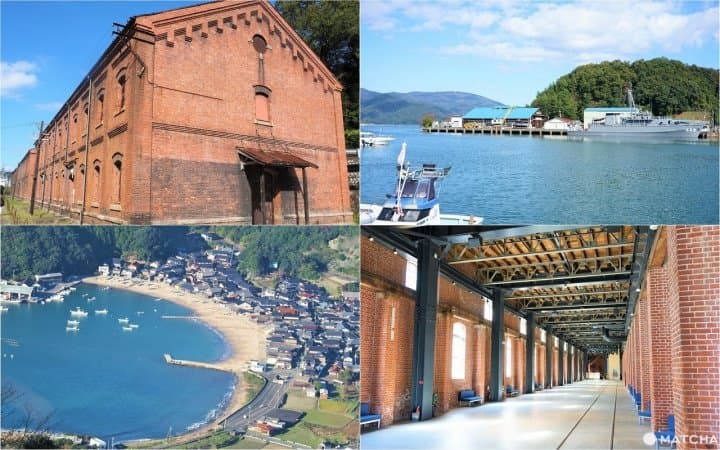 Maizuru is a port town east of Toyooka in rural Kyoto. With extensive history, magnificent nature, and fascinating architecture, it's bound to become Japan's next big travel destination! With dozens of scenic viewpoints overlooking the island-dotted Maizuru Bay, Sea of Japan panoramas don't get any better than this!
4. Maizuru Red Brick Park - Explore Japan's Naval History
Visitors flock from afar to explore Maizuru Red Brick Park, which was constructed by the navy during the Meiji and Taisho periods.
Dotted throughout the bayside area, most of the buildings remain in excellent shape, holding events, cafes, workspaces, and museums. While modern western-influenced architecture is a common sight in 21st century Japan, historical western buildings like these are very unique.
Begin your tour at Brick Park Building No.1, a torpedo storage unit built in 1903 and one of the oldest existing steel-framed buildings in Japan. It now contains the Maizuru World Brick Museum, which boasts a collection of historically significant bricks from across the globe.
Brick Park Building No.2 contains a Maizuru history museum and trendy café. Building No.3 is an exhibition hall and souvenir shop. No.4 boasts a swanky shared work space and studio, while No.5 is a spacious event hall. Continue past No.5 to find several warehouses left untouched, providing a more accurate display of their true age.
The township is also dotted with several other significant brick buildings, including the Hoffmann Kiln in the Kanzaki district and the Kitasui Tunnel. For fans of unique architecture and Japanese history, there is lots to uncover here!
The Maizuru Brick Park is a 20-minute walk from Higashi-Maizuru Station.
5. Goro Sky Tower - Breathtaking Views of the Sea!
Your trip to Maizuru isn't complete without an adventure up the Goro Sky Tower. A magnificent portrait of Maizuru's intricate islands and inlets, this is undoubtedly Maizuru's ultimate view!
For thrill-seekers, the Maizuru Brick Park rents electric bikes for 2,000 yen a day. Use them to comfortably explore the brick warehouses and journey to the top of Mt. Gorogatake. Even with the bike's electric motor, the mountain's steep slopes prove a formidable challenge! It'll take about 30 minutes to reach the top from Maizuru Brick Park. Just keep thinking about the ride down!
The park itself is a pleasant, open space perfect for a picnic. The best views are from atop the adjacent Goro Sky Tower, a 360° lookout 325 meters above the Sea of Japan. Admission is 200 yen for adults and 100 yen for children – a small cost for priceless views!
The fresh greenery of summer, the burning red foliage of autumn, the dazzling cherry blossoms of spring, and the frozen landscape of winter. Each season presents a completely different scene! Early morning views of the mountain peaks towering above a sea of clouds are particularly stunning.
After your long journey, you deserve a treat! To quell the appetites of hungry cyclists and travelers, the Sky Café Nanako provides a delicious lunch or afternoon tea directly overlooking the breathtaking bay.
6. Maizuru Sorayama Lookout
550 meters above sea level, the Sorayama Lookout presents all of Wakasa Bay in a sweeping panorama. The views here are breathtaking, reaching deep into the Sea of Japan and stretching inland as far as Mt. Hakusan in Ishikawa Prefecture.
The lookout is equipped with benches and a rotunda, making it a great place to enjoy lunch while admiring the Sea of Japan's majesty! Relax and lose yourself in the hypnotizing maze of tiny inlets, hidden bays, and remote islands.
If you're looking for a more personal encounter with the Sea of Japan, board the Maizuru Bay Sightseeing Boat from the Brick Park. This pleasant 30-minute cruise tours Maizuru Bay, allowing views of massive modern-day JMSDF escort ships and building docks from the sea.
What to Eat in Maizuru
Maizuru is all about Japanese curry, which was originally served to sailors in the navy. This mouthwatering tradition thrives today, with rich and meaty Maizuru curries on the menu all across town. You can try some at the Goro Sky Café, or buy a pack to bring home from the Maizuru Brick Park souvenir center.
Maizuru also has a deep-rooted seafood culture, which is best relished as a kaisendon seafood bowl at the Michi-no-Eki Maizuru Port. Scrumptious Maizuru kamaboko fish cakes are also very famous and worth a try!
7. Miyazu City and Amanohashidate
Photo by Pixta
In between Toyooka and Maizuru is Miyazu City and the spectacular Amanohashidate sandbar. Translating as 'a bridge in heaven,' this narrow sandbar stretches across an entire section of Maizuru Bay, forming a natural pine-covered barrier sealing off most of the Asoumo Sea.
This surreal spectacle can be seen in all its glory from Amanohashidate View Land, conveniently located next to Amanohashidate Station. If you get hungry, Miyazu pilchards are renowned Japan-wide, and can be enjoyed as sushi, canned, or even in a burger!
A Fresh Face of Japan along the Sea Coast
To thoroughly explore this region at the Sea of Japan, you'll need at least two days. If you're able to rent a car, the roads are not busy and relatively easy to drive on – just avoid the crowded center of Kinosaki Onsen. Train and bus services are available, albeit walks and the occasional taxi may be necessary.
For your next Japan getaway, venture to Toyooka, Maizuru, and Miyazu, and enjoy the Sea of Japan's bountiful cuisine, boundless sightseeing, and enchanting culture!
Written by Steven Csorgo
Sponsored by the Association for Promotion of Japan Sea Routes

The information presented in this article is based on the time it was written. Note that there may be changes in the merchandise, services, and prices that have occurred after this article was published. Please contact the facility or facilities in this article directly before visiting.