Kamaishi: Enjoy Seafood Prepared with Traditional Recipes
The Sanriku Coast is one of the three largest fishing grounds in the world. This article features TRS Foods, which manufactures processed marine products using traditional recipes In Kamaishi City. We'll also introduce Uogashi Terrace, where visitors can enjoy the ocean view while dining.
Kamaishi, a Treasure Trove of Marine Products

The cold (oyashio) and warm (kuroshio) currents at the Sanriku Coast are filled with plankton, attracting a plethora of marine animals. In fact, Sanriku is one of the world's three largest fishing grounds because of the variety of seafood that can be caught throughout the year!
Kamaishi, a city in Iwate Prefecture, fronts the coastal sea, which is a fishing ground for Pacific saury, salmon, mackerel, squid, and Alaska pollock.
The sight of fishers at the harbor reflects the riches of the sea.
Locals prepare freshly caught fish as sashimi, or grill up delicious seafood meals. They also preserve fish with salt and soy sauce.
Thanks to these traditions, Kamaishi boasts a variety of preserved food. MATCHA visited TRS Foods, which processes seafood products caught in the Sanriku area.
TRS: A Company that Adores Sanriku Seafood
From Fishery to Processing
In the early days of the Showa Period (1926-1989), the forerunner of TRS Foods, Tanaka Gyogyo, was established in Ohtsuchi, which neighbors Kamaishi City.
While Tanaka Gyogyo used to catch fish in the Pacific Ocean, the firm began to produce preserved food using squid and scallops. TRS Foods, Inc. was established from the historical fishery's facilities in 1999.
The name TRS comes from the words "TRy Sanriku." It reflects the company's motto, "To produce and promote products using first-rate fish caught in the Sanriku area."
Innovation Arising from Tragedy: The 2011 Earthquake and Shiokaze-do
The Great East Japan Earthquake and tsunami in 2011 completely destroyed the processing factory owned by TRS Foods.
The company persevered by using its headquarters building and reopening the factory. In 2012, TRS founded Shiokaze-do, a brand to promote the processed seafood products made with salmon, Pacific saury, mackerel, octopus, and Alaska pollock caught in the area.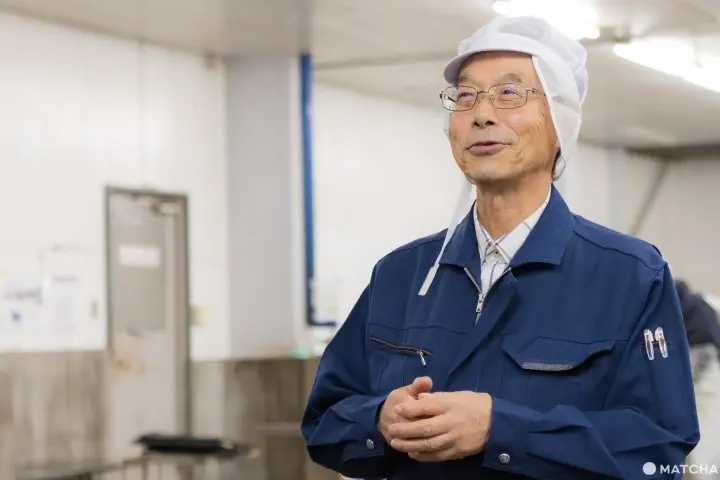 Shigeru Tanaka, the sales manager, looked back on those days and stated, "At the time, we had to develop products that would appeal to our customers. Since the company is knowledgable about fish, we continued to make new products."
Dosan Doho: Using Recpies Long Cherished by Locals
TRS employs a cooking method called dosan doho (*1). This helps preserve the fresh fish, enhancing its natural flavor. The company also uses a rotary dryer to manage the quality of dried food.
Following the devastating earthquake, a seawall was built at Ohtsuchi. TRS later moved its factory to Kamaishi in 2017. The headquarters then relocated in 2019, heralding the start of a new era for Sanriku seafood.
*1: A cooking method using local, traditional methods for preparing and consuming regional products.
Popular Items
TRS has introduced many popular products.
Hone Made Taberu: Eat Fish Without Worrying About Bones
The "Hone Made Taberu" (enjoy it to the bone) products use Pacific saury, salmon, and yellowtail prepared in a pressurized, high temperature cooker. This way, the fish bones are incredibly soft and can be eaten along with the meat!
These products can be stored at room temperature and consumed without additional cooking. They're also a popular gift.
The flagship item in the five-piece set is the crimson glory vine zukeyaki, featuring Pacific saury dipped in a sauce made from locally produced wine. The recipe was created and supervised by Katsuyasu Itoh, the chef at L'aureole Tanohata in Iwate.
The sweet and sour sauce made from crimson glory vine wine is the perfect match for both Pacific saury and rice.
From ancient times, the Pacific saury has been synonymous with the Sanriku area. It's also a seasonal treat when autumn arrives. The series also features dried saury grilled with salt and mirin (sweet sake), so customers can enjoy and compare the tastes of each style.
Hone Made Taberu Set: 3,240 yen (after tax) Includes the saury and crimson glory vine zukeyaki, dried saury grilled with salt and mirin, and koji (malted rice) zukeyaki of salmon and yellowtail.
Momiji-Zuke: A Modern Twist on a Traditional Taste
In Ohtsuchi, where TRS was founded, there's a traditional preserved food made by marinating chopped raw salmon and salmon roe in soy sauce.
However, the appearance and taste food preserved in soy sauce changes over time. So, the TRS uses malted rice made in Iwate, along with salmon roe preserved in salt.
This recipe led to the creation of the Salmon Momiji-zuke, another leading product.
The mixture of sweet salmon and salty salmon roe preserved in malted rice pairs perfectly with rice and an alcoholic beverage. Take a bite, and you can't stop eating!
Salmon Momiji-zuke (120 grams): 1,296 yen (after tax)
A Taste of Iwate at Your Home
Shiokaze-do brand products by TRS Foods can be purchased online.
The shelf life of the Hone Made Taberu set is 150 days, and they should be stored at room temperature. Frozen Momiji-zuke keeps for up to a year. That means both are easy to keep and enjoy at home!
Enjoy Shopping and Dining at Uogashi Terrace
MATCHA dropped by Uogashi Terrace to buy some souvenirs. In addition to the sprawling view of Kamaishi Bay, the facility has a store and four eateries where customers can enjoy the scenery.
The store on the first floor handles processed marine products, including TRS items.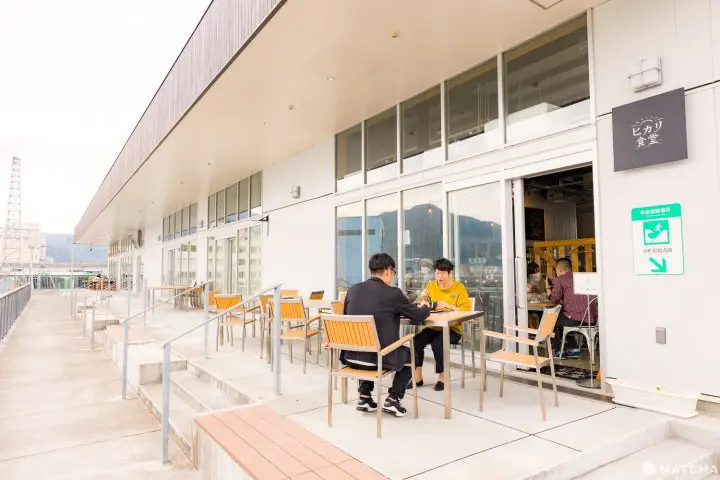 After shopping, try Hikari Shokudo on the second floor. This restaurant is famous for dishes made with Kamaishi and Iwate products.
One popular menu item is the Kamaishi Salmon and Ikura (salmon roe) Zuke-don. Both sets are reasonably priced at 1,350 yen (after tax). The combination of fatty salmon and the poppable texture of ikura is truly exquisite.
The Hikari Donko Karaage-don (fried chicken over rice), which uses a variety of shiitake mushrooms called donko, is a Sanriku specialty not be missed! This a la carte item is priced at 800 yen (after tax).
Those interested in buying raw seafood should visit Sun Fish Kamaishi, located near JR Kamaishi Station. Customers can even barbecue their purchases at this facility.

Kamaishi Daikannon
Photo by PIXTA
Be sure to visit the Kamaishi Daikannon, a gigantic white statue of the bodhisattva built in 1970. It towers to an impressive height of 48.5 meters. From the observatory located 120 meters above sea level, visitors can see Kamaishi Bay and the coast of Sanriku Fukko National Park.
Statues of the 33 Kannon (the Buddhist goddess of mercy) and the Seven Lucky Gods are housed inside the Daikannon. A stupa donated from Sri Lanka enshrines Buddha's ashes, and Fudo-den that enshrines the deity Acala (Fudo) are also located nearby.
The Daikannon has been called a Lovers' Sanctuary for those in romantic relationships. It's the perfect place for taking photographs to commemorate your trip!
Take a visit to Kamaishi to enjoy sightseeing and delicious local seafood!

Main image by PIXTA
In cooperation with TRS Foods
Sponsored by Reconstruction Fishery Processing Industry Market Recovery Promotion Center


The information presented in this article is based on the time it was written. Note that there may be changes in the merchandise, services, and prices that have occurred after this article was published. Please contact the facility or facilities in this article directly before visiting.