Free Virtual Tour of Nihonbashi, Tokyo's Historic Commercial District
Nihonbashi is one of Tokyo's major business and shopping districts but at the same time boasts a rich history as a commercial area. Take part in a free virtual tour of Nihonbashi in English to learn more about this iconic district. The tour will be held on March 27, 2022!
Explore Tokyo! Nihonbashi Virtual Tour Outline
Picture courtesy of Knot World
Nihonbashi is one of the most stylish and exciting districts in Tokyo. This area has flourished in the Edo Period (1603-1868) as a center of trade and transportation. Connected to Sumida River, and thus to the ocean, through waterways, Nihonbashi has been the place where goods from all around the country gathered in order to be selected and handled by merchants.
Even nowadays, Nihonbashi is home to the main store of Mitsukoshi, one of Japan's leading department stores, as well as to the Bank of Japan, and COREDO Muromachi, a group of shopping facilities that showcase high-quality Japanese products offered by traditional and contemporary brands.
Photo from Pixta
We invite you to explore Nihonbashi through a free virtual tour! The tour will be held on March 27, 2022, from 13:00 (Japan time) for about one hour.
Your English-speaking guides will take you to several local highlights, including Nihonbashi Bridge, a quiet cherry blossom road, a famous historic building, and COREDO Muromachi, a stylish shopping and entertainment complex. They will also introduce recommended restaurants that offer delicious traditional dishes.
Sign up for the tour using this form or the following blue link until March 26, 2022!
Fill in this form to apply for the Nihonbashi Virtual Tour!
Nihonbashi Tour Highlights
1. Learn about the History of Nihonbashi
"The Fifty-Three Stations of the Tokaido: Nihonbashi in the morning" by Utagawa Hiroshige. Photo from Pixta
At the beginning of the tour, you will be shown woodblock prints created by Edo period artists featuring scenes from Nihonbashi in those days. You'll be able to compare the scenery we can enjoy today with these images from almost 200 years ago!
Back in the Edo Period (1603-1868), Nihonbashi was the departure point of the Tokaido, the road that connected Edo (present-day Tokyo) and Kyoto. The area bustled with merchants, fishermen, artisans, but also feudal lords and samurai on their way to or returning from western Japan.
2. Nihonbashi Bridge and its Mysterious Statues
Photo from Pixta
Next, you'll be guided to Nihonbashi Bridge, a beautiful stone bridge crossing one of Tokyo's waterways. The guides will explain the meaning behind the statues of fantastic creatures that can be seen on this bridge.
3. Nihonbashi Mitsukoshi Main Store
Photo from Pixta
Mitsukoshi is one of Japan's leading department store chains. Its roots go back to Echigoya Gofukuya, a kimono merchant's business established in 1755 with its main store in Nihonbashi.
Nihonbashi Mitsukoshi Main Store has become a true icon of this area.
4. COREDO Muromachi
Photo from Pixta
COREDO Muromachi is a group of shopping facilities featuring high-quality Japanese products from artisan crafts to food and apparel. The architecture of these structures makes innovative use of Japanese crafts such as traditional lanterns and glasswork.
In addition to shops, there are dining facilities, cozy cafes, and rest spaces where visitors can take a break while watching the bustle of the city. Fukutoku Shrine, a small beautiful shrine located in the precincts, is a picturesque highlight of this area.
5. Dining Places and Activities to Enjoy in Nihonbashi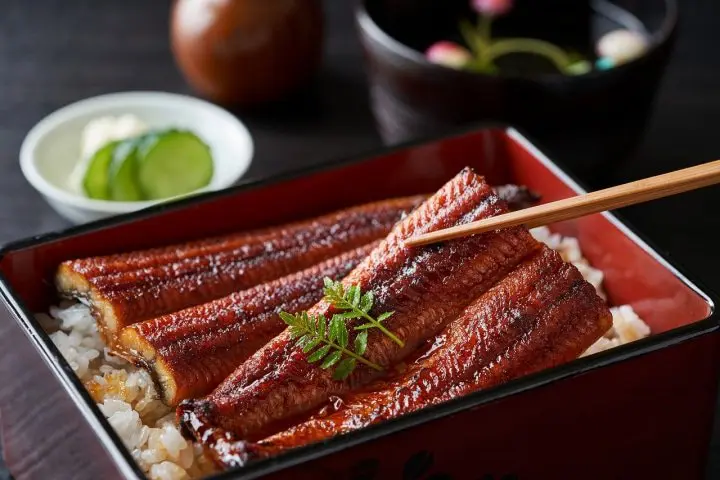 Photo from Pixta
On the tour, you will also be introduced to popular restaurants in Nihonbashi. They serve traditional dishes such as unagi (eel) and soba noodle specialties, which you really shouldn't miss out on when visiting this historic district!
6. Hotel Kazusaya
The tour will end at Hotel Kazusaya, which is also the departure point. Hotel Kazusaya is a comfortable accommodation facility located on a quiet, historical road near the center of Nihonbashi. The hotel itself boasts a rich history and used to be a Japanese inn in the past!
Besides its elegant guestrooms, Hotel Kazusaya boasts a large hot spring bath, which is a rare feature for a Tokyo hotel. They also have a corner with exhibits showing the history of Nihonbashi and the essential role that this district played in Japan's development.
For details on Hotel Kazusaya, read this MATCHA article.
Sign up for this Free Online Tour of Nihonbashi!
We hope we sparked your curiosity regarding Nihonbashi, the very heart of Tokyo during the Edo Period.

Sign up for this free virtual tour that will be held on March 27, 2022, using the form below!

Application form for the Nihonbashi Virtual Tour

Main image by Pixta
Sponsored by the Japan Ryokan Association Tokyo Branch

The information presented in this article is based on the time it was written. Note that there may be changes in the merchandise, services, and prices that have occurred after this article was published. Please contact the facility or facilities in this article directly before visiting.