Another Side of Tokyo: 4 Hotels on Islands and in Nature-Rich Suburbs
Tokyo has the image of a bustling metropolis, but it also has remote islands and areas full of nature. This article features four hotels in the suburbs of Tokyo where guests can experience daily Japanese life or enjoy the nature-rich environment.
Unique Hotels in the Tokyo Suburbs
Tokyo, Japan's capital city, boasts several sightseeing spots, such as Shinjuku, Shibuya, Harajuku, and the Imperial Palace.
At the same time, there are many places where visitors can enjoy nature or experience the daily life of locals. This article features four recommended hotels in the suburbs of Tokyo and on remote islands.
Hachijo View Hotel: A Hotel on a Tropical Island
Picture courtesy of Hachijo View Hotel
Hachijo View Hotel is located on Hachijojima, a remote island located about 300 kilometers in the Pacific Ocean from central Tokyo.
The hotel sits on a hill that is a five-minute drive from Hachijojima Airport. In fact, it is the only building on the island with an elevator.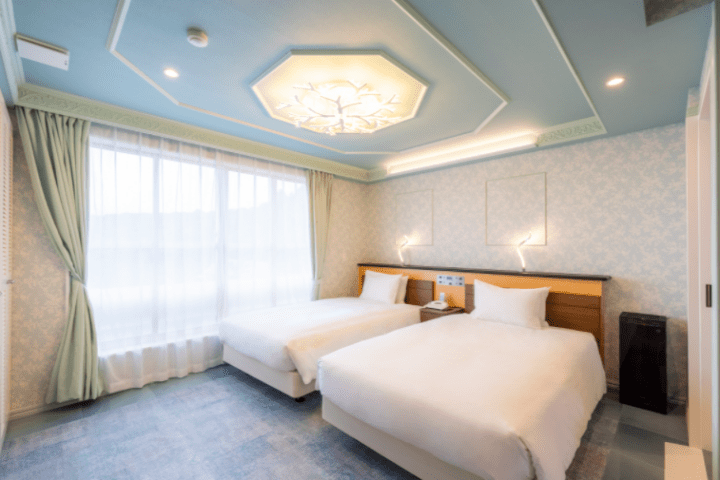 Picture courtesy of Hachijo View Hotel
Although Hachijo View Hotel offers Japanese and Western-style rooms, most of the latter were renovated during the pandemic. The remaining Western-style rooms resemble accommodations found at a tropical resort.
Picture courtesy of Hachijo View Hotel
On the other hand, guests can relax in the atmosphere unique to a traditional inn within the Japanese-style rooms. We suggest spending your time leisurely while gazing out at the ocean.
The hotel has a sake bar, a souvenir shop, and a pool, so guests won't have to leave the facility during their vacation.
Picture courtesy of Pixta
Hachijojima is regarded as the closest tropical island to Tokyo, making it a popular destination from the metropolis.
When international travel was considered a luxury, Hachijojima was a mecca for honeymooners from Tokyo. Currently, it is a very popular destination among young people interested in island trips and lifestyles.

Kumegawa Wing Hotel in Higashimurayama: Experience the Slow Living of Japanese Locals
Take the Seibu Shinjuku Line from Shinjuku and get off at Kumegawa Station after approximately 30 minutes. The scenery is completely different from the urban areas associated with Tokyo.
You'll see high school students riding bicycles, homemakers carrying groceries while exiting supermarkets, and a small bakery in the alley with shelves full of fragrant bread. With these sights before your eyes, you'll know that you've stepped into a different side of Tokyo.
Since there are no tall buildings near Kumegawa Station, guests at Kumegawa Wing Hotel can enjoy the view of Tokyo Skytree and the Ferris wheel at Seibuen Amusement Park.
There are four types of guestrooms at the hotel, all exuding an elegant atmosphere. The largest room is the twin type furnished with a semi-double bed. The maximum room capacity is three people since the sofa can also be used as a bed.
All the rooms come with a large desk, so it is fit for business travelers and students preparing for entrance exams. The spacious layout allows visitors to store their shopping items as well.
Some lucky guests can stay in a room decorated with precious artwork collected by the owner. This is a comfortable hotel with affordable room prices, which is something hard to find in Tokyo.
Kumegawa Wing Hotel offers freshly baked Swiss bread for breakfast. While it may look simple, the bread is made with mindful ingredients for guests with allergies.
A microwave oven made by Balmuda, a popular manufacturer known for its stylish appliances, is found on the table. With its unique technology, the microwave oven will make the bread taste even more savory.
The adorable mugs were made by instructors at the pottery school located nearby.
Aburaya Ryokan in Akiruno: Enjoy the Okutama Area at a Historical Inn
Photo by Pixta
Take the JR Chuo Line bound for Ome, and switch to the Itsukaichi Line at Haijima Station. Get off at Musashi-Itsukaichi Station, the last stop, to reach Akiruno City.
Although it may sound unfamiliar to many, Akiruno was a station town with inns in the Edo Period, situated by the road to Edo (present-day Tokyo).
Now, it is known for Akigawa Valley, a scenic spot frequented by Tokyoites.
From Musashi-Itsukaichi Station, it is a 10-minute walk along the main street to Aburaya Ryokan.
The inn has a history spanning one hundred years. As the name "abura" ("oil" in Japanese) suggests, Aburaya used to sell oil during the Taisho Period (1912-1926).
It became a full-time inn after World War II. Mitsuo Numata, the second generation and current owner, played a major role in its inception.
Although it may look small, there are nine guestrooms at the inn. Eight are Japanese-style, and one is Western-style.
During the pandemic, Mr. Numata renovated the guestrooms, bathroom, and kitchen to be ready when guests returned for post-pandemic travels.
His decision might be why the number of guests, most outdoor enthusiasts, has recently increased. Although he's getting busier at the inn, the interior is always spotless.
Picture courtesy of Aburaya Ryokan
Aburaya Ryokan is also famous for its meals. After becoming the inn owner, Mr. Numata attended a cooking school to improve the meals. This inspired him to create a menu called Akigawa Beef Teppanyaki.
The beef is locally grown in Tokyo. Additionally, most ingredients are sourced nearby, which captures Numata's commitment to his cuisine.
The room rates at Aburaya Ryokan, which include breakfast and dinner, are very cost-efficient compared to an average hotel.
Hotel Continental Fuchu: Taste Organic Ingredients Directly from a Farm
Picture courtesy of Hotel Continental Fuchu
Hotel Continental Fuchu is located in Fuchu, a vibrant city in Tokyo's Tama area. It is a 25-minute drive from Shinjuku, and the hotel is a stone's throw away from Fuchu Station along the Keio Line.
This hotel is popular for its meals made with organic ingredients grown directly on its privately owned farm.
Picture courtesy of Hotel Continental Fuchu
Hotel Continental Fuchu manages a 100-hectare farm in Aomori Prefecture, growing about 70 vegetables without chemical fertilizers.
All harvested vegetables are sent to Tokyo while they are still fresh.
The buffet-style dinner. Picture courtesy of Hotel Continental Fuchu
The ingredients from the farm are handled by the hotel cooks and turned into Japanese, Western, and Chinese dishes. Tohoku Bokujo, the restaurant serving buffet-style meals, offers unique dishes that can only be tasted here.
Picture courtesy of Hotel Continental Fuchu
There are six types of guestrooms. One can accommodate up to four people, a rarity at an urban hotel. These rooms will surely satisfy the needs of international visitors.
Hotel Continental Fuchu offers great access to Mount Takao and Shinjuku. With convenience stores and supermarkets located nearby, this is a very convenient hotel that is attractive and filled with charming aspects of Japanese culture.

Experience Another Side of Tokyo at Suburban Accommodations
While hotels in the city center are convenient, those interested in marveling at natural scenery that is not shaded by skyscrapers should definitely consider a hotel in the suburbs.

There are areas in Tokyo that are rich in nature where international visitors can see how locals live in Japan. A stay in the suburbs may lead to a one-of-a-kind trip!

Written by Jacky Chen
Supported by the Japan Ryokan and Hotel Association Tokyo Branch
Main image courtesy of Pixta

The information presented in this article is based on the time it was written. Note that there may be changes in the merchandise, services, and prices that have occurred after this article was published. Please contact the facility or facilities in this article directly before visiting.