Drop a Line – Sending Domestic and International Mail in Japan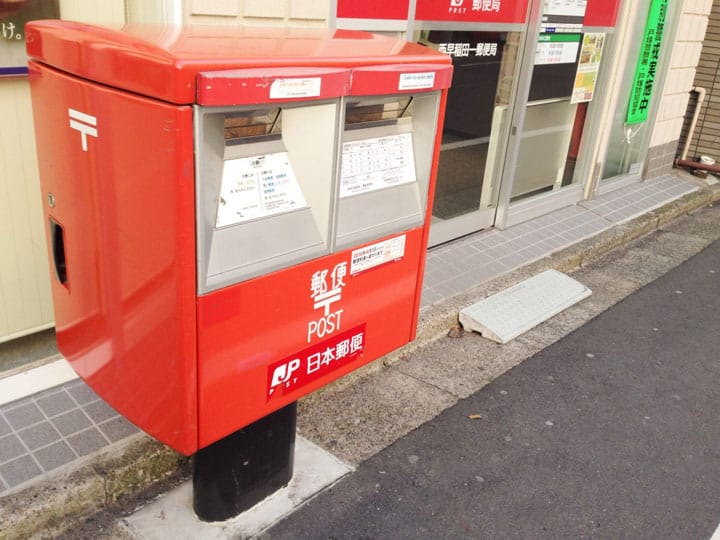 The Japanese postal system is superb. Parcels almost never get lost, and deliveries are never delayed without a reason. Although the rapid development of the Internet has brought a decline to its number of users, many people still rely with trust on this essential lifeline.
Today, I would like to do a brief review on the ways of using this system.
Sending Mail from a Mailbox
If you put a stamp on a letter according to the fee rate, the letter will be safely delivered to its destination. For domestic mail, the fee is usually 82 yen per letter (52 yen per post card). For other cases, look here.
What you must keep in mind is to put domestic mail in the left opening and international mail in the right. Making a mistake here doesn't exactly mean that your mail will not get delivered, but for time's sake and also for those who sort the mails, it's best to be careful.
The last collection of mail happens around 6 pm everyday, with slight difference depending on the postal zone. If you want the mail to be delivered as soon as possible, post it before the evening.
You may find mailboxes that look like this. These mailboxes were made by old standards, but some of them are still in use. In this case, all kinds of mail go in to the one opening in the center.
Sending Mail at the Post Office
"I don't have a stamp" "I can't figure out the correct price"…if you have these problems, go straight to the post office. The clerk will handle your case accordingly.
A lot of post offices issue numbered tickets to call out customers in order, so you just have to take that ticket once you arrive. Some places close during the weekend, while some are open on holidays and some more are open 24 hours. Find information on post offices here.
Image: Japan Post Co., Ltd.
Aside from sending mail, customers can purchase special stamps and yearend gifts at the post office. In the past there have been special project services as well. The "kit mail" project is one of them, where customers could send Kit Kats and messages to students preparing for entrance exams. As these examples show, post offices offer a variety of services.
Sending Mail from a Convenience Store
Stamps can also be purchased at convenience stores. If it's a letter or post card that you want to send, most stores provide stamps for that purpose.
Lawson's go further than that; they have mailboxes inside. Those mailboxes are mostly placed beside the registrar, and look like the normal mailboxes in the roads. They are smaller than the usual size, however, so parcels that do not fit in the box cannot be registered. If you cannot find a mailbox or a post office nearby, convenience stores are the place to go.
At those times when you feel like contacting an old friend, why not drop a line instead of sending an email? Carefully picking words for seasonal greetings, taking time to choose the perfect stamp, these are also the part of fun. I know it takes a little bit of a hassle – but the warmth of hand written mail will be passed on from you to the delivery person to the receiver.
Information
■Japan Post Official Site (Japanese)
■Japan Post Official Site (English)

The information presented in this article is based on the time it was written. Note that there may be changes in the merchandise, services, and prices that have occurred after this article was published. Please contact the facility or facilities in this article directly before visiting.