Pocket Wi-Fi in Japan: Top 7 Services in 2023 by Price and Data
This service includes sponsored advertisements.
A Wi-Fi connection is essential in Japan. This article compares seven major pocket Wi-Fi services to help you decide on the best rental device, whether traveling, studying, or staying long-term. Learn about the rental prices, data usage, speed, and short versus long-term plans.
Is Using Pocket Wi-Fi Necessary in Japan?
Photo by Pixta
Wi-Fi is indispensable when using smartphones and tablets. In Japan, free Wi-Fi is becoming more available at airports and hotels, but there are still not many locations in the city that offer free Wi-Fi.
Therefore, we recommend renting a pocket Wi-Fi or SIM card when traveling to Japan.
Pocket Wi-Fi and SIM cards each have their own advantages and disadvantages. In this article, we introduce pocket Wi-Fi routers that are especially recommended for short-term trips or long-term stays in Japan.
For information on the differences between pocket Wi-Fi and SIM cards, as well as the situation of free Wi-Fi in Japan, please check the Frequently Asked Questions at the end.
Top 7 Pocket Wi-Fi Services in Japan
How to Rent a Pocket Wi-Fi Router in Japan
Best 4 Pocket Wi-Fi Services for Short Trips (Up to One Month)
Best 3 Pocket Wi-Fi Services for Long-Term Stays (Over One Month)
FAQ: Frequently Asked Questions
How to Rent a Pocket Wi-Fi Router in Japan
Photo by Pixta
How do you rent a pocket Wi-Fi router in Japan? Please note that most bookings must be made in advance online. Some companies offer same-day rentals, but you may be unable to rent a portable Wi-Fi router if there are limited quantities. Make sure to reserve in advance, so you can connect to the Internet upon arriving in Japan.
When picking up your device, you can head to one of the vendor's airport counters or visit a store location in the city. Some vendors also offer delivery pick-up to your hotel or a designated address.
There are several options when returning your device. You can directly return your pocket Wi-Fi at the airport counter or one of the store locations. Mailing the device from a convenience store is also an option. Please choose the method that best suits your needs.
You must pay a compensation fee (about 40,000 yen) if the device is damaged or lost. Opt-in for the company's optional insurance to feel more at ease.
The Best 4 Pocket Wi-Fi Services for Short Trips
| | | | |
| --- | --- | --- | --- |
| Service | Price for Basic Plan | Data Capacity | Benefits |
| NINJA Wi-Fi | 770 yen/day (with discount: 616 yen/day | 3 GB/day | The cheapest service for rentals shorter than two weeks |
| Japan Wi-Fi rental | 430 yen/day +1,650 yen (for shipment and charging device) | 50 GB/month | The cheapest service for rentals longer than two weeks |
| Japan Wireless | 7,960 yen/7 days | no data limit with 95 Mbps | no data limit (but speed becomes slower) |
| eConnect Japan | 4,900 yen/7 days | 20 GB | Regardless of the usage period, the data capacity can be used consistently |
There are many pocket Wi-Fi services available for visitors to Japan. You may actually think, "There are too many options! I don't know which one to choose!"
At MATCHA, we have researched various services focusing on price and available data capacity. Among them, we have selected and introduced four services with excellent benefits for short-term stays ranging from one day to one month.
Among them, we particularly recommend Ninja Wi-Fi, which is not only affordable but also offers a good balance of data capacity. However, each service has its own strengths, so please choose according to your own needs.
1. NINJA Wi-Fi: The Cheapest Service for One to Two Weeks!
Picture courtesy of NINJA Wi-Fi
NINJA Wi-Fi is the best choice for trip of about one to two weeks. This service is provided by Vision, a well-established internet service company known for its Global WIFI brand.
Ninja Wi-Fi's basic plan offers a daily limit of 3 GB for 770 yen. Furthermore, if you apply through MATCHA, you can get a 20% discount, bringing the cost down to 616 yen per day! As far as our research indicates, this is the cheapest option in Japan for a trip of about one to two weeks.
In addition, Ninja Wi-Fi operates on the Softbank 4G LTE network, ensuring smooth video streaming without any hassle.
Another notable feature is that Ninja Wi-Fi has a large number of pick-up counters compared to other services. In addition to their office in Shinjuku, they have counters at all the major airports in Japan, including Narita, Haneda, Hokkaido (New Chitose, Asahikawa), Fukuoka, Osaka (Kansai International Airport), Nagoya (Chubu Centrair International Airport), Ishikawa (Komatsu Airport), Kagoshima, and Okinawa (Naha).
Particularly at Tokyo's Narita and Haneda airports, Kansai International Airport, and Naha Airport, you can pick up the device if you apply by 3:00 PM (Japan time) the day before.
Furthermore, Ninja Wi-Fi offers additional options such as insurance that combines medical services in Japan with coverage for Wi-Fi device malfunctions, as well as rentals for mobile phones and translation devices that can be used in Japan.
Read the article below for more details on NINJA WiFi.

2. Japan Wi-Fi rental: The Cheapest Service for More Than Two Weeks
Photo by Japan Wifi Rental
If you're looking for an affordable pocket Wi-Fi and plan to use it for longer than two weeks, the cheapest option is Japan Wi-Fi rental, according to MATCHA's research.
Their basic plan is only 430 yen/day for 612 Mbps (monthly limit of 50 GB, Softbank network). However, there are separate charges for the charger (550 yen) and shipping for pick-up and return (1,100 yen), making it more expensive than Ninja Wi-Fi for stays that are shorter than two weeks. However, if you rent it for longer than two weeks, it becomes a more cost-effective option.
With a monthly data limit of 50 GB, if you rent it for a month, you'll have approximately 1.6 GB per day. However, as mentioned in the FAQ at the end, depending on your usage, even 1 GB/day may be sufficient. If you don't need a large amount of data, this option may be suitable for you.
You can pick up the device offered by Japan Wi-Fi rental at the airport's post office, or have it delivered to hotels, inns, or a friend's place. Returns can be done by simply dropping it in the mailbox. In case of loss, there will be a charge of 16,500 yen for the device and a contract termination fee of 19,800 yen.
3. Japan Wireless: No Concerns about Fata Capacity!
Photo courtesy of Japan Wireless Wi-Fi
Many pocket Wi-Fi services either stop working or impose speed limitations once you reach a certain data usage limit.
In contrast, Japan Wireless offers a unique plan where the data usage is unlimited (without speed limitations), but the speed is limited based on the chosen plan.
They offer three plans: Unlimited data with a speed of 95 Mbps, Unlimited data with a speed of 120 Mbps, and Unlimited data with a speed of 187 Mbps (*).
However, it's worth noting that Japan Wireless is slightly more expensive. For example, the Unlimited data with a speed of 95 Mbps plan costs 4,780 yen for one week (compared to 4,312 yen for Ninja Wi-Fi's daily 3 GB plan with a discount). The Unlimited data with a speed of 187 Mbps plan costs 7,960 yen for one week.
While the rental cost decreases as the rental period gets longer, if cost is the main concern, it may be better to choose Ninja Wi-Fi or Japan Wi-Fi rental.
The advantage of using Japan Wireless, however, is that there are no speed limitations regardless of data usage. For those who prioritize worry-free usage without considering the cost, Japan Wireless is a recommended service.
*For reference: The aforementioned Ninja Wi-Fi is said to have a maximum speed of 187Mbps.
4. eConnect Japan: A Unique Plan with No Data Limit!
Alongside Japan Wireless, eConnect Japan also offers a unique plan. Its distinctive feature is that it provides the same data capacity regardless of the usage period.
eConnect Japan offers plans with 20 GB, 50 GB, and 100 GB (all with a speed of 187.5 Mbps on the Softbank network). While the prices are often higher compared to Ninja Wi-Fi, it can be a good deal if you want to use more than 10 GB in a short period of time.
Please note that the rental fees for eConnect Japan vary depending on the rental period. As of October 2023, the price for renting the 20 GB plan for one week was 4,900 yen, while for four days it was 4,500 yen. It may be slightly more expensive compared to Ninja Wi-Fi and Japan Wi-Fi rental, so please take that into consideration.
Top 3 Cost-effective Pocket Wi-Fi Services for Long-term Rentals (One Month or More)
| | | | |
| --- | --- | --- | --- |
| Service | Price | Data limit | Benefits |
| Wi-Fi RENTAL.COM | 6,600 yen | 5 GB/day | Large data capacity |
| mobal | 4,980 yen (*initial fee: the device rental costs 6,980 yen) | 100 GB/month | Cost-effective plans in combination with a SIM card |
| Sakura Mobile | 5,478 yen | 30 GB/month | Customer support in English |
If you're visiting Japan for a long-term stay for study or work, we recommend using one of the following services.
5. Wi-Fi RENTAL.COM: Several Pick-Up Counter Options!
Photo courtesy of Wi-Fi Rental.com
This WiFi service boasts over 1,500,000 users.
The service offers three plans. Their unlimited data plan (5 GB/day) for 6,600 yen per month and 5GB plan for 3,190 yen per month are provided through SoftBank's data network. The 10 GB/three-day plan is available for 6,930 yen per month through WiMAX's data network.
Their main feature is the numerous counters available where you can retrieve your router. This encompasses various areas in Japan that include but aren't limited to Narita Airport Terminal 1 and 2, Haneda Airport Terminal 1 and 2, Kansai International Airport, Osaka (Itami) Airport, Chubu Centrair International Airport, Fukuoka Airport, New Chitose Airport Terminal 1 and 2, Naha Airport, Komatsu Airport, and Sendai Airport.
In other words, we recommend it for those who want to pick up a router at the airport counter immediately after arriving in Japan and start using the internet right away.
Furthermore, if you want the device to be delivered to your residence in Japan or if you wish to return it upon leaving the country, you can use this MATCHA coupon to waive the home delivery fee (totaling 1,100 yen for both pick-up and return)!
Exclusive coupon for MATCHA readers! Free delivery for pick-up and return of Wi-Fi Rental.com devices
6. mobal: 10% Off with SIM card! Compatible with All Major Networks
Photo courtesy of mobal
mobal is a service provided by Mobell Communications Limited, a telecommunications company founded in the UK in 1989.
mobal offers a simple plan of a 100 GB data limit for only 4980 yen per month. It connects through the same cell towers as the major telecommunications companies - Softbank, NTT Docomo, and au, for fast service and wide coverage. This ensures a seamless internet connection by connecting to the most reliable network available in each location.
The minimum rental period is three months and you can have the device mailed to your desired location within two to five business days. There's no service fee for the delivery!
A notable aspect of mobal is that you can get a 10% discount on the pocket Wi-Fi rental when you subscribe to both the SIM card and the pocket Wi-Fi as a set. This is convenient for those who plan to stay in Japan for a long period as they will have both a SIM card for their smartphone and a high-capacity pocket Wi-Fi for devices like laptops. Please check mobal's official website for more details.
Furthermore, Mobell Communications Limited is notable for its active involvement in charity, such as directing a portion of its profits to support impoverished communities in Africa.
Please note that the pocket Wi-Fi router device itself needs to be purchased, which will cost an initial fee of 6,980 yen.
7. Sakura Mobile: Excellent Customer Support in English!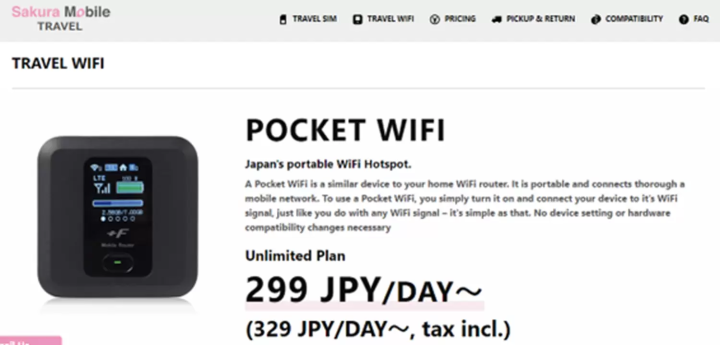 Photo courtesy of Sakura Mobile
Sakura Mobile is a provider offering low-cost SIM card and pocket WiFi rentals to international visitors.
For pocket Wi-Fi rentals, they offer two options: short-term rentals and monthly billing for long-term stays. For long-term rentals, the prices are 3,828 yen for 10 GB per month and 5,478 yen for 30 GB per month.
Sakura Mobile's pricing is relatively high compared to the data capacity provided. However, they have a reputation for excellent English customer support and troubleshooting assistance. Users have praised their ability to provide detailed guidance on whether a SIM card or pocket Wi-Fi is more suitable based on the user's specific travel circumstances.
In addition to rentals, Sakura Mobile offers various other internet services. For those who are willing to spend a little extra to have a reliable internet connection during their stay in Japan, Sakura Mobile can be a reliable partner.
FAQ: Frequently Asked Questions
We have compiled a list of frequently asked questions about pocket Wi-Fi services.
Q1. How do I set up a pocket Wi-Fi?
Simply go to the "Settings" menu on your smartphone, select "Wi-Fi," click on the Wi-Fi network you want to connect to, and insert the password.
*Please note that the setup may vary depending on the device model.
Q2. Which is better, a SIM card or a pocket Wi-Fi?
Physical SIM cards require replacing the card in your device. Photo by Pixta
When using the internet in Japan, in addition to pocket Wi-Fi, using a SIM card that can be inserted directly into your smartphone is also popular.
SIM cards have several advantages that pocket Wi-Fi does not offer.
First, SIM cards are inserted directly into smartphones, eliminating the need to carry a separate device like a Wi-Fi router. This makes them more convenient and reduces the risk of damaging or losing the device (additional fees may apply for damaged or lost Wi-Fi routers).
Furthermore, in recent years, eSIM has also been introduced, which allows you to use it immediately with just online procedures. While you need to pick up a Wi-Fi router at places like airports or hotels, eSIM eliminates this requirement.
However, using a SIM card can be inconvenient as it requires opening the smartphone's SIM card slot to swap cards. Additionally, some eSIM services may not allow tethering with other computers or smartphones.
On the other hand, pocket Wi-Fi is easy to set up and can be easily connected to multiple computers and smartphones, making it more convenient.
Both options have their own merits and drawbacks, so please consider which one suits your needs best.
Q3. How much data do I need during my stay in Japan?
Photo by Pixta
The amount of data you will need varies depending on the individual, but please consider the following guidelines:
If you use free Wi-Fi at hotels or cafes for data-heavy activities like video streaming, even a small data plan should be sufficient to enjoy your trip to Japan.
However, troubles can arise during international travel. If you're not very experienced with traveling, it is recommended to have a service that provides at least 1 GB of data per day.
Estimated data usage in Japan (what you can do with 1 GB):
Sending emails: approximately 2,090 emails (assuming each email is about 500 KB)
Video streaming: Approximately 4 hours and 16 minutes of medium-quality video
Google Maps: Approximately 1,432 views (assuming each view lasts for 10 minutes)
Reference: Wi-Fi Rental.com
Q4. Is free Wi-Fi reliable in Japan?
Photo by Pixta
In recent years, locations providing free Wi-Fi have increased not only in train stations and airports but also in cafes throughout Japan.
However, outside of such establishments, free Wi-Fi is generally not available. It is recommended to prepare a pocket Wi-Fi or SIM card when going to outdoor tourist spots or when using Google Maps in urban areas.
For information on where free Wi-Fi is available, please refer to the following MATCHA article.
Q5. Can I buy the Japan Rail Pass and pocket Wi-Fi as a set?
Picture courtesy of Japan Rail Pass official website
The Japan Rail Pass, which allows unlimited travel on Japan Railways (JR), is a convenient pass for traveling in Japan.
In recent years, a plan has been introduced that allows you to purchase or rent the Ninja Wi-Fi pocket Wi-Fi router along with the Japan Rail Pass (nationwide version). You can apply for this set on the official website of the JR Pass.
However, please note that purchasing or renting the set plan does not necessarily make it cheaper. For example, using the previously mentioned discount, the Ninja Wi-Fi costs 3,080 yen for 5 days, while if you rent it within the set plan, it costs 5,800 yen (with added insurance).
The Japan Rail Pass can be easily purchased through the activity booking site Klook. Unless you have a specific reason to do so, it is not recommended to purchase the set plan unless all you wish for is convenience.
Connect to the Internet in Japan With Pocket WiFi
With so many pocket Wi-Fi services available, it's easy to become overwhelmed and unsure of which one to choose.

We hope this article serves as a helpful reference for you to select the pocket Wi-Fi that suits your needs, allowing you to enjoy a comfortable internet experience in Japan!

Main image by Pixta

Written by

福島県出身、都内在住。フリーライター。神社仏閣や不思議な伝承が残っている土地を歩くのが好き。

The information presented in this article is based on the time it was written. Note that there may be changes in the merchandise, services, and prices that have occurred after this article was published. Please contact the facility or facilities in this article directly before visiting. Some of our articles contain affiliate links. We kindly ask our readers to exercise careful judgement when making a purchase or booking a service online.
Top Articles
There are no articles in this section.