TeamLab's Enchanting Night Forest: Mifuneyama Rakuen Garden
The scenic Mifuneyama Rakuen Garden in Kyushu's Takeo Onsen is hosting a teamLab art event until November 5, 2023. Visit to enjoy mesmerizing projections in the historic garden along with the hot springs and rich nature in Takeo Onsen.
A Forest Where Gods Live: TeamLab Installation in Takeo Onsen, Saga
Mifuneyama Rakuen, a garden of scenic beauty in Saga's Takeo Onsen hot spring town, is hosting an enchanting art display created by teamLab titled "A Forest Where Gods Live" until November 5, 2023.
Witness a variety of 20 art installations merging and illuminating the grounds of Mifuneyama Rakuen, a garden that was created in the late Edo period (1603-1868). Developing and changing over nine years, brand-new features have been added to this year's installation.
Watch as the forest comes to life as lights illuminate the surroundings. Digital plant installations make the forest breathe magic into the atmosphere, responding to the sounds, movement, and light around its visitors.
As you venture through the forest, a new surprise will be there to greet you at every bend of the winding path.
Stare in fascination at mesmerizing art installations such as waterfalls of light rushing down forest trees, blooming flowers bursting with color and scattering their petals across monstrous rocks, and glowing koi fish swimming peacefully in the gentle pond waters.
Using the natural environment as a canvas to create an interactive and mesmerizing art installation, teamLab has merged futuristic digital technology and nature creating a mesmerizing realm.
The stone-paved trail in the garden is believed to date back to 1845. Illuminated at night, it adds a sense of mystery that evokes the connection between humans and this garden, which have coexisted with one another. This light-up is a newly added feature for the 2023 exhibition.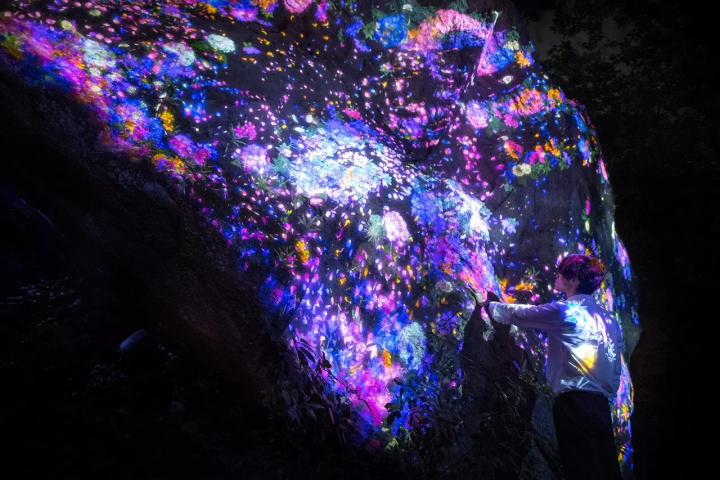 Mifuneyama Rakuen Garden remains a very popular destination in Kyushu to this day due to its beautiful seasonal flowers such as azaleas. There are several trees considered sacred within this garden, including a 300-year-old camphor tree said to be one of Japan's largest.
Long cherished by people, the 500,000 square meter forest is full of naturally preserved and man-made attractions. Home to more than 500 Buddhist statues, Mifuneyama Rakuen has been interacted with and had a significant impact on people for many decades.
One of the most exciting exhibits is an old bathhouse that has fallen into ruin. TeamLab created megaliths of light that change color bringing out the mysterious atmosphere of this place.
Deeply inspired by the resilient and powerful forest and its long history with human interaction, Teamlab decided to create a digital art installation that turns untouched nature into art.
If you are in Kyushu this summer or fall, do visit this one-of-a-kind magical event and explore a new alternate reality!
Mifuneyama Rakuen: teamLab's A Forest Where Gods Live
Dates: July 14 - November 5, 2023
Hours:
July 14 - September 10: 19:00 - 22:30
September 11 - October 8: 18:00 - 22:30
October.9 - November 5: 17:00 - 22:30

Location: Saga, Takeo, Mifuneyama Rakuen 4100
Official website: https://www.teamlab.art/e/mifuneyamarakuen/

Information and photo source: PR Times

Written by Kate_T

The information presented in this article is based on the time it was written. Note that there may be changes in the merchandise, services, and prices that have occurred after this article was published. Please contact the facility or facilities in this article directly before visiting.