Saga Travel Guide – Scenic Spots, Food, And Fun Things To Do
Saga is full of things to do and see, from an international hot air balloon festival and rice terraces to shopping. The prefecture is also renowned for its local food, like wagyu beef and seafood. Read to learn what to put on your trip itinerary to Saga.
Enjoy Nature Shopping, and Food in Saga!
Picture courtesy of Saga Prefectural Tourism Federation
Saga Prefecture is filled with one-of-a-kind activities and destinations, such as a hot air balloon festival, torii gates that appear to be floating on water, and terraced rice fields. Visitors can keep up with the latest trends at a shopping outlet and a stylish library. Delicious food, including fresh seafood and wagyu beef, is also a must-try in Saga.
All of these things can be encountered in Saga on Japan's southern island of Kyushu. Continue reading this complete guide to Saga to find what you can do and see in this prefecture.
Where is Saga?

Saga Prefecture is in northern Kyushu, east of Fukuoka, and west of Nagasaki, which is known for Huis Ten Bosch and its charming towns.

The yellow pin is Kyushu Saga International Airport.
The spots introduced in this article include those pinned above, covering much of Saga Prefecture.
The prefecture can be divided into the Saga City area, the prefectural capital, the Karatsu area on the coast, the Arita and Takeo areas, famous for Arita ware, a type of Japanese porcelain, and the Tosu area, where a large shopping outlet is located.
There is public transportation in Saga, but buses and trains are infrequent, and sightseeing areas are often located far from the station. We recommend traveling around by rental car if possible.
Access to Saga
Picture courtesy of Saga Prefectural Tourism Federation
Saga is easy to get to. Domestic flights connect Saga International Airport to Narita and Haneda airports. There are also direct international flights to Taiwan twice a week through Tigerair, and for Seoul and Busan in South Korea.
JR Saga Station is very convenient for sightseeing. To get there, first, ride a limousine bus from the airport bound for Saga Station. The bus from the airport to JR Saga Station will take 35 minutes (600 yen).
If you don't take a direct flight to Saga, it is recommended to travel from Fukuoka Airport. It will take one hour and fifteen minutes (1,230 yen) by express bus from Fukuoka Airport to Saga Station. To get to Karatsu, it will take one hour and a half (1,170 yen) by a direct subway line.
15 Things to Do in Saga
Continue to read to find out must-visit spots and things to do when visiting Saga.
1. Saga International Balloon Fiesta, Saga - See a Sky Full of Hot Air Balloons
Picture courtesy of Saga City Tourism Association
Saga International Balloon Fiesta, an international hot air balloon competition, is held annullay from late October to the beginning of November. Visitors to the event can see riverside lined with bright, massive hot air balloons.
During the competition, around 100 hot air balloons float in the Saga skies. You can capture amazing photos at the event, which has been held since 1980. Over 800,000 people gather for this festival each year.
Picture courtesy of Saga City Tourism Association
In 2019, the festival will be held from October 31 to November 4. The venue is easily accessible, as it takes just five minutes from JR Saga Station to Balloon Saga Station, where the competition is located. The festival is on the riverside of Kase River, so be sure to bring a picnic blanket or sheet to sit down on.
Balloon Museum
Picture courtesy of Saga City Tourism Association
You can still experience the hot air balloon magic even if you aren't in Saga during the Balloon Fiesta. Saga Balloon Museum is where you can take in the festival's atmosphere. There is a flight simulator that will allow you to feel what it's like to be a hot air balloon pilot.
2. Yutoku Inari Shrine, Kashima – Impressive Scarlet Structures
Picture courtesy of Saga Prefectural Tourism Federation
Yutoku Inari Shrine, founded in 1687, is one of Japan's three great Inari Shrines ranked alongside Fushimi Inari Shrine in Kyoto and Kasama Inari Shrine in Ibaraki. The magnificent structures surrounded by nature and greenery fascinate all you visit.
Picture courtesy of Saga Prefectural Tourism Federation
The current main building was reconstructed in 1957 and stands out with its bright, scarlet-colored inner shrine. Its location surrounded by nature is beautiful year-round, with azaleas and wisterias in April and cosmos flowers in October.
3. Ouo Shrine, Tara – Capture the Magical Torii Gates in Water (Tara)
Picture courtesy of Saga Prefectural Tourism Federation
The mystical torii gates immersed in the water above are part of Ouo Shrine. Its name contains the Chinese character for "fish" and is a shrine where many pray for a large catch, just as its name implies.
It is said that approximately 300 years ago, a government official who had been stranded on an island nearby rode back to the land on the back of a fish and survived. The official, deeply moved, constructed the shrine and the torii gates in the water.
Picture courtesy of Saga Prefectural Tourism Federation
The shrine's appearance changes according to the tides. When the waves rise, the top of the torii gates become submerged in water. During low tide, visitors can see the entire structure of the torii gates. Near Tara, where Ouo Shrine is located, you can have a taste of fresh seafood, like Takezaki crabs and oysters.
4. Satisfy Your Hunger with Regional Saga Dishes!
Visitors should indulge in local Saga food when visiting the area. The prefecture faces the sea in the north and south, so there is fresh seafood. Saga beef, a variety of wagyu beef, is also a must-try.
Saga and Imari Wagyu Beef
Picture courtesy of Saga Prefectural Tourism Federation
There are two types of wagyu in Saga Prefecture: Saga beef and Imari beef. There is no difference in the quality of both brands of beef; they differ in name according to where the cattle are raised and produced.
The beef is tender and lean, with fine streaks of fat. It has a slightly sweet but bold flavor. You can enjoy the meat in a steak or in shabu-shabu (Japanese hot pot).
Near Saga Station, you can eat Saga beef at Kira Saga. Steak Restaurant Sho in the Imari area is popular and is where you can taste Imari beef from a local farm.
Squid in Yobuko
Picture courtesy of Saga Prefectural Tourism Federation
Squid is a local specialty of the coastal Yobuko area in Saga. This translucent squid is seasoned and made into fresh, flavorful sashimi.
Picture from Yobuko Morning Market – Enjoy The Fresh Seafood Of Kyushu!
There are many places in Yobuko where you can eat squid, but the Yobuko Morning Market is one stop you'll want to make. They have all sorts of food here, including must-try squid dumplings. The market is open every day in the morning from 7:30 to 12:00 (it is closed January 1).
Onsen Yudofu at Ureshino Onsen
Picture from Melting Tofu! Delectable Ureshino Hot Spring Yudouhu at 'Saga-Hirakawaya'
Onsen yudofu is a specialty of Ureshino Onsen in south Saga. Yudofu usually refers to tofu simmered in hot water. However, at Ureshino, a hot spring, the tofu is boiled in hot spring water.
The tofu becomes sticky and melty due to the components of the hot spring, giving it a mellow flavor. Soak in the hot springs and enjoy onsen yudofu after you finish bathing.
5. Rice Terraces and the Sunset, Karatsu - Take in an Unforgettable View
Picture courtesy of Saga Prefectural Tourism Federation
Rice terraces are paddy fields placed into tiers like a staircase. There are several rice terraces in Saga: the following two are known to be particularly gorgeous.
The Hamanoura Rice Terraces contains 283 paddy fields of varying sizes. They fill up with water in May, creating a peaceful, stunning scene with the sun reflecting in the water in the evening. The rice terraces are considered a very romantic spot.
Picture courtesy of Saga Prefectural Tourism Federation
Additionally, the Oura Rice Terraces, large-scale, beautifully-lined paddy fields reaching 1,000 in number, is another great spot to see. Both Hamanoura and Oura have observation decks where you can look down at the fields. These terraces are easily accessible via car from Karatsu.
6. Arita Porcelain Park, Arita – A Palace with Japanese Porcelain
Picture courtesy of Saga Prefectural Tourism Federation
Arita Porcelain Park is a facility where you can look at, purchase, and make Arita ware, a traditional Saga handicraft. The impressive exterior of the park seems almost like a palace.
The inside of this building, modeled after the Zwinger Palace in Germany, is an exhibition hall displaying Arita ware works. In addition to the exhibition hall, there are also many other facilities, including a shop selling Arita ware, a studio where you can make ceramics yourself, and a 55-meter long, multi-chambered, climbing kiln. This is a facility where you can get an authentic experience of all things Arita ware.
A sake brewery run by the same sake manufacturing company that manages the park is located next door. Sake brewery tours (reservation-only) and free Japanese sake tastings are held at the souvenir shop in the park.
7. Nanatsugama Caves, Yobuko – Cruise Through Mysterious Caverns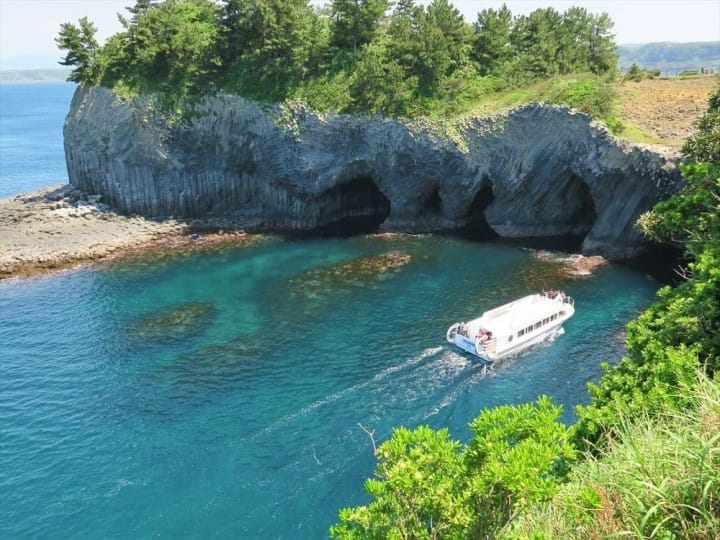 Picture from Natural Art Created By The Waves: Nanatsugama Caves In Karatsu
Nanatsugama Caves is a location where visitors can ride on a squid-shaped boat through caverns.
Picture from Natural Art Created By The Waves: Nanatsugama Caves In Karatsu
Nanatsugama Caves, located along the sea in north Saga, is known for its scenic beauty and unusually-shaped rocks. Magma that once gushed forth due to a volcanic eruption rapidly cooled and hardened in the seawater, creating complicated shapes of the rocks.
The Ikamaru, a squid-shaped boat visitors can ride, departs from Yobuko. Reservations are not required, and the boat operated throughout the year without holidays (the ride may be canceled depending on wave conditions).
8. Environmental Art Forest, Karatsu – Be Surrounded by Fall Leaves
Picture courtesy of Saga Prefectural Tourism Federation
If you're visiting Saga in the fall, then the Environmental Art Forest is a spot you'll want to visit.
You can come across a picturesque scenery with gorgeous fall leaves, much like Rurikoin Temple in Kyoto. There are around 10,000 vividly-colored maple trees that transform the area.
The grounds are also gorgeous during other seasons. For example, the area will be covered in lush green from April to May. This area is particularly recommended for those who want to get in touch with nature.
9. Shopping at Tosu Premium Outlets, Tosu
Picture courtesy of Saga Prefectural Tourism Federation
Tosu Premium Outlets is one of a few large-scale shopping areas in Japan. Approximately 150 shops line the grounds of the outlet, including apparel stores, gift shops, and restaurants. Shoppers will come across the latest trends during their visit.
There are also bargains in January and August to be found every year. It may even be a great idea to visit with these bargains in mind.
10. Takeo City Library, Takeo - Read at a Public Library with Starbucks
Picture courtesy of Kyushu Tourism Promotion Organization
Takeo City Library is a facility that attracted attention for its stylish design that makes it nearly unrecognizable as a public library.
Inside the library is an atrium that reaches up into the second floor, lined with shelves of books. There's even a Starbucks attached to the library. This is a place you'll want to visit at least once if you're a book lover. You can peruse the library even if you're not a Takeo resident. However, please be aware that photography is not allowed inside the building.
Takeo Onsen is also within walking range of the library. Come here after soaking in the hot springs to unwind further with a book.
11. Tea Time Surrounded by Arita Ware
Picture courtesy of Kyushu Tourism Promotion Organization
Arita ware, or aritayaki, is a type of porcelain known by name around the world. It is called as such because the porcelain is produced in Arita, Saga and its surrounding regions. These wares are widely used in daily life as tableware or simply as works of art.
Picture courtesy of Kyushu Tourism Promotion Organization
That manufacturing process is a complete division of labor. Each craftsman is involved in a different process, like "shaping" to create the shape from clay, "ceramic painting" to draw a design with paint, and finishing up the product with "firing" (baking in a kiln).
There are numerous shops where you can purchase Arita ware. In particular, we recommend Gallery Arita. The shop contains around 2,000 sets of Arita ware, and you can choose your favorite cup from this selection to enjoy tea or a hot beverage.
12. Takeo Onsen Tower Gate, Takeo – Soak in the Springs Past the Gates
Picture courtesy of Kyushu Tourism Promotion Organization
Takeo Onsen is a hot spring with 1,300 years of history. It is known for its water, which is weak in alkaline and therefore gentle on the skin and highly moisturizing. The bright tower gate pictured above is particularly impressive, and the structure was built without the use of any nails.
Picture courtesy of Saga Prefectural Tourism Federation
There are three public bathhouses where travelers can enjoy the hot springs on a day trip. There are also private baths available for rent. The Tonosamayu, stylishly designed with a checkered pattern, is a private bath you'll want to soak in at least once.
13. Mifuneyama Rakuen, Takeo – See Stunning Flowers
Picture courtesy of Saga Prefectural Tourism Federation
Mifuneyama Rakuen is a garden that allows visitors to experience the beauty of seasonal flowers. The garden can be enjoyed throughout the year, from cherry blossoms in the spring to nighttime illuminations of the colorful foliage in the fall.
The garden is most famous for its azaleas, with approximately 200,000 flowers in full bloom annually from around middle to late April. The dynamic sight of the cliffs stretched across the background of the azaleas is also well worth seeing.
14. Karatsu Castle, Karatsu – Climb Up the Castle Keep
Picture courtesy of Kyushu Tourism Promotion Organization
Karatsu Castle is a gorgeous castle in the Karatsu area. Originally constructed in 1608, the castle's present tenshukaku (*1) is a version that was restored in 1966.
The castle gives you a view of the islands in Karatsu Bay when you ascend the castle keep. Purple wisteria flowers bloom every year from late April to early May, and contrast stunningly with the castle.
*1 Tenshukaku: the tallest structure built in a Japanese castle; the castle keep.
15. Hoto Shrine, Karatsu – Pray for Economic Fortune!
Picture courtesy of Saga Prefectural Tourism Federation
Hoto Shrine is a shrine thought to help visitors win the lottery; its name means "winning treasure" in Japanese. It originally deified Tsunayoshi Nozaki, a figure said to have protected people from pirates in 1574.
The shrine has effective omamori charms, such as a "Never Fail Charm" that helps you to be correct or a good luck charm for economic fortune. Be sure to visit if you want to help improve your luck!
Hoto Shrine is on Takashima Island, located about ten minutes by boat from Karatsu.
See All of Saga!
There is plenty to do, places to shop, and several photo spots you'll want to visit in Saga.

If you are going on a trip to Kyushu, be sure to stop by to Saga!

The information presented in this article is based on the time it was written. Note that there may be changes in the merchandise, services, and prices that have occurred after this article was published. Please contact the facility or facilities in this article directly before visiting.