[Kanagawa] 60 minutes from Shinjuku! Enjoy hiking and hot springs at Tsurumaki Onsen! 1 night 2 day model course
This service includes sponsored advertisements.
About 60 minutes from Shinjuku. Enjoy hiking and hot springs! A hiking course called Kobozan Park is located between Hadano Station and Tsurumaki Onsen Station in Kanagawa Prefecture. Because the mountain is low, you can easily enjoy hiking. If it's a clear day, you can even see Mt. Fuji! After work...
Required time
A course where you can enjoy nature and hot springs for 2 days and 1 night. Climbing time required: approximately 2 hours and 30 minutes. It's a low mountain, so even if you walk slowly it will take about 3 hours. Hadano Station → Mt. Kobo → Mt. Gongen Observation Deck → Menyou no Sato → Mt. Azuma → Tsurumaki Motoyu Jinya(approx. 7.5km)
Arrive at Hadano Station in about 65 minutes from Shinjuku Station. Go out from the north exit of the station, cross the bridge in front of the station exit (Mahoroba Ohashi), turn right and walk east along the riverside road. After passing the Kawaramachi intersection, you will see a guide map to the Kobozan Park entrance on your right.
Walk from Hadano Station to Kobozan Park Entrance.
Time required: 20 minutes
If you are using the bus [Hata 25] take ``Soya Kobo bound'' for about 10 minutes and get off at ``Koboyama entrance''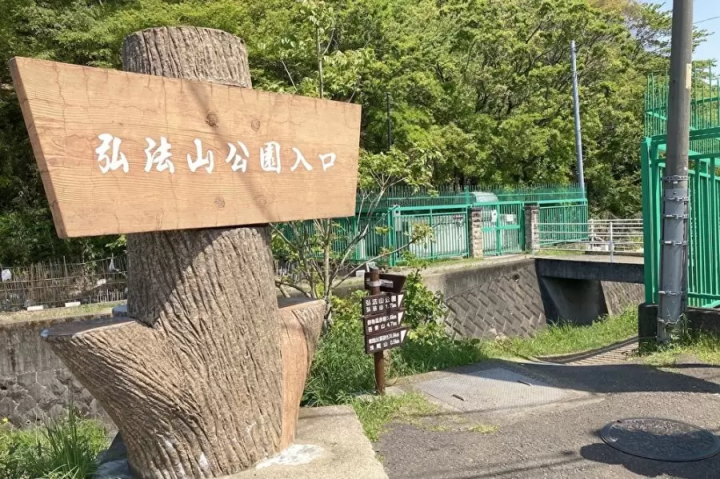 Walk from the Kobozan Park Entrance towards the Gongenyama Observation Deck. There are toilets located along the way. There are many rest spots with benches along the way.
Time required: 40 minutes
Selected as one of the "100 Views of Fujimi in Kanto"! Gongenyama Observation Deck
We arrived at Mt. Gongen Observatory, which has been selected as one of the ``100 Views of Fuji in Kanto.'' From the observation deck, you can see Hakone's somma in the distance and Mt. Fuji in the background! The spectacular 360-degree views of Enoshima and the Boso Peninsula are a must-see.
There is a plaza around the observation deck, and you can play on the grass at the top. There are many tables and benches, so picnicking is also recommended.
It is known as a famous spot for cherry blossom viewing, with 2,000 cherry blossom trees in full bloom in spring, offering views of Hakone and Mt. Fuji.
From the Gongenyama Observation Deck, head towards Menyou no Sato.
Required time: 11 minutes (750m)
Menyou no Sato
``Menyou no Sato'' is a farm opened by Hadano City in response to a donation of sheep from its sister city, Suwa City. Sheep are grazing. You can enjoy Genghis Khan dishes at the adjacent restaurant "Kirikan".
At the adjacent Genghis Khan restaurant "Kirikan", you can enjoy Genghis Khan dishes. There are many menu items such as Shokado bento and children's lunch. You can also dine on the terrace while admiring the stunning views.
Genghis Khan restaurant "Kirikan "
Address: 5896-2 Soya, Hadano City, Kanagawa Prefecture 257-0031
TEL: 0463-83-0468
business hours:
[Tuesday to Thursday]
・Lunch 11:30-15:00 (LO) until 16:00 [Friday-Sunday]
・Lunch 11:30 to 15:00 (LO) until 16:00 ・Dinner 17:00 to 19:30 (LO) until 20:00 Closed on Mondays (open only for lunch if it is a public holiday) Closed on the next day
Walk from Menyou no Sato to Tsurumaki Onsen via Mt. Kobo and Mt. Azuma.
Time required: Approximately 1 hour
After hiking, enjoy hot springs and delicious food!
After hiking, we arrived at Motoyu Jinya. You can enjoy hot springs and delicious food while spending the night here.
The proud mountain villa open-air bath. Hot springs with a high concentration of calcium are said to be effective for firming and beautiful skin. Relax and relieve your fatigue in the open-air bath. There are 2 open-air baths, and 2 indoor baths and garden open-air baths.
For dinner, please enjoy the ``Yumeukihashi Kaiseki Cuisine'', a luxurious menu made with plenty of high-quality ingredients.
Recharge your power with breakfast at Jinya
We are particular about using local ingredients to prepare a healthy Kaiseki-style breakfast that emphasizes the taste of the ingredients themselves.
If you would like to know more about Motoyu Jinya, please refer to the article below.
[Kanagawa Tsurumaki Onsen] Enjoy gourmet food at Motoyu Jinya, an inn associated with Ghibli movies! Let's go see Totoro's tree!
Check out "Tsurumaki Motoyu Jinya" and move on foot to the day trip hot spring facility.
Time required: 2 minutes
At Kobozan Satoyu, you can enjoy an open-air bath, a large public bath, and a sauna. At the souvenir shop, you can purchase local products and city specialties. We also recommend peanut sweets and peanut butter, which are specialty products of Hadano City. Please relax in the free rest space in the large hall.
Walk from Kobozan no Satoyu to Tsurumaki Onsen Station.
Time required: 2 minutes
5
Tsurumaki Onsen Station
After enjoying the hot springs to the fullest, move on to Tokyo from Tsurumaki Onsen Station. It takes about 60 minutes to get to Shinjuku Station on the Odakyu Line. Thank you for your hard work!
Spots introduced in this model course

Written by
Tsurumaki Motoyu Jinya is a long-established inn in Tsurumaki Onsen, Kanagawa Prefecture. Some rooms have open-air baths with different tastes, so you can enjoy a day trip bath. It is a 5-minute walk from Tsurumaki Onsen Station, located halfway between Tokyo and Hakone, and has excellent access. Midoriya, a brand developed by the Jinya Group, is an inn and hotel created in collaboration with world-renowned garden designer Kazuyuki Ishihara. Midoriya Facilities/Yumura Onsen Midoriya The inn "Yumura Onsen Midoriya" located in Yumura Onsen in the northern Tajima region of Hyogo Prefecture is produced by world-renowned garden designer Kazuyuki Ishihara. We have an open-air bath with a private garden, guest rooms filled with the warmth of wood, a conference room, and a children's room. The space is full of greenery, with plants and flowers everywhere. In July 2023, we will be certified as a MIKI HOUSE SOUKEN "Welcome Baby Inn". You can relax with peace of mind even with babies and children. Official website: https://www.midoriya-ryokan.jp/yumura/ 1326 Yu, Shinonsen-cho, Mikata-gun, Hyogo Prefecture ・Bessho Onsen Midoriya Grand opening in Bessho Onsen, Ueda City, Nagano Prefecture in August 2023. Supervised by world-renowned garden designer Kazuyuki Ishihara. A recreation of the garden where Mr. Ishihara won a gold medal at the Chelsea Flower Show in England. You can enjoy the 3 private baths, which are a set of indoor baths and open-air baths, where you can enjoy the scenery of the garden throughout the seasons. Seasonal kaiseki dinner is available. Enjoy the ultimate relaxing time in a space surrounded by greenery. It is recommended not only for visiting with family and friends, but also for solo travelers. Official website: https://www.midoriya-ryokan.jp/bessho/ 225 Bessho Onsen, Ueda City, Nagano Prefecture At Jinya Group, We are developing a wide range of businesses that contribute to management reform and regional revitalization of inns across Japan. ■Jinya Connect Business Development, sales, and support of cloud applications for hotels and inns https://www.jinya-connect.com/ ■Satoyama Connect Business Providing comprehensive IT solutions to realize hospitality that unites the region. https://satoyama.jinya-connect.com/

The information presented in this article is based on the time it was written. Note that there may be changes in the merchandise, services, and prices that have occurred after this article was published. Please contact the facility or facilities in this article directly before visiting. Some of our articles contain affiliate links. We kindly ask our readers to exercise careful judgement when making a purchase or booking a service online.

The contents on this page may partially contain automatic translation.