[Hyogo] Many repeat customers! What is the exquisite specialty "Awajishima 3-year-old tiger blowfish" that can only be tasted in winter?
This service includes sponsored advertisements.
Deliciousness that surpasses natural tiger blowfish! ``Awajishima 3-year-old tiger blowfish'', which is carefully raised over three years, is now a very popular gourmet food in Hyogo. We would like to introduce "Awajishima 3-year-old tiger blowfish" which has captured the hearts of repeat customers....
Many repeat customers! What is the extremely popular "Awajishima 3-year-old tiger blowfish"?
Do you know "Awajishima 3-year-old tiger blowfish "? Even though it is farmed, many people are captivated by its deliciousness, which surpasses that of wild-caught fish, and the number of people visiting Awajishima in winter for the purpose of eating " Awajishima 3-year-old tiger blowfish " continues to increase. It is so popular that pre-orders for the winter 2021 shipment sold out well before the end of the season. We spoke to Wakao Maeda, head of the Fukura Fisheries Cooperative in Minami-Awaji City, who gave birth to the ` `Awajishima 3-year-old tiger blowfish''.
``Awajishima Awajishima 3-year-old tiger blowfish'' is grown in Fukura Bay in the southern part of Awaji Island using only domestically produced fry over a three-year period. Farmed pufferfish are generally shipped after two years, but they are grown for one year longer. Therefore, while most 2-year-old pufferfish weigh less than 1kg, ``Awajishima 3-year-old tiger blowfish'' are quite large at 1.2 to 1.8kg.''
Indeed, when you compare 1-year, 2-year, and 3-year products, the difference in size is obvious. When the weight exceeds 1.2 kg, the black streaks characteristic of farmed fish disappear, and although the reason for this is still unknown, the taste is said to improve significantly, and the texture and flavor surpass that of wild tiger blowfish.
``Sometimes people ask me if the bigger the fugu, the more flavorful it will be, but ``Awajishima 3-year-old tiger blowfish'' is extremely firm, and has a texture and flavor that rivals that of wild-caught ones. There are two main reasons for this; one is that they grow up in the rapids of the Naruto Strait, which is known for its whirlpools, so they get a lot of exercise. Another reason is that the waters off Fukura Bay, which lies between the Pacific Ocean and the Seto Inland Sea, are a mineral-rich fishing ground and also have the lowest water temperature of any fish farm in Japan. That's why I've gained a lot of weight, but I'm very lean.''
The fish tanks are lined up at the entrance to Fukura Bay, which is about 10 minutes offshore by boat from the port, and is an area with the fastest ocean currents in Japan. There, they are raised with such care that they are overprotected.
``For example, not only the type of bait, but also the amount should be adjusted by checking the water temperature and movement every day. They may look plump, but in the summer when the water temperature is high, I try to keep them on their 80's, and in the winter when they are slow to move, I reduce the amount of food they feed even more to prevent them from becoming metabolically ill. Blowfish are delicate and difficult to farm, and it takes a lot of effort to raise them freely and healthily to prevent them from getting sick or being injured by nets. Therefore, there is a big risk in delaying shipment by one year, and only about half of the fish that are raised from fry can be safely shipped three years later.''
Fugu farming in Fukura Bay has been going on since the Showa era, but it was 28 years ago that we started farming 3-year-old puffer fish. After many failures, shipments finally began in 2004 under the name "Awajishima 3-year-old tiger blowfish." Currently, five members of the Fukura Fisheries Cooperative are engaged in aquaculture, and in 2021, approximately 100,000 fish were shipped. Its deliciousness has gained rave reviews, and it is now a branded ingredient representing Awajishima.
"I feel like my name recognition has increased considerably in the last few years. The shipping season is from October to March, but in the Reiwa 3rd season, all shipments up to March were sold out by the end of the year. We seem to have a lot of repeat customers, which makes us very happy.''
Awajishima Tourism Association Minami-Awaji Tourist Information Center
■TEL: 0799-52-2336
■Closed on Tuesdays *Open if a regular holiday falls on a public holiday (excluding January 1st) *No holidays during Golden Week and summer holidays (7/20-8/31)
There are many ways to eat it! Fugu sashimi, milt, blowfish hotpot, etc.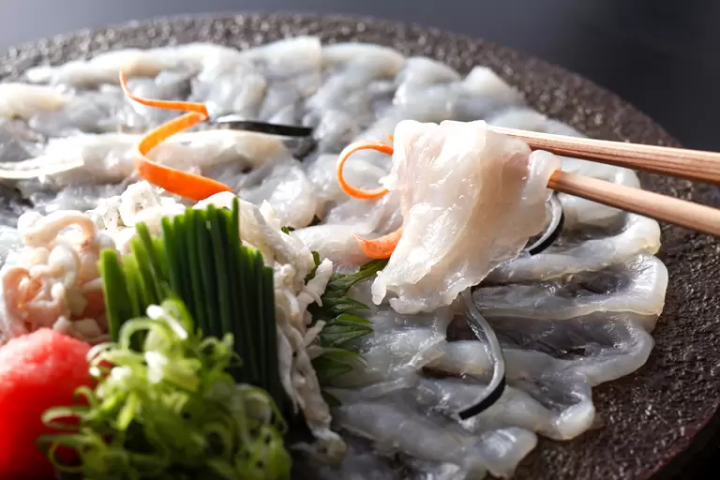 The must-try is the blowfish sashimi "Tessa". You can enjoy the unique thickness and texture of Awajishima 3-year-old tiger blowfish pufferfish, as well as the elegant flavor that fills your mouth as you chew. My favorite is ``Silt'', which only appears from December to February. If the blowfish grows big, the milt will also grow surprisingly large. It is traditionally eaten with the surface lightly grilled, and it melts in your mouth. This is truly a mouth-watering deliciousness.
Of course, the ``Tecchiri'' (fugu hotpot), where you can enjoy plenty of plump meat, is the best, even down to the rice porridge to finish it off. Other delicious dishes include the crispy fried blowfish and the addictive crunchy teppi (skin)! There are many inns and restaurants that offer full-course meals on a day trip plan, so if you have the opportunity, we recommend that you try a full-course meal to enjoy the deliciousness that can only be found in the freshest regions.
1. Enjoy the exquisite fugu hotpot at the scenic restaurant "Uzu no Oka"!
"Awajishima 3-year-old tiger blowfish" welcomes you at the store. This restaurant boasts a spectacular view overlooking the Naruto Strait and dishes made with ingredients from Awajishima.
Most restaurants require advance reservations, but you can eat at Uzu no Oka, a scenic restaurant located inside the Uzu no Oka Onaruto Bridge Memorial Museum in Minamiawaji City, without a reservation.
The set menu of ``Awajishima 3-year-old tiger blowfish'' starts from 6,600 yen. This blowfish hot hotpot uses milt dissolved in the soup stock, so it has a very creamy and rich flavor. Served with ponzu jelly.
basic information
■TEL: 0799-52-2888 (same car navigation phone number)
■Business hours: 10:00-15:30 (LO15:00)
■Closed: Tuesdays (Closed on 12/31 and 1/1) *Please check the website for other closed days during busy seasons.
■Free parking: 130 cars, 5 buses, 10 cycle stands
*The Uzunooka Onaruto Bridge Memorial Museum is located on a public road, not on an expressway.
2. Advance reservation required! Buy souvenirs at Wakao Suisan's direct sales store!
The production company of ``Awajishima 3-year-old tiger blowfish'' also has a direct sales office. Wakao Suisan, run by Mr. Maeda, opened five years ago.
It's a good idea to make reservations in advance, as items in stores sell out quickly. The direct sales office is located right next to the new processing plant that was newly built last year, so you can receive your order within a few minutes. The sale period is scheduled to run from November to the end of March, but since shipments are limited during the season, we recommend inquiring in advance before visiting the store.
Awajishima's delicacy that can only be enjoyed in winter, ``Awajishima 3-year-old tiger blowfish''. The season has just begun, but come early to sample them before they're sold out.
basic information
■TEL:0799-52-3561
■Business hours: 9:00-16:00
■Regular holidays: Irregular holidays
[Official] Hyogo Prefecture tourism site HYOGO! navigation
The official website of Hyogo Tourism Headquarters, which provides tourist information for Hyogo Prefecture (Kobe, Himeji, Kinosaki, Awajishima, etc.). There is a lot of recommended travel information, including special sightseeing spots such as Hyogo Prefecture's Japanese heritage sites and cycling, as well as model courses where you can enjoy hot spring culture and Japanese sake, so be sure to check it out!
Written by

Welcome to Hyogo Hyogo is a gateway to the Kansai region, which nurtures the blessed land that connects the Sea of ​​Japan, the Chugoku Mountains, and the Seto Inland Sea, as well as the blessed climate. There are many spectacular views that will catch your eye, such as Himeji Castle, a World Heritage Site that was selected as one of the 100 Best Cherry Blossom Spots, and the panoramic night view from Mt. Rokko. The world-famous Kobe brand, KOBE BEEF, which is synonymous with Tajima beef, is one of Japan's leading beefs, and the sake rice ``Hyogo Yamada Nishiki'' is a gem that will surprise your tongue. Arima Onsen is a famous hot spring, and Kinosaki Onsen has appeared in many literary works. Surrounded by nature, you can relax your mind and body. You can come across memorable sounds such as the thunderous sounds of the whirlpools of Naruto on Awaji Island, and the dynamic sounds of the fireworks festivals held in various places in the summer. In the herb gardens and botanical gardens in the prefecture, you will be healed by the gentle and pleasant scent of herbs and flowers throughout the four seasons. Enjoy a new journey in Hyogo that stimulates the five senses of sight, taste, touch, hearing, and smell.

The information presented in this article is based on the time it was written. Note that there may be changes in the merchandise, services, and prices that have occurred after this article was published. Please contact the facility or facilities in this article directly before visiting. Some of our articles contain affiliate links. We kindly ask our readers to exercise careful judgement when making a purchase or booking a service online.

The contents on this page may partially contain automatic translation.