Ikaho Onsen In Gunma - A Guide To The Area And Its Hot Spring Inns
Located in Ikaho in Gunma prefecture, the Ikaho Onsen is a well known hot springs town. Find out ways to get there, historical places to visit, temples, foot baths, and more about this popular holiday resort.
What Is Ikaho Hot Springs?
© JNTO

Located in Shibukawa, Gunma prefecture, Ikaho is a hot spring town that is just as famous as the Kusatsu hot springs that represent Gunma.
Ikaho Onsen is known for being the hot springs town with many stone stairs. In the middle of the hot springs town, you will find a stone staircase with 365 steps. Along the sides, you will find many inns and souvenir shops standing side by side that will make you feel like you have slipped back in time to the Japan of 50 years ago.
Along the way, you will find foot baths, fountains to drink the water of the hot springs, and tea shops. It is the perfect spot to take a break and rest your feet or quench your thirst while exploring the area.
Here, we will introduce you the wonderful effects of the Ikaho hot springs, one-day hot springs facilities, and inns.
Special Traits and Effects of the Ikaho Hot Springs
At Ikaho hot springs, you will find two springs called the kogane no yu (golden hot springs) and shirogane no yu (platinum hot springs).
Kogane no Yu
© JNTO
The kogane no yu, contains sulfate and makes the water a brownish color. By bathing in these waters, it is said to help muscle pains, ease pains in your joints, relieve fatigue, and enhance your appetite.
Shirogane no Yu
© JNTO
The shirogane no yu is a clear water that contains silicic acid. These waters are said to help restore your energy after illnesses and relieve fatigue as well.
How to Get to Ikaho Hot Springs
To get to Ikaho hot springs from central Tokyo, taking the express bus Joshu Yumeguri is most convenient. You can catch the Joshu Yumeguri bus at Busta Shinjuku or JR Bus at the Yaesu exit of Tokyo Station and get off at Ikaho Onsen-Ikaho Ishidan-gai Higashi Shisho-mae stop. It takes about two and a half hours and costs about 3000 yen.
If you plan on going by train, you can ride the JR Hokuriku shinkansen or the Joetsu shinkansen from Tokyo Station, then transfer to the JR Joetsu line at Takasaki Station and continue to ride until the Shibukawa Station. From Shibukawa Station, you can ride the Kan'etsu Kotsu bus bound for Ikaho Onsen. It will take around two and a half hours and costs approximately 5000 yen.
For more information on how to buy bus and train tickets, please read Getting Around In Japan: How To Use Trains, Buses And Taxis.
One-Day Bathing Spots in Ikaho Hot Springs
Below are places you can enjoy bathing in Ikaho hot springs without staying overnight.
Ikaho Onsen Rotenburo
Near the Ikaho Shrine is an open-air bath with hot springs poured directly from the source. It is said to have a relationship with female fertility, and many women have come to bathe in the waters for good luck. The waters here are the kogane no yu type and is slightly brown. It is also said to help any feminine health disorders as well.
Bathing fee: Adults 450 yen, Children 200 yen (including tax)
Address: Gunma, Kita Gunma district, Ikaho-cho Ooaza, Ikaho-aza-kou, Yumoto 581-1
Ikaho Onsen Ishidan no Yu
A public bath located in Ishidan. The waters are the kogane no yu type and are said to help relieve fatigue. There are resting rooms here and it is usually filled with many locals as well.
Bathing fee: Adults 450 yen, Children 200 yen (including tax)
Address: Gunma, Shibukawa, Ikaho-cho, Ikaho 36
Recommended Inns in Ikaho Hot Springs
Here are some accommodations that are recommended in the Ikaho Onsen.
Oyado Tamaki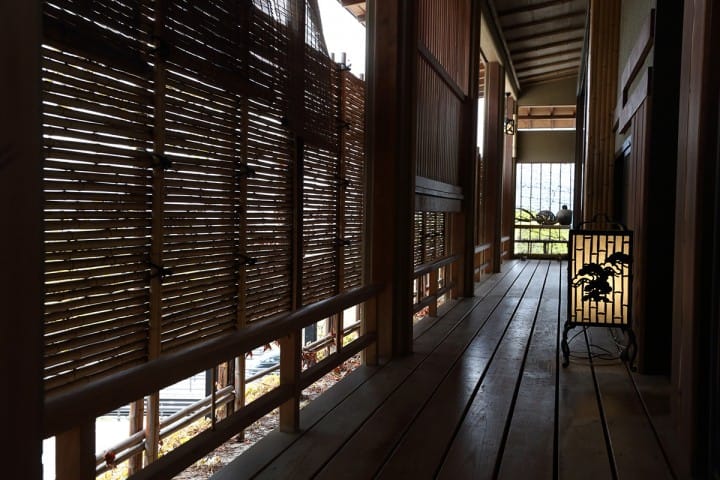 © JNTO
This is an inn with a private open-air bath in each room. In the large public bath, you can enjoy both the kogane no yu and shirogane no yu. From the lobby and the large bath, you can see a picturesque view of the Joshu mountain range. With Japanese-style rooms and Japanese cuisine, this is a great place for an authentic Japanese experience.
Address: Gunma, Shibukawa city, Ikaho-cho, Ikaho 87-2
Website: Oyado Tamaki
Kishigon Ryokan
© JNTO
This inn has a history of over 500 years. The specialty of this inn is the magnificent view of the mountains of Joshu visitors can enjoy while taking a dip in the open-air baths.
For dinner, you can savor delicious traditional Japanese dishes, made using seasonal ingredients, and each served in multiple dishes. Not only are they tasty, but very visually appetizing as well. In the morning, there are Western-style dishes such as omelets and sausages available for breakfast too. Along with Japanese-style rooms, there are also Western-influenced Japanese rooms to select from.
Address: Gunma, Shibukawa city, Ikaho-cho, Ikaho kou 48
Website: Kishigon Ryokan (Japanese)
For more information regarding dinners in inns, take a look at Stay at a Ryokan and Experience Traditional Japan in Tokyo.
Ikaho Shusuien
For those who would like to experience a retro-style Japanese inn with Showa influences, this may be the spot for you. There are classic looking ramen shops and dagashi snack shops that will make you feel like you slipped back in time. There are open-air baths along with modern looking shared baths, which are worth taking note of. Rooms are only available in the Japanese-style.
There are also pottery experience courses (starting from 3000 yen) and yukata rentals (for women only, additional fee required) too.
Address: Gunma, Shibukawa city, Ikaho-cho 557
Website: Ikaho Shusuien (Japanese)
Tourist Spots Outside of Ikaho Hot Springs
Around Ikaho hot springs, there are tourist spots such as the Ikaho shrine that is said to bless worshipers with children and the Kajika bridge that is beautiful during the autumn. After a relaxing time in the hot springs, why not get the most out of Ikaho by stopping by these spots?

For more details about how to bathe in hot springs, please read What You Should Know About Bath Culture In Japan.

The information presented in this article is based on the time it was written. Note that there may be changes in the merchandise, services, and prices that have occurred after this article was published. Please contact the facility or facilities in this article directly before visiting.