Awa Odori - Tokushima's Exciting Summer Festival!
Awa Odori is Tokushima prefecture's summer highlight. Boasting a history of over four hundred years, it's one of Japan's three most important Bon Odori festivals. Today we'll give you information on the festival's schedule and event access.
What is Awa Odori?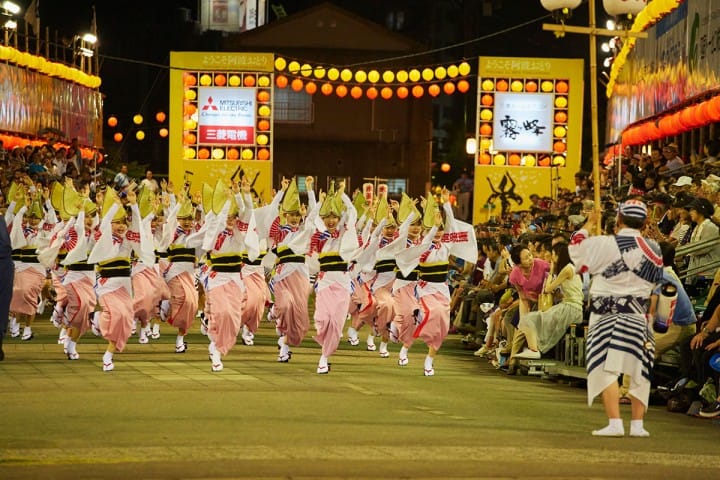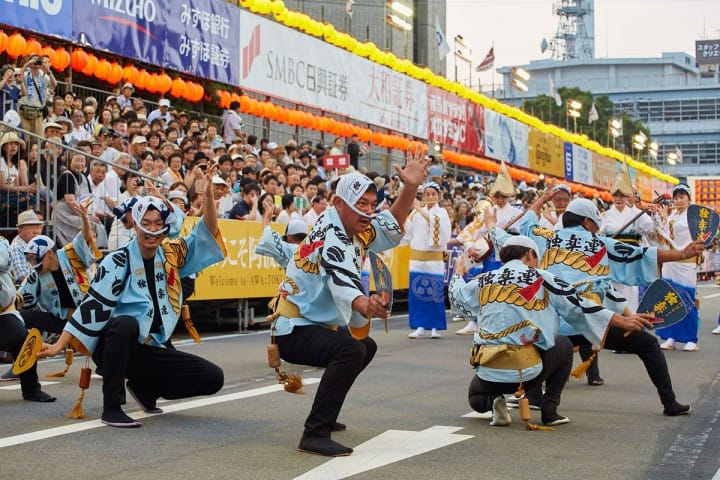 © JNTO
Awa Odori is an annual summer highlight for Tokushima prefecture and the surrounding Shikoku region. Proudly sporting a history of more than four hundred years, it's one of Japan's three main Bon Odori festivals, along with Gifu prefecture's Gujo Odori and Akita prefecture's Nishimonaino Bon Odori.
Here are dancing fools and watching fools. We are the same fools, so why don't we dance? These are the translated lyrics that go along with the catchy Awa Odori melody and encourage hesitant onlookers to join in on the dance festivities. When you see the men and women of all ages dancing you're guaranteed to have an enjoyable time!
There are essentially two forms of dance performed during Awa Odori. One is the men's dance, otoko-odori, which can be performed by both men and women. The other is the women's dance, onna-odori, which is performed exclusively by women.
For otoko-odori, dancers are dressed up in either a happi (*1) or yukata (a light summer kimono), and onna-odori performers are dressed in a yukata and also wear an amigasa (*2) on their head and wooden geta on their feet.
Adorned in colorful pink and red yukata, the graceful and elegant movements of the women performing the onna-odori, is an enchanting sight and certainly one of the highlights of the festival.
*1 Happi (Happi coat): this is traditional Japanese straight-sleeved coat made of cotton and imprinted with a crest. It's usually worn at festivals and other special events. Open in the front, one side is overlapped over the other and tied up, similar to a kimono.
*2 Amigasa: this is a traditional hat made from straw or rush grass shaped like a half-moon, and worn slightly tilted forward so that the dancer's face is partially covered (see the women in the video below). Though it's a common sight at Bon Odori festivals, it was traditionally worn to shade people from the strong rays of the sun.
Though it's possible to see Awa Odori throughout the city of Tokushima and also in Tokyo's Koenji and Nakameguro areas, the birthplace of Awa Odori is Tokushima and it's here where you can see the most famous of the Awa Odori versions.
Every year during the Obon period from August 12-15, some one hundred thousand performers dance on the streets and on the stages in Tokushima, and more than one million visitors flood the city to take part in the festivities.
Next we'll give you information on access to the festival's main stages, and what personal belongings you might want to bring in order to make the most of your festival experience.
Schedule for 2017 Awa Odori
© JNTO
Tokushima Awa Odori 2018 Schedule: 4 days - August 12th, 13th, 14th and 15th, 2018
Awa Odori Main Stage and Access from Tokushima Station
© JNTO
The Tokushima Awa Odori takes place simultaneously in many parts of the city, including Aibahama Park, in front of Tokushima City Hall, and in the Shinmachi area not far from Tokushima Station's main entrance.
Tokushima Station
Address: Tokushima prefecture, Tokushima, Terashima Honcho Nishi 1-61
Access from Tokyo by Shinkansen
This will explain how to get to Tokushima from Tokyo. If you plan to travel over land, take a shinkansen (bullet train) at Tokyo Station headed for Hakata city, and get off part way at Okayama Station. At Okayama Station hop aboard the JR Marine Liner Express Train headed for Takamatsu city and get off when you arrive at Takamatsu Station. At Takamatsu Station take a JR Uzushio Limited Express Train going to Tokushima and get off when you arrive at Tokushima Station. The total travel time is six hours, and a one-way fare for non-reserved seating is 18,010 yen.
Access from Tokyo by Airplane
If traveling by air, you can take a direct flight from Tokyo's Haneda Airport to the Tokushima Awa Odori Airport. From Haneda there are up to ten daily flights to Tokushima via domestic carriers. It takes about one hour and fifteen minutes to Tokushima and the one way fare ranges from 15,000 to 20,000 yen. Airfare will vary depending on the airline and on the time of the year.
A limousine bus from Tokushima Awa Odori Airport goes to Tokushima Station. It takes about thirty minutes and the fare is 440 yen.
How to Best Enjoy Awa Odori
Our suggestions on how best to enjoy this exciting event.
Notice How Each Group (Ren) Has a Distinct Dancing Style
© JNTO
Awa Odori is performed in many places throughout the city but one of the main stages is near Tokushima Station, where you can watch the festivities from 6 pm until 10:30 pm. By the way, there is no official way to dance Awa Odori. There are about one thousand dancing groups (called ren) and each group has its own unique and characteristic dancing style. So watching the differences in the various dance styles adds to the viewing enjoyment.
Let's Join the Niwaka Ren and Dance Together with Them
At the stage near Tokushima Station, only people who have registered with a dance group and have practiced with them, can dance here. This is not a place where visitors can join a ren on the day of the festival.
However, the good news is that there's a ren called Niwaka Ren, which allows people (including visitors to Japan) to join and dance regardless of their nationality. The Niwaka Ren dances nightly at 6:30 pm and 8:30 pm in Tokushima city at various venues, such as Motomachi Odori Hiroba and in front of Tokushima City Hall at the Shiyakushomae Hiroba. If you're interested in giving it a try, by all means please join this ren.
What You Should Bring in Order to Enjoy the Festival
Clothing and Footwear
Tokushima's average temperature in August is 27.8℃, but the daytime temperature often soars above 30℃. It's best to wear shorts and a t-shirt. As far as footwear is concerned, we recommend good walking shoes such as sneakers or sturdy sandals.
Belongings (a Towel and Water)
Be sure to bring some water or other drinks and a towel to wipe your sweaty brow. It can get extremely hot, especially during the daytime, so remember to stay hydrated by replenishing your fluids, and please have a great time at the festival!
*Travel times and transportation costs are based on information listed in the respective official home pages. This information is correct at the time of writing, April 2017. Please note that this information is subject to change.
View Information
Tokushima Awa Odori
| | | |
| --- | --- | --- |
| | Address | Tokushima prefecture, Tokushima, Terashima Honcho Nishi 1-61 |
| | WiFi | Not Available |
| | Accepted Credit Cards | Not Available |
| | Languages | Japanese |
| | Nearest station | JR Tokushima Station |
| | Access | 5 minutes on foot from JR Tokushima Station |