Momotaro's Battleground! 5 Stunning Spots At Megijima In Kagawa
This service includes sponsored advertisements.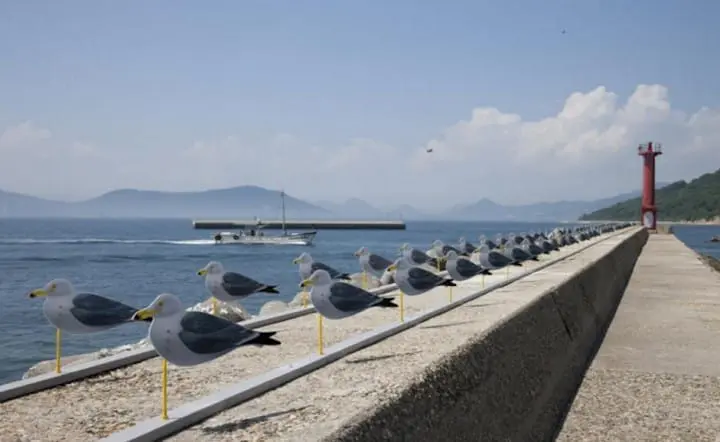 "Momotaro took a dog, a monkey, and a pheasant with him to Onigashima, to defeat the evil Oni." This is how a popular Japanese fairy tale begins. If you'd like to see Onigashima and feel like a true Momotaro, head to Megijima in Kagawa!
"After picking up a huge peach she found floating in the river, Grandma brought it home and broke it in half, only to discover a baby boy inside…" This is how an old Japanese tale named "Momotaro" begins. This boy Momotaro later goes on a journey to Onigashima, to defeat the Oni (*1), who have been pestering people nearby, and for his companions, Momotaro takes a dog, a monkey, and a pheasant with him.
One small island in the Seto Inland Sea, located around 4 kilometers from the coast of Takamatsu city in Kagawa prefecture, in the Shikoku Region, served as a model for this Onigashima from the tale. Its name is Megijima. There are plenty of places associated with the devil from the story around the island, so you can search them up and go on a quest around the island like a real Momotaro.
In order to get you the ultimate experience you can get (through a screen), let us introduce 5 interesting spots on Megijima via the power of the Google Street View (Japanese).
* 1 Oni: Japanese devils, ogres, and such. Oni have human-like figure, horns and fangs.
1. At Megijima's Entrance – Takamatsu Onigashima Oni no Yakata
That bright red building you can see in the vicinity of Megijima ferry port is Takamatsu Onigashima Oni no Yakata. Besides the waiting room for the passengers boarding the ferry, the facility also has an archive room, or Oni no Ma, where you can find out more about the Oni, as well as the restaurant area, in case you get hungry from all that oni-vanquishing business. Also, if you are up for some cycling around this interesting island, you can rent a bicycle from the waiting room of the facility.
Onigashima Oni no Yakata
Phone Number: 087-873-0728
Address: Kagawa, Takamatsu, Megijima 15-22
Website: http://www.my-kagawa.jp/point/250/ (Kagawa Official Tourism Website) (Japanese)
2. "Beautiful and Relaxing" Beaches of Megijima
Here's a suggestion – take a look around while at the Megijima ferry port. What you will see are beautiful, well-maintained beaches, Megijima's representatives in Japan's "Top 100 Most Attractive Bathing Spots", according to the list made by the Ministry of Environment. Captivating sights with the purest water are the ultimate setting to let yourself go, take a breather, and feel at ease with yourself and nature. If for some reason, that doesn't capture your heart and body, the transparent sea, and the softness of the pure, white sand will not fail to entice you, we promise.
3. There Really Was an Oni?! The Great Cavern of Onigashima
Hop on the shuttle bus at the Megijima port, bound for the Great Cavern of Onigashima, and after approximately ten minutes, you will find yourself at the entrance of the cavern where supposedly the real Oni once lived – the famous Great Cavern of Onigashima.
There are eleven separate areas inside of the cavern, but the one farthest from the entrance is believed to be the place where Oni boss, or Oni Taisho, lived, the so-called "Oni Boss's Quarters".
But, you should certainly take your time while gazing at the idyllic panorama view of the Seto Inland Sea from the cave's entrance area. Just fifteen meters above the Great Cavern, there lies The Great Observatory Platform Washigamine, from where the whole of Seto Inland Sea, together with its numerous islands, will seem at the palm of your hand.
The Great Cavern of Onigashima
Phone Number: 087-840-9055 (Onigashima Tourist Association)
Address: Kagawa, Takamatsu, Megijima 2633
Website: http://www.my-kagawa.jp/point/251(Kagawa Official Tourism Association) (Japanese)
4. Oni Are Watching Over You! Onigashima Breakwater Lighthouse
If you happen to see a large, 2-meter high Oni, sitting comfortably with a metal rod in his hand, overlooking the vast sea, you've discovered the Lighthouse of Oni, as Onigashima Breakwater Lighthouse is also called. What makes this lighthouse so special is its construction – it's situated on the top of the Oni's rod, from where it caringly watches over the busy ships of Megijima. Street view will allow you to take a sneak peek at the wonderful surrounding area of the lighthouse.
5. The Scattered Art – Behold the Moai, the Flock of Gulls, and Other!
We mustn't forget to mention one exceptional event which Megijima is the honored host of – the Setouchi Triennale, a contemporary art festival held once in three years. One of this event's outstanding art pieces is without doubt the 3.9-meter tall and 10.8-ton heavy replica of the renowned Moai Statues of the Eastern Islands in South America. They are displayed at the northern part of Takamatsu Onigashima Oni no Yakata, and regularly gets heaps of attention (and affection) from visitors from all over the globe.
But that is not all there is to Megijima – let your eyes wander around the breakwater in front of the Moai Statue, and soon your attention will go to this very unexpected art installation. About 300 seagulls forming a gigantic flock – a heart-warming, lovely sight to behold, much different from the scary (or protective) oni!
In Conclusion
Visit Megijima, with its remarkable Oni statues scattered all over the island, mingling with the great number of wondrous art pieces. No more than a 20-minute ride from the Takamatsu port by a ferry will bring you precious adventures and stunning sights – seems like a pity to miss such a place in Kagawa prefecture!

* This article is a translated and edited version of Street View Media by LIFE STYLE article Meet Another Side Of Onigashima From The Legend Of Momotaro With Street View! (Japanese).

Written by

ストリートビューMedia(https://media.l-s.co.jp/streetview/)を運営。 『世界に日本を伝えよう!』をテーマに、Googleストリートビューを通して 世界中の見たことがないような素敵な場所を紹介しています。

The information presented in this article is based on the time it was written. Note that there may be changes in the merchandise, services, and prices that have occurred after this article was published. Please contact the facility or facilities in this article directly before visiting. Some of our articles contain affiliate links. We kindly ask our readers to exercise careful judgement when making a purchase or booking a service online.
Top Articles
There are no articles in this section.