Akiyoshidai In Yamaguchi, A Stone-Speckled Terrain With An Eerie Underworld
Akiyoshidai is an area in Yamaguchi Prefecture where you can see a large expanse of karst formations. Akiyoshido Cave, lying beneath this plateau, holds the title of the longest limestone cave in Japan. Let's explore this area!
It was an afternoon in early April when a few Hiroshima-based friends and I decided to explore the Akiyoshidai Plateau area in Yamaguchi, our neighboring prefecture to the west.
Just a few hours' drive, we first visited Motonosumi Inari, a shrine unheard of by many tourists but arguably one of the most impressive in Japan.
The shrine features a line of 123 red torii gates, dramatically positioned on the cliffs of the Japan Sea, offering a stunning contrast of colors. You can read all about visiting Motonosumi Inari in this MATCHA article: Motonosumi Inari Shrine - The Hardest Shrine To Make An Offering At.
Hagi - A Former Castle Town on the Sea
After successfully conquering the ever-challenging Motonosumi Inari donation box, my friends and I headed to Hagi, a former a castle town in the north of Yamaguchi, right off the Sea of Japan. We spent the night at Guesthouse Hagi Akatsukiya where our host greeted us warmly upon arrival with offerings of tea and shōchū.
The accommodation itself was pleasant and inviting, a classic Japanese-style home with tatami and a toasty kotatsu to warm our legs in the morning. Guesthouse Hagi Akatsukiya is conveniently located within walking distance of the sea and several restaurants, and I would certainly recommend this hostel to anyone traveling in the area.
The next morning, we explored Hagi, a former castle town filled with historical relics and crafts. Still today, it appears to be straight out of the Edo period.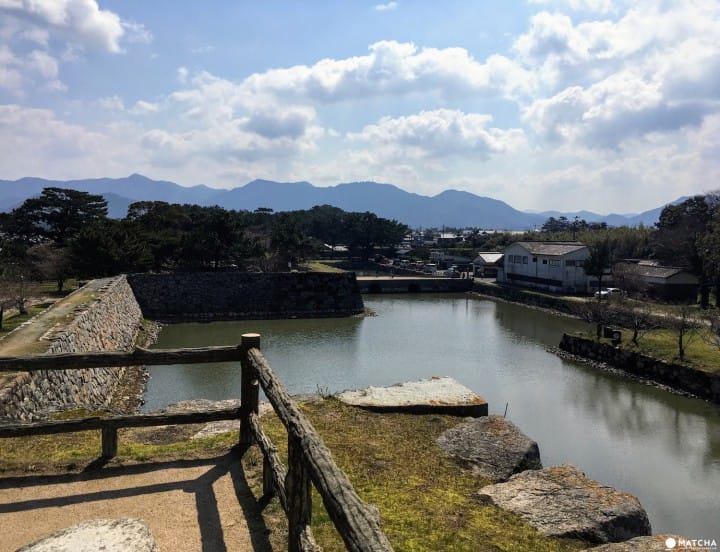 We walked along the waterfront, admiring the sea and the hills in the distance, and made our way to Shizuki Park to visit the site of Hagi Castle. While the castle itself was destroyed during the Meiji Period, you can still visit the castle grounds, today a UNESCO World Heritage Site.
We spent a pleasant morning wandering the park, watching children feed carp in the moat, admiring Shizukiyama Shrine, and enjoying some fresh taiyaki, a fish-shaped cake filled with red bean paste.
Where Are the Dragons?
After Hagi Castle, we were eager to continue on to the main attraction of our trip: Akiyoshidai Quasi-National Park, a large expanse of karst formations in Mine, Yamaguchi.
From Hagi, it's only about a 40-minute drive, and there is free parking available right at Akiyoshidai, so it's easy to get straight to hiking.
If you can imagine it, the area of present-day Akiyoshidai used to be filled with coral reefs back in the Paleozoic age, about 300,000 million years ago. Thanks, however, to the restless nature of Japan's tectonic plates, Akiyoshidai has formed into an impressive sea of grassy, rolling hills speckled with limestone rocks that you can visit today.
There are plenty of paths you can follow throughout Akiyoshidai, none of them particularly difficult as the hills are quite gentle. As we began our hike, I was seized with the feeling that I was no longer in Japan - perhaps Ireland or Scotland. Actually, the whole scene felt quite Game of Thrones-esque, and as we marched along the dusty trails veining through the stony hills, I half-expected to stumble upon Daenerys and her dragons.
Along with the thousands of craggy gray limestone rocks scattered about the hillsides, what's particularly special about hiking in Akiyoshidai is the utter lack of trees, so you can see exactly where you are headed. Though the weather was beautiful during our hike, I might steer clear if it's a rainy day, and I probably wouldn't recommend long hikes here in the summer months when the lack of shade would make this hike a scorcher.
Perhaps given the fact that it was a Monday, we had Akiyoshidai all to ourselves minus the occasional family. After hiking up a couple different hills, we decided to rest for a minute, lying down in the grass at the peak of one hill. Before we knew it, we were all asleep under the clear sky and gentle wind, left completely undisturbed. A perfect day for a snooze on top of centuries-old karst formations.
From Over the Hills to Under the Ground
After our mid-hike nap, we headed into Mine, a quiet little town of shops and craftspeople selling their wares. We walked through a stretch of shops and vendors, which included a particularly charming man selling grasshopper figurines made out of grass, as well as a lady selling googly-eyed rock and crystal crafts, adorned with the kanji of Akiyoshidai.
The main reason for our Mine visit, however, was Akiyoshidō, a massive limestone cave residing underneath the very ground we had just traversed. Over 300 million years old and stretching almost 10 km long, Akiyoshidō holds the title of Japan's longest cave (though only about 1 km is available to the public).
The cost to enter the cave is 1200 yen, but if you're a tourist, bring your passport because you can get a discounted entry cost of only 700 yen. About 1/3 of the cave is wheelchair accessible, and there is plenty of parking nearby for a small cost (though I could imagine these lots filling up during holidays).
After the inescapable sun of Akiyoshidai's hills, I could imagine Akiyoshidō would offer a nice respite from the heat in the summertime. Entering the cave, I felt as if I had just stepped into the underworld itself, stalactites dangling above like claws reaching below. I was impressed by not only the massive size but the diversity of the inside of the cave - in some parts smooth and dripping like some monstrous mouth, rough and jagged in others, even glittering and sparkling in some spots.
To call attention to particularly unique cave formations, there are signs posted indicating attractions like "The Goddess of Mercy," "King of the Cave," "The Thousand Rice Fields," and "The Jellyfish Climbing Up the Waterfall". Along with the signage, the inside of the cave also includes informational audio, railings, and some light fixtures, though flashlights are available for a small fee for those who haven't quite honed their night vision.
We completed our tour in about an hour, though I'm sure any cave enthusiast could be entertained for hours.
In Closing
Whether you like getting lost in dark, slimy spaces, trekking through meandering trails among the sun and stones, or exploring a historical town on the sea, a trip to the Akiyoshidai Plateau in Yamaguchi prefecture offers a number of spectacular natural and cultural attractions guaranteed to delight.

The information presented in this article is based on the time it was written. Note that there may be changes in the merchandise, services, and prices that have occurred after this article was published. Please contact the facility or facilities in this article directly before visiting.