Travel Back In Time! The Charming Taisho Roman Dori Street In Kawagoe
Take a trip back to a forgotten part of Japan in the beautiful town of Kawagoe. Taisho Roman Dori Street is an area where you can enjoy the elegant atmosphere of early 20th century Japan!
Japan is filled with beautiful sights from the very new to the very old including its many popular temples and castles.
However, how did Japan become the modern country we all know? After a very turbulent history during the Meiji Era (1868 - 1912), modern Japan started life in the very prosperous Taisho Era (1912 - 1926)!
Take a look at what Tokyo would have looked like around the beginning of the 20th century by visiting Taisho Roman Dori, a street in the city of Kawagoe, which is a short 45-minute train ride out of Tokyo. Kawagoe is known as the "Little Edo", because of the many Edo Era (1603 - 1868) buildings that line its streets.
The idyllic and picturesque street called Taisho Roman has been used as a setting in several Japanese television dramas and movies. From the old cafes, the Japanese sweet shops to the restaurants and galleries, you feel like you've gone back in time. Some of these shops have been in business for over 100 years!
Access to Taisho Roman Dori Street in Kawagoe
The easiest way to get to Kawagoe from Tokyo is by train. From Ikebukuro Station, the fastest way is taking the Tobu Tojo line to Kawagoe (30 minutes, 450 yen).
You can get a discount round-trip pass (available only for short-term foreign visitors). It costs 700 yen at the train counter.
From Shinjuku Station, there are two more relaxed but slightly more expensive options: the Seibu Shinjuku Limited Express Koedo heading to Hon-Kawagoe (43 minutes, 890 yen) or the JR Saikyo Line to Kawagoe (60 minutes, 760 yen).
If you are feeling a bit lazy, it might be good to know that Hon-Kawagoe Station is about 5 minutes closer to Taisho Roman Dori than the JR Kawagoe Station.
There are also buses from Haneda Airport and from Narita Airport to Kawagoe (2-hour ride, 3200 yen), if you want to take a look at this area on your way in or out of Tokyo.
When you arrive at JR Kawagoe or Seibu Hon-Kawagoe Station, make sure to drop by the tourist information center. They have English-speaking staff and can provide maps in several languages along with advice on events and details of the many other sights in Little Edo and the surrounding area.
There is also another tourist information center hidden at the end of Taisho Roman Dori. Walk all the way to the end of the mall, cross the street and you'll find it in an old Edo-era building. The staff here too are very helpful and speak English.
From either station take the exit on the right side and it's a short 5-10 minute walk north along the main street. Keep going until you reach an intersection with a large orange torii gate (traditional Japanese wooden gate usually found at the entrance to shrines).
Turn right and then take the first left. Welcome to Taisho Roman Dori!
Where to Look in the Street
1. Tsumano Coffee
One of my favorite places to visit is Tsumano Coffee. With its charming mix of dark mahogany wooden interiors, soft lights and staff dressed up in their finest black and whites, this is the perfect stop to sit and reflect, while watching the world go by outside.
2. Traditional Japanese Sweets
Iseya Dango is traditional Japanese sweet store with all sweets made fresh on the premises. It has been in operation for over 100 years! They specialize in dango (sweet rice dumplings) which you may have seen before. These are three mochi rice balls on a stick covered in a thick gooey mix of sweet soy sauce like molasses.
3. Taisho Arts and Crafts
While most of the stores along Taisho Roman Dori are restaurants and cafes, Lou Lou sells an eclectic mix of hand-made arts and crafts.
4. Taisho Honey Farm and Café
Kasumi Flower is the most famous shop on this street! Featured in countless magazines, travel guides, TV programs and even a Hong Kong guidebook to Japan, Kasumi Flower sells a wide range of home-made honey direct from the owner's family farm.
However, somewhat to the kind owner's chagrin, it has become far more famous for the owner's black Shiba dog, Priya. Priya can usually be found resting in the café at the back of the shop.
However, any visitor to Kasumi Flower can quickly see that Priya is truly the star of the show. She has her own website, made several TV appearances, posed for magazine photo shoots and is featured extensively throughout the store with her own postcard and painting gallery!
Other Places to See Near Taisho Roman Dori
You can easily spend a whole day in Kawagoe as there is plenty to see and do. This includes the famous Toki no Kane (Time Bell Tower), Kashiya Yokocho (Penny Candy Alley) with several old-timey sweet shops, Kitain - one of the most famous temples in Saitama, and the streets of Koedo (Little Edo).
The Charms of Koedo (Little Edo)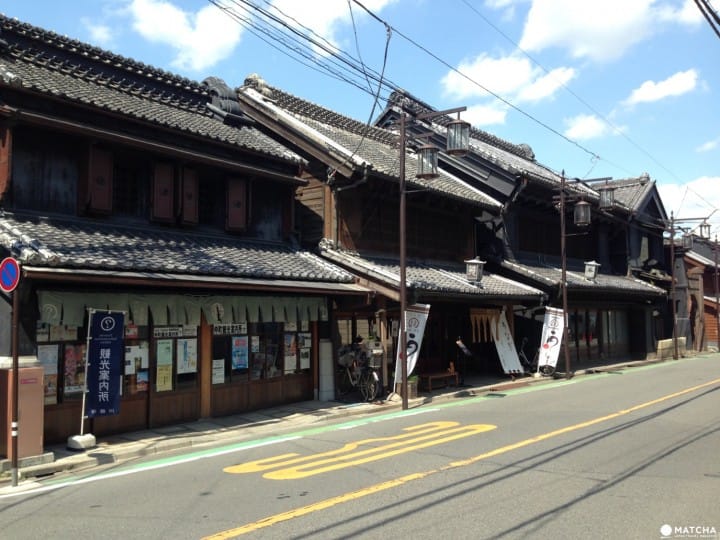 Little Edo Tourist Information Centre
Right next to Taisho Roman Dori is a very unique and interesting part of Kawagoe, a place where you can slip back in time to the Tokyo of the old, called Koedo or Little Edo. Little Edo features many old houses and fascinating places to see from the Edo Period. Several television dramas and movies have been shot around this area so you may even see cameras rolling! For more information on events and places to see, visit the tourist information somewhat hidden inside one of the houses at the end of Taisho Roman Dori (pictured below on the far left).
Events in Taisho Roman Dori
Each year on the last Saturday in October, the Taisho Parade is being held. (For 2017, it will be on October 28th.)
This parade really brings the Taisho Period to life. Of the many people taking part, you can see horse-drawn carriages ferrying well-to-do ladies of the era in their long flowing dresses shaded from the sun by their frilled white summer cotton parasols, to the gentlemen with their Western styled tuxedos and top hats.
You can also see a very interesting mix of Japanese kimono and western dress for the school uniforms of the time as well the change in style for the geishas of the era.
Enjoy Your Time In Kawagoe's Taisho Roman Dori!
Kawagoe is well worth a visit if you want to get a glimpse of how the Japanese towns looked like in the past. With its charming cafes and shops, Taisho Roman Dori is an area in Kawagoe that you shouldn't miss out.

The information presented in this article is based on the time it was written. Note that there may be changes in the merchandise, services, and prices that have occurred after this article was published. Please contact the facility or facilities in this article directly before visiting.