Cooking Studio Kanazawa Salon - Learn To Cook Exquisite Japanese Food
Kanazawa Salon is a cooking studio in Kanazawa City where you can learn the art of cooking healthy and wholesome Japanese cuisine. From sushi to unique Kanazawa dishes, you will learn to cook delicious Japanese food from experienced cooking instructors.
Cooking Studio Kanazawa Salon offers cooking lessons in exquisite Japanese cuisine. Healthy and seasonal ingredients are at the heart of each lesson, and are combined with the passion and expertise of the cooking instructors.
Cooking lessons are offered in English, and each is especially customized with the visitor's needs in mind. You will learn how to cook a series of delicious Japanese dishes which you can easily recreate once back at home.
Kanazawa Salon - A Cooking Studio in a Traditional Townhouse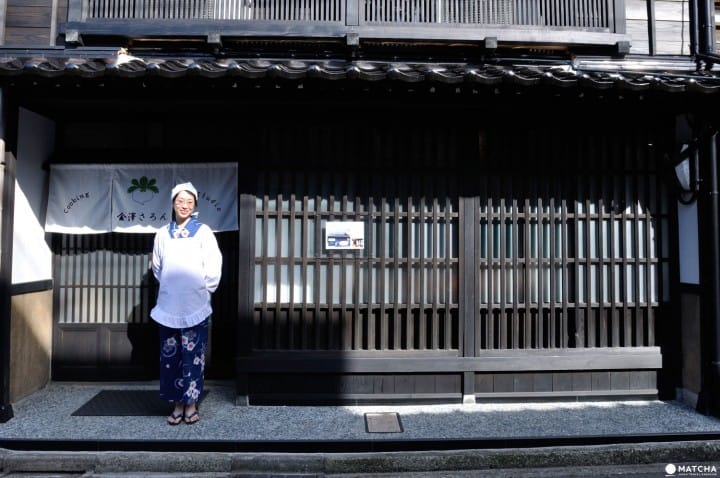 Kanazawa Salon is set upon a quiet street off from the bustle of Kanazawa's city center. The cooking studio lies within an exquisitely restored machiya, a Japanese traditional townhouse, and the wooden latticed shopfront resonates with the charms of the city's traditional landscape.
Cooking lessons are offered year round, and all lessons are private with reservations required in advance (see below for contact details). Typical lessons are three hours long, and the menu offerings are customized to match dietary and taste preferences.  And even better, all recipes are Kanazawa Salon's very own original.
At the start of the lesson and following introductions over tea, Moe Aoki, a cooking instructor, gives a brief presentation on what is in many ways at the heart of Japanese cuisine, koji.
Koji is a microorganism that is best known for its role as a fermenting agent, and is responsible for the many seasonings that we simply couldn't do without in the typical Japanese kitchen. It's also used directly in cooking, and is something that's entirely unique about Kanazawa Salon.
Now let's see what a cooking lesson at Kanazawa Salon looks like.
First on the Menu - Sushi!
On the day of my visit, sushi was on the lesson menu for the day. To start with, we first went about preparing the rice which is delicately seasoned with a light rice vinegar. Under the instructor's guidance we formed the rice one by one into an appropriate shape and size, all the while chatting over some deliciously steamed edamame, soy beans, lightly seasoned with salt.
In addition to the familiar nigiri style of sushi where the rice ball is overlaid with a slice of fish or other topping, we also learned to create what's called gunkan-maki, or battleship! Its name derives from its shape after the nori (seaweed) is wrapped around the ball of rice creating an anvil-like form.
A variety of different fillings can then be set within the recess of the nori, such as fish roe, or even better, an entirely original topping created by Kanazawa Salon.
We prepared vegetarian sushi using peppers and eggplant marinated in koji, as well as a burdock root salad dressed in an original miso, amazake (sweet sake), and koji dressing. A single nigiri piece was prepared with sea bream, which is a local delicacy, and served atop a bed of okara, tofu lees. A dab of koji marinated in soy sauce atop of each sushi piece was the perfect finishing touch.
It was all quite simply, delicious! The complex and subtle flavors and entirely pleasing texture were unexpected, and quite literally unlike anything I have ever tried before.
Learning from Experienced Cooking Instructors
As much as I came to learn for myself through doing, there were equally moments when I learned as much through observing the instructors and their experienced hands. Japanese cuisine is as much about taste as it is about presentation, and it was a pleasure to simply watch the calm and skilled manners of the instructors.
The emphasis throughout the lesson was the use of seasonal ingredients and then applying to them delicate yet simple methods in coaxing out their natural flavors. This is very much so one of the key reasons why the traditional Japanese diet is considered to be as healthy and wholesome, as it is.
Original Dishes You Can Learn to Cook at Kanazawa Salon
Jibuni is a dish that is unique to the Kanazawa area, and regarded as a traditional delicacy. Duck meat that has been marinated, along with shiitake mushrooms, seasonal vegetables, and wheat gluten are simmered together in dashi, the Japanese soup stock made with kombu (kelp) and katsuobushi (dried and sliced bonito). Or, so it's done traditionally.
Kanazawa Salon instructors just as often experiment with traditional dishes and techniques in adapting them as needed for their visitors. In the case of the jibuni for example, the result was pleasingly delicious and promisingly simple, and I was convinced that I could make it as easily for myself at home.
Another wonderful dish we learned to make at Kanazawa Salon was shiso ice cream, a homemade shiso infused vanilla ice cream topped with a shiso based syrup which was absolutely divine. Shiso, Japanese perilla leaf, has an exquisite flavor and fragrance, and I was amazed at how Kanazawa Salon adapted it as wonderfully into the day's lesson menu.
Learn to Cook Local Dishes at Kanazawa Salon!
Cooking Studio Kanazawa Salon makes for a delightful and intimate experience in the art of cooking Japanese cuisine. Set within the charms of a traditional machiya, and learning and laughing with the wonderful instructors, it's an experience to be cherished.

Cooking lessons are private and offered daily. However, reservations are required so be sure to contact them in advance! Use the booking form on their homepage (see below),  or mail them directly at: info@cookingkanazawa.com.

The information presented in this article is based on the time it was written. Note that there may be changes in the merchandise, services, and prices that have occurred after this article was published. Please contact the facility or facilities in this article directly before visiting.