TAMASHIMA Instameet - See Okutama's Beautiful Autumn Foliage!
Only two hours from Tokyo, Okutama is a famous spot for admiring the autumn leaves. MATCHA's editorial team joined a unique event called TAMASHIMA Instameet, and today we bring you all the event details and some of the sights in the Okutama area.
Okutama, located west of Tokyo, is an area blessed with scenic spots featuring beautiful mountains and crystal clear streams.
Here, the bountiful natural surroundings may make you wonder if you really are in the Tokyo area, and it's also known as a great place to enjoy the autumn foliage. Another plus factor is that it's only two hours away by train from Shinjuku Station.
In the middle of November, the autumn leaves make their appearance in Okutama, slightly ahead of the central Tokyo area.
The members of MATCHA's editorial department recently joined an event called TAMASHIMA Instameet, which was sponsored by TAMASHIMA.tokyo, a website that carries information about the attractive features of Tokyo's Tama area and Tosho area (a series of small islands that are part of the greater Tokyo region).
Together with photography buffs from around the world, we took pictures of Okutama's breathtaking scenery and brilliant autumn foliage. Two highly popular Instagrammers who go by the names of Moonlightice and pketron, also joined the event and gave everyone tips on the finer points of photography.
In this article we'll give you all the details on this enjoyable and fulfilling event and also introduce Okutama's superb autumn scenery.
Now together as a group, let's go looking for Okutama's magnificent autumn leaves!
Lake Okutama - A Picturesque Man-Made Lake
First of all, we'll leave from Okutama Station and head for Lake Okutama. To get there we'll hop aboard a bus that was arranged by the tour organizers.
During our twenty minute commute, a local person who's lived in Okutama for more than thirty years, provided us with some commentary on Okutama's natural surroundings.
The guide's information was also made available in Chinese and English, so even those who didn't understand Japanese were able to enjoy the presentation.
This is a picture of Lake Okutama. The surface of the lake is a shimmering blue, and the lush green trees and autumn leaves look stunning. For first timers, this makes for a moving and unforgettable view.
Surprisingly, Lake Okutama is a man-made body of water built in 1957. It has stored water reserves of 185,400,000 cubic meters, and it's used for domestic purposes by the citizens of the greater Tokyo area.
Crisscrossing one part of the lake is the Ukihashi floating bridge, made from wooden planks and pontoons. As you cross this bridge it gently sways back and forth, giving you the sensation of actually walking on the lake's surface.
If you walk for about ninety minutes along one of the small paths bordering the lake, you reach Yama no Furusato Mura Village. This is a combination sightseeing and handicrafts center, and there's also an adjoining restaurant and a place to stay for the night.
In the village's courtyard area there are momiji (Japanese maple trees). All the people who joined this event are camera buffs. So now everyone is going to take pictures of the beautiful bright red leaves. We also exchanged ideas on how to take better pictures.
Out in the great outdoors, we inhaled the fresh mountain air, and exchanged ideas and techniques with others who share the same love for photography. It was a precious and enjoyable time for everyone who participated in this event.
On TAMASHIMA.tokyo's Facebook and Instagram pages, you can see Okutama's picturesque scenery, so by all means please check it out!
Hikawa Keikoku Valley - Famous for Its Autumn Leaves
Next we'll head for Hikawa Keikoku Valley, which is only a five minute walk from Okutama Station.
This is a valley that was formed by the merging of the Nipparagawa River and the Tamagawa River. While listening to the sound of the water flowing through the valley, you can admire the red, yellow and other colors of the changing autumn leaves.
While taking in the beauty of the surrounding fall foliage, we walked for about forty to fifty minutes.
While walking along the nature trail, we saw a number of bridges including Hikawa-kobashi, a suspension bridge, and the Showa-bashi railroad bridge (see photo above).
In particular, the view of the railroad bridge and the autumn leaves looks just like a picture postcard. While looking at this breathtaking scenery it felt like I was in a kind of paradise.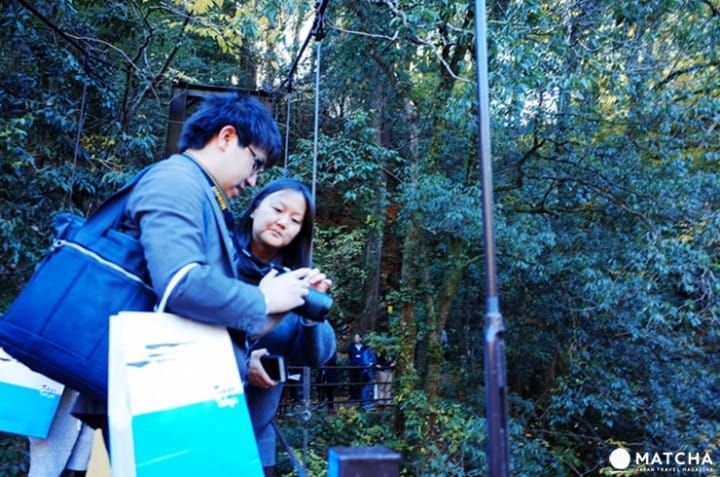 While at the Hikawa Keikoku Valley, Instagrammers Moonlightice and pketron taught us the finer points of photo-taking, picture composition and photo modification. I think we'll be able to make use of this newly acquired knowledge very shortly!
Access to Okutama
JR Okutama Station, the nearest station in the Okutama area, is the terminus of the Ome Train Line. From JR Shinjuku Station you hop aboard the Chuo Line, then at Ome Station you transfer to the Ome Line, and finally arrive in Okutama two hours later.
On Saturdays, Sundays, and holidays, there's a special train that runs directly from Shinjuku Station all the way to Okutama Station, called the JR Rapid Express Okutama. Without transferring, you can get to Okutama Station in about ninety minutes.
Come Visit Okutama
The beauty of Okutama's natural surroundings is something you normally don't have the chance to see within the Tokyo metropolitan region.

So if you're feeling worn out by the hustle and bustle of the big city, why not take a short trip to Okutama where you can refresh your body and soul?

For information on nature in the Tokyo area, please refer to the Tamashima official homepage.



Written by cha cha
Sponsored by Tokyo Metropolitan Government

The information presented in this article is based on the time it was written. Note that there may be changes in the merchandise, services, and prices that have occurred after this article was published. Please contact the facility or facilities in this article directly before visiting.