Immerse Yourself In Nature! 5 Hiking Spots In The Greater Tokyo Area
Tokyo is known best for its modern cityscape and shopping spots - visitors often think that there is no nature to enjoy. However this isn't true; there are many spots in the Greater Tokyo area where you can enjoy natural surroundings and hiking.
Sightseeing in Tokyo often means visiting Tokyo Tower and Skytree, some temples and shrines like Sensoji, and shopping for some great electronics. However, what you might not know is that there are places where you can enjoy the Japanese seasons and nature as well.
Today, we'll be introducing five hiking spots that you can visit on a day-trip from Tokyo. Nature-lovers will love these spots!
Mount Takao
Mt. Takao is a three-star mountain according to the Michelin Green Guide, and is said to be the most climbed mountain in the world, with over 2.6 million annual visitors. There are several hiking courses to the peak so that you can choose the one best fit for your physical strength and the time that you have.
From Hike the Most Visited Mountain in the World, Mount Takao
You can climb halfway up the mountain on a chair lift or cable car, as well as hike a neatly paved trail. There are also courses for those who are up for more steep mountain paths. Whichever course you choose, you will be rewarded with a magnificent view at the top. Even Mt. Fuji will be in sight on a sunny day.
Access: Takaosanguchi Station, Keio Line
Read also: Hike the Most Visited Mountain in the World, Mount Takao
Mount Kumotori
From Made it to the Top of Mt.Kumotori, Highest Mountain in Tokyo!
Mt. Kumotori is the highest mountain in Tokyo at 2,017 meters and is the only mountain to be chosen as one of the 100 Famous Japanese Mountains. Here you can enjoy a walk in the woods, listening to the birds chirping and maybe drinking some spring water along the way. You'll also be able to see Mt. Fuji from here on a sunny day.
From Made it to the Top of Mt.Kumotori, Highest Mountain in Tokyo!
However, it is usually recommended to take two days to climb Mt. Kumotori, so you should only try a day-trip here if you are confident in your hiking skills and can start climbing in the early morning.
Access: Take the JR Ome Line to Okutama Station, ride the bus for Kamosawanishi and alight at Kamosawa.
Read also: Made it to the Top of Mt.Kumotori, Highest Mountain in Tokyo!
Hatonosu Keikoku Valley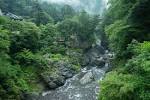 Photo By Ippei & Janine Naoi
Located along the Tama River, Hatonosu Keikoku Valley is known for its deepness and beauty, as well as its giant and strange-shaped rocks. The trail along the valley is nicely maintained and is relatively easy to walk. The spot is also known for its magnificent autumn leaves, and is crowded with visitors in the fall.
You can enjoy the scenery on a one-hour hiking trip from the Hatonosu Kobashi suspension bridge back to the station, or if you have the time and confidence, you can venture further upstream and take a ten-kilometer hike from JR Kori Station to Okutama Station. There are many sights to stop by and check out, such as clear streams where fireflies dwell, a giant Machilus thunbergii tree (fourth largest in Japan), a bridge across the valley, a waterfall, and Lake Shiromaru and Shiromaru Dam.
Access: 5 minute walk from Hatonosu Station on the JR Ome Line
Mount Takamizu
Photo By Guilhem Vellut
Mt. Takamizu, as well as the adjacent Mt. Iwatakeishi and Mt. Sogaku, are all mountains more than 700 meters above sea level, and are known for a hiking course called Takamizu Sanzan. There are several trails, but the most popular is the route from Ikusabata Station to Mitake Station. From the summit of Mt. Iwatakeishi, the highest of the three, visitors can enjoy a great view of the mountains of Okutama.
Access: Ikusabata Station, JR Ome Line
Mount Mitake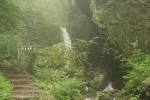 Photo By Yusuke Nakanishi
Mt. Mitake is a mountain of 929 meters, and is known for its beautiful autumn leaves in the fall. You can reach the top in about six minutes if you ride the cable car, but if you're here for hiking we recommend climbing on foot. The trail will take about an hour on the way up and 40 minutes on the way down. The rock garden hiking course, which allows visitors to enjoy sights like strange-shaped moss-covered rocks and waterfalls, is also popular.
Access: From Mitake Station on the JR Ome Line, it's ten minutes by Nishi Tokyo Bus to the cable car Mitake Tozan Railway Takimoto Station (the Holiday Okutama-go (Special Rapid Service) runs from Shinjuku on Saturdays, Sundays, and holidays, connecting Shinjuku and Ome Line Mitake Station in 75 minutes)
In Closing
Did you find a hiking spot you want to visit? All of the places we introduced today are close to Tokyo and easy to get to. But don't forget that temperatures in the mountains are lower and that the sun goes down earlier than in cities. Make sure you have the right clothes and stick to your schedule.
Remember also to have good manners when hiking, leave only footprints behind, take only photos home with you, and have a great time!

The information presented in this article is based on the time it was written. Note that there may be changes in the merchandise, services, and prices that have occurred after this article was published. Please contact the facility or facilities in this article directly before visiting.