Shiojiri In Nagano - Discover The New In The Japan Of Old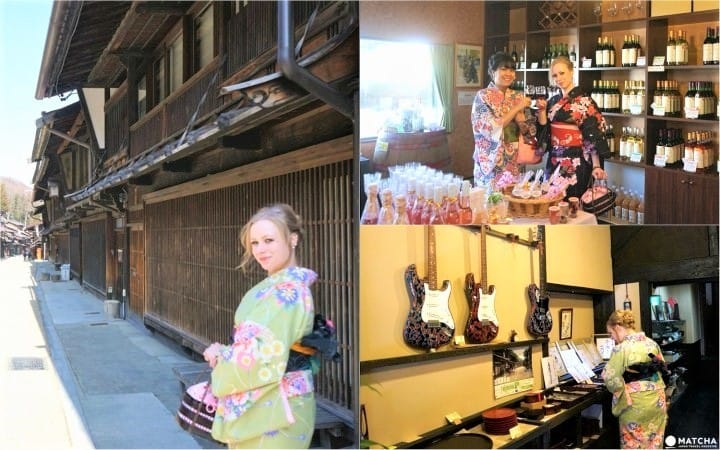 Shiojiri in Nagano is a city famous for their Shinshu wine and lacquerware. The Narai-juku area preserves the atmosphere of olden Japan and is full of highlights! We will introduce the best places to visit in Shiojiri to enjoy the city to the fullest.
Shiojiri in Nagano - The City Of Wine And Lacquerware
Shiojiri, accessible in 10 to 20 minutes by train from Matsumoto, Nagano, is known as a city that makes both delicious Shinshu wine and exquisite lacquerware. Narai-juku, situated in the southwestern part of the city, was a post town along the former Nakasendo Road that used to connect Edo (Tokyo's historical name) and Kyoto since the Edo period. This is an area that has preserved its traditional atmosphere and is registered as one of the Nation's Important Preservation Districts for Groups of Historic Buildings.
Narai-juku is currently a residential area with lacquerware shops, ryokan (Japanese inns), restaurants, museums, shrines and other beautiful places that are worth visiting. It's a lot of fun to walk around this picturesque town that gives you the feeling you've time traveled into olden Japan.
If you'll be traveling to Nagano, then how about stopping by Shiojiri where you can freely enjoy delicious wine, a traditional Japanese townscape, and beautiful lacquerware?
In this article, we will introduce the charms of Shiojiri by considering these three areas: 1. The area around Shiojiri Station, 2. Kiso-Hirasawa, an area famous for lacquerware, and 3. Narai-juku, where the old townscape still remains. Let's head out onto a trip to discover the various aspects of Shiojiri through the appeal, experiences, and sightseeing spots that each area offers!
How To Access Shiojiri
Shiojiri is accessible from Matsumoto Station in 10 minutes by the JR limited express train and 18 minutes by regular trains.
If departing from Tokyo, you can access Shiojiri in 2 hours and 30 minutes by taking the limited express train Azusa from Shinjuku Station. If departing from Nagoya, you will be able to arrive in one hour and 50 minutes by taking the limited express train Shinano.
You can utilize either the JR Chuo Main Line or the JR Shinonoi Line to travel within the city.
1. The Shiojiri Station Area: Enjoy A Winery Tour And Local Foods!
You'll definitely want to visit the area near Shiojiri Station once you've arrived. Facilities where you can try the local cuisine, gourmet foods and wine are all gathered together in the area near the station.
It goes without saying that you should try visiting the wineries in Shiojiri, which make the exquisite Shinshu wine that is representative of Japan, and you'll want to try soba (buckwheat noodles) when you come to Nagano. You should also try the Shiojiri-only sanzoku-yaki!
Perfect For A Trip With Friends! Explore Shiojiri In Kimono
How about changing into a kimono before beginning your exploration of Shiojiri? At Monami Hair Salon near Hirooka Station you can rent a kimono, be fitted into it, and even have your hair and makeup done for you.
If you wish to take a walk in Narai-juku, which is filled with the atmosphere of traditional Japan, and continue your stroll through the city, then change into a kimono and you can take a wonderful photo with the town in the background! We especially recommend this for groups of friends that are traveling together.
Sobaya Shimizu - Taste Three Color Soba
Sobaya Shimizu, widely spoken of as a restaurant that serves some of the most delicious soba (buckwheat noodles) in the city, is located a nine minute walk from Shiojiri Station.
Here at this restaurant, you can try zarusoba, a specialty of soba served on a bamboo draining basket, made with three types of soba noodles. It also comes with pickled daikon radish, a refreshing side dish that makes the perfect combination with the noodles!
Enjoy Shiojiri's Delicious Wine Through A Winery Tour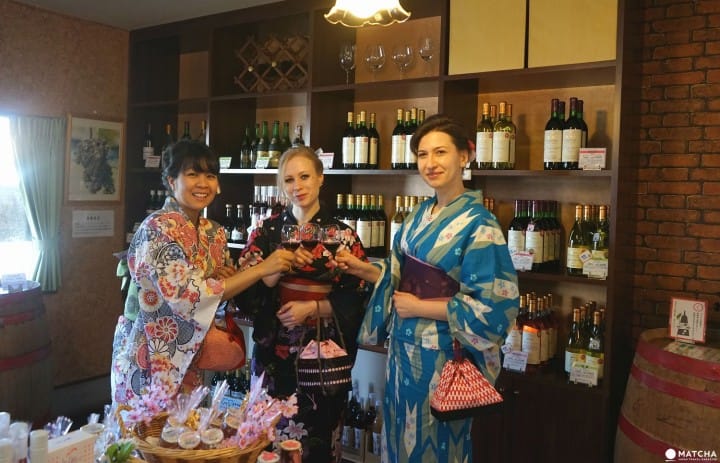 In the Shiojiri area, there are great differences of temperature between day and night, which makes it the perfect region for cultivating grapes. As a result, there are several famous wineries in the city. The winery that we'd like to introduce in this article is Hayashi Winery, the maker of the local specialty Goichi Wine.
At the Hayashi Winery Goichi Wine store, you can purchase various wines from daily wines to high-quality brands, which you can actually taste on spot! Ten different wines are available for tasting at the store. We recommend the grape juice made by Hayashi Winery if you can't have alcohol. Similar in taste to their wines, you can enjoy the sweet and deep flavor of the grapes grown in Shiojiri through this juice. You can also enjoy a tour of the winery upon request.
Try A Shiojiri Local Cuisine – Sanzoku-Yaki
Though soba and wine are representative foods of Nagano, sanzoku-yaki is a regional cuisine unique to Shiojiri that has continued to be loved by locals since long ago. We recommended the restaurant Sanzoku near Shiojiri Station if you'd like to try sanzoku-yaki.
Sanzoku-yaki is a dish of chicken legs coated in a soy-based sauce, dipped into potato starch, and then fried in oil. The taste of the soy sauce flavored with garlic and onions alongside the crispy texture of the batter is really appetizing. It also goes amazingly well with red Shinshu wine!
2. Kiso-Hirasawa - See Amazing Lacquerware In Shops And Workshop Tours
Kiso-Hirasawa Station is accessible in about 20 minutes when traveling towards the Nakatsugawa area by regular train on the JR Chuo Main Line from Shiojiri Station. Several lacquerware shops, a representative industry of Shiojiri, are located in the town of Kiso-Hirasawa near the station.
Yamaka Ogimura Lacquerwares - Ware for the Modern Daily Life
At Yamaka Ogimura Lacquerwares, you can find traditional lacquerware that go well with Japanese rooms, but also ware that is easily useable in everyday life, as well as objects with refined, modern designs.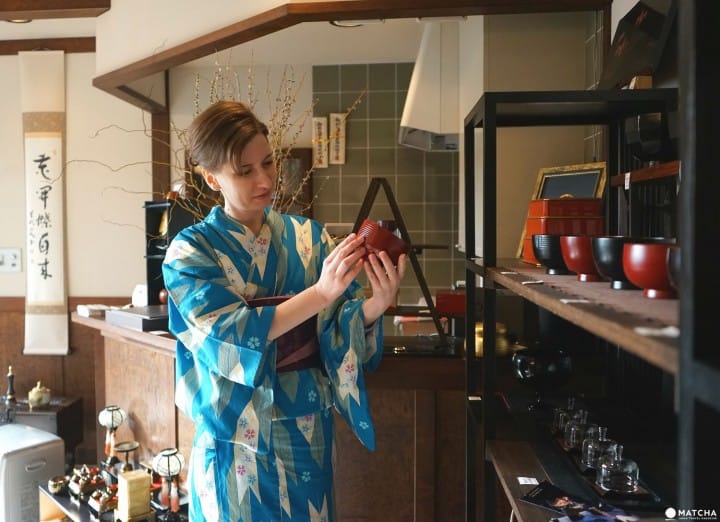 When asked, the owner will show you to their storehouse where valuable lacquerwares are displayed in a Japanese-style room. All lacquerware found in this storehouse have a distinctintive Japanese design. How about trying to find a souvenir here if you'd like to introduce a feel of Japanese culture into your daily life?
Ito Kanji Shoten - Wares That Become More Beautiful The More They're Used
At Ito Kanji Shoten, located opposite of Yamaka Ogimura Lacquerwares, you can find lacquerware, furniture, ornaments, and other objects that could make great souvenirs.
Lacquerware is originally a type of ware that can be used for a long time, but the products at Ito Kanji Shoten are characterized by an increasing luster the more and more they are used thanks to a specific manufacturing process. Bowls and tableware you'll want to treasure for years to come are produced by a technique called "ancient madder coating" (kodai akane-nuri).
The skills of the artisans can be observed at the studio located behind the store. If you'd like, then definitely please observe how these objects are made. Matcha green tea is served to those who come to visit the studio.
Maruyoshi Kosaka Wood & Urushi Works - Beautiful Lacquered Glass Ware
At Maruyoshi Kosaka Wood & Urushi Works, a shop that has mastered the technique of lacquered glass, is where you can find lacquered glass bowls and utensils that are still quite rare in Japan. Several dishes with beautifully practical appearances from bowls and platters to wine glasses decorate the gallery inside. Those who wish to purchase these products as a souvenir can purchase them on the spot.
The workshop on the second floor of the shop can also be visited upon request. Here, you can observe how lacquer is applied to these products from up close.
Kiso Lacquerware Museum - Try Your Hand at Chopsticks Lacquer Painting
The Kiso Lacquerware Museum is a facility that holds exhibitions related to Shiojiri lacquerware techniques and lacquered masterpieces. By enjoying these exhibitions, you will come to understand how the lacquer culture developed in Shiojiri. Valuable lacquerwares that have been registered as Important Cultural Properties are also viewable in the first-floor exhibition room.
You can actually try your hand at lacquer painting at this facility. How about making your very own chopsticks, with an original design that is the only one of its kind in the world? You will be using black or red lacquer to paint your chopsticks. After they dry up, they will be delivered to your address by post. Chopsticks coated with lacquer can be used for a long period and will become a precious memory of your trip to Shiojiri.
3. Narai-juku - Walk Through An Elegant Townscape
Narai Station is accessible in approximately four minutes by train on the JR Chuo Main Line from Kiso-Hirasawa Station. From here, you can begin your stroll through Narai-juku, once the longest post town on the Nakasendo Road that connected Edo (Tokyo's historical name) to Kyoto. We will introduce several of Narai-juku's charming sightseeing spots.
Soba Restaurant Tokkuriya - Experience the Japan of Old
We recommend Tokkuriya as a restaurant where you can taste delicious zarusoba and Narai-juku's local specialty gohei-mochi (rice cakes flavored with sesame, miso, or soy sauce). The gohei-mochi served at this restaurant are seasoned with walnuts, black sesame, and Japanese pepper miso!
Not only is the food delicious, but there are also Japanese-style rooms and a sunken hearth inside. The fact that the rooms in this restaurant remind one of old Japan is one of this restaurant's charming features.
Echigoya - Travel Back In Time To The Edo Period
Echigoya is a ryokan (Japanese inn) that has existed in Narai-juku since the Edo period and even now continues to be operated as an inn. You can leisurely enjoy your trip to Shiojiri by making a reservation beforehand and staying at this inn, then immersing yourself in the history and atmosphere of Narai-juku.
By all means, please stop by to visit Echigoya as it's fun even just to visit, too.
Nakamuratei - Learn about Edo Period Lifestyle
Nakamuratei, a comb shop that prospered during the Edo period, is now open to the general public as a museum. Exhibited in this museum are objects that were once used in the household and shop, combs, and various archives. Here you can learn about what kind of lives people led in the Edo period.
Saito Lacquerwares - Chic Accessories and Souvenirs Only Found Here
At Saito Lacquerwares, you can find fashionable lacquerwares that are useable in everyday life as well as lacquer-made accessories. You'll be able to find and bring back beautiful accessories that go well with both a kimono and regular clothing such as ear piercings, pendants and hair ornaments.
Teahouse Kodemari
We recommend Teahouse Kodemari to those who want to take a short break during their stroll through Narai-juku. In this quiet, relaxing space, take your time to look back on your experiences in Narai-juku and enjoy delicious coffee or tea together with cakes made with sarunashi (hardy kiwifruit), a fruit harvested in local forests.
Shiojiri - Traditional Japan, Wine, And Lacquerware
Not only has the traditional culture and townscape remained in Shiojiri, but the city also has a natural environment that has well incorporated international cultures such as that of wine. An approach to further modernize those cultures has also taken root in the city.

There are many other features of Shiojiri aside from the elegant towns and shops that we have introduced in this article. If you have the opportunity to visit Nagano, then definitely please try visiting Shiojiri!

It is best to have a full day or stay for one night to fully enjoy the itinerary introduced in this article. We recommend visiting the city with a flexible schedule and taking the time to enjoy the richness and slow-paced rhythm of this beautiful area.

Sponsored by SME Support, JAPAN

The information presented in this article is based on the time it was written. Note that there may be changes in the merchandise, services, and prices that have occurred after this article was published. Please contact the facility or facilities in this article directly before visiting.