Hiroshima Food Trip - Enjoy Both Okonomiyaki And Oysters!
While visiting Hiroshima, make sure you taste okonomiyaki and oysters, Hiroshima's representative foods! In this article, we introduce a special food event that involves over 80 restaurants showcasing their best dishes!
From Hiroshima Guide: Sightseeing Highlights, Cuisine And More
To many visitors, Hiroshima is one of Japan's most interesting cities. The reason behind this lies in Hiroshima's countless must-see spots, such as well-known World Heritage locations Itsukushima Shrine and Hiroshima Peace Memorial, and other places that are living proof of its abundance of beautiful nature, such as the Seto Inland Sea.
Still, there is another great pleasure that sightseeing in Hiroshima can offer – Hiroshima food! In this article, we will introduce an event where you can spoil yourself with the delicious dishes of Hiroshima – Hiroshima's very best okonomiyaki, and fresh seafood.
Must Try! Hiroshima's Best Known Foods - Okonomiyaki and Oysters
Two of Hiroshima's very best dishes that absolutely have to be a part of every Hiroshima trip, are Hiroshima-style okonomiyaki and oysters.
Hiroshima's Okonomiyaki - A Local Pride
From Satisfaction Guaranteed! Enjoy Hiroshima-Style Okonomiyaki
The main trait of Hiroshima-style okonomiyaki is the topping. The thin pancake-like dough is topped with great amounts of various vegetables, unlike the Kansai-style okonomiyaki, where the meat, cabbage, and other ingredients are all mixed in together with the batter. After turning the ingredients upside-down with the crispy dough now on the upper side, just top the dish with some fried Chinese noodles, and voila! The tasty meal is ready.
Making everyone's mouth water with its sweetish sauce, okonomiyaki truly is Hiroshima's soul food, loved and eaten by people of all ages. And it is sure to fill up anyone's stomach, no doubt about that!
Picture courtesy of Hiroshima City
At Okosta near Hiroshima Station, you can make your own okonomiyaki. If you're up for learning how to make the unique Hiroshima-style okonomiyaki, this is the place to go!
Find out more about Okosta on this page. 
A Must-Taste! Large, Quality Hiroshima Oysters
Picture courtesy of Hiroshima City
Oysters are another product that's representative of Hiroshima.
The Seto Inland Sea near Hiroshima has perfect conditions for producing large, flavorful oysters. Its clear and warm waters are full of the necessary nutrients for the growth of oysters. Thanks to the support of Hiroshima Prefecture, the safety measures regarding the quality of water in this area are quite strict. As a result, the oysters grown in this area are safe to eat raw as well.
Also, thanks to the 500-year long tradition of producing oysters in Hiroshima, they can now proudly say the superb taste of the oysters is the product of long-cherished cultivation technique. Even though the oyster season is from November to February, you can enjoy some of the oysters all year round. Make some time to enjoy delicious oysters next time you visit Hiroshima!
Held Twice Every Year! Taste the Best Hiroshima Food at Hiroshima Shoku no Jin
Now that you've come to Hiroshima, it would truly be a pity to miss out on the tasty gourmet food of the area, don't you agree? If you think the same, here's some great news – there is a food-related event that will grant your Hiroshima food fantasies!
The name of the event is Hiroshima Shoku no Jin (Hiroshima Eating Competition). The event held in winter is Setouchi Kaki Kaisen Shokudo (Seto Inland Sea Oyster Dining Hall), and in summer there is the Hiroshima Teppan Bar (Hiroshima Hot-Plate Bar) event.
The concept behind these events is organizing a campaign where numerous restaurants and stores in the city take part by providing limited-edition menu items. The restaurants partaking in the event are all handpicked, all-local-ingredients-oriented places, offering the most delicious meals. You can even avoid the tiresome process of looking for a nice restaurant in an unfamiliar area, and just take a look at the pamphlets distributed during the event, where you can find useful information on the participating restaurants.
On the official page of Shoku no Jin , you'll find a model course that introduces the restaurants and sightseeing spots in the vicinity. But, that's not all there is to it – you'll also get a discount coupon, so don't forget to visit the official website!
A Never-Ending Limited-Edition Menu!
Head to the Winter Event - Setouchi Kaki Kaisen Shokudo
Picture courtesy of Hiroshima City
The main goal of the winter event Setouchi Kaki Kaisen Shokudo was to give as many people as possible a chance to try Hiroshima's delicious seafood. Hiroshima is praised for its variety of tasty marine products, such as oysters, black rockfish, small pilchards, devil stinger, Manila clams, black porgy, conger, and many other species.
Picture courtesy of the City of Hiroshima
There are more than 80 restaurants participating in this Setouchi Kaki Kaisen Shokudo event, most of them located in the city, and each offer some limited-edition discount menus! The types vary from 500-yen takeout menus, to 3000-yen worth course dishes.
The dishes offered are diverse – you can savor some fresh raw oysters, deep-fried oysters, ramen made with oysters, and many more. It is a great opportunity to take a look around the restaurants to see their delicious menus and get to know different areas of Hiroshima Prefecture along the way.
The event is held during the oyster-collecting season, from November to February of the following year. You'll recognize the participant restaurants easily, just look if the campaign flag is hung in front of the store. Pick the best of the sea richness Hiroshima has to offer!
For more information on the Setouchi Kaki Kaisen Shokudo event, please refer to the official website.
How about Observing Oyster Picking?
Picture courtesy of Hiroshima City
During the winter season, you can observe oyster picking at Shimada Suisan, an oyster-raising farm. It is a once-in-a-lifetime opportunity to witness the carefully nurtured Hiroshima oysters and the techniques of the skillful fishermen. And, guess what? After the picking event is over, you'll even get to savor some delicious zosui (*1) made with fresh oysters!
The participation fee is 3,300 yen per person (meal included).
*1 Zosui: a Japanese dish made with pre-cooked rice and various seasonings.
Explore Hiroshima with a Local on the sokoiko Night Tour
Picture courtesy of the City of Hiroshima
Visitors can have an even more special time in Hiroshima with sokoiko, a company providing local guides who introduce travelers to local restaurants and shops! The night tour is a collaboration with Setouchi Kaki Kaisen Shokudo.
Participants can enjoy fun conversation with the guide while trying different restaurants and shops. Nighttime bicycling with the local guide is an option that can be added for those craving more excitement.
View the official website of sokoiko and see this page for more details on the night tour.
Explore the Teppan-Yaki Menu in Summer! Hiroshima Teppan Bar
If you can't make it to Hiroshima's winter event Setouchi Kaki Kaisen Shokudo, don't worry! Hiroshima has prepared another gourmet event for you to take part in – this time, in summer!
The summer event is called Hiroshima Teppan Bar. You can indulge in various hot plate dishes made with an abundant amount of the riches of Hiroshima's sea and its well-known meat brands, as well as local vegetables. The no. 1 on the menu is of course okonomiyaki!
This event also has more than 80 participating restaurants, which are located all over the prefecture. They all have unique, limited-edition menus offering Hiroshima beef and steak, oyster-okonomiyaki, and many other interesting dishes.
If you're planning a trip to Hiroshima sometime between May and July, check out Hiroshima Teppan Bar, too!
Find out more information on Hiroshima Teppan Bar on the official website.
Enjoy Hiroshima's Food both in Summer and Winter!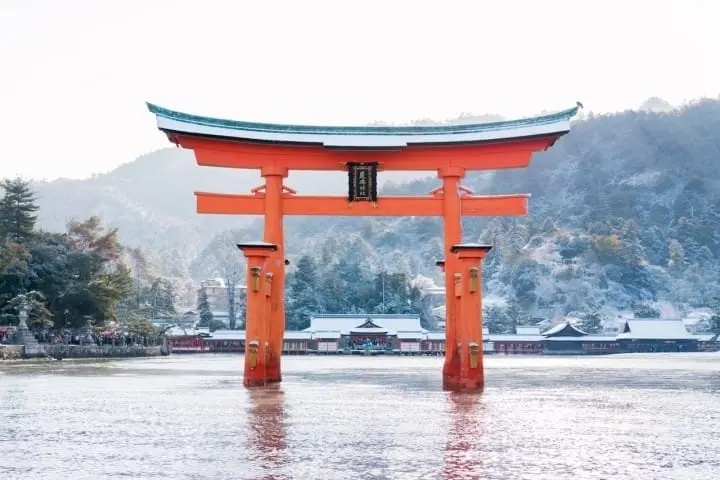 From Know Before You Go! Hiroshima's Weather And What To Wear

The delicious food you savored during your trip will become a great memory of your visit to Japan. That is why we recommend visiting the Setouchi Kaki Kaisen Shokudo restaurants in winter, and the Hiroshima Teppan Bar restaurants in summer, on your next trip to Hiroshima.

We are sure that Hiroshima's dishes, prepared by chefs familiar with the tastiest local ingredients, will help you create wonderful memories on your trip around Hiroshima.

Hiroshima Shoku no Jin Official Website: https://hiroshima-syoku-no-zin.jp/en/
Setouchi Kaki Kaisen Shokudo Official Website: https://hiroshima-syoku-no-zin.jp/kaki (Japanese)
Hiroshima Teppan Bar Official Website: https://hiroshima-syoku-no-zin.jp/teppan/en/
sokoiko Official Website: https://www.sokoiko-mint.com/
sokoiko Night Tour Details: https://www.sokoiko-mint.com/sokoiko-hiroshima-eng/hiroshima-night-cycling-eng/?fbclid=IwAR3Zt1TrleYXp4LQgbSvPV47fq__WfYe7Ub8tpqJBA60XN16xHeQAoFYR7M

Written by Takaya Kawaguchi
Sponsored by the City of Hiroshima

The information presented in this article is based on the time it was written. Note that there may be changes in the merchandise, services, and prices that have occurred after this article was published. Please contact the facility or facilities in this article directly before visiting.