5 Kawagoe Snacks For Only 2,000 Yen! Just 30 Minutes From Tokyo
Kawagoe, located only 30 minutes away by train from Tokyo, is famous for its traditional streets and tasty local snacks. We introduce five snacks that are extremely popular. You can enjoy them all for only 2,000 yen in total!
Five Snacks to Try in Kawagoe for 2,000 yen
It takes only 30 minutes by train to reach Kawagoe from Ikebukuro Station in Tokyo. The town, also known as Koedo ("Litte Edo"), was not severely damaged by the war and many historic buildings from the Edo Period remain in the area.
In recent years, the snacks and local cuisine of Kawagoe have also become popular. This article introduces five selected snacks that are representative of Kawagoe's food culture. These snacks can be found on the Kura no machi Ichibangai shopping street, Kashiya Yokocho (Penny Candy Lane) and Taisho-roman Street, which are located close to Kawagoe-shi Station (Tobu Railways) and Honkawagoe Station (Seibu Railways). What's best, visitors can enjoy this selection of sweets for only about 2,000 yen in total!
Top 5 Kawagoe Snacks
1. Mitarashi Dango by Imonokura
2. Osatsu Chips by Koedo Osatsu-an
3. Mixed Soft-serve Ice Cream by Umon
4. Fu Snack by Matsuriku Seika
5. Kawagoe Tart by Kawagoedo
Kura no machi Ichibangai Street - Famous for its Delicious Sweet Potato Snacks!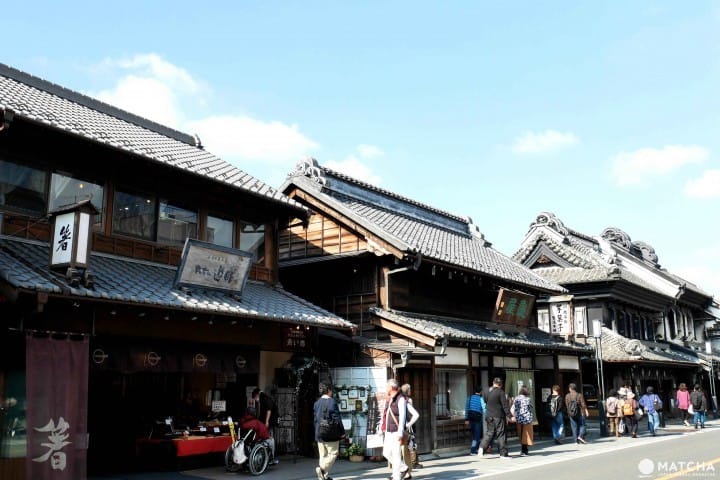 Kura no machi Ichibangai is located near Toki no kane (Time Bell Tower), a Kawagoe icon rising up to the height of sixteen meters. This district has a Koedo (Little Edo) atmosphere, thanks to the large number of buildings from the Edo Period.
How about some Sweet Dumplings for a Start? Imonokura'a Mitarashi Dango
Imonokura serves snacks made from sweet potato, a local product of Kawagoe. The shop is filled with a nostalgic atmosphere, as it is located inside a renovated Meiji Period building.
The most popular product of Imonokura is the Potekura mitarashi dango. Served with a cold sauce which goes well with the chewy dango, it is different from regular snacks.
The dango is filled with jam made from sweet potatoes, which adds a fragrant, organic sweetness.
There is an eat-in section on the second floor that offers a direct overview of Toki no kane. The mitarashi dango set (500 yen including tax) comes with an extra snack made by Imonokura.
Kawagoe pari unagi, a cracker made from unagi (Japanese eel) powder, is another popular product of this shop. It contains sansho (Japanese pepper), and tastes like an unaju (grilled eel on rice).

Unique Chips! Koedo Osatsu-an's Osatsu Chips
Many visitors in the Kawagoe area are walking around eating sweet potato chips. These are called osatsu chips (500 yen including tax) and are a specialty of Koedo Osatsu-an, which is also located near the Toki no kane.
The osatsu chips are fried thin slices of sweet potatoes. They are very crispy and have a simple taste. Customers can choose from ten types of sauce, such as salted butter or chocolate cream.
Osatsu chips come in a cup, along with a large bag, so you won't have to worry about leftovers.

Kashiya Yokocho Snacks - Tradition and Innovation
Kashiya Yokocho (Penny Candy Lane) is a famous street in Kawagoe. Many of the traditional sweets shops on this street have been opened in the Meiji Period, so visitors can enjoy here various snacks that have been loved by the locals for many generations.
Mixed Soft-serve Ice Cream by Umon
Umon is famous for its handmade, sweet potato snacks. The company runs the Kawagoe Kenpi Factory, located on the Kashiya Yokocho. This shop is specialized in sweet potato sticks and soft-serve ice cream.
Imo kenpi, thin fried sticks of sweet potatoes, is a popular product sold only at this shop. This crispy snacks are hard to resist!
The soft-serve ice cream, made from Hokkaido milk, purple potato, and sweet potato, is loved by customers for its natural taste.
The mixed soft-serve ice cream (300 yen including tax) is served with imo kenpi, so the customers can enjoy two snacks with one purchase.

Everyone's Favorite Childhood Snack! Matsuriku Seika's Fu Snack
Matsuriku Seika is the oldest company on the Kashiya Yokocho street. Established in 1796, it has been producing traditional Edo snacks ever since. The cute saiku ame (candy sculptures) displayed in the shop are all made by artisans.
This shop is famous for its fu snack (500 yen including tax), which is 95 centimeters long, the longest snack in Japan!
The fu (wheat-gluten bread) snack, known for its refined taste, is also handmade. Not too sweet, it is crispy on the outside and soft inside. This snack, made from fragrant Okinawa black sugar, is the fruit of the company's history of more than 200 years.

Taisho-roman Street - Lined with Cozy Little Shops
On the Taisho-roman Street, located closer to Honkawagoe Station, there are many buildings from the Taisho (1912-1926) and Showa (1926-1989) periods. Visitors can stroll at leisure on the wide road, enjoying the sight of the buildings.
Kawagoe Tart by Kawagoedo
Kawagoedo is located inside a nostalgic Western-style building on the Taisho-roman street. Visitors can also feel the retro atmosphere of this shop by taking a look at the store's nameboard.
The handmade tarts of Kawagoedo are additive-free and all the ingredients used are natural products. Satsuma imo tart (230 yen including tax) features adzuki beans covered with Kawagoe sweet potato paste. It has a light, simple taste, which has been a favorite of cutomers for many years.
The tarts are served in a slightly cooled condition, with just the right sweetness. They are so good that even people who do not eat pastry very often should give them a try.
There is a counter inside the store, so visitors can take a break and enjoy their tarts inside.

Kawagoe, the Best Place to Enjoy new and Traditional Snacks
Kawagoe is full of historic buildings, drawing a large number of visitors. The many local snacks are also one of the irresistible charms of this city. Both traditional confectionery such as the fu snack and new sweets made with local ingredients such as sweet potato are very popular.

If you have the chance to visit Kawagoe, be sure to try both types!

Kawagoe Snacks Tour Expenses
Mitarashi Dango Set 500 yen + Osatsu Chips 500 yen + Soft-serve Ice Cream 300 yen + Fu Snack 500 yen + Kawagoe Tart 230 yen = 2,030 yen (including tax)

Written by Callie
Sponsored by Saitama Prefecture

The information presented in this article is based on the time it was written. Note that there may be changes in the merchandise, services, and prices that have occurred after this article was published. Please contact the facility or facilities in this article directly before visiting.