Hakone Day Trip - Stunning Scenery, Nature And Souvenir Workshops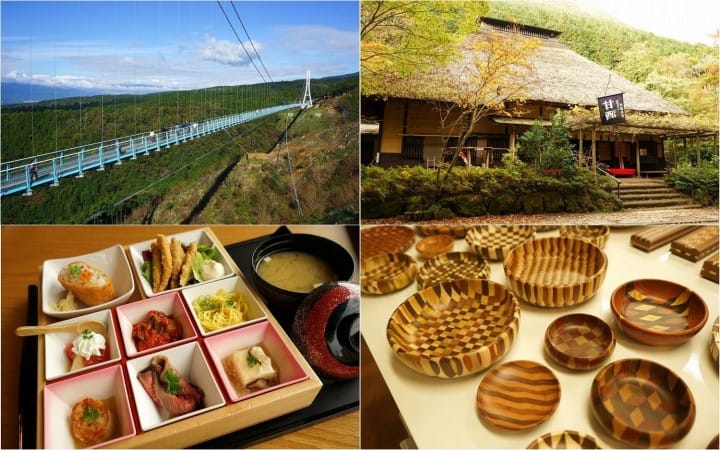 If you are heading from the Kansai region to Hakone, you just need to get off at Mishima Station on your way from Osaka or Kyoto to Tokyo by Shinkansen. From here, use the Hakone Freepass to travel around Hakone at an affordable price.
9:15 - From Mishima Station to Mishima Skywalk
Today we will introduce an itinerary using the Hakone Freepass, which will help you explore Hakone for less money, and even get you discounts at certain facilities (some places are not included in this offer). If it is not mentioned otherwise, you can use all of the transportation methods available for free as long as you have this pass. Use this special ticket to experience a fun and cheaper trip!
The first place on the list is Mishima Skywalk, which offers wondrous views of Mount Fuji. Hop on the Tokai Bus Orange Shuttle, bound for Motohakone-ko, which departs at 9:15 from Mishima Station's Bus Platform No. 5. Don't forget to show the Hakone Freepass to the driver when boarding the bus.
9:45 - See Mount Fuji on a Sunny Day at Mishima Skywalk, a Great Suspension Bridge
400 meters in length, Mishima Skywalk is Japan's longest pedestrian-only suspension bridge. It is a popular sightseeing spot, as it is possible to see both Mt. Fuji and Suruga Bay from it when the weather is nice.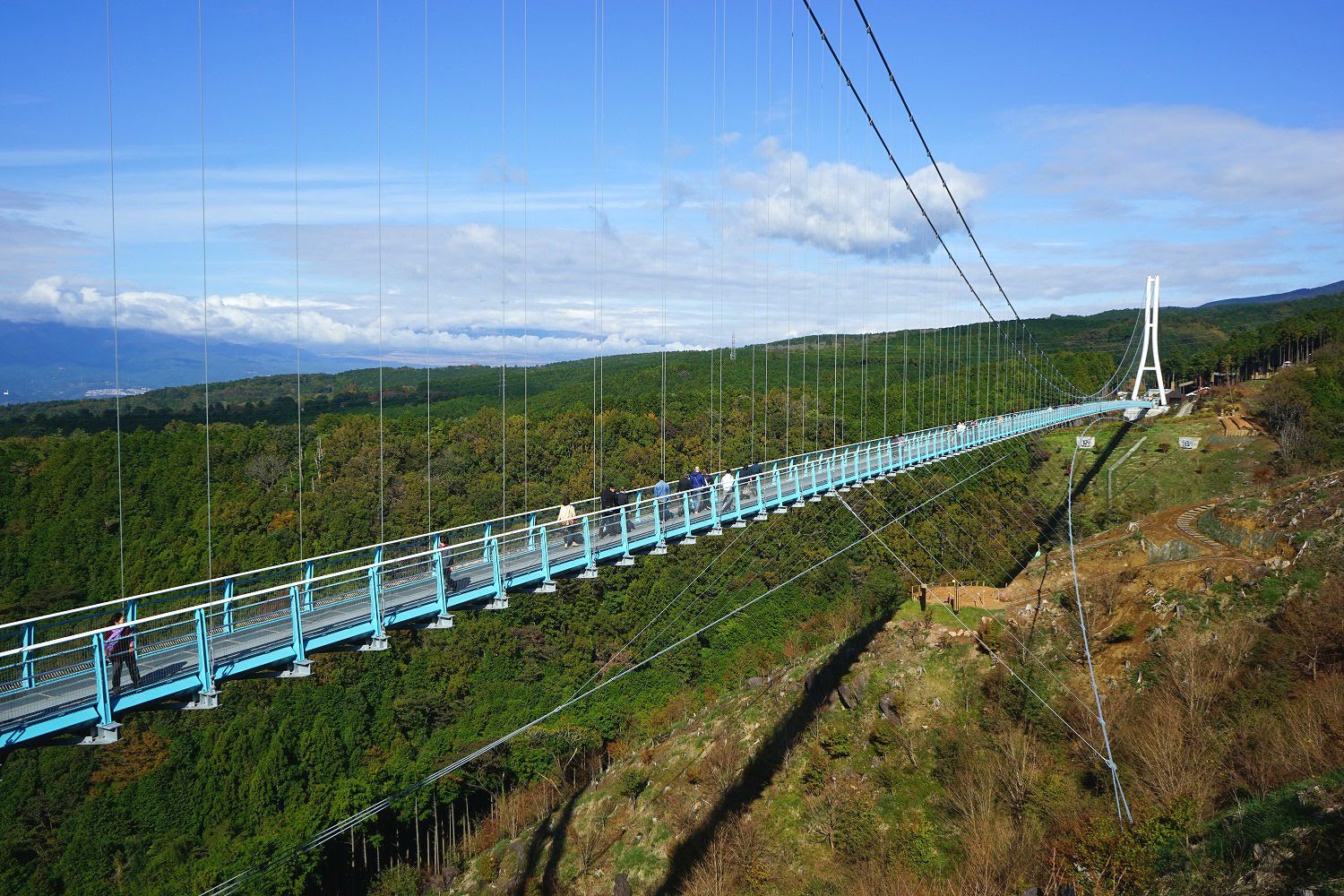 At the entrance to Mishima Skywalk, you'll see an observation deck, from which you can take the best picture of the large bridge. On the other side of the bridge, you can enjoy outdoor activities at Forest Adventure Hakone Park, buy souvenirs, or relax at a cafe.
We also recommend seeing the Sky Garden, located in the southern area. There are flowers in bloom year-round inside the facility, so there is plenty to admire no matter what the weather is like! The admission fee to the suspension bridge is 1,000 yen for adults, 500 yen for junior high school and high school students, and 200 yen for elementary school students. With the Hakone Freepass, the fees are 900 yen for adults, 450 yen for junior high school and high school students, and 180 yen for elementary school students (all prices including tax).
After spending a wonderful time at Mishima Skywalk, head to Hakone on the Hakone Tozan Bus (Tokai Bus Orange Shuttle).
Mishima Skywalk
https://www.hakonenavi.jp/international/en/spot/252
11:15 - Enjoy a Luxurious Lunch with a View of Lake Ashi at Ashinoko-chaya
Facing Lake Ashi, Ashinoko-chaya is located a minute away by foot from the Motohakone-ko (OH67) bus stop. The second floor of the facility is a restaurant, and a souvenir shop is on the first floor.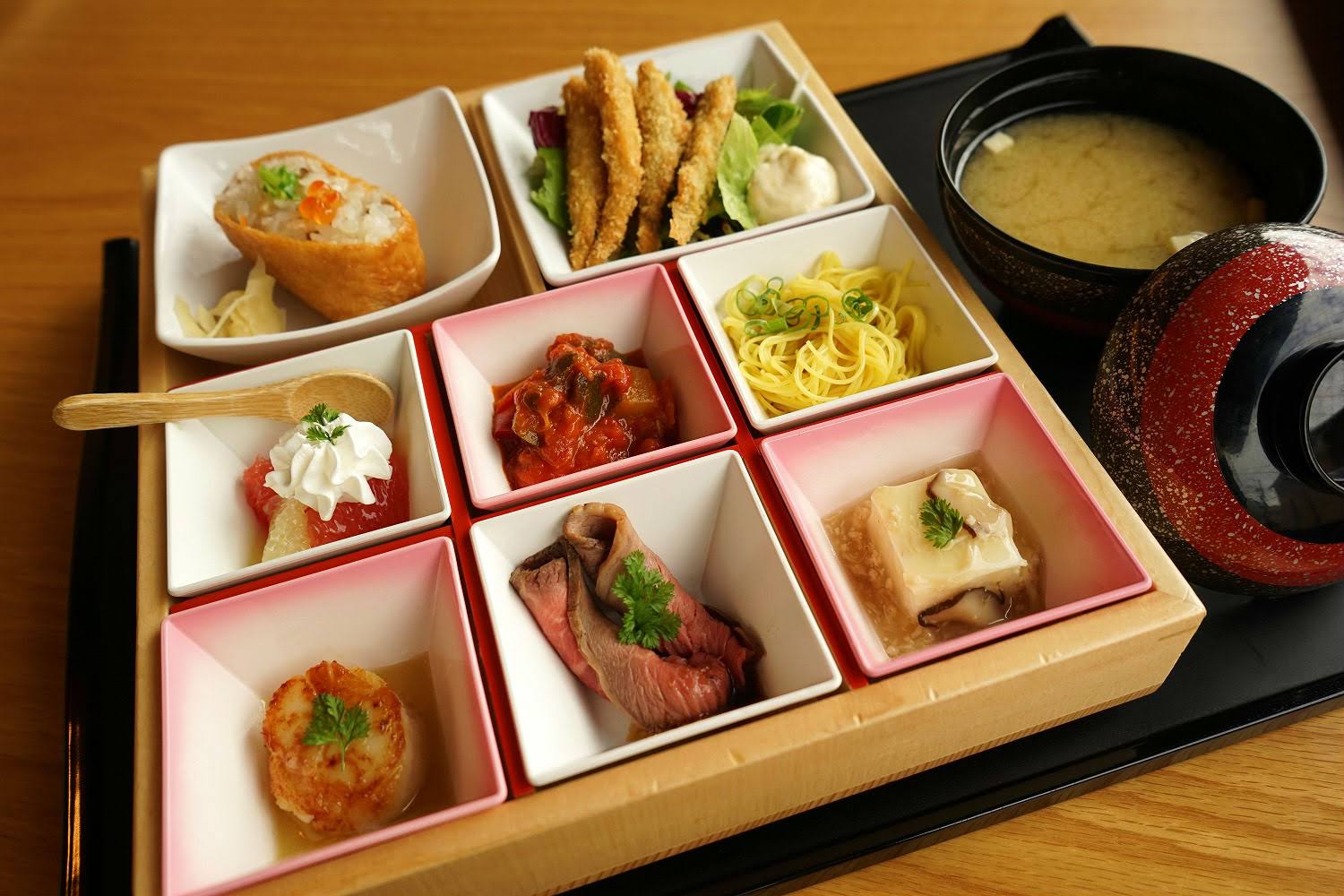 In addition to soba noodles, one of Hakone's specialties, the restaurant offers many different lunch sets. For those who wish to savor different flavors of Japanese cuisine, we suggest the Hakone Kaiun Tamatebako set (1,998 yen including tax), shown in the photo above. By ordering this set, you can try small fish from Lake Ashi, Hakone's yuba-tofu (*1), inarizushi (*2), and many other tasty dishes.
*1 Yuba-tofu: The "skin" that rises to the surface when soy milk is being boiled to make tofu.
*2 Inarizushi: Deep-fried tofu pouches stuffed with sushi rice.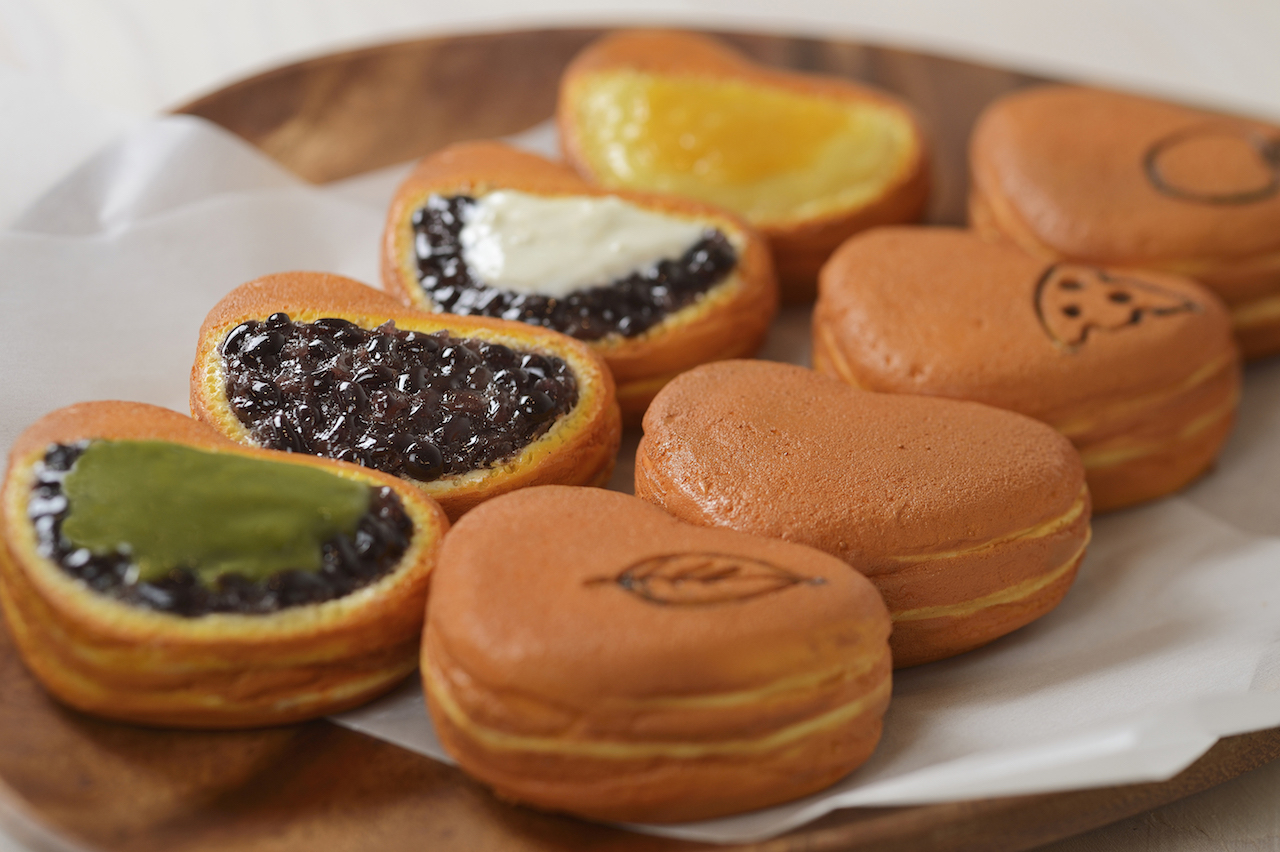 For dessert, we suggest trying an enmusubi-yaki, a baked sweet from the shops on the first floor. It is the ideal dessert to nibble on while taking a walk, with a delicate sweetness and soft outer texture. Prices start from 150 yen per piece, including tax.
Ashinoko-chaya
https://www.hakonenavi.jp/international/en/spot/154
13:00 - Wooden Mosaic Workshop at Kanazashi Woodcraft
Another popular souvenir in Hakone is wooden mosaic work. It is a type of delicate and beautiful traditional craft in Hakone. You can create complex and sophisticated patterns by combining pieces of wood of different colors.
You can try this type of art with a long tradition yourself at Kanazashi Woodcraft. Ride the bus bound for Hakone-Yumoto (Line K) from Motohakone-ko (OH67) bus stop's platform No. 5. You'll arrive at Hatajuku (317) bus stop after about 20 minutes. Get off the bus and walk 30 meters to arrive at Kanazashi Woodcraft.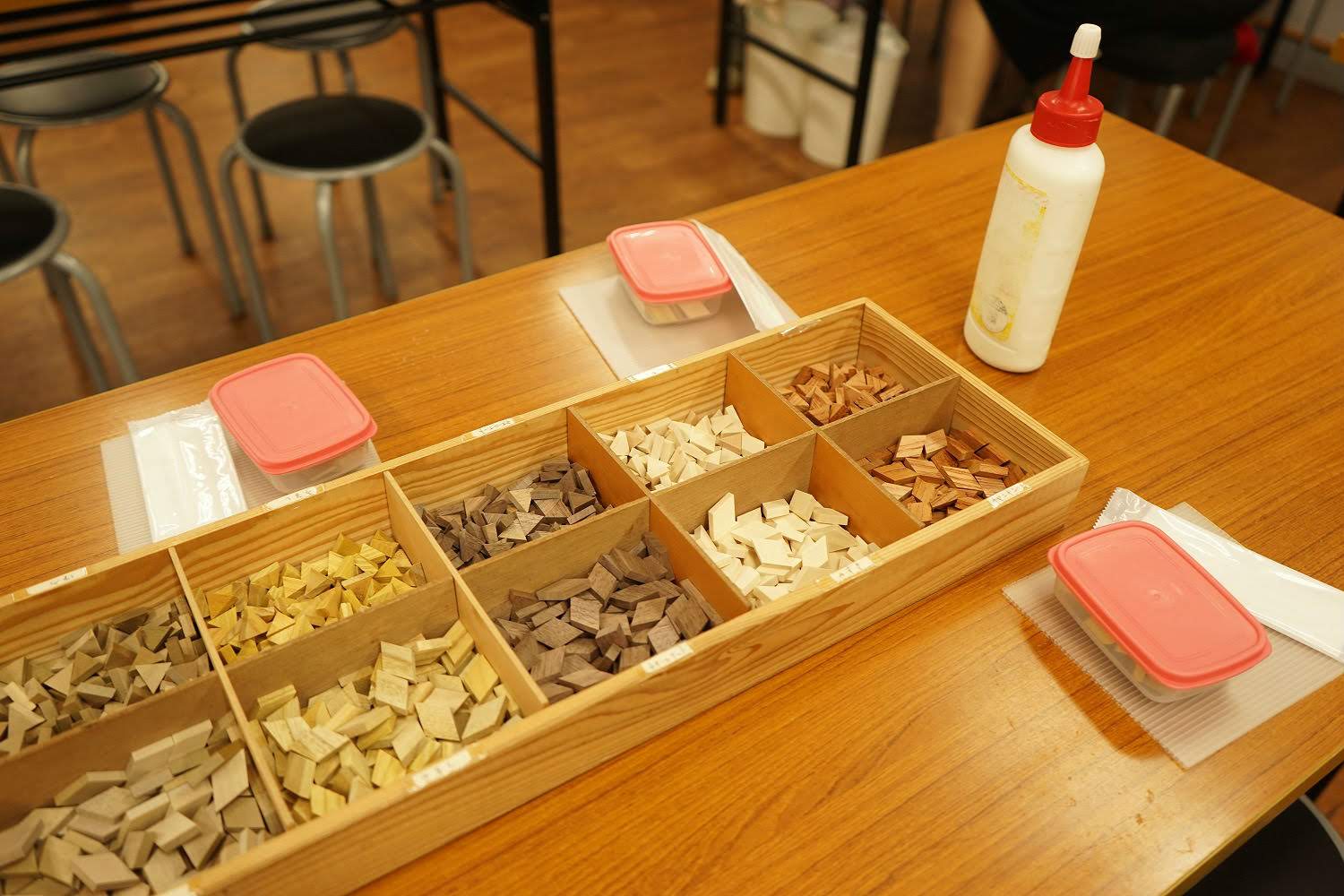 At Kanazashi Woodcraft, you can purchase handicraft utensils and also participate in a workshop for making wooden mosaic coasters. The fee is 800 yen per person (including tax; in case of a large number of potential participants, prior reservation is required). A simple explanation is enough for you to start creating your handicraft coasters yourself!
You can make coasters with your own, unique design by combining different pieces of wood. There are forty varieties to choose from! The activity is very immersive and entertaining.
Kanazashi Woodcraft
https://www.hakonenavi.jp/international/en/spot/594
14:40 - Amazake-chaya Tea House, a 400-year Oasis for Travelers
Ride the Hakone Tozan bus (Line K) from Hatajuku (317) for about 10 minutes. Get off at the Amazake-chaya Tea House (322) bus stop.
Amazake-chaya Tea House is where many people used to rest and stop during travel starting in the Edo Period (1603-1868).
You'll notice a doma (*3) near the entrance and the irori (*4) in the back of the store. This is what tea shops in the Edo Period used to look like.
*3 Doma: dirt floor inside the house.
*4 Irori: a dug up square-shaped part of the house, where the fire was lit using the firewood. Used for heat and to prepare food.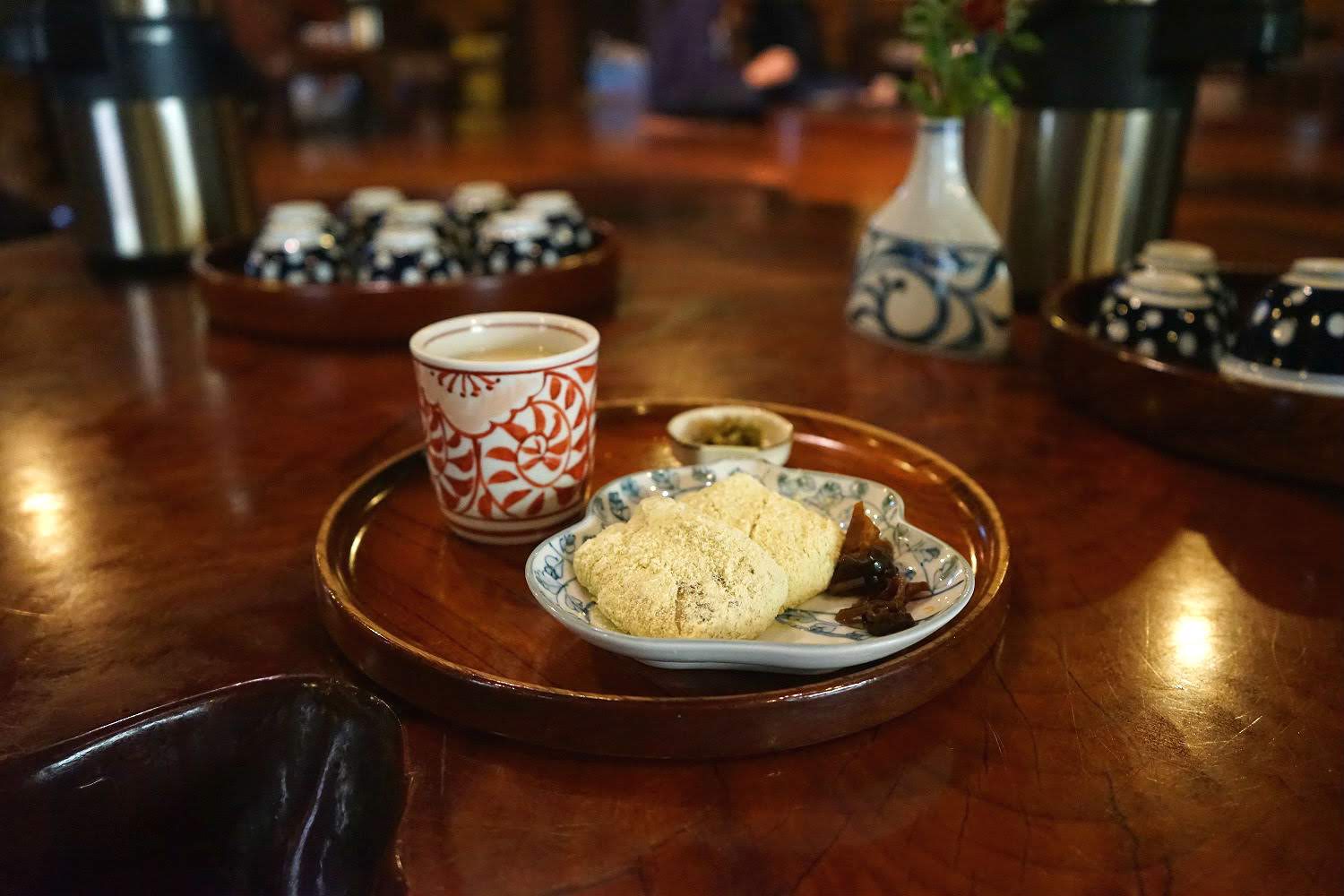 Would you like to taste the same delicacies travelers delighted in the past? Make sure to try the amazake (sweet non-alcoholic sake) and chikaramochi (pounded rice cakes) (amazake 400 yen; chikaramochi 500 yen; both prices including tax). The secret behind the delicious amazake is in its all-natural sweetness from koji (*5). There is no sugar added at all! It is rich in nutrients and is ideal to drink cold in the summer and warm in the winter.
*5 Koji: a type of bacteria used as a fermentation starter.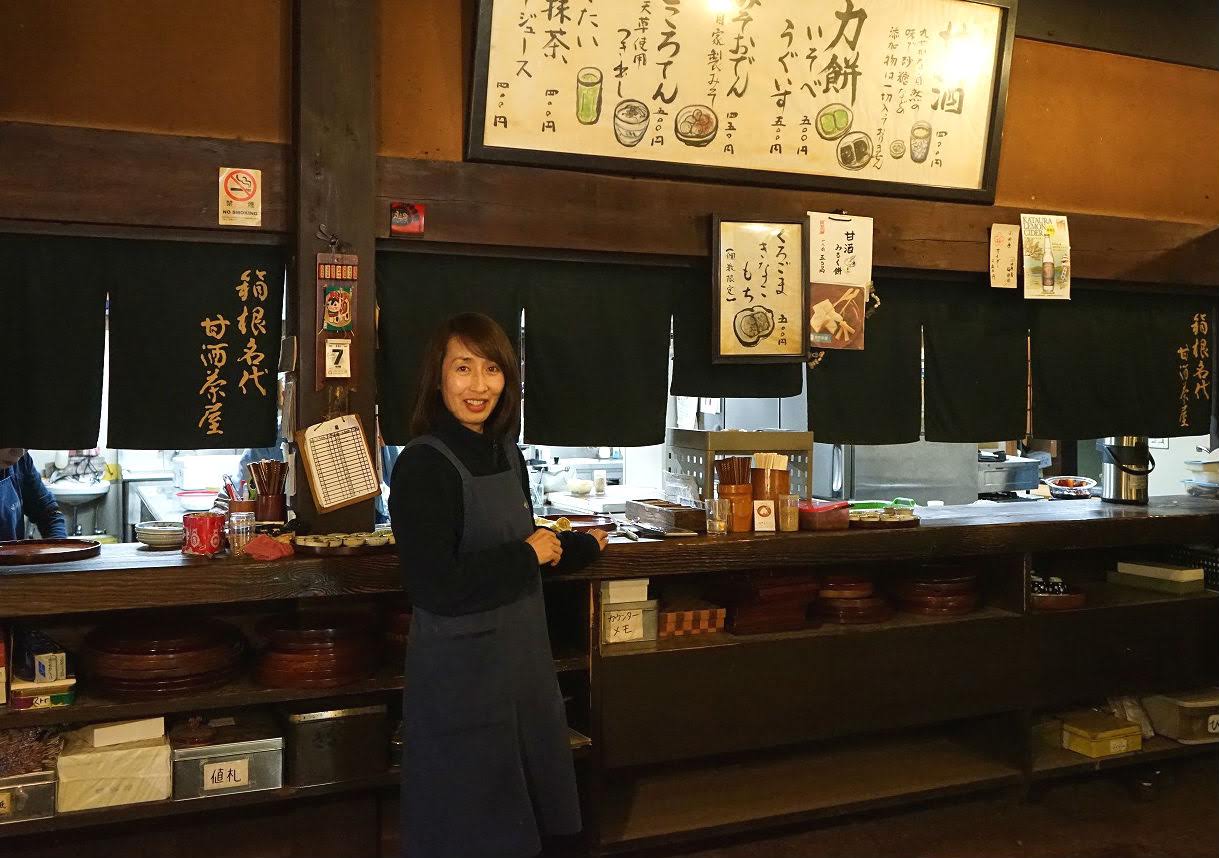 If you'd like to experience Japanese hospitality, come to the simple yet cozy Amazake-chaya Tea House.
Amazake-chaya Tea House
https://www.hakonenavi.jp/international/en/spot/581
15:30 - Encounter History on a Walk down the Kyukaido Ishidatami (Old Tokaido Highway)
If you walk behind the Amazake-chaya Tea House, you'll find a traces of a road used during the Edo Period called Tokaido Road. Proceed for about 10 minutes and you will arrive at Kyukaido Ishidatami (Old Tokaido Highway).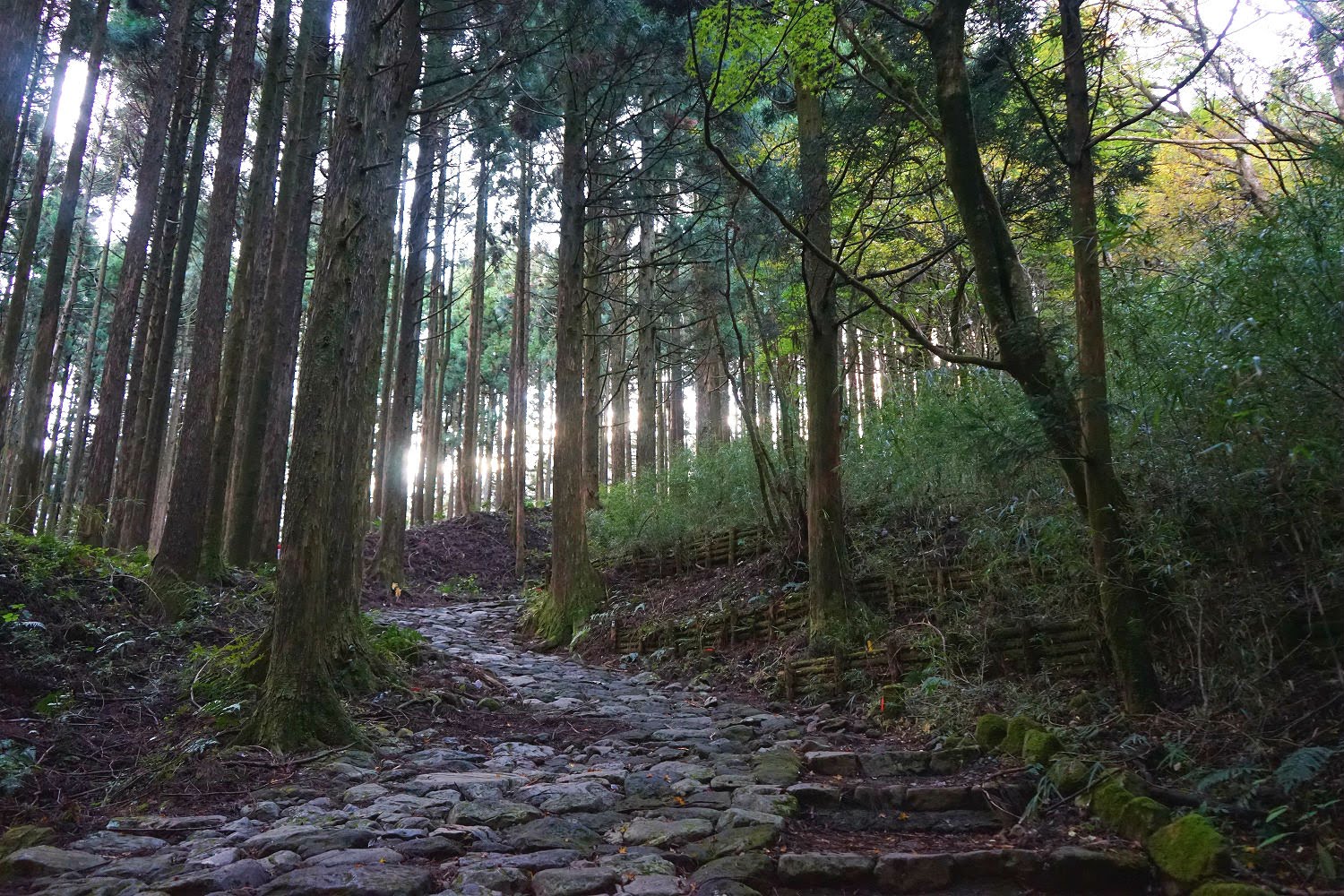 Here you can see Tokaido Road, which once connected Tokyo with Kyoto, preserved just as it was in the Edo Period. Doesn't it make you wonder what travelers in the past were thinking about while walking down this old road? This spot is sure to make you think about history. The surrounding greenery of the forest makes a beautiful background for photos as well.
Kyukaido Ishidatami (Old Tokaido Highway)
https://www.hakonenavi.jp/international/en/spot/171
18:00 - Sakana Cuisine Ryo, Welcoming Travelers with the Best Sashimi and Sake
Lastly, you can use the Hakone Freepass to have a nice dinner in Odawara. If you ride the Romancecar, you'll reach Odawara Station in only 13 minutes. Note that there is an additional fee of 200 yen to ride to Odawara Station.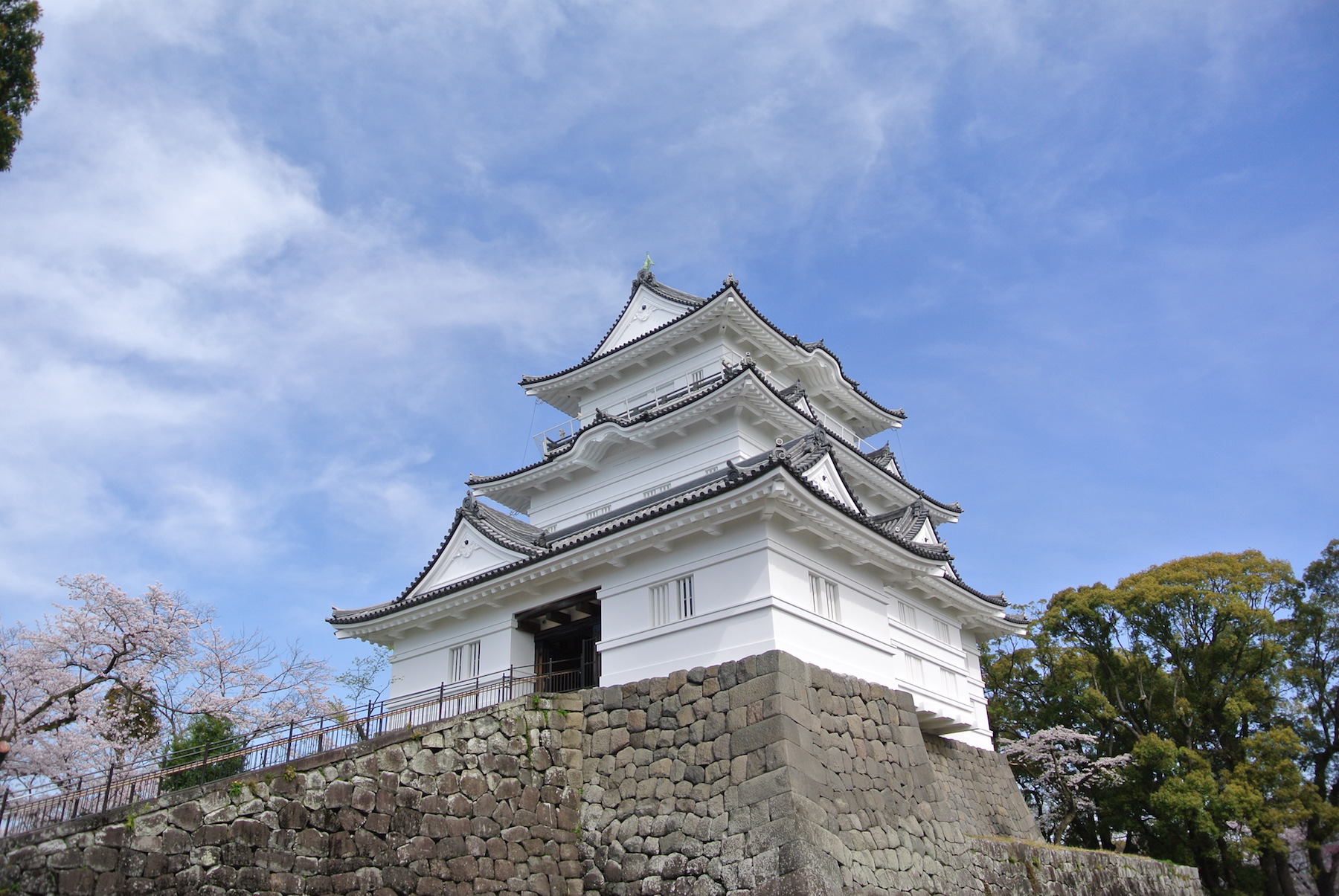 Sakana Cuisine Ryo, a popular restaurant that serves exquisite sashimi, is only 5 minutes away by foot from the east exit of Odawara Station. If you're visiting during the day, you can also see Odawara Castle in between the station and the restaurant.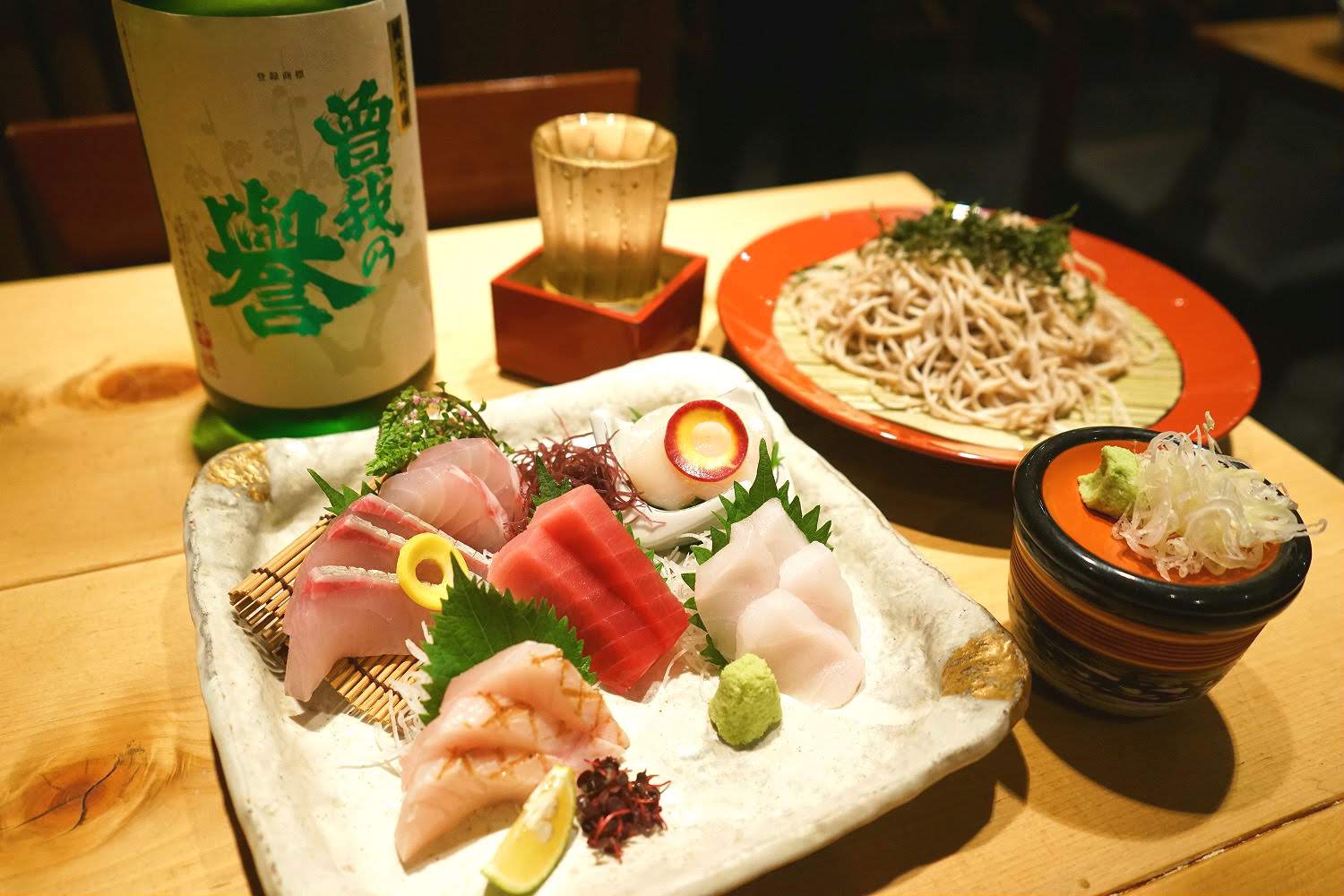 At this restaurant, in addition to sashimi, you can also relish fish, soba, and many other dishes. The sashimi in the photo above is a serving for two people (3,078 yen including tax). You get to savor the fresh and tasty fish of the day. The restaurant's soba noodles are flavorful and refreshing, with a fresh and delicious taste.
Also, if you're looking for a perfect match for your tasty sashimi, you can order the kikizake set (1,620 yen including tax), which includes a variety of Japanese sake starting with locally brewed ones. This wonderful combination is bound to become an unforgettable memory.
Sakana Cuisine Ryo
https://www.hakonenavi.jp/international/en/spot/591
Make the Most out of Hakone with the Hakone Freepass!
There are still plenty of lesser-known but just as charming hidden places in Hakone, as well as many interesting activities you can experience other than the route introduced in this article. We highly suggest traveling around Hakone with the practical and budget-friendly Hakone Freepass.

**Please mind that the information including menu prices, fees, and other data are subject to change.

https://www.hakonenavi.jp/international/en/

Sponsored by Odakyu Hakone Holdings Inc.

The information presented in this article is based on the time it was written. Note that there may be changes in the merchandise, services, and prices that have occurred after this article was published. Please contact the facility or facilities in this article directly before visiting.