Kinpusenji Temple - A World Heritage Site On Mt. Yoshino, Nara
Kinpusenji Temple, located on Mt. Yoshino in Nara, is a temple of an ancient Japanese religion called Shugendo. The temple has been designated World Heritage site. We introduce the highlights of this temple, including access information.
Kinpusenji Temple - A World Heritage Site
Picture courtesy of Kinpusenji Temple
Kinpusenji is a Shugendo temple located on Mt. Yoshino in central Nara Prefecture. Shugendo is a form of folk religion, derived from the mountain worship that combined with elements of Shinto faith and Buddhism. The area where Kinpusenji stands has been regarded as a sacred place for Shugendo since ancient times.
Picture courtesy of Kinpusenji Temple
Mt. Yoshino and the surrounding peaks used to be called Kinpusen. Since Shugendo was founded at this site by the ascetic En no Gyoja (634 - 706) in the 7th century, the area became a training ground for its followers.
In 2004, Kinpusenji was registered as a component of the World Heritage site Sacred Sites and Pilgrimage Routes in the Kii Mountain Range.
Zaodo Hall and the Niomon Gate - The Two Highlights of Kinpusenji
Picture courtesy of pixta
The Zaodo Hall was built around 1592. It is a gigantic wooden structure, 34 meters high and 36 meters wide. Intricate figures are sculpted on both the exterior wall and inside the building, adding a graceful touch to its architecture.
Three statues of Zao Gongen (the guardian deity of Shugendo), rising to the height of seven meters, are enshrined in this hall. The impressive statues are painted in vivid blue, with red bristling hair and golden eyes. They can only be viewed by visitors on special occasions.
En no Gyoja, the founder of Shugendo, trained at Kinpusen, praying for the Buddha to appear before him. It is said that he saw an apparition of Zao Gongen, that is why this deity has been since regarded as the honzon (*1) of this temple.
*1: Honzon: The main object of worship enshrined inside a temple's main hall.
Picture courtesy of pixta
Along with the Zaodo Hall, the two-storied Niomon Gate has also been designated as a national treasure. The two statues of Kongo Rikishi (Deva Kings), standing five meters tall, are the second largest in Japan.
These two structures are also related to the pilgrimage route connecting Kumano in Wakayama to Mt. Yoshino. The Zaodo Hall faces south, welcoming the pilgrims arriving from Kumano (located to the south of Yoshino). The Niomon Gate, on the other hand, faces north, sending off the pilgrims heading to Kumano.
A torii gate, which can usually be seen at Japanese shrines, is located at the entrance of the approach to the temple. This is an example of the syncretic fusion of Shinto, Buddhism, and folk beliefs. Before Shinto and Buddhism were separated by a jurisdiction of the Meiji government, this type of fusion was commonplace.
Famous for Cherry Blossoms! Mt. Yoshino and Kinpusenji
Picture courtesy of pixta
Kinpusenji, whose grounds are famous for grand architecture and cultural assets, is located on Mt. Yoshino in Nara. In spring, the scenery around the temple turns pink with cherry blossoms. Mt. Yoshino has been celebrated as one of Japan's most famous cherry blossom viewing spots.
Visitors to the temple can enjoy the magnificent view of the sakura while walking toward the temple.
Mt. Yoshino is one of the major travel destinations in Nara, and the route to the temple is bustling with visitors all year round. The approach is lined with restaurants serving local food and souvenir shops, including Japanese-style confectionery stores.
There are several observation points along the way where visitors can enjoy the splendid views of Mt. Yoshino.
Access to Kinpusenji Temple
Kinpusenji can be reached in a ten-minute walk from Yoshinoyama Station on the Yoshino Ropeway.
From Kintetsu Yoshino Station, you'll need to walk about three minutes to reach Senbonguchi Station, which is the base station of Yoshino Ropeway. The ropeway ride from Senbonguchi to Yoshinoyma Station takes about three minutes. The one-way fare is 450 yen (230 yen for children) and the round-trip fare is 800 yen (400 yen for children).
Access from Kyoto
From Kintetsu Kyoto Station, board the Kintetsu limited express, switch trains at Kashihara jingu-mae Station, and get off at Yoshino Station. The limited express ride takes one hour and 45 minutes, and the fare is 2,550 yen.
Access from Nara
From Kintetsu Nara Station, passengers will have to switch trains twice. Board an express train bound for Osaka Nanba. At Yamato-Saidaiji Station, switch to a train bound for Kashihara jingu-mae Station. At Kashihara jingu-mae switch again to an express bound for Yoshino Station.
The express fare is 880 yen, and the ride takes about an hour and 40 minutes. If you take a limited express from Yamato-Saidaiji, the fare will be 1,750 yen, and the ride takes about one hour and 25 minutes.
Access from Osaka
Head for Abenobashi Station by taking either the JR Line or Kintetsu Railway. From Abenobashi, board the Kintetsu limited express, which will arrive at Yoshino Station in one hour and 15 minutes. The fare is 1,480 yen.
When in Nara, Visit Mt. Yoshino and Kinpusenji Temple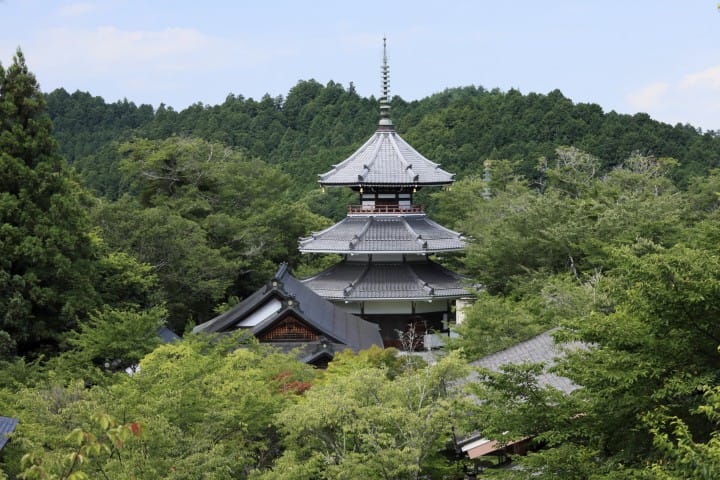 Picture courtesy of Kinpusenji Temple

At Kinpusenji Temple, a World Heritage site, visitors can experience the complex and intriguing world of ancient Japanese religious beliefs.

If you have the chance to visit Nara, extend your trip to Mt. Yoshino, a place famous for its cherry blossoms, and Kinpusenji. The grand beauty of the temple will help deepen your understanding of the religious aspects of Japanese culture, whose roots can be traced more than 1,300 years ago.

In cooperation with Kinpusenji Temple Zaodo Hall

The information presented in this article is based on the time it was written. Note that there may be changes in the merchandise, services, and prices that have occurred after this article was published. Please contact the facility or facilities in this article directly before visiting.