NINIROOM Hostel - Travel Like A Kyoto Local
Experience a taste of local life in Kyoto on your trip. Located in a residential neighborhood in Japan's ancient capital, NINIROOM is a boutique hostel where you can enjoy a stay while experiencing the surrounding community.
NINIROOM - Experience Everyday Life at a Kyoto Hostel
Opening its doors in December 2017, NINIROOM by two sisters—Aino and Mone—who wanted to share their love of Kyoto.
They renovated a 40-year-old building giving it a refined and relaxed ambiance. Situated in a residential neighborhood, it is the perfect place to get a glimpse of the Kyoto lifestyle.
NINIROOM is also popular among overseas visitors.
1st Floor: A Relaxing Community Cafe 
A four-minute walk from Keihan Electric Railway's Jingu-Marutamachi Station, the hostel invites visitors into a cafe of modern aesthetic taste.
The cafe is open to both hostel guests and regular customers. During our visit, the place was filled with customers.
We recommend trying their spicy curry, along with a bottle of craft beer made in Kyoto.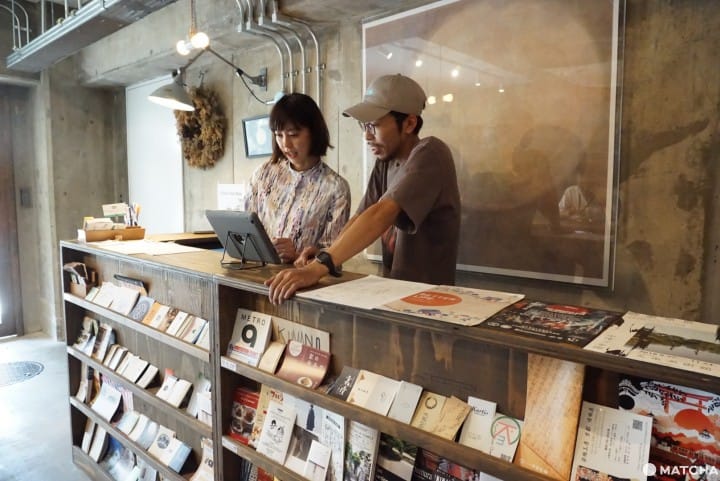 Once you've enjoyed a drink or snack, go to the check-in counter on the same floor—located next to the cafe.
2nd and 3rd Floors: Guest Rooms and Showers
The guest rooms and showers are located on the second and third floors of the hostel.
Stylish Rooms
Above: Dormitory/Below: Twin (for 2 guests)
The hostel has eight different types of rooms: co-ed and female-only dormitories, semi-double rooms, twin rooms available for up to 2 guests, and a family room for up to 5 guests.
Above: Double (for 1 guest); Below: Family room (for 5 guests)
Each room is furnished with different decorations, so you can experience something new with each stay. The older sister, Aino, is behind the designs.
Guests who stay in the dormitory are given a private locker to store valuables.
Take a Refreshing Bath in a Spotless Washroom
Showers and bathrooms are located on both the 2nd and 3rd floors. Guests will feel comfortable using these washrooms as they are kept very clean.
The chic sink top is lined with brown and beige tiles. Again, this eye-catching design can be accredited to the sisters.
Some of the shower rooms include a bathtub. Soak in the bath to recover from your travel fatigue.
A Stay at a Best Friend's Home
Left: Aino; Right: Mone
Before its transformation into a hostel, the NINIROOM building was once used for office storage for a printing company. When we asked the sisters about the founding of NINIROOM, they replied that it all started when their father, an architect, received a commission to renovate the building.
"When we talked to our dad, we knew straight away that we wanted to start a hostel. We wanted to create a welcoming hostel that would make guests feel like they were staying at their best friend's home. We believe that feeling comfortable is the key to a memorable trip."
The sisters originally worked in Tokyo, but they moved to Kyoto to start the hostel. Aino, the older sister, took charge of the architectural and interior design, while the younger sister, Mone, managed the advertising and public relations.
Experiencing Kyoto Beyond the Travel Books
Picture courtesy of NINIROOM
"When you plan a visit to Kyoto, you might consult travel guides to visit temples, shrines, and other popular sightseeing locations. But we hope visitors can experience what Kyoto life is truly like at NINIROOM," Aino stated.
Motivated by this desire, the sisters organize many events at NINIROOM. From flea markets to rooftop yoga classes to running nights, they have held a plethora of events to bring different people together. The sisters also run a website called Otonarisan-to-Yososan (Japanese), which translates to "Locals and Visitors." The site introduces residents and tourists to inform people about everyday life in Kyoto.
We asked the sisters about their vision going forward. They replied, "We want to liven up the city by helping forge interactions between visitors and locals of Kyoto."
The next time you visit Kyoto, we recommend staying at NINIROOM to get a taste of life as a resident.
In cooperation with NINIROOM

The information presented in this article is based on the time it was written. Note that there may be changes in the merchandise, services, and prices that have occurred after this article was published. Please contact the facility or facilities in this article directly before visiting.