Free Fun For All Ages! Nogeyama Zoological Gardens In Yokohama
Yokohama's Nogeyama Zoological Gardens is a popular spot for families on weekends. There are many animals to see, and visitors can also interact with them at petting areas on the premises. Admission is completely free! Learn about the animals and how to visit this budget-friendly zoo!
Free to Enter! Yokohama's Nogeyama Zoological Gardens
Yokohama is just 30 minutes by train from Tokyo. Famous for Chinatown and Minato Mirai, it's also home to lesser-known spots beloved by locals. One of these spots is Nogeyama Zoological Gardens.
The zoo stands high up on a hill overlooking Minato Mirai and spans 3.3 hectares in size. The staff care for 2,460 animals from about 93 different species ranging from small animals, like guinea pigs, to larger creatures such as giraffes, tigers, and lions. Even though there are so many animals to meet, entry is free!
Their concept is to be a zoo that anyone can readily visit to relax. It's also a place where children encounter, interact, and experience the lives of wild animals for the first time. The distance between visitors is small, making it possible to see the animals from up close. This, in turn, makes it easier to observe the animal's body structure and movements. Although the zoo is limited in facilities, various designs and features are made to give the animals a better living environment.
In this article, we'll introduce Nogeyama Zoological Gardens—a budget-friendly zoo bustling with families on the weekends!
Animals You Can Encounter
The best time to visit the zoo is either right after opening or in the evenings when the animals are active. If you visit any other time, the animals may be having their afternoon naps basking in the sun. Nonetheless, sleeping animals are also cute.
Rules at the Zoo
There is a set of rules in the zoo to keep humans and animals safe. First, the usage of selfie sticks are prohibited in front of animal exhibits. Flash photography on cameras and smartphones is also prohibited to protect the animals' eyes. Please follow the rules and have fun interacting with wildlife.
Without further ado, let's check out the animals at the zoo.
Southern Tamandua
The adorable southern tamandua is a fan-favorite among visitors. The tamandua is mainly active in the evening. However, you can still be soothed by this adorable anteater by seeing it happily snoozing during the afternoon.
White Indian Peafowl
This is a pair of white Indian peafowls. The two birds get along very well with each other––you'll feel happier just by looking at them.
Humboldt Penguin
The Humboldt penguin is popular with everyone. Although they waddle their feet on land, these South American natives smoothly swim through the waters. This difference in agility will amaze you!
Japanese Raccoon Dog
The Japanese raccoon dog is a recurrent character in Japanese folk tales and anime. Not surprisingly, this tanuki (raccoon in Japanese) is also a crowd favorite!
Tigers and Lions
The zoo also cares for larger animals like tigers and lions. The tigers will sometimes approach the fencing with a lot of force.
On very cold or hot days, the animals might sometimes be in spots that aren't visible from their cages. If this occurs, head to the tour route on the opposite side of the cage to see them relaxing.
This is Raja, a male Asiatic lion who was born in Yokohama at another zoo, Zoorasia, and brought up by humans. He loves people, and you might catch him asking for attention from his caretaker.
Raja doesn't like loud voices, so please don't make any loud sounds or noises when you visit.
The Endangered Angonoka Tortoise
You'll also encounter animals at the Nogeyama Zoological Gardens that can only be found in Japan. The angonoka tortoise, a critically endangered species, is one of these creatures.
The smaller tortoise pictured above was rescued from a place that illegally bred the species. Due to the poor environment at the time of its breeding, its shell became uneven. A significant role of a zoo is to protect and preserve these rare animals.
In 2016, angonoka tortoise breeding succeeded for the first time in Japan at Nogeyama Zoological Gardens. Visitors can also catch a glimpse of these adorable baby tortoises.
The Flightless Kagu
Kagu is a New Caledonia-native bird only found at Nogeyama Zoological Gardens in Japan. It has also been designated as an endangered species. The bird is nearly flightless, living most of its life on the ground. It feeds on insects and earthworms. Watch them search for food with their beaks by turning up the soil at their feet!
Interact with Small Animals at Nakayoshi Square
Visitors can also have fun interacting with smaller animals like guinea pigs, mice, and chickens at Nakayoshi Square.
The weekends and national holidays are the busiest days, requiring the zoo to implement a numbered ticket system. If you want to take your time interacting with the animals, then aim to visit on the weekdays when the ticket system is not in place.
Lay down a small mat to place a guinea pig on your lap. The gentle guinea pig is extremely popular among all ages. Their chirping noises are also adorable!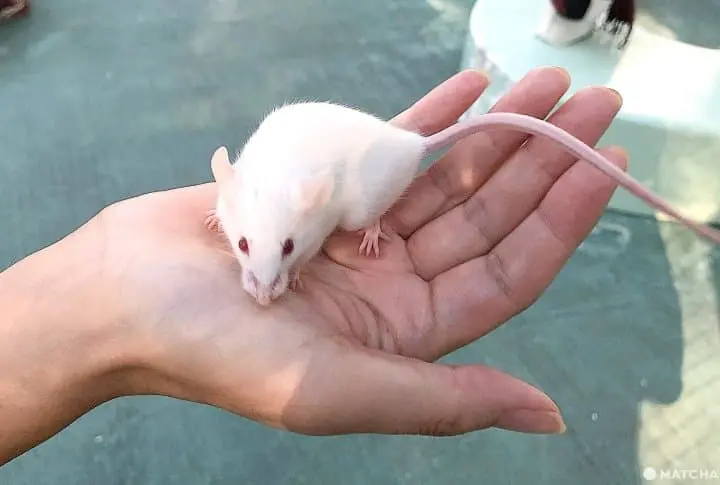 Some mice will venture directly into your palms themselves. Their adorable walking and movements will make you appreciate animals even more.
Take a Picture at the Polar Bear House
Until 1999, this exhibit was where polar bears were raised. It reopened to the public as the Polar Bear House, where visitors can freely go inside the exhibit. Experience for yourself what the polar bears would see from inside.
The Polar Bear House is also a photo spot for unique snaps. If you are traveling with children, take a picture by the polar bear statue.
This small caged exhibit is another recommended photo spot. In front, there's a sign that reads, "Hito (or 'human' in Japanese) Homo sapiens." Try going inside for a commemorative photo!
Check out the Souvenirs!
Once you've seen and interacted with all the animals, don't forget about purchasing some souvenirs. Located at the entrance, the Nakayoshi Shop is where you can purchase souvenirs, soft-serve ice cream, and more.
You'll even find merchandise featuring the southern tamandua—a beloved animal at the Nogeyama Zoological Gardens—kagu dolls, and plenty more. Please keep in mind that the shops inside the zoo do not take credit cards.
Access to Nogeyama Zoological Gardens
By Train
The nearest stations are Sakuragicho Station (JR Keihin-Tohoku Line, Yokohama Municipal Subway) or Hinodecho Station (Keihin Express Line). It's 15 minutes on foot from Sakuragicho Station and a 10-minute walk from Hinodecho Station.
By Bus
Take the Yokohama Municipal Bus 89 for Ipponmatsu Elementary School from either Yokohama Station East Exit or Sakuragicho Station East Exit. Once you exit at Nogeyama Zoological Gardens, the zoo will be immediately outside.
By Car
Exit the Shuto Expressway at Minato Mirai Exit and continue driving for 10 minutes. The zoo does not have a private parking lot, so please use nearby parking lots instead.
Have a Fun-Filled Day for Free
It will take about 60 to 90 minutes to go around Nogeyama Zoological Gardens completely. Located inside the zoo, Hidamari Cafe sells snacks, sweets, beer, and other edible treats. Of course, you're more than welcome to bring your lunch boxes and drinks from home. Enjoy your meal outdoors at Hidamari Square or the lawn in front of Oike Pond.

Families can also spend their time at the zoo with ease. Nursing rooms, hot water for baby formula, storage areas for strollers, and coin lockers are made available to visitors.

Nogeyama Zoological Gardens is near the Yokohama Red Brick Warehouse and beautiful bay area. Be sure to stop by Nogeyama Zoological Gardens if you're sightseeing in Yokohama!




The information presented in this article is based on the time it was written. Note that there may be changes in the merchandise, services, and prices that have occurred after this article was published. Please contact the facility or facilities in this article directly before visiting.