15 Free and Unusual Things to Do in Yokohama
Yokohama, Kanagawa is just a short trip from central Tokyo, even shorter from Shibuya, and a must-see place where you can enjoy Japan's unique charms. Here are 15 must-do and mostly free things to enjoy in Yokohama, from hot springs to a ramen museum.
Explore Yokohama - 15 Great Things to Do
Yokohama, Kanagawa prefecture - just a short trip away from the Tokyo area will bring you to this amazing port city full of exciting, interesting and little known places to visit. There's a lot to see and do in Yokohama, and it's easy to find even more if you are willing to go on a stroll and see where your feet take you.
Here are 15 fabulous things you can do in Yokohama, from relaxing at seaside parks to a cup ramen museum to hot springs. What makes these 15 spots so fabulous, you ask? Well, many them are things you can do for free! If you want to make the most of your trip and also want to budget, then consider this your guide.
1. Hara Railway Museum - Be Amazed by all the Trains
Picture from See Trains From Around the World at Hara Model Railway Museum
The Hara Model Railway Museum showcases over 6000 model trains and a massive, incredibly detailed diorama of a cityscape complete with trains. If you or someone you know is interested in trains, then this is the place to go to learn about their history, differences in types, and more - a free tablet with QR code reading function is available to borrow here, so that international guests can read all about these trains in eight different languages too (English, Chinese (Traditional and Simplified), Korean, Thai, German, French and Spanish).
2. Coquelicot-zaka Kara - Enter the Studio Ghibli Film World
Picture from Visit The Area That Inspired Studio Ghibli's "From Up On Poppy Hill"
Daikanzaka Hill in Yamate, part of Yokohama's Naka ward, was the model for the Studio Ghibli's movie "Coquelicot-zaka Kara", also known as "From Up On Poppy Hill". Throughout this neighborhood, you'll find many of the spots and restaurants you can see in the movie. Not only that, but this area is also a really pleasant place to visit even if you haven't seen the movie, so it's an ideal place for those that like to stroll about to visit too.
3.Yokohama Anpanman Children's Museum - A Fantasy Land for Kids
Picture from Let's Go To The World Famous Yokohama Anpanman Children's Museum!
Have you heard of Anpanman? Created by picture book illustrator Takashi Yanase in 1969, Anpanman was originally a series for adults, but quickly went from being a picture book series to an anime series, and gained unbelievable popularity among Japanese children and is now immortalized at the Yokohama Anpanman Children's Museum.
It is still being broadcast on TV today, and has become known around the world for holding a position in the Guinness Book of World Records for having the greatest number of characters that have appeared in a show - aside from Anpanman, there have been over 1700 other characters in the anime!
4. The Frescoes on the Minato-Mirai Line - Free Art That Many Miss
Picture from Free And Close-by! The Frescoes On The Minato-Mirai Line
The Minato Mirai area is one of the most popular parts of Yokohama and is where you'll find shopping, gourmet restaurants, a theme park that young and old can enjoy, hot springs - practically anything you can imagine. On the Minato-Mirai subway line, there are even massive frescoes by some of Japan's most popular artists too, which you can view for free!
For example, this work found at Nihon Odori Station that was designed by Yokohama's representative illustrator, comic artist and essayist Ryohei Yanagihara, and featuring Uncle Tory, the popular character for Suntory Holdings Tory's whisky brand.
5. Yokohama Bashi Shotengai - Find Your Favorite Japanese Dishes in One Place
Picture from Yokohama Bashi Shotengai - The Tastes Of Ordinary Japan
Yokohama Bashi Shotengai, is a covered shopping street filled with many different charms, including the Miyoshi Engeijo public theater, food stores and deli shops, general stores, boutiques, flower shops, and of course, restaurants selling plenty of Japanese fare like tempura, unagi, sushi, and soba, plus Korean, Chinese, Thai and more.
If you want to see what the daily shops and lives of the locals are, there's no better place than in a shotengai, and Yokohama Bashi Shotengai is a convenient place to visit if you are sightseeing in Yokohama.
6. Tour the City In Cute Retro Fashion - the Red Shoes Bus
Picture from Retro Cute In Yokohama - Minato Mirai's Red Shoes Sightseeing Bus
Filled to the brim with sightseeing spots, Minato-Mirai and Motomachi-Chukagai are collectively known as the Yokohama Bay Area. These numerous must-see spots are somewhat spread out, however, so you may find yourself having to do a lot more walking than you're used to, especially if you want to see as much of this fun-filled city as possible.
The Aka Kutsu or Red Shoes Sightseeing Bus which connects the various sightseeing spots in the Yokohama Bay Area costs 220 yen for adults, and 110 yen for children, and is very helpful when you're feeling worn out from strolling about the city.
7. Yokohama Chinatown - Enjoy Chinese Dishes, Find Panda Goods and More
Picture from Yokohama Chinatown - 3 Things You Shouldn't Miss Out While Visiting!
Yokohama's Chinatown is the largest of its kind in Japan, and where you'll not only find incredible Chinese dishes from across the country, but also amazing traditional Chinese architecture, panda related goods in the hundreds, Chinese medicine shops, and much more. First opened in 1859, Yokohama Chukagai is home to more than 600 Chinese stores and restaurants, and is a lively, fun place to visit both day and night.
8. Garden Terrace Cafe - Take a Break and Soak Your Legs in a Hot Spring
Picture from Garden-Terrace Cafe - Enjoy Drinks And A Foot Bath In Yokohama
Conveniently located on the third floor of one of Chinatown's most popular souvenir shops, Yokohama Hakurankan, the Garden Terrace Cafe offers an ashiyu (footbath) for its guests to enjoy for just 100 yen (plus cost of drink/food). Here you can soak your feet and enjoy a mini hot spring break right in the heart of Chinatown. This is a great place to stop, shop, plan your next destination and relax, all the while enjoying the amazing atmosphere of Yokohama's Chinatown.
9. Zo-no-Hana Terrace - Enjoy the Sea Breeze
Picture from Sea Breeze, Elephants, And Ice Cream! Yokohama's Zo No Hana Terrace
Zo-no-Hana Terrace was built in 2009 to commemorate the 150th anniversary of the opening of Yokohama's port to the world. This area dates back to the Edo era and has been a place driving the modernization of Japan ever since. This small terrace is a great place to take a break outside, thanks to its charming plazas and cafes that command lovely sweeping views of the Yokohama Port area - all with a cute elephant theme in mind!
10. Morooka-Kumano Shrine - Hope for Bad Luck
Picture from Bad Luck Is Lucky?! Unique Omikuji At Morooka-Kumano Shrine, Yokohama
Morooka-Kumano Shrine is dedicated to the deities of the top three Kumano shrines in Wakayama, and dates back nearly 1300 years. What makes this shrine stand out though, is the fact that here, if you get a fortune indicating bad luck, you can get a special charm called Wazawai Tenji Tefukutonasu Omamori ('a bad fortune turns out to be a good fortune' lucky charm), which is said to be able to turn your predicted bad luck into good fortune instead.
11. Yokohama's Noh Theater - Immerse Yourself in Stage History
Picture from Encounter The World Of Noh At Yokohama's Noh Theater!
A traditional performing art with a history spanning seven centuries, Noh features costumed and masked actors accompanied by traditional music. Yokohama's Noh Theater is one of Japan's oldest Noh stages at 140 years old, and is where visitors can not only see this stage but also the dressing room of the actors, but different stage entrances and backstage areas, plus historical Noh drama props too. If you'd like to learn more about traditional arts in Japan, or Noh in particular, this is a must-see place.
12. Nogeyama Zoo Yokohama - Make Some Fluffy Friends at a Free Zoo
Picture from Free Entry and Incredibly Cute Animals: Nogeyama Zoo Yokohama
Nogeyama Zoo, is a small zoo where you can actually interact with the smaller animals and see other animals up closer too, despite there still being fences of course. There are about 100 different species of animals here, and thanks to its free admission, this zoo is a popular spot to visit every day of the week. If you'd like to see lions, tigers, giraffes and more up close, then a trip to Nogeyama Zoo Yokohama is in order.
Please remember though, that for the safety of yourself and the animals, selfie sticks are not permitted in the zoo, and you cannot feed the animals.
13. The Cup Noodle Museum - Make Your Own Instant Ramen
Picture from Make Your Own Instant Ramen At The Cup Noodle Museum In Yokohama!
The Cup Noodle Museum is a unique learning center where you can learn all about, and make your very own, instant ramen. The Cup Noodle brand first came about in the 1970s and has been an international best-selling product ever since. In fact, some consider it to be "the greatest invention of the 20th century", so being able to make your very own is a rare opportunity that ramen fans just have to seize while visiting Yokohama.
14. Marine Rouge Cruise - Have a Taste of Luxury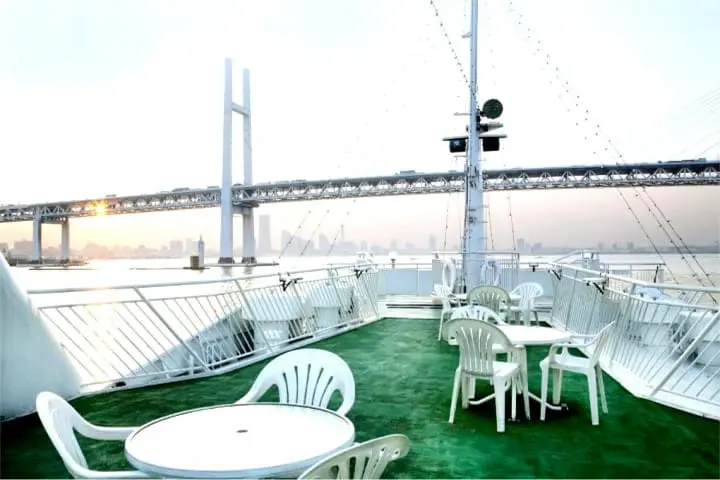 Picture from Luxury Lunches And Yokohama Scenery Aboard The Marine Rouge
Marine Rouge is a cruise ship from which you can gaze out at the beautiful scenery of Minato Mirai and, if you choose, enjoy some of the finest French cuisine available as well. This cruise sets off from Yamashita Park, passes Minato Mirai and the Red Brick Warehouse, makes a loop by the Daikoku Wharf, then passes under the Tsurumi Tsubasa Bridge and the Bay Bridge and returns to Yamashita Park.
Prices include the meal and the fare and are set by course.
15. Yokohama's Landmark Tower - Shop, Catch Pokemon and See the City from Above
Picture from Enjoy A Wonderful Day At Yokohama Landmark Tower!
The symbol of Yokohama, the Yokohama Landmark Tower stands 296 meters in height and is full of restaurants, shops, and an observation deck on the 69th floor. Landmark Plaza, a five-story shopping mall neighboring Landmark Tower, has various stores where you can enjoy shopping for a wide variety of items, including the Pokemon Center with many different items inspired by Pokemon of every generation.
The observation deck on the 69th floor, is one of the most popular facilities within Landmark Tower, and costs just 1000 yen to enter. The day and night views from here are spectacular, and the perfect way to end any day trip to Yokohama.
Find Your Aesthetic in Yokohama
Whether you are traveling with an unlimited budget or on a strict yen-reduced diet, there is something to do, see, or try in Yokohama that is sure to be right up your alley.

The information presented in this article is based on the time it was written. Note that there may be changes in the merchandise, services, and prices that have occurred after this article was published. Please contact the facility or facilities in this article directly before visiting.