Yokohama: One Day Of Sightseeing For 5,000 Yen Or Less!
Yokohama is a popular port city with many wonderful travel destinations. Enjoy Minatomirai's coastal views, slurp steaming bowls of ramen at Yokohama Hammerhead, and shop for souvenirs at Yokohama Red Brick Warehouse. This article features a one-day sightseeing course that costs 5,000 yen or less.
Yokohama: A Beautiful Port City near Tokyo, Kamakura, and Hakone
Picture courtesy of Yokohama Visitors Guide
Boasting Japan's second-largest population, Yokohama is an attractive city with lush green areas and stunning views of the nearby ocean, ships, and harbor.
This town has many eye-catching spots. There are popular confectionery shops and shopping streets, photo-worthy architecture, and a Ferris wheel that adds a splash of color to a spectacular night view.
Yokohama is also close to Hakone and Kamakura. Both destinations are where visitors can immerse themselves in beautiful natural surroundings. If you include these two places on your itinerary, you'll enjoy more of Japan's multitude of attractions.
Some people may assume that Yokohama is an expensive place to visit. But that's simply not the case! For just 5,000 yen or less, you can enjoy a full day of budget-friendly sightseeing and fun.
In the second half of this article, we introduce hotels convenient for experiencing the city. Staying in Yokohama allows for quick access to Tokyo, Kamakura, and Hakone. Yokohama hotels are also generally cheaper than those in Tokyo and lesser-known.
Start at 9:00 - The One-Day Minatomirai Pass Is a Great Deal!
Yokohama is easily accessible from Tokyo. The cheapest and easiest route is the Tokyu Toyoko Line. The train from Shibuya Station goes directly to Yokohama Station, connecting to the Minatomirai Line, which will take you to the city's main sightseeing spots.
We recommend using the Minatomirai Pass sold by Tokyu to save on travel expenses. This one-day train pass allows roundtrip travel between Shibuya and Yokohama and unlimited riding privileges along the Minatomirai Line. It costs 870 yen when departing from Shibuya.
Take a train headed for Motomachi-Chukagai Station with this handy pass, which runs directly from Shibuya and along the Minatomirai Line.
You'll arrive at Minatomirai Station—our first destination—in just 35 minutes.
9:40 - Minatomirai - A Marvelous View!
Minatomirai is a refurbished district and bustling Yokohama neighborhood.
After exiting Minatomirai Station, you'll see various commercial buildings, office towers, and hotels coming into your view.
For starters, let's walk along the scenic coastline and make our way to the Cup Noodles Museum Yokohama.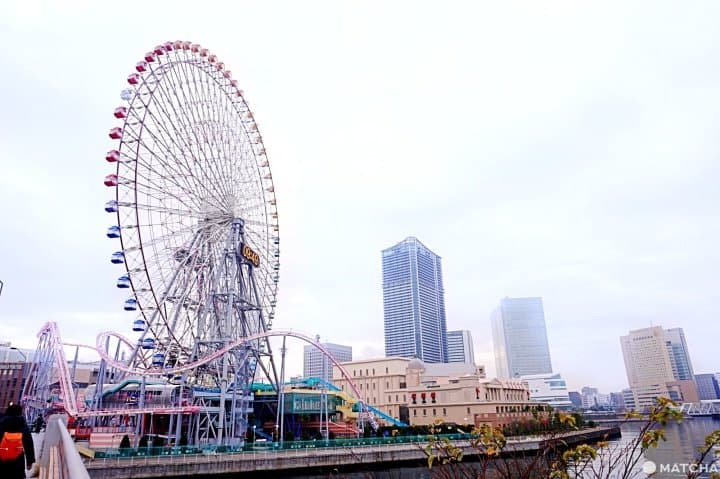 Yokohama is a romantic city and popular dating spot in Japan. It's also featured in many movies and TV series.
It'll be refreshing to go on a stroll while gazing at the clear sky and picturesque streetscapes. Don't forget to take a photo when you pass by the Ferris wheel as a memento of your day!
10:10 - Interactive Experience at the Cup Noodles Museum Yokohama
You'll end up at a crossroad after going over the Kokusaibashi Bridge. From here, you'll see a brick-colored building that's home to the Cup Noodles Museum Yokohama.
The Cup Noodles Museum Yokohama is a popular spot among children and adults.
A wall of instant ramen packets outlines the history of cup noodles: a Japanese invention that's renowned around the globe. It also has information on Momofuku Ando, the businessman who founded Nissin Food Products Co., Ltd. and introduced cup ramen to the world.
Visitors can have a hands-on experience making chicken ramen at the Chicken Ramen Factory (reservations required). There's also an athletic facility called Cup Noodle Park on the premises.
Create Your Own Original Cup Noodles!
How about personalizing your original cup noodles at the My Cup Noodles Factory?
First, confirm the time of your workshop at the main ticket counter. Then, pick up your numbered ticket (first-come, first-served basis) for the time slot you wish to join.
The workshop at My Cup Noodles Factory takes 45 minutes. It's very popular, so try to arrive as early as possible, especially during Japanese public holidays and long weekends.
*The location for the numbered ticket counter changes on the day. When you visit, please check with the staff on the first-floor counter.
When it's your turn (timeslot listed on ticket), please proceed to the third-floor workshop venue.
First, purchase a cup for 400 yen (300 yen until March 2020) and write the day's date on it. The cup noodles' expiry date will be one month from the day of your visit. If you'd like, personalize your cup with colorful illustrations.
With the cup in hand, go to the counter and add your noodles, soup base, and other ingredients. Visitors can select one soup flavor from a total of four seasonings. You may also choose four toppings from a selection of 12 different ingredients. There are 5,460 different flavor combinations available.
Put the lid on your cup, and you now have your original cup noodle—the only one of its kind!
12:30 - Yokohama Hammerhead - World-Class Ramen Noodles!
Having made your original cup of instant noodles, let's go to a ramen restaurant for a steamy bowl of the real stuff.
After leaving the Cup Noodles Museum Yokohama, we'll walk five minutes along the seaside and arrive at Yokohama Hammerhead.
Yokohama Hammerhead is a multi-purpose complex containing a commercial facility with shopping and dining, cruise ship terminal and hotel.
It's packed with famous eateries and confectionery shops from Yokohama.
JAPAN RAMEN FOOD HALL - The Tastiest Noodles All in One Place!
Located on Yokohama Hammerhead's first floor, JAPAN RAMEN FOOD HALL is a food court featuring five famous ramen shops from all across Japan. You can enjoy various kinds of ramen including shoyu (soy sauce), miso, and tonkotsu (pork bone broth).
First, buy a ticket at the ticket dispensing machine and hand it to the shop staff. You'll be given a device (see bottom right corner in above photo) and when it rings, take it to the counter to receive your ramen.
On this occasion, the writer tried the K's collection spicy miso saury noodles (1,200 yen including tax).
This is the creation of Kenji Chiba, the owner of a famous ramen restaurant called Chibaki-ya. At his new shop, K's collection, he has added a new dimension to Yokohama local ramen. Stir-fried vegetables in a thick sauce are poured over the noodles, allowing guests to enjoy a deeply satisfying flavor.
14:10 - Yokohama Red Brick Warehouse - Purchase Unique Souvenirs Here
For some shopping, let's head over to Yokohama Red Brick Warehouse! These special buildings are unique to Yokohama. This is your chance to snap some photos to capture their beauty.
Just five minutes after leaving Yokohama Hammerhead, the buildings of Yokohama Red Brick Warehouse come into view. Originally a storehouse, it was converted into a commercial facility that now features sophisticated and unique miscellaneous goods shops.
Various events are held throughout the year on the open square (see photo above).
Aka Renga Hyakkaten - Find Creative Everyday Items Here
At Yokohama Red Brick Warehouse we recommend visiting Aka Renga Hyakkaten.
Store shelves are lined with products from all the regions of Japan. You'll find Japanese sweets showcasing unique designs, scented tissues with Japanese-style patterns, accessories, and many decorative items.
KURASHI - Shelves Lined with Cute Interior Items
KURASHI sells cute miscellaneous goods to add a spark of brightness to your daily routine. Browse through home furnishings, chopstick holders, bags, and handkerchiefs, and other items.
Souvenir Gallery YOKOHAMA - Find the Perfect Memento
Souvenir Gallery YOKOHAMA handles goods that capture the features of Yokohama in cloth bags, mug cups, key chains, and towels. They all make the perfect Yokohama souvenir.
16:00 - Motomachi Shopping Street - Home to Yokohama's Most Famous Shops!
After walking for ten minutes from Yokohama Red Brick Warehouse, we'll arrive at Nihon-odori Station. Using our one-day free pass, let's head to Motomachi-Chukagai Station.
In addition to having one of the largest Chinatowns in Asia, this area is home to the ever-popular Yokohama Motomachi Shopping Street. We'll now introduce the main attractions here and a famous cafe.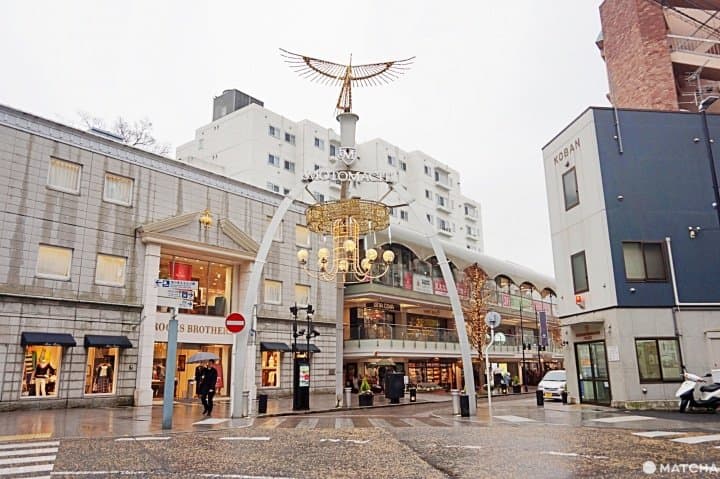 After you leave Motomachi-Chukagai Station from Exit 5 (Motomachi side) and turn left, you'll see a gate with a bird decoration on the top. After passing through this gate, Yokohama Motomachi Shopping Street continues for some 700 meters.
This shopping street has a history spanning 150 years.
It features Kitamura, a well-known handbag shop, and the original Pompadour bakery, which has now expanded to many locations throughout Japan. The street is also lined with many unique shops such as Uchiki Pan, the first place to sell sliced white bread in Japan.
Shoyu Cafe - Try the Crowd-Pleasing Pudding!
Japan is known for its food that is both delicious and visually appealing. When exploring a town, we recommend visiting cafes that are trendy among locals.
Yokohama Motomachi Shopping Street's talk of the town, Shoyu Cafe offers a fresh pudding (850 yen) that is a crowd pleaser.
This eye-catching dessert brings out the very best of each ingredient. It even won the highest award at a competition held by a Kanagawa confectionery shop.
This pudding is topped with a bright orange yolk.
Japanese people have a custom of eating raw eggs. For those not used to this eating style, another version is topped with a soft-boiled egg and caramel sauce. The texture of this dessert is one-of-a-kind.
Shoyu Cafe also serves a pudding garnished with seasonal fruit.
17:30 - Yokohama Chinatown - Let's Go on a Food Tour!
When in Yokohama, be sure not to miss out on exploring one of the largest Chinatowns in Asia.
From Yokohama Motomachi Shopping Street, simply walk across an intersection to find this bustling neighborhood.
Yokohama Chinatown is lined with many shops selling Chinese-style miscellaneous goods and spices and, of course, plenty of Chinese restaurants!
While checking out each shop and sampling various cuisine is a great idea, so is looking for a restaurant to enjoy a leisurely dinner.
As the day gradually turns to night, the store lights and street lanterns become lit up, creating a neon streetscape reminiscent of major Chinese cities.
18:30 - Soaking in the Spectacular Night View!
Finishing off a day of Yokohama sightseeing requires taking in the port city's spectacular night view.
Our recommended spot is actually the same area we walked during the day. Let's use our one-day free pass to head back to Minatomirai Station.
Upon exiting the station, the colorful lights from the Ferris wheel will come into view. You can enjoy this magical scenery just by walking around the area.
If you still have some energy left, another possibility would be to exit from Bashamichi Station. A stroll along the Yokohama Red Brick Warehouse or Ferris wheel will give viewers a fabulous evening view as they reach Minatomirai Station.
Please note that the Bashamichi area, too, offers many fun things to do. First, walk along the Kishamichi Promenade, a boardwalk utilizing old railway tracks no longer in use. Then, drop by Nippon Maru, a historic ship docked in the harbor.
After a full day of fun activities, the final total was only 3,540 yen (not including shopping). For those interested in eating out for dinner, a reasonable estimate would be to add 1,000 to 2,500 yen per person.
Recommended Accommodations in Yokohama
Picture courtesy of Yokohama Visitors Guide
In today's article, we introduced some of Yokohama's popular spots, but this is only a fraction of what the city has to offer.
How about spending the night and enjoying sites like the Yokohama Landmark Tower with its 360-degree view, Yamashita Park, and Osanbashi Yokohama International Passenger Terminal?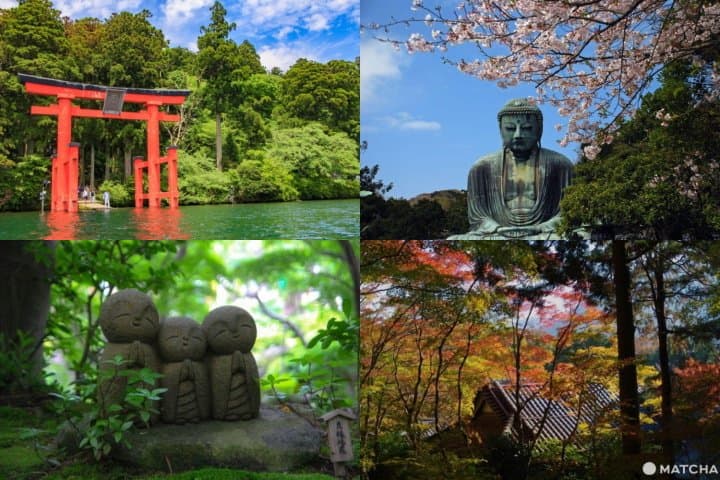 After a night in Yokohama, you can visit Kamakura or Hakone––two scenic places offering amazing attractions. You could even visit Tokyo for an adventure-filled day.

Yokohama has many accommodation facilities for your trip. In the Minatomirai area, there are many popular hotels, including the Yokohama Royal Park Hotel, perched on the top of Yokohama Landmark Tower. There's also the InterContinental Yokohama Grand with its fantastic night views.

Just four minutes on foot from Bashamichi Station is the PROSTYLE Ryokan Yokohama Bashamichi. This ryokan offers a great space—combining features of the east and west—where guests can relax in total comfort.

For those seeking more reasonably-priced accommodation, GuestHouse FUTARENO is just minutes away.

Please enjoy the romantic and relaxing Yokohama with its easy access from Tokyo!

Written by Kogetsu
Sponsored by Yokohama Convention & Visitors Bureau
Main image courtesy of Yokohama Visitors Guide

The information presented in this article is based on the time it was written. Note that there may be changes in the merchandise, services, and prices that have occurred after this article was published. Please contact the facility or facilities in this article directly before visiting.