Meigetsuin Temple: Japanese Aesthetics at Its Finest in Kamakura
Kita-Kamakura is the next station after Kamakura Station. You'll find many places to experience Japanese culture. However, we recommend visiting Meigetsuin Temple, a serene and sacred spot full of seasonal beauty. When the rainy season arrives, the grounds come alive with colorful hydrangeas.
Meigetsuin, a Temple with a Splendid Japanese Garden
Photo by Pixta
Kita-Kamakura is the next station after Kamakura Station. For those looking to experience Japanese culture, this charming area won't disappoint in historical sites or beauty. You'll find temples and shrines to fashionable cafes and stores selling miscellaneous items lining the quaint streets.
One spot in Kita-Kamakura we highly recommend is Meigetsuin Temple (Japanese), otherwise nicknamed the "Hydrangea Temple."
Originally Part of Another Temple?
Originally, Meigetsuin was not its own temple. In the 14th century, a larger temple known as Zenkoji was built in the same area. Meigetsuin was one of the temple buildings on the grounds. Halfway through the 17th century, Zenkoji was torn down, but for whatever reason, Meigetsuin was preserved. It has gradually developed into the cherished temple we see today.
Not Just Hydrangeas! The Many Charms of Meigetsuin
Photo by Pixta
When it comes to Meigetsuin, the beautiful hydrangeas are its most famous feature.
In fact, the hydrangeas inside the temple's premises were planted after World War II. Given Meigetsuin's long history, the planting of these flowers is relatively recent.
The hydrangeas were planted because they are easy to take care of. The stunning blooms slowly garnered attention over time from visitors around Japan. June is when the hydrangeas are in peak flowering season, which coincides with many tourists flocking to Meigetsuin. During weekends in June, there are crowds lining the streets from the temple all the way to Kita-Kamakura Station.
Meigetsuin is a spot we'd like you to visit for the captivating hydrangeas. Having said that, June is a time of heavy rainfall called "tsuyu" in Japan.
Therefore, it can be difficult for first-timers to Kita-Kamakura to view this area while holding an umbrella. For those heading to Kita-Kamakura for the first time, we recommend that you avoid visiting Meigetsuin in June.
Photo by Pixta
In addition to hydrangeas, you can enjoy plum blossoms in the spring and autumn foliage in the fall. In addition to flowers, the Meigetsuin yagura (*1) is also worth seeing. Those part of the upper class are buried here, such as samurais and monks. The yagura found here is the biggest in Kamakura.
*1 Yagura: a tomb inside of a cave that's made by digging into a wall. These cave-like tombs are commonly found in Kamakura.
The Circular Window: A Symbol of Japanese Aesthetics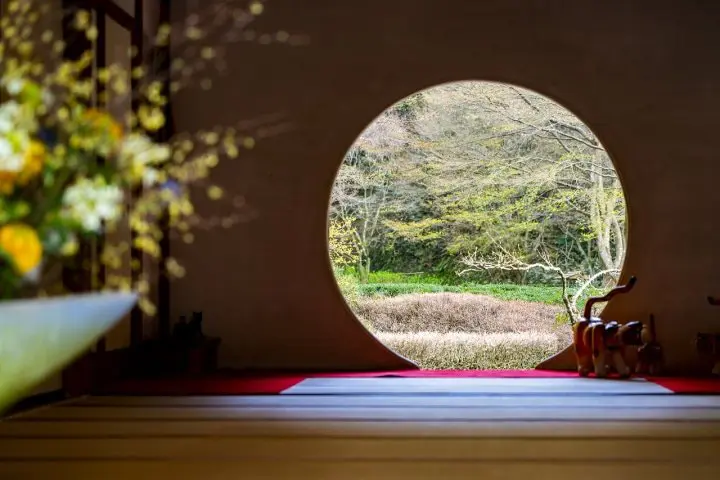 Photo by Pixta
Above all else, the circular window featured in Meigetsuin pamphlets is the most notable part of this temple. You can't help but be struck with wonder when directly looking at this window. Many who visit this temple snap photos of this distinctly beautiful element of Japanese architecture.
Another unique way of enjoying Meigetsuin is searching for rabbit objects. Believe it or not, you can see several rabbit-related ornaments throughout the grounds. The temple's name even has a hidden secret. "Getsu" means "moon" in Japanese. You might say that the moon is a symbol for Meigetsuin.
From ancient times in Japan, it's been believed that rabbits live on the moon. This folklore arose from a rabbit-shaped shadow on the moon's surface similar to the "man in the moon" stories overseas. The association of Meigetsuin with the moon and rabbits continues to this day. No wonder you'll see rabbit ornaments throughout this charming temple.
Photo by Pixta

If you're looking to spend a comfortable day in Kita-Kamakura, visit Meigetsuin to enjoy the serene beauty of Japan. For first-timers though, we recommend avoiding the crowded season in June.

All pictures by Pixta

The information presented in this article is based on the time it was written. Note that there may be changes in the merchandise, services, and prices that have occurred after this article was published. Please contact the facility or facilities in this article directly before visiting.