Sweet And Flavorful! Try Fukushima Vegetables Grown With Natural Farming
Flavorful, naturally-cultivated vegetables from farms in Iwaki, Fukushima, surprise all with their deliciousness. Learn the secret behind this high-quality produce, as well as the story of an izakaya where you can try them in local Japanese dishes.
Bite into Fresh, Tasty Vegetables in Fukushima
Did you know that some of the best-tasting vegetables in Japan come from Fukushima? After hearing this, the MATCHA editorial team headed to Iwaki, a city in Fukushima Prefecture.
Located at the southern tip of Fukushima, the city of Iwaki is large and known for its excellent vegetable cultivation. In this article, we visited a farmer growing delicious cabbage and broccoli, and we also went to a tomato farm.
Continue reading to learn the secret behind these delicious-tasting veggies! We also introduce an izakaya (traditional Japanese pub) where these very vegetables are turned into amazing dishes.
*When the shipments are ready, vegetables grown in Iwaki are monitored for radioactive material. The farms introduced in this article are also carefully inspected. Inspection results are reported on the official website of Iwaki City (Japanese). Additionally, the farms introduced in this article have never surpassed standard limits for radioactive material since inspections began in 2011.
Shiraishi Farm: The Best Natural Farming
The first place we visited was Shiraishi Farm, which is a 15-minute drive from Iwaki Station.
People constantly rave about the farm, with some even exclaiming, "You won't be able to eat vegetables from anywhere else once you've tried them here." The famers receive massive support from their customers.
Nagatoshi Shiraishi, the eighth generation owner of this farm that originates in the Edo Period, welcomed us. His personality is as bright as his trademark red outfit.
Natural Farming Made Possible by the Pleasant Climate in Iwaki
Shiraishi Farm uses an agricultural approach called natural farming. This type of cultivation does not use any pesticides or chemical fertilizers.
The principle simply consists of allowing vegetables to grow as they would in nature. Watering is left up to the rain. According to Mr. Shiraishi's belief: "Seasonal vegetables are most delicious when grown in harmony with the land and climate."
Mountains surround Shiraishi Farm with no obstructions to the nature-rich view in the fields. As a result, gusts of cool wind from the mountains can freely blow through the fields. This cold, dry wind allows the vegetables to become sweet and flavorful.
When this article was written back in February, Shiraishi Farm was busy cultivating cabbage and broccoli. Tearing off a piece of cabbage for us, Mr. Shiraishi said, "Would you like to try it? The white part near the core is the sweetest."
Succulent cabbage
We took a bite of the raw cabbage. First came the crispy texture of the leafy produce. Then we noted a sweetness with each mouthful despite no added condiments. It was delicious! Next to us, Mr. Shiraishi grinned and proudly exclaimed, "That's our cabbage."
However, he continued, "But this year's crops were no good. We lost ninety percent of our vegetables."
90% of Vegetables Unsellable after Typhoon Hagibis
The after-effects of the typhoon still remain on Shiraishi Farm
The town of Ogawa, where Shiraishi Farm is located, was directly hit by a major typhoon in October 2019.
Typhoon Hagibis brought immense damage throughout Japan. The Natsui River, located right next to the farm, overflowed and flooded the fields with several meters of water. This led to ninety percent of the vegetables to be unsellable and unsuitable for shipment.
Covered in mud, the natural cabbage fields are now few in number
The mud that piled up during the river's flooding has since hardened and continues to cover the fields. We expected Mr. Shiraishi to be disheartened, but on the contrary, he mentioned these surprising words.
"This year won't be any good, but they'll grow into great vegetables next year now that they're covered in mud."
They'll grow into great vegetables now that they're covered in mud? What does this mean?
Does Mud Make Vegetables Taste Better?
"This is good mud because it contains nutrition. The vegetables are still growing, aren't they? The crops would've already died if this was bad mud."
The fields at Shiraishi Farm are usually grown in fertile soil that contains an abundance of nutrients. That means that after a typhoon, the fields are further covered in fertile mud.
Natsui River next to the fields
This year, the mud will be mixed with the soil to create a nutritious substance. "By doing so, we can make even more flavorful vegetables with nutrients from the mud."
Thirty years ago, Shiraishi Farm suffered similar water damage. The nutrients from the mud that covered the fields at that time continue to exist in the soil today.
"That's why from now on and 30 years into the future, our vegetables will always taste great," Mr. Shiraishi laughed. There were no traces of sadness that you would understandably see in a typhoon victim.
"At first, I thought that the fields were unfertile after the typhoon hit. But the vegetables are still alive."
He's able to transform the negative of water damage into positive, revitalization energy. As someone who continues to grow tasty vegetables with the best natural farming technique, Mr. Shiraishi's words conveyed as much passion and vigor as the red in his clothes.
Wonder Farm: a Tomato Theme Park
The long hours of sunlight in Iwaki led to its nickname, "Tohoku's Hawaii." Tomatoes are one of the famous vegetables grown in this climate.
Our next location is only a 15-minute drive from Shiraishi Farm. Wonder Farm is a tomato theme park enjoyed by vistors of all ages.
Wonder Farm not only grows tomatoes, but also runs a restaurant with an organic vegetable buffet featuring these fresh, sunkissed fruit. There's also a souvenir shop selling tomato products.
Sunshine Tomatoes: Only Grown in Iwaki
The brand of tomatoes grown at Wonder Farm are called Sunshine Tomatoes. This variety has just the right balance of sweet and acidity for a refreshing flavor.
President Motoki
"Iwaki has cool summers and warm winters. It also has the longest hours of sunlight in Japan. Sunshine is essential for tomatoes, so this is perhaps the only area in Japan that can grow tomatoes all year round," the president Mr. Hiroshi Motoki explained.
Amazing Juice and Tomato Picking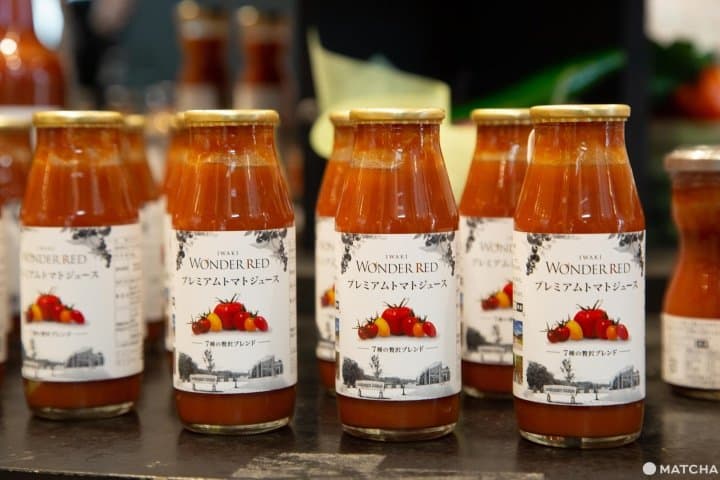 Pictured is the Wonder Red: Tomato Juice Premium, a juice blend of seven tomato varieties that are incredibly sweet
The farm's Wonder Red Tomato Juice is a popular product made with their ruby red fruit and manufactured in their factory. Typical tomato juice uses tomatoes grown for processing, but this beverage is made entirely from Sunshine Tomatoes grown for raw consumption.
The juice does not contain a single drop of additives and has refreshing sweetness! Its thick consistency also makes it great for soups when used for cooking.
Wonder Farm also holds tomato picking for visitors everyday. You can enjoy nine tomato varieties that each have unique flavors and pick to your heart's content (reservations are required and cost 900 yen per person before tax). Reservations are made through their official website (Japanese).

A Tastier Way to Eat Vegetables!
We purchased cabbages, broccoli, and tomatoes from Shiraishi Farm and Wonder Farm.
Want an even tastier way to enjoy these vegetables? Our team brought the local produce to an izakaya.
Delight in Local Dishes at Waka
Waka, an izakaya (Japanese pub) five minutes on foot from JR Iwaki Station, is a bar-restaurant is reputed for its delicious Iwaki and Fukushima cuisine.
The owner, Kume Takagi, said, "We regularly use vegetables from Shiraishi Farm and Wonder Farm." She made us dishes that brought out the natural deliciousness of the veggies.
The Most Delicious Iwaki-Grown Vegetable Dish
First, the cabbages from Shiraishi Farm are finely cut into strips.
The leafy greens were used to make Wakayaki, an original menu item at the pub. Grated yams and eggs are added to the cabbage, then the mixture is fried. Although this signature plate is made with green onions from Shiraishi Farm, Ms. Takagi especially made a cabbage version for us.
We enjoyed the savory pancake with a homemade green chili soy sauce. The fluffy, soft texture of the yams and texture of the cabbage could be tasted in each bite. The dish is similar to okonomiyaki in Osaka, and diners can experience the subtle sweetness of the vegetables.
We also requested a simple dish to bring out the flavor of just the cabbage. We were then served this salted cabbage. The leaves are raw, dressed only in shio-kombu (*1) and sesame oil. Despite its simplicity, this was delectable without the salty flavor being too overpowering.
*1 Shio-Kombu: stripes of kombu (seaweed) kelp that has been boiled down and seasoned with salt.
"Let's try the broccoloi as tempura," Ms. Takagi said while presenting us with this dish. It was the first time we've eaten broccoli tempura!
We added a dash of salt, then took a bite. What an amazing depth of flavor! The taste was so concentrated that it made us question the broccoli we've had until now. When fried as tempura, this cruciferous vegetable was surprisingly delicious.
Wonder Farm's tomatoes are served raw. The juicy red morsels are light and refreshing after the batter-fried brocolli.
Daily Menu Made with Local Ingredients
Waka always serves dishes similar to the ones we've introduced. The pub allows customers to choose their favorite ingredients when ordering.
Ms. Takagi is always visiting the fields in Shiraishi Farm to purchase vegetables personally. She not only gets her ingredients from Shiraishi Farm, but also other producers in Fukushima. As she visits various farmers and markets, she creates menu items that change every day. You won't grow tired of the food here, no matter how many times you visit.
Many people frequent the pub, charmed by Ms. Takagi's down-to-earth personality
As the cooking neared completion, we heard Ms. Takagi say to herself, "Maybe I'll make pickled cabbage tomorrow."
This is a spot where you can come across the most delicious dishes, made fresh every day. Want to taste Iwaki-grown vegetables? You're always welcomed at Waka!

Overcoming Earthquakes and Typhoons through Delicious Dishes
Waka is located in a retro izakaya district called Yoake Market.
Following the 2011 Great East Japan Earthquake, the long-standing snack bar district was renovated and reopened that same year in November. You'll find izakayas serving yakitori, Italian cuisine, and regional dishes just three minutes from the station. This district has become more popular since the street and store lights opened again.
However, just as Fukushima was on the road to recovery from the earthquake, residents experienced further damage from Typhoon Hagibis in 2019. Vegetables weren't the only products damaged in the tropical storm. The salmon and roe in Kido River, for instance, are a specialty of the nearby town of Futaba but have become unsalvageable.
Fukushima is trying to recover once more from this setback. Similar to Shiraishi Farm, vegetables in the prefecture are being grown for the following year. Progress has been made to rebrand the salmon roe in Kido River, too. Revitalization efforts continue across Fukushima.
Get a Taste of Fukushima's Delicious Vegetables
Mr. Shiraishi (left) from Shiraishi Farm and President Motoki (right) from Wonder Farm
If you're eager to get a taste of Fukushima vegetables, please visit these topnotch farms. The flavor of fresh vegetables produced here is exceptional!

Access to Iwaki
JR Iwaki Station is two hours and 15 minutes from Tokyo on the Limited Express Hitachi. If you can't head to the farms, get a taste of Iwaki vegetables by dining at Waka, located just a 5-minute walk from the station.

Written by Kousuke Deki
Photos by Eri Miura
In cooperation with Shiraishi Farm, Wonder Farm, Waka, Yoake Market
Sponsored by METI

The information presented in this article is based on the time it was written. Note that there may be changes in the merchandise, services, and prices that have occurred after this article was published. Please contact the facility or facilities in this article directly before visiting.