A Fukushima Journey To Find Exquisite Pairings Of Cuisine And Liquor
Refined cuisine made by an experienced chef with quality ingredients produced locally. Combine it with fine liquor, and the "terroage," an exquisite, surprising pairing will result! We introduce the work of a highly acclaimed chef based in Inawashiro, Fukushima, and his amazing terroage pairings.
Terroage: Pairing Refined Fukushima Cuisine and Sake
Fukushima, located in the Tohoku Region, boasts a rich natural environment. The prefecture is currently the base for a project that is gaining attention.
The project is titled Terroage Fukushima. "Terroage" is a recent word created by mixing the French word "terroir" (the combination of factors that gives a wine its distinctive qualities) and "mariage" (the matching of food and liquor). The project aims to pair creative cuisine made using fresh local products and various types of Fukushima liquor, including Japanese sake.
Truly refined cuisine is created by the hands of a chef with ingredients delivered by a reliable producer. For this article, we traveled to Fukushima in search of first-class terroage.
A Master Chef Living in the Highlands
We visited Inawashiro-machi, a town located in central Fukushima.
Numajiri Kogen Lodge is a serene inn, surrounded by Mt. Adatara, Mt. Bandai, and Mt. Nishiazuma. A master chef is in charge of the cuisine served at this lodge.
The chef's name is Toshimitsu Kurosawa.
His expertise is Japanese-style food (washoku) but Mr. Kurosawa's dishes and unique food concepts go beyond any categorization. His cuisine has charmed many people.
Mr. Kurosawa became the lead chef of Numajiri Kogen Lodge in 2019. He treats the guest to high-quality cuisine made with excellent ingredients produced in Fukushima.
Mr. Kurosawa visits the local producers himself regularly. We followed Mr. Kurosawa during the course of a day to find out more about the way he selects the ingredients and cooks his acclaimed dishes.
Tsuchiya Farm: Producing Top Quality Rice in a Harsh Environment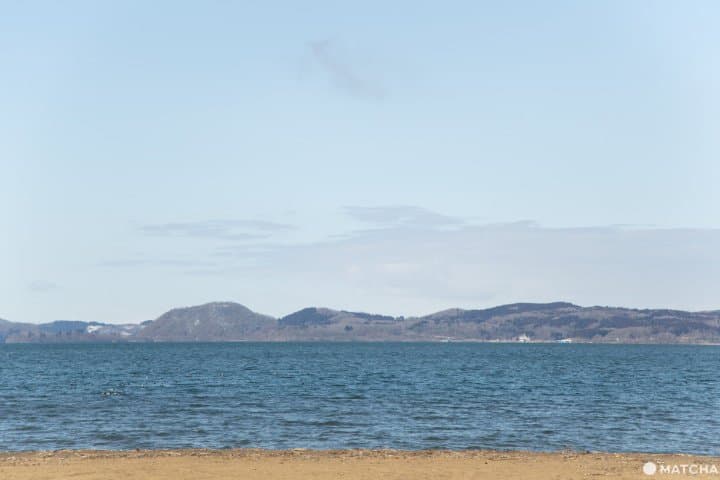 Lake Inawashiro is the symbol of Inawashiro-machi. It is the fourth largest lake in Japan, and the beautiful cobalt-blue surface of the lake attracts a large number of sightseers every year.
Rice paddies at Tsuchiya Farm, with Mt. Bandai in the background
Mr. Kurosawa visited a farm located about ten minutes away by car from the lake. This is where an excellent type of rice is being made, with Mt. Bandai, the icon of Fukushima Prefecture, rising in the background.
Pure, Beautiful Rice
"Rice is the staple food for the Japanese. This makes it the most important regional product. How to bring out the best qualities of rice in my dishes is one of the things I'm most concerned about," said Mr. Kurosawa. He praises Tsuchiya Farm as a top-class rice producer. Tsuchiya Farm has been producing rice since the Edo Period.
The rice consumed at Numajiri Kogen Lodge is purchased exclusively from Tsuchiya Farm. Mr. Kurosawa recalls the first time he saw the rice produced here.
"I was amazed. The rice looked simply beautiful."
When you scoop up a handful of rice, you usually notice at least ten grains that are cracked. "But there wasn't a single cracked grain in the rice from Tsuchiya Farm."
Mr. Kurosawa explained what this meant. "If all the grains are flawless, the rice will be cooked evenly. This determines its texture and flavor. If there are cracked grains, the starch comes out during the boiling process and the rice ends up watery."
Taking Advantage of the Harsh Climate
Mr. Tsuchiya, who runs Tsuchiya Farm with his younger brother.
Tsuchiya Nobuhiko, the ninth generation Tsuchiya Farm owner, told us: "The harsh climate specific to area around Lake Inawashiro is our greatest asset."
The area receives heavy snowfall accompanied by raging blizzards. The snow can pile up to one meter. "This type of climate applies stress to the rice plants, resulting in a sweeter taste."
A clear stream from the lake runs by the rice paddies.
Also, the difference in temperature between daytime and nighttime is ten degrees Celsius. "The rice ears create starch in the daytime and store it inside at night. The contained starch adds sweetness to the cooked rice, giving it just the right stickiness." (Mr. Tsuchiya)
Using Various Types of Rice for Different Dishes
Currently, Tsuchiya Farm produces seven types of rice. Mr. Kurosawa uses them for various dishes, selecting the rice that best fits each dish.
"I used the 'Kame no O' type for sushi, and it was incredible! It mixed well with vinegar and didn't stick to my hands. The 'Ten no Tsubu' type is fragrant and just perfect for donburi dishes. The products of Tsuchiya Farm make you realize the true potential of rice."
Ingredients that are Safe, Tasty, and Have a Story
The rice is dried under the sun at Tsuchiya Farm. This traditional drying method is rare to find nowadays. Picture courtesy of Tsuchiya Farm
"There are three questions I ask myself when choosing foodstuff," said Mr. Kurosawa. "The first question is 'Is it safe?,' the second is 'Does it taste good?,' and the third is 'Does it have a story?.' Tsuchiya Farm has been making rice since the Edo Period. It has always been in pursuit of high quality while keeping the tradition. In their case, all my questions get positive answers."
Tsuchiya Farm inspects all its products before shipping to make sure they are good quality and that they're not affected by radiation. In other words, both safety and flavor are ensured. The products are backed by the farmers' continuous passion for their work.
Mr. Tsuchiya and Mr. Kurosawa.
Mr. Tsuchiya, a soft-spoken person, said quietly after listening to Mr. Kurosawa. "We are always trying to make a change. Always."
Mr. Kurosawa returned to the lodge taking with him several kilos of rice grown at the foot of Mt. Bandai. "I already have the perfect dish in mind!" We couldn't wait to see what would be born out of this rice.
Mr. Kurosawa's Passion for Cooking
Mr. Kurosawa immediately started to cook something after arriving at the lodge. His demeanor suddenly changed into that of a chef.
Mr. Kurosawa began his career as a chef after turning twenty. He had aspired to become a hotelkeeper at first and didn't have much interest in cooking. This all changed when he tasted a yokan dessert made by the chef of the restaurant where he was working at the time. He was deeply touched by the chef's work.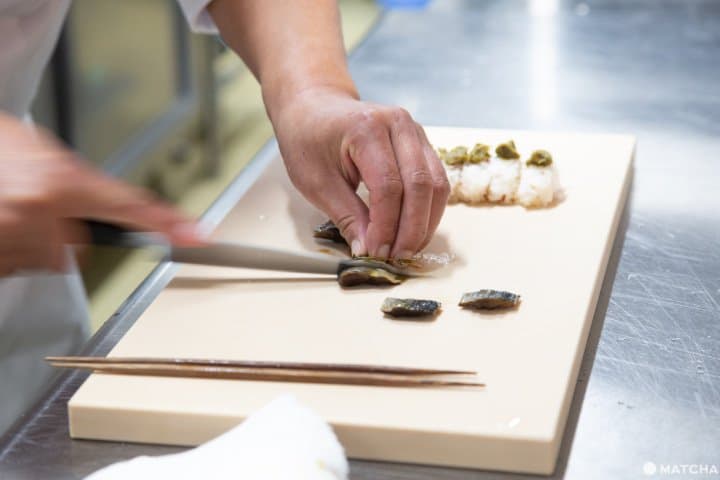 "I was in awe!" He realized what cooking can do, and started working on it, gaining knowledge from the senior chef during the breaks at work. "How to fillet a fish, how to make tempura, and how to cook rice; I learned everything from scratch."
Mr. Kurosawa, a perfectionist, worked at sushi restaurants and learned how to make soba from a local expert. He has worked at over twenty restaurants, not only in Fukushima where he was born and raised but all throughout Japan.
Mr. Kurosawa always visits the farmers directly to learn how they cultivate their products. He aims for the best, and this brought him high acclaim.
The meal he was preparing seems to be ready!
Pairing Fine Food with Liquor
The picture above shows the menu of the day. This Japanese course meal (kaiseki) is available only for the lodge guests.
Mr. Kurosawa said he decides the menu "after visiting the farmers and selecting the foodstuff on the spot," therefore it varies every day.
Types of liquor served at Numajiri Kogen Lodge
Mr. Kurosawa also chose the liquor to pair with his original cuisine. We describe the pairings further on in this article.
Fukushima Prefecture is famous for its high-quality sake. The local breweries have received the most gold medals for seven consecutive years at national sake tasting contests. The lodge serves sake, wine, as well as craft beer brewed in Inawashiro-machi, Bandai-machi, and Nihonmatsu, which are all located nearby. All these liquor types showcase the richness of Fukushima.
1. A Sweet-Sour Terrine with Craft Beer
The aperitif consists of rice and two small dishes. The rice used here is of the Hitomebore type from Tsuchiya Farm. The side dishes are a terrine (center of the picture) and hirousu (*1, right side).
*1: Also called gunmodoki, hirosu is made by deep-frying tofu mixed with bits of vegetables.
The terrine, made from organic vegetables produced in Shirakawa, southern Fukushima, is served with carrot sauce. Mr. Kurosawa said that the craft beer should go well with this dish. "The strong beer should be a good match with the seasoned terrine, which has a sweet and sour flavor."
Nanakusaya Beer is brewed by a farm in Nihonmatsu. When you taste it, you'll feel a strong wheat aroma after the first acidic taste. This makes it the ideal match for the terrine.
2. Organic Vegetables with Clear Japanese Sake
Eisen, a type of sake brewed in Bandai-machi, was selected to pair the appetizer dish made with organic vegetables.
"Eisen has a refreshing aroma. It is smooth with a clean finish, and has almost no aftertaste," said Mr. Kurosawa. The moderate flavor of this sake brings out the best of the exquisite Fukushima vegetables.
The main characteristic of Mr. Kurosawa's dishes is that, while simple, their flavor is multi-layered.
When you taste the appetizer pictured above, your first feel the full flavor of the dry-cured ham, which made by the chef himself, and then the crisp texture of the arugula, resulting in a pleasant aroma. There is nothing in surplus. Mr. Kurosawa brings out the natural, deep flavor of the ingredients, to which a variety of surprising textures is added for the guests to discover the joy of eating.
3. Wild-boar Meat with Wine
The main dish is wild boar meat cooked with six types of Chinese herbs. It exudes a robust fragrance and is packed with umami.
Ikkei, a wine brand produced in the neighboring Nihonmatsu City, was served with the main dish. The wine, made from Japanese crimson glory vine grapes (yama-budo), has a strong aroma and acerbity. It leaves a fresh aftertaste that goes well with the wild boar meat.
Additional Dishes made with Rice from Tsuchiya Farm
The rice from Tsuchiya Farm was made into bo-zushi (stick-shaped sushi) and sasa-zushi (sushi wrapped in bamboo grass).
The bo-zushi on the left side is made with beets produced at Shunsai Farm in Shirakawa, pickled in vinegar. Additionally seasoned with the original sushi vinegar made by the chef, this dish has a mellow sweetness.
Open the bamboo grass, and a sweet smell fills the air. "Bamboo grass is abundant in Aizu, and even sung in folk songs," mentioned Mr. Kurosawa.
The herring on top is seasoned with Japanese pepper. The homemade fuki-miso (*2) sauce in the sushi has a bittersweet taste, reminiscent of mountain air. Mr. Kurosawa went to pick the Japanese butterbur flower buds (fukinoto) himself for the fuki-miso.
The soft Hitomebore rice, mixed with crisp red rice, has just the right texture when cooked. Herring, bamboo grass, fukinoto, and riceーin other words, products from the ocean, mountains, and the fields are all rolled into a piece of sushi. This sushi basically contains every delicacy that Fukushima has to offer.
*2: Fuki-miso is miso paste mixed with shredded Japanese butterbur flower buds (fukinoto, an edible wild plant native to Japan). The mix has a unique aroma and a bitter taste.
Dishes that Stir All Five Senses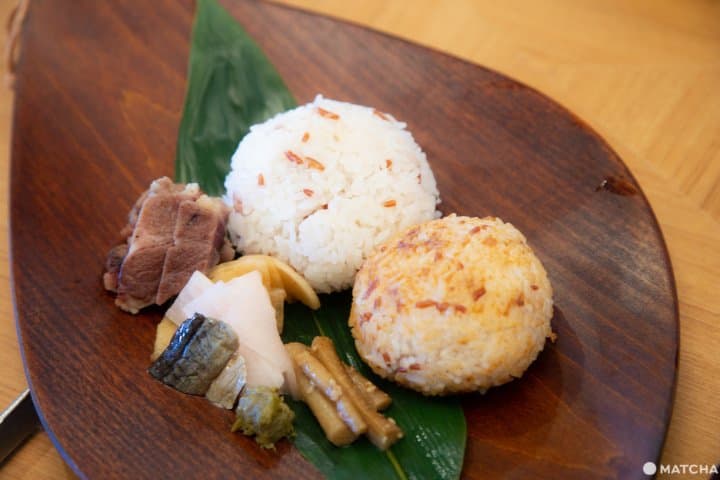 Our lunch, served by Mr. Kurosawa when we visited. The rice balls were made with Tsuchiya Farm rice
When we eat, we usually try to imagine the taste of the dish before we take the first bite. But Mr. Kurosawa's cooking is so full of surprises when its comes to flavors and textures.
Smoked maple salmon from Nishigo-mura in Fukushima
Mr. Kurosawa talked about "reaching out to the guests through their senses." His dishes, created through sound skills and profound knowledge, startle everyone.
"The important thing is to create dishes that can be appreciated only at this place. The delicacies of Fukushima are all condensed into the meals at Numajiri Kogen Lodge." True to his words, which were spoken with confidence, Mr. Kurosawa's dishes can be enjoyed only at the lodge, and they are made from foodstuff grown in the blessed natural environment of Fukushima.
Numajiri Kogen Lodge
Numajiri Kogen Lodge, where Mr. Kurosawa works as the lead chef, opened in 2019. The lodge was renovated from a mountain villa formerly owned by the late Junko Tabei, a renowned alpinist.
Besides exquisite cuisine, guests can also enjoy baths with free-flowing hot spring water.
The fare is 17,000 yen per night for a stay from January to March, and 18,000 yen from April to December (both fares are before tax). Breakfast and dinner, prepared by Mr. Kurosawa, are included in the accommodation fee. Please note that the meals at Numajiri Kogen Lodge can only be enjoyed by the guests.
Enjoy Terroage at Three Restaurants in Fukushima
Listed below are three restaurants, each located in a different region of Fukushima (*3), where visitors can relish the terroage of fine food and Fukushima liquor.
*3: Fukushima Prefecture comprises three regions: the coastal Hamadori, the central Nakadori, and Aizu, which is located further inland.
Nakadori: Harimaya (Fukushima City)
Picture courtesy of Terroage Fukushima
From JR Fukushima Station, it is a five-minute walk to Harimaya, an izakaya where guests can taste local sake and Japanese-style food.
Fresh Fukushima seafood is served accompanied by local liquor selected by the owner, who is a sake connoisseur.
Aizu: Irori no Yado Ashina (Higashiyama Onsen)
Picture courtesy of Irori no Yado Ashina
Irori no Yado Ashina is a ryokan located in Higashiyama Onsen, a hot spring village in Aizuwakamatsu. As the name suggests, it is furnished with an irori (traditional fireplace).
Guests can enjoy dishes made with carefully prepared freshwater fish, game meat, and locally produced poultry, served by the irori-side. Visitors who only want to dine at the inn are also welcome.
Hamadori: Hagi (Iwaki City)
Picture courtesy of Terroage Fukushima
Terroage is not limited to Japanese-style food. Hagi, located in Iwaki, is known for its thoughtful selection of ingredients. Guests can enjoy original French cuisine paired with wine and sake made in Fukushima.
Please note that the restaurant runs on a reservations-only system.
Discover Terroage in Fukushima
At the end of our interview, Mr. Kurosawa said: "This is just the start, and I still have a lot to learn. I'm going to devote myself to work."

These are the words of a truly accomplished producer and chef. The best kinds of terroage are created through the meticulous work of people like Mr. Kurosawa. Do visit Fukushima to discover refined pairings of cuisine and liquor that will move your heart!

Terroage Fukushima official website: https://terroage-fukushima.com/

Written by Kousuke DEKI
Photos by Eri Miura
In cooperation with Numajiri Kogen Lodge and Terroage Fukushima
Sponsored by METI

The information presented in this article is based on the time it was written. Note that there may be changes in the merchandise, services, and prices that have occurred after this article was published. Please contact the facility or facilities in this article directly before visiting.