Japanese Bread Varieties - An Introduction
Bread is not included in a traditional Japanese breakfast but it has become very popular with younger generations. The wide variety of unique Japanese baked goods can be overwhelming. In this article, we introduce the most popular types of Japanese bread.
Bread - Increasingly Popular in Japan
Picture from Oyama Happy Road - Local Food And Shopping Near Ikebukuro
In many countries, bread is a staple food that is essential for a satisfying breakfast. Many people are surprised when they come to Japan and get served fish, rice, and miso soup shortly after getting up in the morning.
Nowadays, younger generations have adopted less traditional Japanese breakfast items such as cereal and bread. Bakeries can be found everywhere, from the smallest village to the biggest city. The baked goods found in these bakeries often come with a Japanese twist. Many flavors can be surprising for people who cannot read Japanese.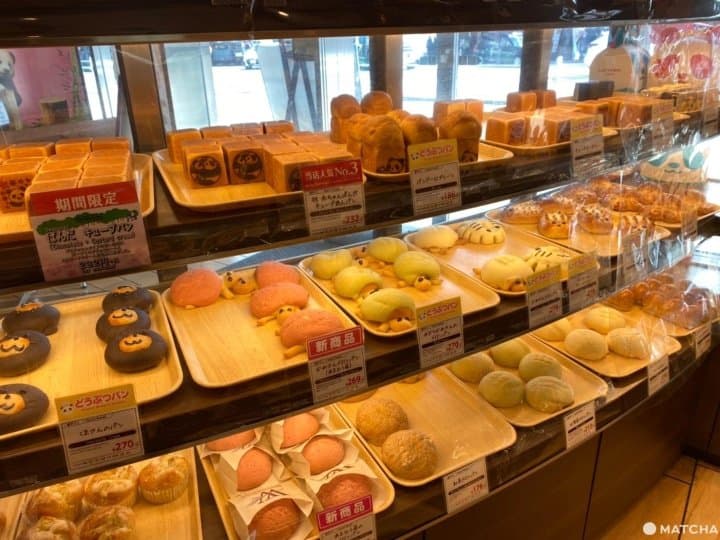 Ueno Zoo Bakery
Historically, bread has been first introduced to Japan by Portuguese traders in the mid-sixteenth century. This origin can still be seen in the Japanese word for bread, which is "pan". Pan is derived from the Portuguese word for bread, "pão."
Being German myself, I really love bread and baked goods. Let me introduce you to some of the unique bread varieties available in Japan. The Japanese name of each product is written in brackets so that you have an easier time finding what you search for in the bakery.
Shokupan - Sweet and Fluffy White Bread
Yamazaki Bakery in Asakusa
Shokupan (食パン) is an essential type of bread found in every bakery. It refers to white bread that can be purchased whole or sliced. You might be thinking that white bread can be purchased all over the world but Japanese shokupan is slightly different.
The Japanese generally like bread with a very soft texture. They often refer to this texture as "mochi mochi," which roughly translates to soft and squishy.
Shokupan is very airy and also sweeter than its Western versions. Some Japanese bakeries make their bread with rice or rice flour to appeal even more to the locals' tastebuds. Cutely shaped shokupan, such as the cat-shaped bread above offered by Blue Jean in Osaka, is also very popular.
Anpan - The Hero of Japanese Bread
The word anpan (あんパン) comes from combining "anko" (sweetened bean paste) and "pan" (bread). Just as the name suggests, this type of bread is a bun filled with anko.
Sakura anpan (cherry blossom-flavored anpan)
It is believed that the owner of Kimuraya bakery in Tokyo invented anpan in 1874 to make bread more appealing to the Japanese. Anpan quickly caught on and helped bread gain the popularity it has today. Kimuraya still exists in Tokyo and is a great place to try a large variety of anko-filled bread.
Not only is anpan the hero of the bread world in Japan but it also inspired a comic hero. Anpanman is a popular child anime featuring a hero with an anpan as his head.
Many bakeries offer Anpanman bread in their line-up. However, as it is targeted towards children, these breads are often filled with chocolate instead of anko. It can be confusing so please make sure you get the type of filling you wanted.
Melonpan - Cookie Meets Bread
Melonpan (メロンパン) gets its name from its appearance, not its flavor. Essentially, it is a sweet bun covered in cookie dough and granulated sugar for extra crunch. The cookie dough is sliced in squares to better fit the round bun, giving it the appearance of a melon, or cantaloupe.
Some bakeries add green food coloring or melon flavor to their melonpan but the standard version usually has a light vanilla flavor. Melonpan exists in a variety of flavors from chocolate and strawberry to tea. The turtle-shaped melon pan above is also very popular.
Creampan - Bread with Custard Cream or Whipped Cream
Creampan (クリームパン) can be a tricky one. Usually, it refers to a sweet bun filled with custard cream.
However, it can also refer to a sweet bun filled with whipped cream or even to something like the bread above. The best way to figure out what you are about to eat is to either buy an open version like the one above or look for the words custard (カスタード) or whipped cream (ホイップクリーム) depending on which one you prefer.
Choco Korone and Chocopan - Chocolate-Flavored Delights
The most common chocopan (チョコパン) is a sweet bun filled with chocolate or a white bread marbled with chocolate-flavored dough. It is the type of bread that is most often made into cute characters as it is mainly targeted towards children.
Choco korone (チョココロネ) is the most popular chocopan. It is named after the European cornet as it resembles its shape. Choco Korone is a cone-shaped sweet bread usually filled with chocolate pudding cream.
Korone can contain vanilla or otherwise flavored pudding cream but the variety is usually reflected in the name. For example, vanilla-filled korone would usually be named custard korone (カスタードコロネ).
Currypan - Richly Filled Deep Fried Bread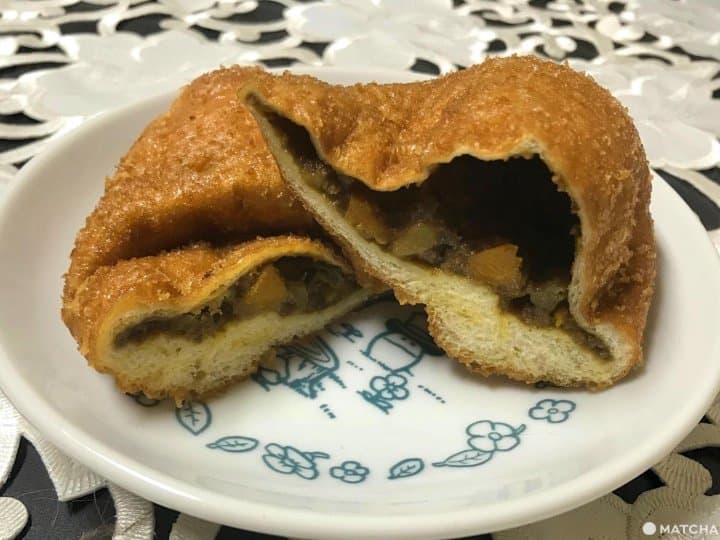 Currypan (カレーパン) refers to deep-fried, crispy bread filled with a generous helping of curry sauce. Currypan is very filling and can easily serve as a whole meal. The most common version are vegetable currypan (カレーパン), beef currypan (ビーフカレーパン), and cheese currypan (チースカレーパン). Cheese curry pan is usually either topped with cheese or contains cheese mixed into the filling.
Yakisoba Pan - Noodles in Bread
Yakisoba pan (焼きそばパン) might be one of the oddest products available at Japanese bakeries. Yakisoba usually refers to fried and seasoned noodles with a variety of vegetables, as well as meat. To make Yakisoba Pan, one simply stuffs a hot dog bun with the popular Japanese comfort food.
MARUJU bakery in Oyama
In Japan, hot dog buns are often filled with anything but hot dogs. The most popular choices are katsu (crispy fried cutlet of meat or seafood), koroke (breaded and deep-fried mashed potato), egg salad, and potato salad. As you might have realized, the Japanese don't shy away from having some carbohydrates (pasta and potatoes) with their carbohydrates (bread and rice).
Katsu Sando - A Simple, Delicious Sandwich
Lastly, I would like to introduce the katsu sando (カツサンド). A battered and fried chicken, beef or pork cutlet is sandwiched between two slices of shokupan together with some lettuce, mayonnaise, and sometimes even a little bit of katsu sauce (similar to Worchester sauce).
Katsu sando is simple but delicious and a popular choice for breakfast, lunch or dinner. There are even specialized shops dedicated to offering different varieties of katsu sandwiches.
Try the Unique Japanese Bread!
Bread might not be a traditional breakfast choice but it is still a very popular one. Japanese bakeries can be slightly overwhelming with all these different choices, Japanese names, and constant new inventions added to the regular lineup.
I hope this article inspired you to give Japanese bakeries a try and helped you to figure out what some of these interesting baked goods are. Have fun exploring!
The information presented in this article is based on the time it was written. Note that there may be changes in the merchandise, services, and prices that have occurred after this article was published. Please contact the facility or facilities in this article directly before visiting.