Osaka's Cutest Bread - Blue Jean Bakery's Cat-Shaped Baked Goods
The Blue Jean Bakery located in Osaka's Hotel New Hankyu underground area rose to fame with their ironeko no te - cat paw-shaped cakes. Their cat family has grown six members strong now and we'd like to introduce these tasty treats to you.
The cute appearance of daily life items is a significant part of Japanese culture. Taking into account how popular cute food is, many bakeries have been creating animal or cartoon character inspired bread.
In this article, we will introduce you to Blue Jean, a bakery in Osaka which took it one step further and created a whole cat-themed bread and cake series.
Blue Jean Bakery
Picture courtesy of Blue Jean Bakery
Blue Jean is a bakery located in the underground area of Hotel New Hankyu connected to Umeda Station. They have been around for a couple of years but completely renovated and renewed their shop in 2017.
Picture courtesy of Blue Jean Bakery
After their renewal, the whole interior, as well as the bread and cake trays, are made of wood, which gives the store a warm atmosphere. They also have a small cafe space where you can sit down and enjoy your cake or bread with a cup of coffee or tea.
The store entrance is small when seen from the outside and it might be a little tricky to locate them at first. The underground area of Hotel New Hankyu has many separate small shopping streets spreading from the center. If you stand in the center and spot a green Mitsui Sumitomo bank (SMBC) you are on the right way. Just walk about one minute into the area where the bank is located and you'll find Blue Jean to your right.
Blue Jean's Colorful Cat Family
Blue Jean is most famous for their bread, cakes, and cookies in the shape of cat paws and faces. All of these items are part of their "Ironeko Family" which roughly translates to "colorful cat family". Let us introduce you to the members.
1. Edible Cat Paw - Where It All Began
The store's concept is "Oishiku Tanoshiku" which means "tasty and enjoyable" so they try to create baked goods that are enjoyable in look and taste. Based on this concept, they came up with the first-ever member of their cat family - the ironeko no te (cat paw) cake a couple of years ago.
Ironeko no te consists of two delicious layers of cake that are fluffy and light on the inside and crunchy on the outside. A thin layer of cream that has just the right amount of sweetness is sandwiched between them.
In addition to being delicious, this cookie is shaped like an adorable cat paw. Everything started with a plain vanilla ironeko no te with a vanilla flavored dough and vanilla cream inside but as of 2018 they also offer a chocolate version with a chocolate dough and cream. Limited editions such as a strawberry version* with freeze-dried strawberry pieces in the cream for spring 2018, sometimes join the cat family for a short visit. 
If you want to get your paws on the Ironeko no te, you should try to go there early as it often sells out by the afternoon.
Price: 230 yen per paw
*Please note that the strawberry version was limited edition and is not being sold at the moment.
2. Catface Shaped Bread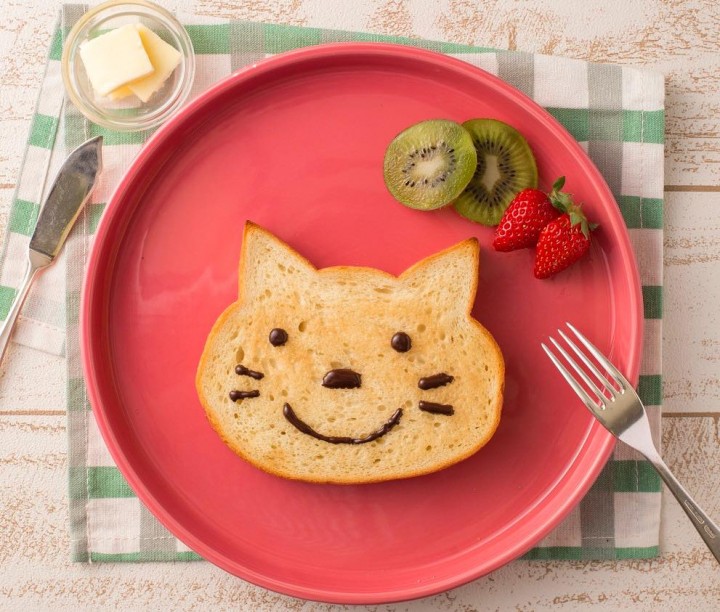 Ironeko Shokupan Picture courtesy of Blue Jean Bakery
The next family member which followed after Ironeko no te's success was a catface shaped loaf of bread called iroeko shokupan (cat bread). Just like the Ironeko no te, it was first released in a plain version but by now there are many seasonal versions available such as matcha green tea with chestnuts and strawberry bread.
The loaf is fairly big and you can enjoy it plain or toasted with butter. The flavored versions are often slightly sweet so they are best enjoyed with butter or jam while the plain version can also be eaten as a sandwich. In fact, Blue Jean also offers sandwiches made from the cat bread and they are unbelievably cute to look at.
Please note that the plain bread is another item that sells out during the day.
Price: plain 350 yen / flavored 550 yen per loaf
3. Catface Shaped Financier Cake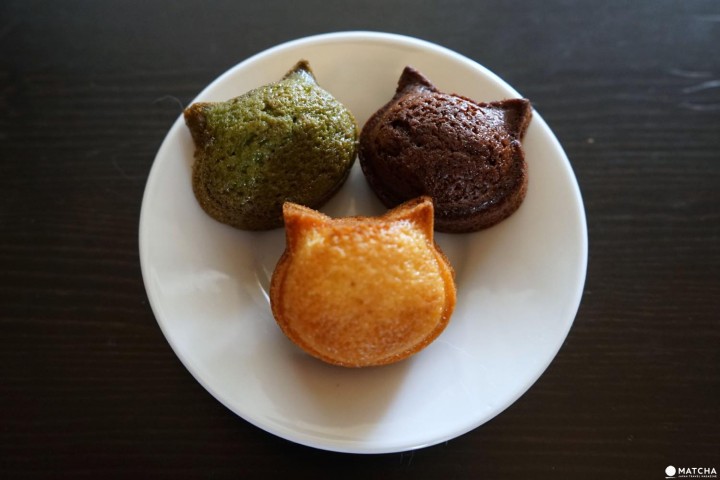 Financier cake is a small light and moist French almond pastry usually baked in a small mold. At Blue Jean, this traditional pastry got a cat makeover as well. The tiny round catfaces are available in vanilla (plain), chocolate and matcha green tea flavors. They might be small but they are really flavorful and the perfect mixture of moist and crunchy.
Price: 100 yen per piece
4. Catface Shaped Sable Cookies
Cat Sable Cookies Picture courtesy of Blue Jean Bakery
Sable cookies are traditional French butter cookies. Cat shaped cookies are probably the least unique item of the family but they are nothing short of delicious. As of now they only come in plain vanilla flavor as they are the newest addition to the colorful cat family. They are great for a takeout snack if you want to give your child something to nibble on.
Price: 100 yen per cookie
5. The Purr-fect Cake - Ironeko No Te Roll
Cat Roll Cake Picture courtesy of Blue Jean Bakery
Roll cakes are cream-filled sponge cakes that are very popular in Japan. This particular roll cake has a cream and chocolate center and is covered in adorable chocolate paw prints.
If you have something to celebrate while in Japan, why not pick up this purr-fect roll cake? Of course, you can also just pick it up to celebrate that you are in Osaka or simply because it's cute.
Price: 1300 yen per cake
6. Summer Addition - Cat Paw Ice Cream
Cat Paw Ice Cream Picture courtesy of Blue Jean Bakery
If you want to cool off the cute way during the summer, then you should try the ironeko no te ice cream sandwich. The cake part of the sandwich is the same as the one used for the usual ironeko no te but, instead of cream, it is filled with delicious ice cream. As of now, it is available in chocolate and vanilla flavors.
Price: 250 yen per paw
Blue Jean Bakery is the Cat's Meow
While the main star at Blue Jean in Osaka is their colorful cat family, they also offer a vast variety of other baked goods such as curry pan (fried bread filled with curry), pen-shaped roll cakes and a variety of different types of bread and cake.
Osaka style bread tends to be soft on the inside and crunchy on the outside, being a little different from Tokyo style bread, for example, which is squishy and soft.
All of the items available at Blue Jean are delicious, high-quality and budget-friendly and we highly recommend a visit even if you are a dog person.
In cooperation with Blue Jean and Hotel New Hankyu.


The information presented in this article is based on the time it was written. Note that there may be changes in the merchandise, services, and prices that have occurred after this article was published. Please contact the facility or facilities in this article directly before visiting.