7 Places To Satisfy Your Sweet Tooth In Harajuku
Harajuku is a sweets haven and some popular Japanese treats even have their origin in the fashion-forward district. With such a big selection, it is hard to decide what treat to indulge on. We introduce you to seven must-try sweet shops in Harajuku
Harajuku is known as fashion district and sweets haven. Nearly everything you encounter around the main shopping street, known as Takeshita Street, seems to be sweet and colorful no matter if fashion or snacks.
With such a huge amount of different snacks and sweets in close proximity, it can be quite hard to choose. In this article, we recommend seven sweets shops and cafes you should consider visiting when in Harajuku.
1. Harajuku Crepe Shops - The Must-Try Dessert
You can't talk about Japanese sweets without mentioning Harajuku crepes. It is said that this popular dessert was invented in Harajuku over forty years ago. The shop Marion Crepe claims to be the original inventor of the Japanese Crepe by taking inspiration from the original French crepe.
Harajuku crepes are a truly decadent treat usually filled with whipped cream and a combination of fruits and sweets such as cake and ice cream. If you don't like sweets, most crepe shops also off savory crepes filled with tuna, salat, chicken or even sausages.
In the long time since their invention and even with the ever-growing sweets competition in Harajuku, these crepes have never lost their appeal. You will rarely encounter any of the long-established Harajuku crepe shops without someone lining up for the freshly made iconic treat.
No matter if you choose Marion Crepe or one of the crepe shops scattered throughout the shopping area, make sure to try this famous Japanese treat when in Harajuku.

2. Sweets Paradise - All-You-Can-Eat
Picture from Sweets Paradise - Go To Cake Heaven And Eat As Much As You Want!
Sweets Paradise is an all-you-can-eat restaurant chain with one of its long-established branches on the third floor of the SoLaDo Building in Harajuku. You can choose from multiple plans and indulge in a huge variety of cake and sweets as well a small selection of savory dishes such as pasta and curry. Sweets Paradise also offers a variety of sodas, flavored waters, and teas.
While Sweets Paradise is not unique to Harajuku, the shops interior was designed to fit the districts colorful ambiance. Constant collaborations with Japanese idols and other youth culture characters keep the shop vivid and ever-changing.
Picture from Sweets Paradise - Go To Cake Heaven And Eat As Much As You Want!
If you want to try many different Japanese sweets, Sweets Paradise is a great place to start especially if you are on a budget. You don't have to feel like you wasted your money if you don't like something, you simply move on to the next treat. All the available choices are on openly on display and you can take as little or as much as you want.

3. Cafe Ron Ron - Conveyor Belt Sweets
Picture from Harajuku Cafe Ron Ron - Adorable All-You-Can-Eat Conveyor Belt Sweets
Cafe Ron Ron is another all-you-can-eat restaurant but its concept and design are very unique. The cafe opened in 2018 and was inspired by a French cafe. It has a big conveyor belt as the centerpiece transporting small colorful dishes with miniature size Japanese and French treats.
Treats like tiny dango (colorful rice cakes), macaroon, cupcakes, and even cotton candy circle on the golden conveyor belt. They also have a choice of savory items such as tiny hot dogs, hamburger and even potato salad in an ice cream cone. 
Picture courtesy of Cafe Ron Ron
Ron Ron is the French sound for a cats purr so their signature items have edible cat shapes, tails or paw prints. They also offer seasonal items such as pumpkin pies with chocolate witches hats and Christmas tree cupcakes.
Sweets are made in batches. You might not be able to try everything they offer in one visit but this cute all-you-can-eat cafe will make you want to come back time and time again.

4. Max Brenner Chocolate Pizza Bar
Picture courtesy of Max Brenner
Chocolate Pizza did not originate in Japan but the colorful Chocolate Pizza Bar fits perfectly to Harajuku. Here you can choose from a set menu or customize your own chocolate pizza.
Picture from Max Brenner Chocolate Pizza Bar in Harajuku - Custom-Made Desserts!
If you want to create your own pizza you start with the base. You can choose between Dark Chocolate, Milk Chocolate, White Chocolate, Strawberry Sugar and Cinnamon Sugar with or without marshmallows.
Next, you can add as many toppings as you wish. How about white chocolate chunks and snack pretzels or strawberries, ice cream and dark chocolate? The possibilities are endless.

5. CROQUANT CHOU ZAKUZAKU - Crunchy Cream Puffs
Picture from CROQUANT CHOU ZAKUZAKU - Freshly Baked Crunchy Cream Puff Sticks
CROQUANT CHOU ZAKUZAKU took inspiration from Japans beloved cream puff and created something completely new. Even though the CROQUANT CHOU was originally invented in Hokkaido, the store in Harajuku was the brands first specialty store.
Usually, the cream puff dough is rather soft and springy. The CROQUANT CHOU dough is denser and covered in almond crunch. The rich cream filling is made with high-quality milk from Hokkaido.
The CROQUANT CHOU comes in stick form rather than the usual round shape. This means the cream evenly distributed and it is also easier to hold and eat while strolling down Takeshita Street. Each stick is freshly filled with cream when ordered.
Picture from CROQUANT CHOU ZAKUZAKU - Freshly Baked Crunchy Cream Puff Sticks
If you want something cold instead you should also try their soft serve ice cream. The creamy milk flavor makes it almost taste like frozen whipped cream. The additional almond crunch adds a satisfying mouthfeel.

6. Cookie Time - Revoke Childhood Memories
Picture from Cookie Time - Edible Cookie Dough, Freak Shakes And Karaoke In Harajuku
This is Cookie Time's only Cookie Bar outside its origin country New Zealand. It is also the only place in Tokyo where you can get edible cookie dough served in ice cream cones.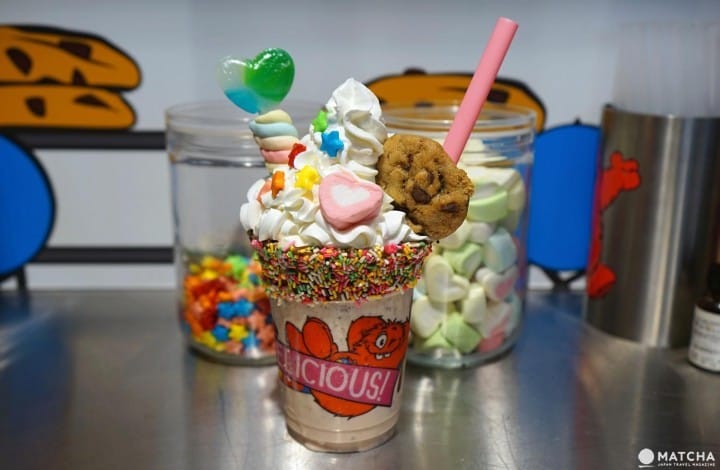 Picture from Cookie Time - Edible Cookie Dough, Freak Shakes And Karaoke In Harajuku
Besides the edible cookie dough, they also offer ice cream, a variety of freshly baked cookies, cookie shakes and something called freak shakes. Freak shakes are basically over the top milkshakes with lots of cookies, whipped cream, and cute decorations. Recently they also added freak cones which are ice cream cones filled with basically everything available at the store.
There are new inventions and limited edition items at Cookie Time nearly every month, so it never gets boring. Besides this, Cookie Time has a cute mascot, cheerful staff, and free Karaoke. It's a fun place to evoking childhood memories of stealing cookie dough and dunking cookies in milk until it became a cookie shake instead of milk and cookies.

7. Gomaya Kuki - Japans Most Flavorful Sesame Ice Cream
Picture from The Most Flavorful Sesame Ice Cream On Earth! Gomaya Kuki In Harajuku
Gomaya Kuki is technically located in Omotesando but it needed a mention as one of the best ice cream places in the Harajuku area. They only sell sesame related sweets and specialize in ice cream.
The mainline consists of black and white sesame made with at least 9000 seeds per cup. The choices for the black sesame ice cream are strong, extra strong and sea salt. White sesame lets you choose between strong, extra strong and a version with assorted grains.
Gomaya Kuki's ice cream is very rich in taste and low on sugar. You can also add mixed sesame seeds and sesame oil to your liking. I highly recommend the sesame oil as it intensifies the sesame taste.
Photos courtesy of favy
A cup of two scoops costs 500 yen. You can mix and match your favorites. You can also buy premade cups to take out and eat later. The ice cream is offered as ice cream tempura as well which is battered and deep fried.
Besides the ice cream, they also offer drinks such as sesame smoothies and sesame latte as well as seasonal items. This shop might not have the usual colorful Harajuku appearance that pulls you in but it is a true gem you shouldn't miss out on.

Explore All the Sweet Possibilities
If you are a sweets lover, Harajuku is the place to go. No matter if classic cookies an cookie dough, all-you-can-eat buffets or the famous Japanese crepes, Harajuku has something for everyone.
Why not skip lunch and indulge in some delicious sweets instead?

The information presented in this article is based on the time it was written. Note that there may be changes in the merchandise, services, and prices that have occurred after this article was published. Please contact the facility or facilities in this article directly before visiting.