LUSH Harajuku - Exclusive Bath Bomb And Bubble Bar Store Only In Japan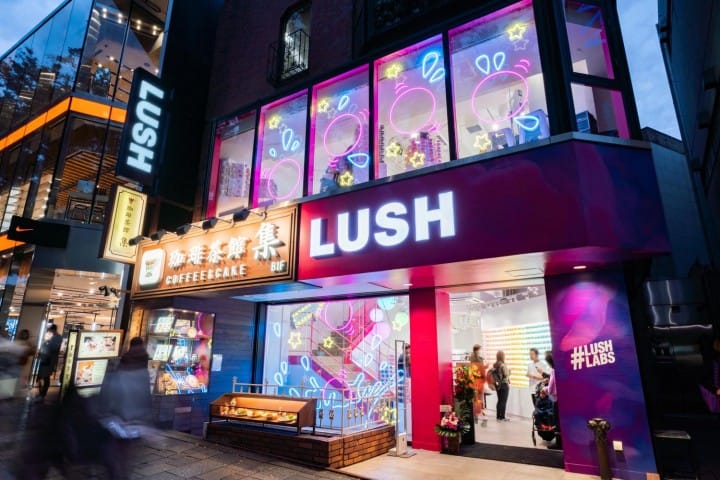 An exclusive LUSH Fresh Handmade Cosmetics store opened on November 22nd, 2018 in Harajuku, Tokyo. They offer exclusive bath bombs and bubble bars you can only find here. We will introduce the shop and the type of exclusives you can expect when visiting.
LUSH FRESH HANDMADE COSMETICS is a cosmetic and body care company famous worldwide. They are especially known and loved for their bath bombs which come in creative shapes, scents, and colors.
On November 22nd, 2018 they opened an exclusive bath product store called LUSH Harajuku in Tokyo. It was their first store exclusively offering bath bombs and nothing else. They have since transitioned into being a bath focused store also offering solid bubble baths called bubble bars. Some of the items are exclusive to this shop and can't be found online or anywhere else in the world.
In this article, we will tell you all about the concept of the store and introduce some of the special items you can purchase there.
What is LUSH?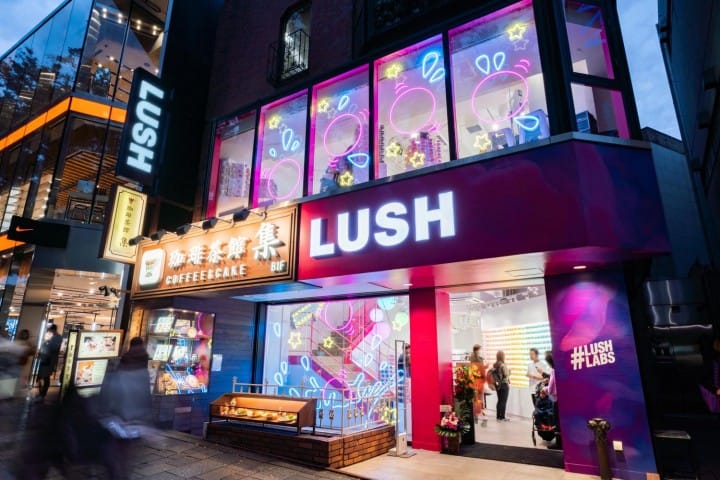 Picture courtesy of LUSH Japan
LUSH was founded in 1995 in Liverpool, England. They are mainly known for their colorful cosmetics and a variety of unique scents. Their main focus lies on making environmentally friendly cosmetics freshly by hand.
LUSH only buy fair trade ingredients and reduce ingredients that are harmful to the environment. Their glitter is plastic-free and every product has a sticker with the information when it is made as well as when it should be used by.
In recent years LUSH has focused on the NAKED concept, which means cosmetics without packaging. To spread this concept further, various LUSH NAKED stores have been introduced worldwide selling only items without packaging.
If you want to avoid any kind of packaging, you can use the black tray above to collect your bath products and purchase a furoshiki, or knot wrap, to carry them home in. Both can be reused as many times as you wish at any LUSH store worldwide.
Why an Exclusive Bath Shop in Japan?
Picture from The Best 10 Onsen In Japan To Visit In The Winter
LUSH Harajuku is based on the NAKED concept but focuses only on bath products. The reasoning behind this is that LUSH wants to help to promote Japan's unique bathing culture.
Bath bombs rolling by on a conveyor belt
Bathing in hot springs and shared family baths are traditionally an important part of Japan's culture. However, research shows that younger people rather take a quick shower than a long bath.
"The Great Wave" bubble bar is insprired by the famous ukiyoe art piece of the same name
The exclusive LUSH bath store in Japan was created to counteract this trend. The bath products here are created to be as fun and colorful as Harajuku itself and are supposed to make people want to bath more again.
Use the LUSH LABS App to Fully Enjoy LUSH Harajuku
At LUSH Harajuku, the bath products are displayed without any further information. Only a small paper tag that contains the name and ingredients in Japanese is attached to the products.
The LUSH LABS app was developed especially for the Harajuku shop. You can download the app for free to your iPhone or Android. Use the LUSH LENS to scan the item you are interested in and it will provide you with all the information such as name, description, ingredients, and price in several different languages including Japanese and English. 
The app can be used on any NAKED product in any store worldwide.
Exclusive LUSH Harajuku Bath Products
LUSH Harajuku offers store-exclusive bath bombs and bubble bars that are only available here. Some of them LUSH carried in the past and resurrected for this shop, others are completely new inventions. On a regular basis, the majority of the exclusive items will be released in LUSH's online stores worldwide for a limited time. However, after they disappear online, most of them are still available at LUSH Harajuku.
LUSH Harajuku works closely with its development team from LUSH LABS. The line-up of the exclusive bath bombs and bubble bars is subject to change. It all depends on customer reviews and comments. You can tell your opinions and wishes concerning available bath bombs directly to the LUSH Harajuku staff or tweet them with hashtag #LUSHLABS.
Let me introduce you to the three kinds of exclusive items you can currently purchase at LUSH Harajuku.
1. Exclusive Bath Bombs - The Classic
The "Temple in the Sky" bath bomb creates beautiful bath art
LUSH Harajuku started out only offering bath bombs, many of them exclusive to the shop. They are still constantly adding new bath bombs to their selection. The bath bomb shown above is called "Temple in the Sky". It depicts a Japanese temple and makes for a great Japanese-themed gift.
You can bath in liquid gold with the "Geode" bath bomb
Bath bombs are easy to use. You simply fill up the bathtub and drop the whole bath bomb in the water. While it fizzes away it will release its color and scent into the water. Some bath bombs leave colorful trails of foam on the surface of the water. This is often referred to as bath art.
2. Exclusive Bubble Bars - Enjoy Mountains of Foam
"Matcha" bubble bar smells like a delicious matcha latte
End of 2019, LUSH Harajuku released its first line of store exclusive bubble bars. LUSH bubble bars are just as cute as their bath bombs but they are more budget-friendly as you can get multiple baths out of them. Most standard sized bubble bars can be broken up and used for at least two separate baths. The more you use, the more bubbles, scent, and color the bathwater will have.
Using LUSH bubble bars takes a bit of practice. Break off the desired amount and crumble it in your hands under the running faucet or use a kitchen sieve, which will ensure that no pieces fall into the bath undissolved. Swish the water with your hands to create more bubbles. You can always add more bubble bar if needed.
One of the most unique bubble bars LUSH Harajuku has to offer is "Bubble and Squeak". This little pink mouse is made with sugar. It is a bubble bath and a scrub in one. You are meant to step into the bath while the water is running and scrub yourself with the "Bubble and Squeak" bubble bar, then swish the water around to create bubbles.
3. Reusable Bubble Bars - Cute and Budget-Friendly
The exclusive reusable bubble bars were launched at the same time as the bubble bars mentioned above. They are the best value for money if it comes to LUSH bathing.
Abrakadabra reusable bubble bar creates deep purple, sparkly, blackberry scented water
The reusable bubble bars are harder than the usual bubble bars. You simply hold them under the running water until you are satisfied with the amount of scent, color, and bubbles and then set it aside to dry. Most reusable bubble bars can be used at least three to four times.
Bath Bomb Chan - LUSH Harajuku's Mascot
Picture courtesy of Lush Japan
Lush wouldn't be the same without all of their cute mascots. With the new LUSH Harajuku, Lush also introduced a mascot for the first time in their long history. The little guy's name is Bath bomb-chan and you can follow him on Twitter
The shop offers seven different iron-on patches of Bath bomb-chan dressed up as exclusive Harajuku bath bombs. The patches are one of the most popular items in the shop so I am sure we will see more goods featuring him in the future.
A Bath Lovers Dream Come True
If you love taking baths you shouldn't miss out on the new LUSH Harajuku Store. As mentioned above, many of the new bath bombs and bubble bars are even inspired by Japan itself and make for a perfect souvenir from your trip.
Why not treat yourself or your friends and family with some exclusive, luxurious bath items you can only get in Japan?
In cooperation with Lush Japan


The information presented in this article is based on the time it was written. Note that there may be changes in the merchandise, services, and prices that have occurred after this article was published. Please contact the facility or facilities in this article directly before visiting.