LUSH Shinjuku - Exclusive Products At The Largest Store In Asia
This service includes sponsored advertisements.
LUSH Shinjuku is the largest LUSH store in Asia spreading over four floors. It is an experience-based store with over 600 store-exclusive LUSH products and a LUSH Spa. A great place to explore and get some unique gifts.
LUSH HANDMADE COSMETICS is a cosmetics and body care company from the United Kingdom that is known for constantly reinventing itself. In recent years, they have opened special stores all over the world including an exclusive bath bomb store in Harajuku, Tokyo.
The largest LUSH in Asia recently opened in Shinjuku. It offers three floors filled with store-exclusive products, regular LUSH items, as well as many fun things to try and explore.
LUSH Shinjuku - Innovation at the Largest Store in Asia
Picture courtesy LUSH Japan
LUSH Shinjuku is a one of a kind place where new LUSH products and inventions are introduced to the customer. Many exclusive products can only be found here and in the biggest store in the world, LUSH Liverpool. Other items are even just Shinjuku exclusive.
LUSH Shinjuku wants to interact with its customers. Direct product feedback is welcome. Some of the 600 exclusive products will be leaving over time based on the customers' feedback but new inventions will be introduced on a regular basis as well.
Please note that other than in most countries, the Japanese LUSH stores are not allowed to hand out samples to take home. It is the country's policy that only sealed samples should be handed out.
Download the LUSH LABS App before Visiting
Picture courtesy LUSH Japan
LUSH Shinjuku tries to break the language barrier and to make everyone feel welcome. In addition to displays with icons and visuals rather than text, multilingual staff is stationed at the store. They have also expanded the Lush Labs App, which was invented for the LUSH Harajuku store.
Picture courtesy LUSH Japan
The Lush Labs App is really fun to use. Download the free app and scan your desired item with the LUSH LENS. The app will recognize the item and provide you with the name, description, ingredients and a video of what the product looks like when used. The app is available in English, Korean, Japanese and Simplified Chinese on iOS and Android.
If the app has trouble recognizing an item you can also type the name in the search bar on the top right. This way it is possible to also look at products when you are not in the store to plan your shopping list. Please make sure you have the most current updates in order for the app to function correctly.
LUSH Shinjuku - An Exciting New World on Every Floor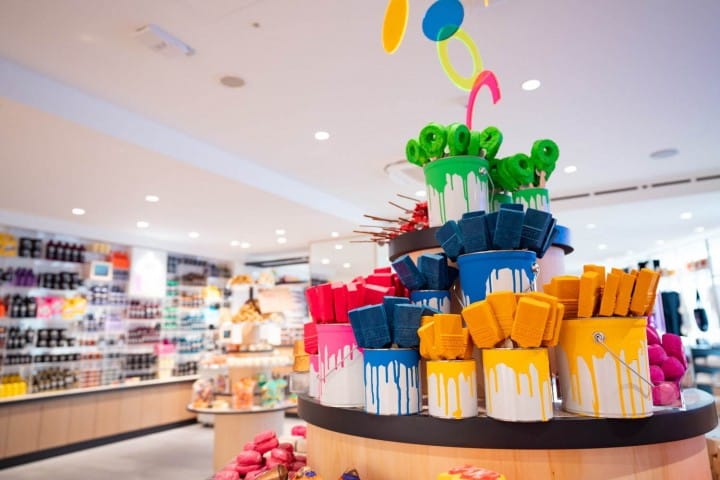 Picture courtesy LUSH Japan
Even for the biggest LUSH fan, this huge store and the many new products can be overwhelming. Let us introduce you to the new LUSH Shinjuku floor-by-floor experience.
First Floor - Discovery and Innovation
The First Floor is the entrance area and consists of a large open space.
The first thing you might see when you enter is the flower corner where you can pick different flowers from LUSH suppliers all over Japan and have them made as a bouquet. All these flowers can be found in a couple of different LUSH products as well.
Plants in recycled LUSH pots as well as a more traditional Japanese item, the Kokedama, are also available for purchase.
Kokedama are moss balls used to grow plants. They are pot-less and just need to be submerged in water every couple of days. LUSH Harajuku recently also introduced a bath bomb inspired by Kokedama. They would surely make a cute souvenir together!
As for bath related items, take these bath bombs filled with fresh plants and flowers. The staff will freshly fill them so let them know if you want one.
The fresh cosmetics corner on the same floor houses freshly made products without preservatives. Everything in this corner has a short shelf life. It is advised to use these products up during your stay in Japan if you decide to buy them.
Most of the products in the fresh cosmetics corner are face cleansers and masks, including fresh hair masks. Many of these items are limited to Shinjuku and Liverpool.
There are also two limited face masks, "Brush Strokes" and "Prince of Darkness". Please be aware that the fresh face masks need to be refrigerated and used within about three weeks. If you have five empty black LUSH pots you can bring them to LUSH Shinjuku to get a free fresh face mask. (This also applies for the exclusive face masks.)
LUSH also offers make-up items that are good both for the user and the enviroment.
Liquid foundation and the cruelty-free brushes are among the limited items introduced to LUSH Shinjuku. Feel free to ask the friendly staff to demonstrate the items on you if you are interested.
Second Floor - Experience LUSH with all Senses
Picture courtesy LUSH Japan
The second floor houses a music library. Since LUSH originated in England, you can choose from a selection of UK based music. Sit down with a pair of headphones and relax.
Awaken your sense of smell with the perfume library. Find your favorites amongst LUSH classic scents and new fragrances. It is a great place to discover all of LUSH's amazing scents. If you like a fragrance, you can even ask the staff if there are other products in this scent as well.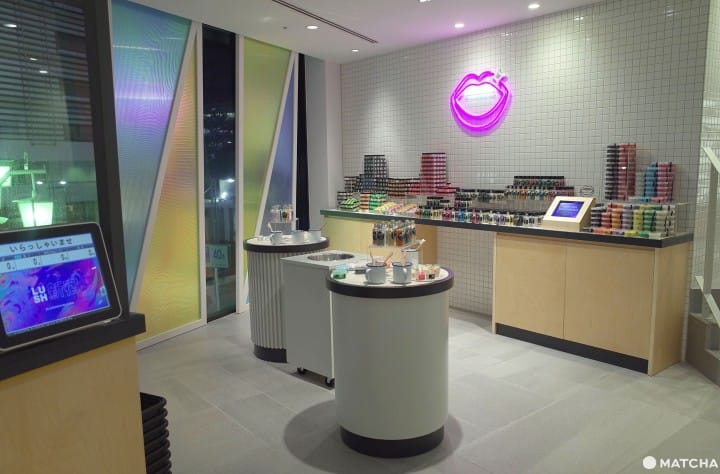 The area besides the register is filled with products for your teeth and lips, offering an array of store limited items.
This "Matcha Cake" flavored lip scrub is a Japan exclusive only available in LUSH Shinjuku. It keeps your lips soft and exfoliated and tastes and smells like matcha pound cake.
Another item limited to LUSH Shinjuku is the Jelly Toothpaste. LUSH already offers cult favorite jelly soaps and face masks, so the toothpaste is the newest addition to the line-up. It comes in unique flavors like banana or cotton candy.
If you want to use it, take some out with your toothbrush or a cosmetic spatula and brush as normal. This is a fun product to get children to brush their teeth or for people who don't like regular toothpaste flavors.
LUSH carries solid toothpaste and mouthwashes for a long time, but they offer them in many new limited flavors. These are perfect for traveling as they don't leak in your bag. Just put one tablet in your mouth, chew it up, add water for the mouth wash or brush as normal for the toothpaste.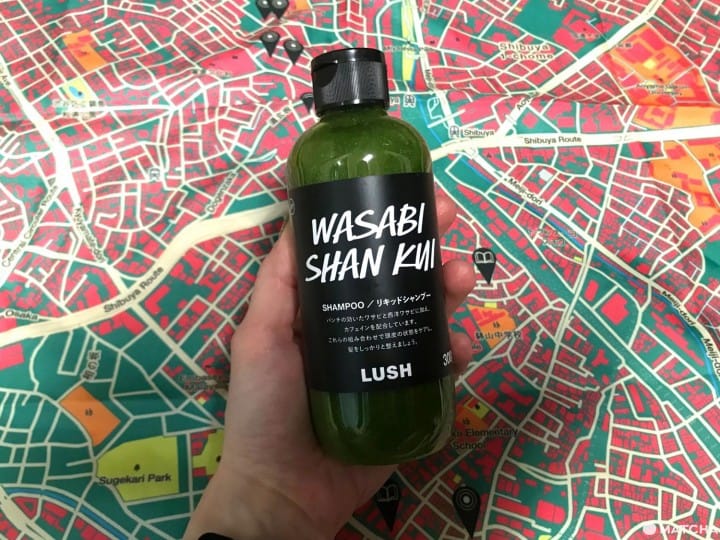 The haircare corner also bursts with limited items to try out. There is even a wasabi-based shampoo which is supposed to help hair growth. It smells a little bit like a lemony-salad and leaves your scalp with a refreshing tingling sensation.
There are also skincare, body lotions, and solid body lotions. The solid body lotions are limited to the Liverpool and Shinjuku stores. They are meant to reduce plastic packaging as part of the NAKED line. Just glide them over your skin and rub the residue in as usual.
Third Floor - How Do You Want to Feel Today?
Do you want to take a bath or a shower? Do you need something to cheer you up or relax?
LUSH Shinjuku offers all of LUSH's regular bubble bars and bath bombs as well as exclusives from LUSH Harajuku and some special LUSH UK stores. If you want one of the thirteen new Harajuku exclusives, you still have to visit LUSH Harajuku to purchase them.
The soap shelf also offers some special soaps based on popular scents. The five exclusive soaps to this shop are orange, spiced vanilla, mint, coconut, and lavender scented.
These are bath oils. You can simply put them into a hot bath and let them melt. They even slightly change the color of the bathwater. Please be aware that they melt very easily so they might not be the best choice to take home with you on a long flight.
Shower bombs are one of LUSH's newest inventions. They are a great treat if you don't have a bathtub. Simply get them wet in the shower and use the resulting foam on your body. They are meant for one use but you can also cut them in half and get two uses out of them.
While some of them are available in regular stores, LUSH Shinjuku has a greater variety to choose from.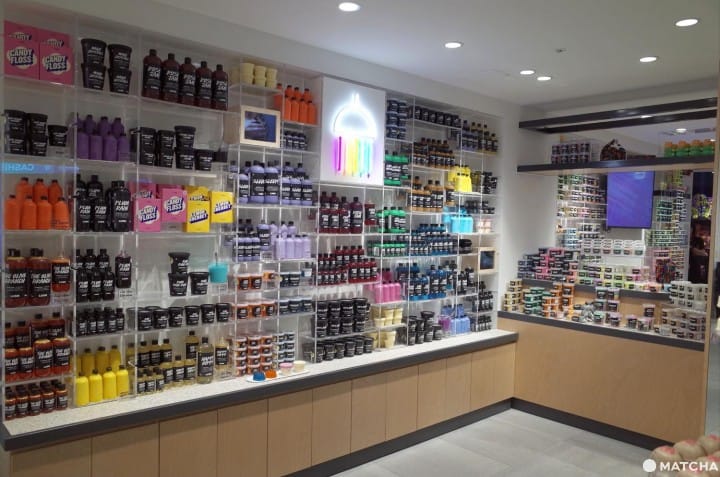 Every shower gel LUSH offers at the moment is available in the packaged and package-free version at LUSH Shinjuku.
Another highlight of this area is a soap called "fun". It is a multi-purpose soap that can be used like clay to play and make shapes with. Fun can be used as body soap, shampoo or even for a bubble bath.
The Shinjuku store has thirteen exclusive scents and colors of fun soap. I recommend glow worm because it has a universally refreshing lemongrass scent and glows in the dark!
There are also exclusive shower jellies, which are another playful approach on soap. Use them whole or pinch pieces off to use them in a loofa sponge. In summer you can even put them in the fridge or freezer and enjoy them cool for a refreshing shower.
The most fun part about the limited edition shower jellies is that they exist in huge versions you can drum on. When you hit them, each jelly makes a different sound and you can enjoy creating your own melody.
Picture courtesy LUSH Japan
In this area, LUSH also houses "Fun and Games" Parties including bath bomb making and LUSH product-related games. The party includes some special party items that are not available for sale.
If you want to pamper yourself instead, you can join a "Treat Yourself" Party on the second floor where you can try out and learn all about the right lush skincare for you. Both parties are exclusively available in LUSH Shinjuku and LUSH Liverpool. They are about one-hour long and you can book them on the LUSH Japan website
A projection mapping screen is located in front of the jelly and party area. Pick a mood on the monitor located on the left side and move your body and hands in front of the projection in order to create beautiful flowing patterns. No need to touch the wall, just move in front of it.
Lastly, how about carrying your products home in a special bag or furoshiki (knot wrap)? LUSH calls it's goods "Swag" and they can be found on the second and third floor. A special LUSH Shinjuku bag is amongst the items limited to this shop. 
Fourth Floor- The LUSH Spa Experience
From August 2019, the fourth floor will house a LUSH SPA where you can get pampered with special LUSH treatments. It will be the first LUSH SPA in Japan to include a bathtub. 
The new LUSH Spa will offer open and closed treatments for every budget.
LUSH Shinjuku - Exclusive Products in a One-of-a-Kind Atmosphere
LUSH Shinjuku is the only store of its kind worldwide. Most items can be sampled in store and they have multilanguage staff stationed on every floor. LUSH Shinjuku is a great place to explore, have fun and get some items to turn your room or hotel room into a personal spa.
The store is located right beside the east exit of Shinjuku Station so why not just drop to get a pampered with a variety of unique products?
In cooperation with Lush Japan
Written by
I was born and raised in Berlin, Germany and am living in Tokyo, Japan since 2008. I am native in German and English. I am a cat-mom to three rescue cats and I have a deep love for 90s rock music, kickboxing, history, chocolate and cookie dough, anything pistachio flavored, cats and bats, dragons and vampires and all things creepy-cute. My favorite book author is Anne Rice. My favorite band is LUNA SEA. My most recommended Japanese movie is 'Merry Christmas, Mr. Lawrence', featuring David Bowie and Ryuichi Sakamoto.

The information presented in this article is based on the time it was written. Note that there may be changes in the merchandise, services, and prices that have occurred after this article was published. Please contact the facility or facilities in this article directly before visiting. Some of our articles contain affiliate links. We kindly ask our readers to exercise careful judgement when making a purchase or booking a service online.