Cookie Time - Edible Cookie Dough, Freak Shakes And Karaoke In Harajuku
This service includes sponsored advertisements.
Have you ever dreamed of eating cookie dough like it was ice cream? Cookie Time in Harajuku makes this dream come true. Besides delicious edible cookie dough, they also offer fresh cookies and cookie shakes. A cookie lovers dream come true!
Harajuku in Tokyo is a colorful shopping and sweets haven. Many of it's sweets shops are in plain sight around Takeshita Dori while others are hidden gems located outside the typical shopping areas. Cookie Time, where you can indulge in freshly baked cookies, edible cookie dough, and even cookie milkshakes, is such a place as well as a paradise for every cookie lover.
Cookie Time - Thirty-Five Years of Cookie History
Cookie Time had its beginnings thirty-five years ago in New Zealand when the owner Michael came back from a trip to the United States where he fell in love with American style cookies. He decided to bake a big batch of chocolate chunk cookies and distribute them to local shops in order to share his delicious discovery with other people in his hometown. Everyone loved them and demanded more. The rest is cookie history.
After selling packaged cookies in supermarkets for many years, Cookie Time opened its first Cookie Bar seven years ago in Queenstown, New Zealand. The concept of their Cookie Bar is to offer fresh cookies in every variation anyone could imagine. They also sell all of their packaged best sellers as well as special souvenirs.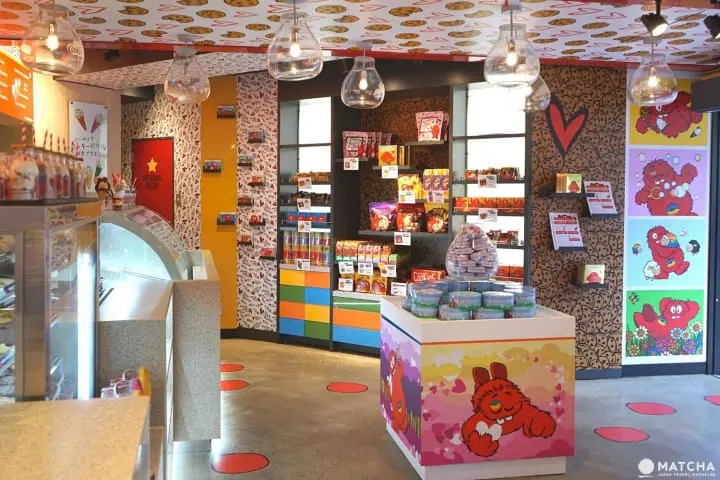 Five years ago Cookie Time opened its second Cookie Bar in Tokyo. This shop has the same concept as the one in New Zealand but also offers some fun twists on store favorites such as an over the top cute and colorful cookie milkshake created by a Harajuku icon. As of now, this is the only other Cookie Bar in the world.
This is one half of the car which Cookie Time used to drive around New Zealand to deliver their cookies. The other half is displayed in the shop in Queenstown. Feel free to hop in and take a ride.
How to Get To Cookie Time?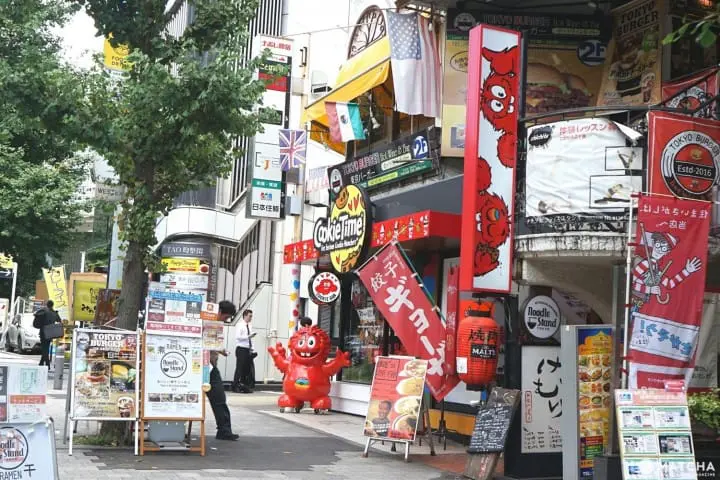 The store is located a short walk from Harajuku station. Take the Takeshita Dori exit, cross the traffic light and turn left. Walk for about one minute and you will find Cookie Time to you right. 
No Bake Cookie Dough - A Childhood Dream Come True
Did you get in trouble with your mum when eating rare cookie dough as a child? Cookie Time's No Bake Cookie Dough is made without egg and uses special kind of heated flour as well has rich New Zealand butter making it delicious and completely safe to eat.
You can choose between classic chocolate chunk, fudge brownie cheesecake, chocolate bar fudge and cream cheese, and nutella white chocolate brownie. Feel free to ask for a taste test of the cookie dough you are interested in. They will give you a small spoon with a sample to make your choice easier.
After you chose you cookie dough, you can decide how you want to enjoy it. Do you want a tiny cone with a small scoop of cookie dough (350 yen), a normal ice cream sized single (600 yen) and double scoop (850 yen), cookie dough sandwiched between two mini cookies (500 yen) or a cookie dough shake (1000 yen)?
The standart sized cookie dough cone is dipped in Belgian chocolate before it is topped with a generous helping of cookie dough. If this isn't enough chocolate for you, try the tiny cone. It is filled to the top with the same melted Belgian chocolate and sealed with a scoop of cookie dough. A truly scrumptious experience.
No matter if standart sized cone or tiny cone, every flavor is topped with a sweet treat. Nutella white chocolate brownie is decorated with Fererro Rocher, chocolate bar fudge with a Mars bar, fudge brownie cheesecake with a chocolate fudge brownie cookie and classic chocolate chunk with extra chocolate chips.
Freshly Baked Cookies - Delicious, Chewy and Uniquely Flavored
If you visit Cookie Time you can't leave without trying one of their signature freshly baked cookies. The small cookies (120 yen) come in their original chocolate chunk flavor, the big ones (350 yen) come in many different variations such as salted caramel, lemon white chocolate, and cinnamony banana toffee. Their cookies are as close to cookie dough as a baked cookie can be, perfectly crunchy on the outside and chewy and soft on the inside.
Do you love cookies and karaoke? How about singing a karaoke song of your choice in the store and getting a free fresh cookie as a reward? If you are too afraid to sing alone you can ask the Cookie Time Girls to support you.
Cookie Time also offers an old favorite, cookies and milk. The milk comes in plain, chocolate, strawberry and chocolate. The set contains a small chocolate chunk cookie and a limited edition milk bottle decorated with their cute mascot "Cookie Muncher". The bottle designs change on a regular basis as well as according to the season which is why many people like to collect them.
The milk comes from a tap and as long as you are in the store you can get as many free milk refills as you desire. When you are about to leave, you can decide if you want to exchange the bottle for two fresh mini cookies or if you get it washed and take it home with you.
Cookie Shakes and Freak Shakes - What's the Difference?
Besides the cookie dough shake you will find two other shakes on the menu, cookie shakes (800 yen) and freak shakes (1000 yen). Both shakes have the same base consisting of a mix of delicious cookies, vanilla ice cream, and milk. For the cookie shake, this base is topped with a generous scoop of Ben Jerry's Ice Cream and cookie crumbles.
If you order a freak shake your cup will be dipped in chocolate and covered in nuts or sprinkles before it is filled with the cookie milkshake base. It is then topped with an equally big amount of fresh whipped cream and decorated according to the shake with cookies, smores, melted chocolate or candy.
Their most colorful freak shake is a creation of the famous Harajuku model and designerHaruka Kurebayashi. It has a strawberry cookie shake base and is topped with a variety of colorful candy. This is basically Harajuku in a freak shake.
The shakes are available in many different flavors, including seasonal flavors and hot cocoa varieties in winter. The mint cookie shake pictured above is a limited item for summer. They also have a matcha green tea cookie shake which is exclusive to Cookie Time Japan. Feel free to ask the Cookie Time Girls about the available flavors or check Cookie Time Japan's instagram for updates.
The Freak Cone - Cookie Time's New Invention
Cookie Time always tries to invent new ways and challenges to satisfy even the biggest cookie munchers, so they invented the Freak Cone. These cones are dipped in chocolate and cookie crumbles, filled to the top with cookie dough and topped off with ice cream and a couple of other sweet delights
You can choose between Sweet & Salty, Berry Brownie, Gimme S'more and the Muncher Challenge. I am always up for a challenge so I chose the Muncher Challenge.
First of all, the Freak Cone is heavy! Make sure to hold it tight so it doesn't fall over. The base of the Muncher Challenge is the same as the other three freak cones. However, this humongous cone is topped with ice cream, an ice cream sandwich, one mini cone filled with liquid chocolate and one mini cone topped with a scoop of cookie dough and some freshly baked mini cookies.
I highly recommend bringing a friend to support you when trying this challenging delicious treat. May it be mentally or to eat the rest when you can't finish it.
The regular Freak Cone's cost 1200 yen and the Muncher Challenge is 1500 yen.
Get Those Cookies!
Cookie Time is the first shop in Japan selling edible cookie dough and their atmosphere and flair are as fun and colorful as Harajuku itself. The main language in the store is English which makes very easy to communicate and order for people who don't speak Japanese. All of the staff at Cookie Time is just as sweet as their cookies and you will probably find yourself chatting and singing karaoke with them in no time.
Why not drop in next time when you are in Harajuku for some delicious cookies, no bake cookie dough or a freaky shake?
In cooperation with Cookie Time Japan

Written by
I was born and raised in Berlin, Germany and am living in Tokyo, Japan since 2008. I am native in German and English. I am a cat-mom to three rescue cats and I have a deep love for 90s rock music, kickboxing, history, chocolate and cookie dough, anything pistachio flavored, cats and bats, dragons and vampires and all things creepy-cute. My favorite book author is Anne Rice. My favorite band is LUNA SEA. My most recommended Japanese movie is 'Merry Christmas, Mr. Lawrence', featuring David Bowie and Ryuichi Sakamoto.

The information presented in this article is based on the time it was written. Note that there may be changes in the merchandise, services, and prices that have occurred after this article was published. Please contact the facility or facilities in this article directly before visiting. Some of our articles contain affiliate links. We kindly ask our readers to exercise careful judgement when making a purchase or booking a service online.