Sensoji Temple's Next Door Neighbor: Asakusa Shrine
Sensoji Temple is one of the most famous and most photographed temples in Japan, but have you heard of Asakusa Shrine? Read on to learn more about this equally important spot in downtown Asakusa!
What's the Difference Between Asakusa Shrine and Sensoji Temple?
You can't speak of Asakusa without mentioning Kaminarimon Gate and Sensoji Temple. And right next to it is that Asakusa Shrine. A Shinto shrine and Buddhist temple right next to each other? How do they differ from one another?
For those visiting or learning about Japan for the first time, the difference between a Shinto shrine and a Buddhist temple may not be entirely clear, so please take a look at Japanese Religion: What's The Difference Between Temples And Shrines? to learn more.
In order to better understand the difference between Asakusa Shrine and Sensoji Temple, you first need to know the history of Sensoji Temple. It was built in 628 AD, when a statue of Buddha was discovered in nearby Sumida river.
The statue was discovered by a pair of fisherman brothers, and it is this pair of brothers that are enshrined as gods at Asakusa Shrine. The man who recognized the statue for what it was, Nakatomo Hajinoatai (an intellectual of his time), is also worshiped along with them there.
In short, Asakusa Shrine is for the worship of these three gods. For this reason, is it also known as the Sanja-sama (Shrine of the Three Gods), and the incredibly popular festival held there every May is called Sanja Matsuri.
What to Pray for at Asakusa Shrine
Most visitors to Asakusa Shrine come to pray for the happiness of their family, for protection against automobile accidents, success in business ventures, good health or speedy recovery, and to pass their entrance exams. Shingan jyoju (which means that whatever you wish for from your heart will be granted) is another part of the divine favor granted here, so nearly any wish is said to come true when made in earnest at Asakusa Shrine.
At the entrance sit a husband-wife pair of komainu, so it is also a good place to pray for good relationships between couples.
The Characteristics of Asakusa Shrine
Inside of Asakusa shrine, there are countless images of sacred beasts. They are mostly fictional creatures, and are symbols of peace, or are said to pray for the happiness of the people. On the upper left is a Hiryu, which has the body of a fish and wings, and presides over water.
The Kirin is a famous god of ancient China. It has the body of a deer, the head of a wolf, the tail of a cow, legs of a horse, and has horns. It is said to never step on either grass nor insects, and only appears when a great king appears.
Sadaijin
Sadaijin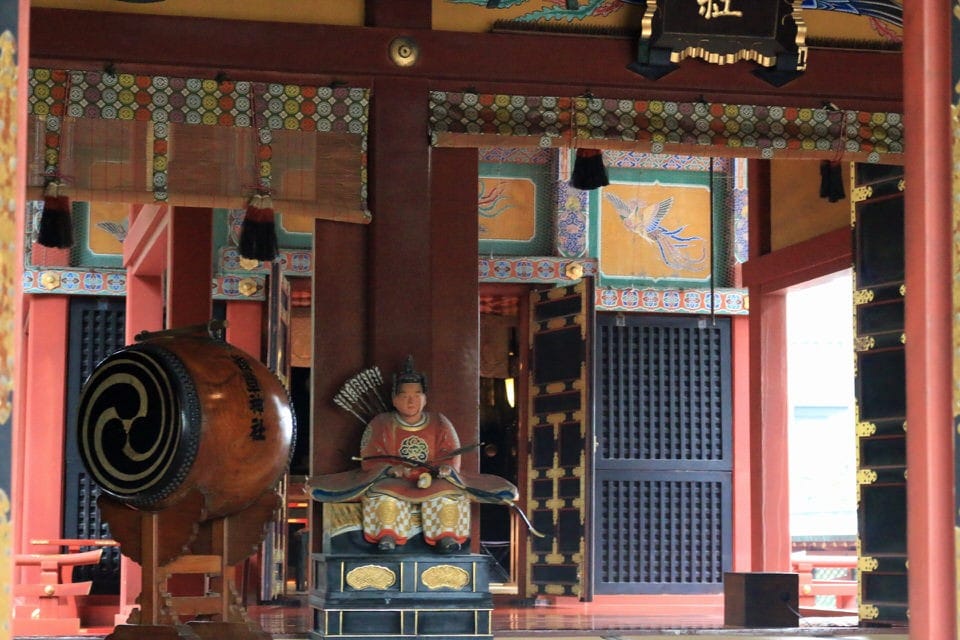 Udaijin
The Sadaijin and Udaijin ward off evil.
The Unique Amulets of Asakusa Shrine
Numerous amulets or lucky charms are sold on the grounds, right next to the shrine buildings.
With images and English explanations, it is easy to pick out just what you need.
These pieces with 'daijobu' (大丈夫 - it will all be alright) written on them are quite popular.
Cutting-edge Card Charms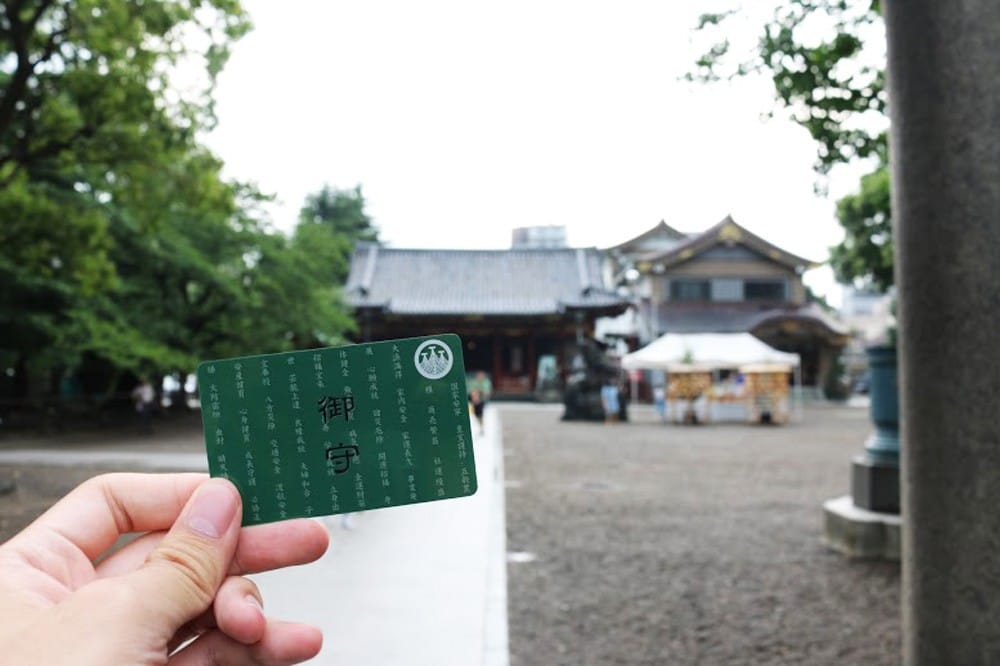 Asakusa Shrine also offers card charms that have had the spirits of the deities transferred into them. According to the priestesses, by making them into card shapes, people can carry them and receive the protection of the gods wherever they go.
The amazing thing about these cards is that you can use them to gather points in stores that offer symons points. You can use the points, but the ones that you collect go towards supporting the shrine itself. These are a truly unique concept.
They're Easy to Make
If you tell them what you're looking for a the reception desk, they will bring you the application. Fill in your name and address.
Once you've filled everything in, either a priest or a priestess will prepare and present you with your card. It doesn't cost anything to make, but it's polite to make a monetary offering to show your appreciation.
After you're done at Asakusa Shrine, it's only a short walk next door to Sensoji Temple. Make sure you get your hands on one of the cards mentioned above; they're great souvenirs. If you find yourself in Asakusa, visiting both Asakusa Shrine and Sensoji Temple will surely make for a memorable day.
Information
Asakusa Shrine
Address: Tokyo, Taito, Asakusa 2-3-1
Hours: 9:00-16:30
Closed: None
Nearest Station: 5-7 minute walk from Asakusa Station (Toei Asakusa Line/Metro Ginza Line/Tobu Isesaki lines)
Religion: Shinto
Phone: +81(0)3-3844-1575
Website: Asakusa Shrine

The information presented in this article is based on the time it was written. Note that there may be changes in the merchandise, services, and prices that have occurred after this article was published. Please contact the facility or facilities in this article directly before visiting.