Kataoka Byobu: Traditional Folding Screens With Japanese Design
Located near Tokyo Skytree, Kataoka Byobu is the only shop in Tokyo that specializes in folding screens. It was even featured in a commercial starring actress Satomi Ishihara. Learn about the craftsmanship of these decorative panels that capture the essence of traditional Japanese design!
Craftsmanship Passed Down by Tradition
Located on a street one minute away from Tokyo Skytree is the city's only byobu (folding screen) shop: Kataoka Byobu (Japanese). Here, there are ten artisans that work hard to preserve this Japanese traditional craft.
The byobu is a decorative folding screen used as home decor or to partition a room. For this article, we interviewed Koto Kataoka, the third-generation owner of Kataoka Byobu. His unexpected modern fashion sense was different from my traditional image of a craftsman, but once he started describing his work, it was clear that Mr. Kataoka was a craftsman at heart.
Kataoka has been making byobu for the past seven years. During a short-term study abroad program in America, he developed a passion for Japanese culture and his family business. This experience motivated Kataoka to take over the byobu shop.
Kataoka Byobu: A Family Business Spanning 70 Years
Kataoka Byobu opened in 1946 in Mukojima, Tokyo. They specialize in making folding screens for seasonal occasions such as Hina Matsuri (Girl's Day) and Children's Day. They also create byobu with gold foil for dinner parties and wedding receptions.
As times change, the design styles have diversified. Today, many customers order custom-made byobu with their own photos, paintings, or even kimono framed on it.
The beauty of their byobu has been praised by countless hotels and ryokan (traditional inns). Ryokan Sawanoya, a highly-rated ryokan on Tripadvisor, uses their byobu for interior decoration.
The Japanese actress Satomi Ishihara visited Kataoka Byobu in a beautiful kimono to film a commercial for Tokyo Metro's Find my Tokyo series (Japanese)!
The Process behind Making Folding Screens
We asked Kataoka how he makes his traditional folding screens. The process consists of five main steps, which first involve making the wooden frame.
The wooden frame is the skeletal structure of every byobu, and is put together without using a single screw. The wood is sourced from Japanese cedar. To strengthen the frame, it is secured onto washi (Japanese paper) with starch paste. This process is known as hone-shibari (frame-binding).
Once the glue has dried, the artisan moves onto the next three steps: mino-bari, mino-osae, and fukuro-bari. By slightly overlapping the thin sheets of washi, layers of air are created. Then more paper is layered on top of the first. This step helps strengthen the entire screen of the byobu.
Artisans at work. Picture courtesy of Kataoka Byobu
After gluing the washi in multiple layers, the artisan decorates the byobu with a painting or photo, often with sheets of gold or silver leaf. What was once just a wooden frame is now a beautiful work of art!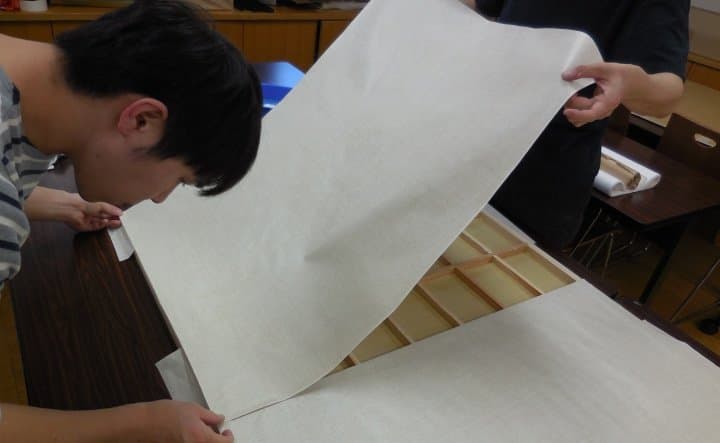 Artisans at work. Picture courtesy of Kataoka Byobu
Kataoka explained that the amount of water used to soak the washi and the consistency of starch paste varies on the season's climate and humidity. The adjustments are not made using a manual but are based on Kataoka's expertise.
Make Your Own Mini Byobu
From traditional crafts of the Edo Period (1603-1868) to clocks and soaps of the Meiji Era (1868-1912), Sumida City has long been known for its manufacturing. Some of these factories have converted a portion of their workshops into museums, so visitors can see traditional craftsmanship up close.
If you visit Kataoka Byobu with more than ten people, you can make your own karakuri byobu (Japanese) (3,300 yen before tax). Karakuri byobu, which translates to "trick panel," are small folding screens that open in all directions, with different pictures on each side. Come experience the tricks of this fun little byobu firsthand! (Workshop available in Japanese and English.)
Reserve a byobu-making workshop at Kataoka Byobu (Japanese)
Find a Memorable Gift
You will find a variety of byobu and washi products on the first floor. After purchasing your gift, you can ship it overseas at the post office near the closest station.
One of the signature products at Kataoka Byobu is the Hokusai byobu. Featuring traditional ukiyo-e paintings from the series Thirty-six Views of Mount Fuji by the renowned Japanese printmaker Hokusai, these are sold at the gift shop of the Sumida Hokusai Museum.
Since this ukiyo-e artist is famous around the world, the Hokusai byobu is a popular souvenir among overseas visitors.
Discover the Beauty of Japanese Tradition
Consider stopping by Kataoka Byobu the next time you're in Tokyo. The high level of craftsmanship exhibited by these artisans is a delight to see.
The small byobu sold at the shop is also a great souvenir. Why not take a piece of Tokyo back home with you?
The information presented in this article is based on the time it was written. Note that there may be changes in the merchandise, services, and prices that have occurred after this article was published. Please contact the facility or facilities in this article directly before visiting.