BIWAKO BACKROADS: Tour Local Historical Sites And Nature In Shiga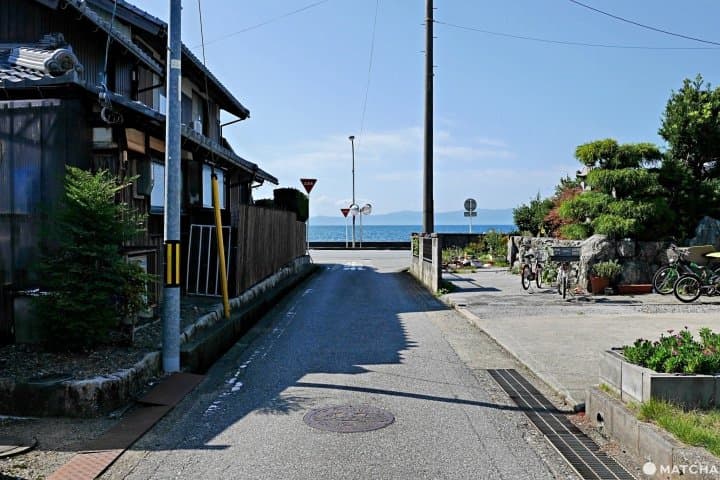 Neighboring the top tourist destinations of Kyoto and Nara, Shiga is brimming with local culture and lifestyle that has been preserved for generations. BIWAKO BACKROADS offers tours to experience the quaint town of Maibara and the charms of its surrounding nature.
Shiga: A Place Where History Remains Alive
Kyoto and Nara Prefecture are popular travel destinations, largely because of their historical landmarks. However, the neighboring Shiga Prefecture is just as full of culture and history.
Historically, Shiga was a major center of trade. This was because the Tokaido and Nakasendo (*1) trading routes ran through Shiga, connecting Kyoto with Edo (modern-day Tokyo). Additionally, the founder of Japan's famous department store Takashimaya was from Shiga.
Sunset over Lake Biwa
The prefecture is also famous for its abundant nature; from Lake Biwa, Japan's largest lake, to its mountains flowing with freshwater springs. The prefecture's historic neighborhoods have been preserved and blend in with the modern cities.
*1: During the Edo Period (1603-1868), the Tokaido and Nakasendo were two of the five trading routes connecting the capital Edo (now Tokyo) with the rest of the country.
Maibara City: Explore the Beauty of Northern Shiga
Staff of BIWAKO BACKROADS (Picture courtesy of BIWAKO BACKROADS)
Today we will introduce BIWAKO BACKROADS, a company offering guided tours of Maibara City in Shiga Prefecture—about 20 minutes from Kyoto via shinkansen (bullet train). Their mission is to introduce more people to the backroads, local lifestyle, and rural nature of Shiga.
This article will feature their three-hour cycling tour, Kinomoto sake and soy sauce brewery tour, and one-day Nakasendo walking tour.
There's no need to worry about understanding Japanese. All of the tours have English guides.
Cycling Tour: Bike Through Beautiful Changing Sceneries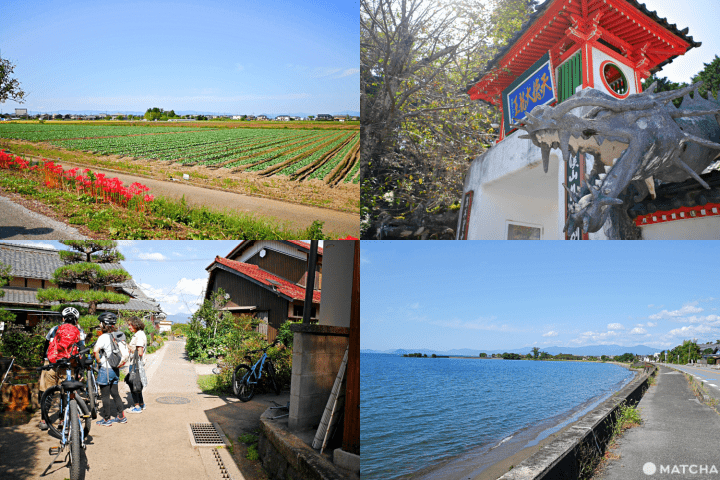 If you're looking to experience rural life and nature, we recommend the cycling tour! This roughly three-hour tour will take you through various scenic areas, from the mountains and vast landscapes near Lake Biwa to historic villages and temples.
When we embarked on our tour in October, the street sides were colored with beautiful red spider lilies, otherwise known as the autumn equinox flower higanbana.
Depending on the season, you will see an entirely unique landscape!
Ride Past Charming Farmlands
Since it is surrounded by mountains and blessed with clean water, Shiga is famed for its rice production. You'll be able to feel the cool breeze as you bike past rice fields.
The picture above was taken after the harvest season. If you visit around September, the golden ears of rice make the fields appear to be glistening.
Every so often, the guide will stop to explain an area along the bike trail. Pictured on the left is Mount Ibuki, which towers 1377 meters high. It's been known as a treasure trove of medicinal herbs for over 400 years.
Here, you can find high-quality Japanese mugwort (yomogi). This herb is used for an acupuncture technique called moxibustion. You can even find a company that specializes in making okyu: a moxibustion tool implemented during this form of heat therapy. It is one of many ways tradition is preserved in Shiga.
Tour Historic Temples
We also biked past many temples along the tour. One that caught our attention was the Zen Buddhist templessSaienji.
Typically, Zen temples are characterized by their minimalist structures that feature ink paintings and stone gardens. However, the gate at Saienji Temple is colored red and white, and flanked by dragon statues. Additionally, a dragon was painted on the hall ceiling by the chief priest, who is also an artist.
Historically, Buddhism has been closely tied to people's daily lives. Perhaps that is why a temple can be found in almost every village.

We even found a temple hall on the side of a mountain! Located partway up Mount Iogi, Iwaya Zenkodo Temple is embedded in the mountainous slope. There is even a small cottage built around the altar.
The back wall is composed of the mountain's bare rock. The sacred structure blends beautifully with its natural surroundings.

Witness Local Life
As part of the tour, we cycled through a local village called Yotsugi. There, we spotted several watering holes. Known as kanabo, the water in these wells remains about 18 degrees Celsius and flows year-round.
Due to its iron content, the water is not suitable for drinking. Instead, it is used primarily to wash freshly-picked vegetables. Villagers have always taken turns cleaning and maintaining these wells. It is a testament to the communal culture that lives on in rural Japan.
Many of the guided tours are led by nearby residents. It is a great opportunity to connect with locals.
Kris was part of our tour group.
The villagers gifted us with pretty flowers. The interactions among participants and locals is one factor that makes this tour special.
Experience the Stunning View of Lake Biwa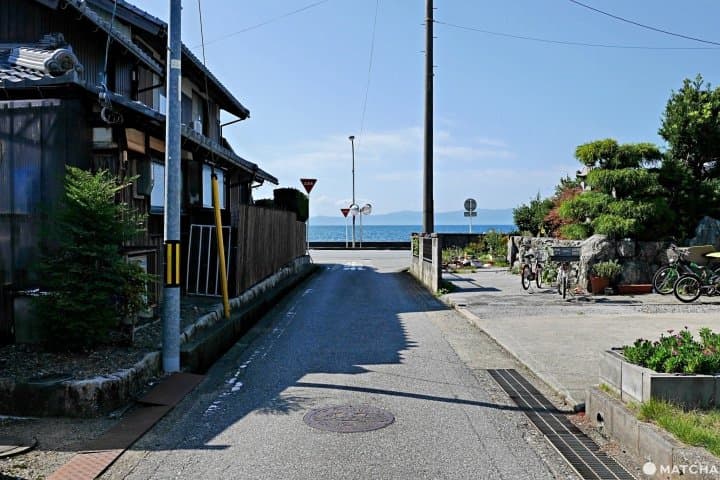 Nearing the end of our tour, we said goodbye to Yotsugi.
In front of us was a sprawling view of Lake Biwa! The lake is also a water source for the neighboring Kyoto and Osaka Prefecture. On a sunny day, the water's surface glistens under the sunlight.
People from all over the country come to bike around the lake's 200-kilometer perimeter. Every biker's dream involves doing a lap around the lake, which is referred to as Biwa Ichi (One Biwa). On our tour, we came across someone from the Kanto region who was there to complete the Biwa Ichi cycle.
We biked back to Maibara Station to complete the excursion. By the end, we had a newfound appreciation for the area!
Tour Details: Official Website
Kinomoto Tour: Explore Town Breweries
If you want a taste of traditional town life, we recommend joining the Kinomoto sake and soy sauce brewery tour.
Kinomoto was a post town along the Hokkoku Kaido road heading towards Kanazawa. Among the traditional homes are sake breweries from the Muromachi Period (1336-1573) and soy sauce breweries from the Edo Period (1603-1868).
The owners of the local breweries are friends with the guides and warmly welcome all visitors.
At Yamajishuzo, you can try kuwazake, a local fermented rice wine brewed only in Kinomoto. Using the same process to make mirin (sweet rice wine), kuwazake is an alcohol made from mulberry leaves and malted rice. With a flavor profile similar to medicinal liquor, the taste reminded me of campari.
Taste samples of mojito.
We also tried kuwazake mojito shots. This refreshing, easy-to-drink beverage is perfect on a hot summer day.
Tour Details: Official Website
One-Day Walking Tour: Witness Artisans at Work
If you want to experience town life while getting some exercise, we recommend the one-day Nakasendo walking tour. Trek through mountainous roads to reach an artisan village.
The tour starts at Samegai, a post town along the Nakasendo trail. During the summer, white flowers called baikamo bloom along the river that runs through the town. This area also has numerous sources of spring water.
After touring the town, you will have lunch at Honjin Higuchiyama, a Japanese restaurant that uses local ingredients (*2). The guide will then lead you on a 90-minute hike to a village of artisans who handcraft Buddhist altars.
*2: If you are vegan or have food allergies, please let the tour guides know in advance when booking your tour.
A Buddhist altar is made in seven distinct steps. From carving and lacquering to engraving, each step is completed by a specific artisan in this village.
Residents will warmly welcome you upon your arrival. They will also help guide you through the town, introducing various artisans at work.
Our tour group stopped by a workshop run by Kazushige Ijiri, a wood carver. In addition to working on altars, he makes nameplates for homes and signboards for temple.
During the workshop, you can carve your own spoon, coaster, and other items (*3).
*3: If you want to join the workshop, it will cost an additional fee.
Mr. Ijiri also handcrafts wooden accessories. You can find them on the first floor of Izame Ann, a traditional-style guest house in Samegai.
Tour Details: Official Website
Experience Authentic Local Life with Local Guides
Picture courtesy of BIWAKO BACKROADS
If you're looking to dive deeper into a local area, try a tour led by local guides. You will learn the history of a neighborhood that is often overlooked.
Local guides also open the door to connect with villagers, artisans, and store owners. Visit Maibara to experience firsthand the beauty of rural life in Japan!
In cooperation with BIWAKO BACKROADS
The information presented in this article is based on the time it was written. Note that there may be changes in the merchandise, services, and prices that have occurred after this article was published. Please contact the facility or facilities in this article directly before visiting.