Shiga Travel Guide - Spots, Festivals, And Food Near Kyoto And Osaka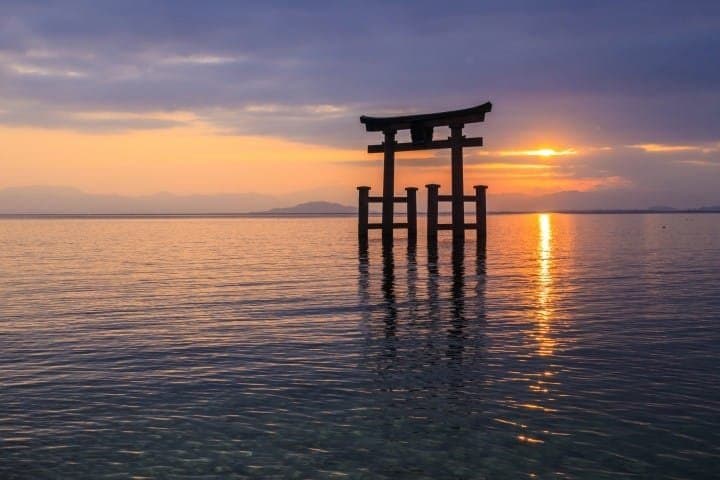 Shiga Prefecture, close to Osaka and Kyoto, is home to the Lake Biwa, the largest lake in Japan, historical towns, and places to enjoy nature activities. Read to find out about top places to go, festivals, and food in Shiga. Enjoy a day trip or the weekend exploring this charming Kansai prefecture.
Shiga's Spots, Festivals, and Food
Shiga Prefecture, located in the Kansai region, is easily accessed from Osaka and Kyoto. Via train, its just ten minutes from Kyoto and 40 minutes from Osaka. We recommend sightseeing in the Shiga area as a day trip or extended trip from Osaka and Kyoto or basing yourself in Shiga for sightseeing in western Japan.
Shiga is most known for gorgeous Lake Biwa, the largest lake in Japan. It is also a nature-filled area with many opportunities to enjoy outdoor activities. Otsu Festival and Nagahama Hikiyama Festival—where magnificent hikiyama (festival floats) are the stars of the show—are also must-sees.
This article introduces spots to visit, festivals to attend, and food to try in Shiga!
10 Recommended Spots
1. Lake Biwa
Photo by Pixta
The first thing that Japanese people think of when they hear "Shiga Prefecture" is Lake Biwa. It is the lake with the largest size and holds on the largest volume of water in Japan. Lake Biwa has two highly recommended viewing spots.
The first viewing spot is the 2,000-year-old Shirahige Shrine. Its large, vermillion torii gates rise from Lake Biwa, and look similar to Itsukushima Shrine in Hiroshima. The view during sunset is fantastic and will captivate you.
It's possible to participate in activities like SUP (stand-up paddle boarding), canoeing, and Flyboarding here. Register for an activity through SUP ~BIWAKO SUP TRIP~'s website.
Photo by Pixta
Another must-see is Mangetsu-ji Temple's Ukimido. It is a picturesque scenery spot that has been known throughout history: Matsuo Basho, Japan's most notable haiku poet, also loved this spot. The temple on the lake is beautiful, but the view of the hall backdropped by the waters is also spectacular.
2. MIHO MUSEUM
Photo by Pixta
MIHO MUSEUM is an art museum in the Konan Alps east of Lake Biwa. It is about a 30 minute drive from Otsu Station, the nearest train station to Lake Biwa. The museum mainly exhibits Japanese artworks and crafts such as tea ware, Shinto and Buddhist art, ceramics, and lacquerware.
I.M. Pei designed the museum. He also built the glass pyramid at the Louvre Museum. The museum's structure is modeled after Shangri-la and exudes a calmness visitors will feel upon entering, despite the heavy geometrical framework. 80% of the building is underground.
Visit to enjoy Japanese art in an extraordinary space.
3. Hikone Castle
Photo by Pixta
Hikone Castle is located east of Lake Biwa, close to the shores. The castle's keep, connecting towers, and hall turrets are all designated National Treasures. Be sure to see the three-storied castle keep, said to have been constructed in the 17th century. The keep has twelve gables (the triangular portions between the roof edges), the most found in Japan, giving it a dignified ambiance.
Every spring, around 400 red and white plum blossom trees in the Hikone Castle Plum Grove bloom between mid to late March inside the castle ground. If you're visiting too early for the cherry blossom season, then enjoying the plum blossoms here would be another great option.
4. Makino Highland and Metasequoia Avenue
Photo by Pixta
Makino Highland is a plateau northwest of Lake Biwa. At Makino Highland Campsite, you can pitch a tent and camp in the area with a gorgeous view of Lake Biwa. There are tons of activities to enjoy on these vast grounds. Spring is the season for flower viewing, summer brings golf, fall is an excellent time for hiking, and visitors can go skiing in winter.
You can also do cherry, grape, or apple picking at a nearby orchard called Makino Pic-land (Japanese).
Metasequoia trees surround the road from Makino Pic-land to Makino Highland. In the autumn, the metasequoia leaves turn orange and is a well-known spot for the autumn leaves.
5. Biwako Valley
Photo by Pixta
Biwako Valley is west of Lake Biwa and is known for its ski slope with a superb view of the lake from the slopes. During the summer, it operates as a picturesque spot known as Biwako Terrace. You can enjoy the view from two terraces: the Grand Terrace gives a view that extends over Lake Biwa from the sky and from North Terrace, visitors can see the beautiful mountains and lake.
Head to Biwako Valley's 1,100-meter summit via the Zekkei Ropeway. Be sure to enjoy the spectacular view during the ride. For more active groups, we recommend the Sky Walker and Zip Line as activities on the summit.
6. Omihachiman
Photo by Pixta
Head to Omihachiman, southeast of Lake Biwa, to learn about 17th and 18th-century history. This area once flourished as a castle town during the Edo period and still remains today.
The Hachiman-bori Canal, an artificial canal, is lined with stone walls and warehouse-style structures that give the town its traditional atmosphere. This beautiful scenery is frequently used as a filming location for historical Japanese dramas. You can take a boat ride (Hachiman-bori Cruise) that travels down the Hachiman-bori Canal.
7. Hieizan Enryaku-ji Temple
Photo by Pixta
Enryaku-ji Temple is a famous temple that is a registered UNESCO World Heritage Site. The temple was founded by Saicho, a monk during the Heian period, and has continued to function as the Tendai sect's headquarters. It is a notable sacred place for Japanese Buddhism.
The temple's buildings and structures are scattered throughout Mt. Hiei, an 848-meter mountain. The entire mountain the temple grounds. There are many things to see, including the Hokke Soji-in East Pagoda, a structure with a beautiful scarlet color, Buddhist statues that have been passed down for generations, and Buddhist paintings displayed in the National Treasure Hall.
8. Koka Ninja Village
Photo by Pixta
Koka, a city south of Lake Biwa, is a famous village where many ninjas were in the past. The Koka Ninja Village is where you can experience this mysterious life.
Fully immerse yourself in your role as a ninja and have fun in the village! Enjoy numerous tricks, like secret shortcuts and hidden doors, at the Karakuri Ninja House. Then, experience using real shuriken (small throwing blades) at the Shuriken Dojo. Of course, you can even rent a ninja costume to wear.
9. Shigaraki Pottery Tanuki Village
Photo by Pixta
The Shigaraki area in Koka is famous for Shigaraki ware. This type of pottery uses high-quality clay from the area, used to create tools such as utensils for tea ceremonies and tanuki (raccoon dog) ornaments. It is also popular in everyday tableware.
The Shigaraki Pottery Tanuki Village is a facility where you can experience making Shigaraki ware. You can make ceramics with an electric potter's wheel or decorate unglazed pottery with paints and letters.
10. Samegai-juku
Photo by Pixta
Samegai-juku is another spot that is distinct for its traditional townscape. In the old days, it was along the connecting road from Edo (Tokyo's former name) and Osaka, making the town prosperous as a post town. Edo period homes, inns, and other structures line the clear waters of the Jizo River.
Mid-May to late August is the best time to see the flowers of a water plant called baikamo in the Jizo River. The sweet, white flowers are not to be missed.
Top 3 Festivals in Shiga
Below are three must-attend festivals in Shiga Prefecture.
1. Otsu Festival
Picture courtesy of Biwako Visitors Bureau
Otsu Festival is a festival held annually in October at Tenson Shrine in Otsu. Said to be influenced by Kyoto's Gion Festival, it is known for its parade of brilliant hikiyama (festival floats). The floats, first built during the Edo period, are huge and able to hold multiple adults at once.
For the festival, all the floats will gather in front of Tenson Shrine, then parade through the streets the entire day. The sight of these brightly colored floats parading through the town is incredible.
2. Nagahama Hikiyama Festival
Photo by Pixta
Nagahama Hikiyama Festival is held every April in Nagahama. Various events are held throughout the city, but the highlight of the festival are the magnificent hikiyama and children's kabuki theater.
Picture courtesy of Biwako Visitors Bureau
The hikiyama are so unique, gorgeously decorated with traditional crafts, resembling moving art museums. The children's kabuki theater is performed on the float, making the brilliant appearances and acting of the selected actors shine. Outside of the festival event period, you can see several of the floats at the Hikiyama Museum.
3. Sagicho Festival
Photo courtesy of Biwako Visitors Bureau
Sagicho Festival is a fire festival held in mid-March by Himure Hachimangu Shrine in Omihachiman. The festivities pray for the protection of the country and a bountiful harvest. The highlight of the festival is a lively procession surrounded by Sagicho straw floats.
On the night of the final day, the Sagicho floats are burned at Himure Hachimangu Shrine in an event called the Sagicho Fire Ritual.
Gourmet Food
Omi Beef
Photo by Pixta
Omi Beef is a type of wagyu (Japanese beef) with a history of over 400 years and is one of Japan's top three wagyu brands (others include Matsusaka Beef and Kobe Beef). Omi beef has a smooth texture and a high percentage of fat.
The meat has a melt-in-your-mouth softness, delicious when prepared as steak, sukiyaki (a hot pot dish), and many other dishes. Due to its low melting point (the temperature when the fat begins to dissolve), it's thought to be easy-to-digest.
Hotels in Shiga
Staying in Otsu, a location easily accessible to and from Kyoto, is recommended. There are business hotels like Hotel Piazza Biwako and Hotel Blue Lake Otsu (Japanese) near Otsu Station.
If there are no accommodations available in Kyoto, it is recommended to stay in Otsu to enjoy sightseeing in both areas.
Access from Osaka and Kyoto
Below is how to get to Shiga from nearby cities.
Access from Osaka
You can get to JR Otsu Station from JR Osaka Station without transferring on the Tokaido Main Line's limited express train. Travel time will be 40 minutes and will cost 990 yen.
Access from Kyoto
You will also be taking JR Tokaido Main Line's limited express train from JR Kyoto Station to JR Otsu Station. Travel time is ten minutes and will cost 200 yen.
Visit Shiga Prefecture!
Shiga Prefecture, conveniently located near both Osaka and Kyoto, is home to Lake Biwa and beautiful nature, temples, and many other great places. Stop by the prefecture when in the Kansai area for an unforgettable trip.

Main image by Pixta

The information presented in this article is based on the time it was written. Note that there may be changes in the merchandise, services, and prices that have occurred after this article was published. Please contact the facility or facilities in this article directly before visiting.