Enjoy Great Shopping in Kobe! 5 Good Reasons to Visit AEON MALL Kobe Kita
AEON MALL Kobe Kita, in northern Kobe City, is an excellent facility for buying daily goods and souvenirs. It's also next to Kobe Sanda Premium Outlet, home to many luxury brand shops. In this article, we introduce all the attractive features of AEON MALL Kobe Kita.   
AEON MALL Kobe Kita: A Shopping Facility Loved by Kobe Locals
Picture courtesy of AEON MALL Corporation
When it comes to well-known shopping spots in Kobe, Kobe Harborland umie near JR Kobe Station is particularly famous.
However, MATCHA definitely wants to suggest that our readers check out AEON MALL Kobe Kita as an alternative. It's ideal for people who want to buy reasonably priced daily goods , enjoy a leisurely shopping experience, and purchase quality brand name items at discount prices.
AEON MALL Kobe Kita is located in the northern part of Kobe. It can be conveniently accessed from the popular sightseeing spot Arima Onsen, as well as from Osaka and Tokyo. Next door at Kobe Sanda Premium Outlet you can buy brand name products at great prices.
In this article, we list our five top reasons for recommending AEON MALL Kobe Kita to both Kansai Region residents as well as visitors to Japan.
1. Reasonably Priced Sweets, Daily Goods, and Cosmetics
Inside AEON MALL Kobe Kita you'll find a large-scale AEON supermarket. It's stocked with a full selection of food items and fresh produce, household goods, and cosmetics.
In particular, TOPVALU, AEON's own original brand, attracts customers with its high-quality goods and low prices.
For example their confectionery products, which are also popular as souvenirs, run the gamut from super sweet all the way to sour and tangy. Most of them retail for just 97 yen (including tax) per bag and up!
TOPVALU also has a wide selection of alcoholic beverages. The store is lined with Japanese sake and shochu, as well as a variety of gin and whiskey sours.
One of their recent best sellers is TOPVALU Premium Draft Beer, which came to the market in the spring of 2022.
This is a genuine beer that uses 100% European hops. Despite its low price, the beer has a gorgeous fragrance and rich flavor that has attracted a legion of loyal fans.
If you plan to buy your daily goods in bulk we recommend the DAISO 100 Yen Store. They have everything you need—from household goods and stationery supplies all the way to sweets, including delicious gummy candies.
The cosmetic counter at AEON MALL's DAISO is particularly popular. Among their products, the BRG Gel Nail Series allows you to easily enjoy gel nails. This top selling item features about 40 different color variations.
2. Their Shops Reflect the Latest Trends in Japan
AEON MALL Kobe Kita's appeal isn't just limited to their reasonably priced daily goods. Many specialty shops feature the latest in trend-setting fashion items and miscellaneous goods, food products, and so on.
One shop that has recently been in the spotlight is ABC-MART SPORTS, which opened in the spring of 2022. It has a complete lineup of sporty and fashionable clothing items, not to mention popular sneaker brands such as Adidas and PUMA.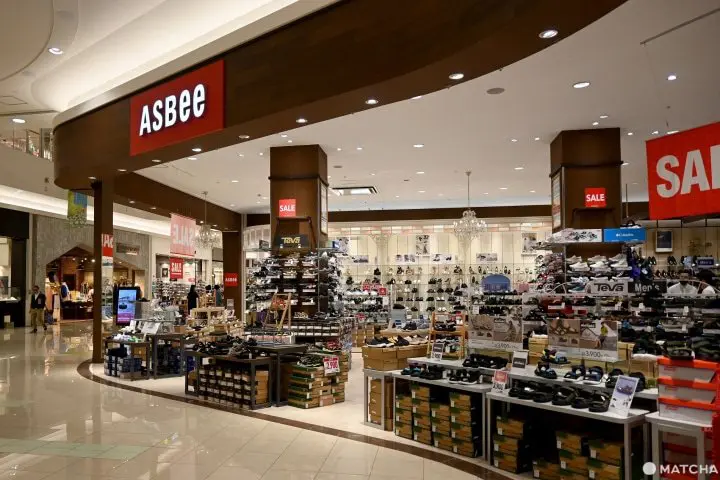 Shoppers need to check out ASBEE if they want to pick up a pair of shoes at a good price. Here you'll find a wide selection of shoes to meet your everyday needs. There are sneakers and sandals, leather shoes, children's shoes, and casual ladies shoes just to mention some of them.
The mall is filled with famous stores that make shopping even more enjoyable. For example, niko and..., a popular lifestyle shop, VILLAGE VANGUARD, which overflows with interesting and fun miscellaneous goods, and NOGAMI, a high class bakery.
Every few years AEON MALL locations undergo extensive renovations, and devise ways in which to incorporate shops offering the latest and most popular consumer products. In the future as well, visitors can look forward to seeing what kind of new and unique shops there are.
3. Located Next to Kobe Sanda Premium Outlet!
Kobe Sanda Premium Outlet is located next to AEON MALL Kobe Kita. A connecting bridge makes it easy to go back and forth between these two shopping spots.
Kobe Sanda Premium Outlet is the Kansai Region's largest outlet mall. It's characterized by the many outlet shops that sell luxury brands directly to consumers.
With more than 200 shops, there are many popular brands available including Adidas, Dyson, Seiko, and Issey Miyake.
Every two to three months, sales and discounts are held at Kobe Sanda Premium Outlet. Various shops also hold their own sales, so whenever you visit the outlet you'll find brand name items at bargain prices. Some items are even marked down by 70%!
Also, the outlet's interior is modeled after the stylish suburbs of Los Angeles. So just walking around inside will lift your spirits and put you in a fun mood.
4. A Relaxing Spot for Families with Kids and Overseas Visitors
Many shoppers take full advantage of the fact that AEON MALL Kobe Kita and Kobe Sanda Premium Outlet are conveniently located right next to each other.
It's popular to begin the day by heading to Kobe Sanda Premium Outlet for some brand name goods. Then many shoppers like to take a break and have something great to eat at AEON MALL Kobe Kita, finally picking up some daily items before going home.
AEON MALL Kobe Kita is actually perfect for enjoying a relaxed shopping experience while taking periodic breaks.
First of all, here and there you'll find comfortable sofas for taking a break when you feel tired. Also, the pedestrian walkways are wide and spacious compared to other malls. So even during peak visitor hours it doesn't feel as crowded as it normally would.
Each floor has a large baby room. Inside there are complimentary amenities such as a nursing room, a station for making baby bottles and a diaper changing mat.
There's also a helpful digital display for those moments when you get turned around inside the mall. Just tap on the screen to get the necessary information in Japanese, English, simplified Chinese, or traditional Chinese. The large screen is easy to follow and will guide you to the shop you're looking for (see above photo).
On the first and second floors of AEON MALL Kobe Kita there are restaurant zones and on the third floor there's a large food court. So it's easy to get something to eat during your shopping expedition.
The restaurant areas are characterized by a tasteful Japanese atmosphere. This is inspired by Kobe Ogocho—a traditional post town near the mall that still remains even today.
In the restaurant zones, visitors can enjoy a variety of popular Japanese dishes including ramen, sushi, and okonomiyaki.
For example, there's a Japanese-style set menu restaurant called Itto Gokoku. Plump and sweet Niigata koshihikari rice that's cooked in a kama kettle and healthy five-grain rice (gokoku-mai) are both attractive items on the menu.
In particular, the popular Inaka Teishoku Set Menu (1,408 yen after tax) consists of a miso soup chock full of tasty ingredients, as well as grilled fish, chicken and vegetables with black vinegar sauce (kurozu an), a seasonal side dish, and even dessert.
5. Just 30 Minutes From Sannomiya! Easy Access by Car
Picture courtesy of AEON MALL Corporation
AEON MALL Kobe Kita can be conveniently accessed by car.
It takes 30 minutes to get to the shopping mall from Kobe via toll highway. Since the expressway interchange (IC) is right near the mall, it's also easy to get here from Nishinomiya, Ashiya, and the Osaka area.
When using public transport, buses are very handy. From JR Sanda Station (the nearest station), it takes just 15 minutes by city bus. From JR Sannomiya Station in the heart of Kobe, a limited express bus will take you to the mall in about 40 minutes.
Inside the shopping mall there's a digital display listing the bus schedules. In addition to bus departure times, it also gives up-to-date information on bus and road delays, so this really comes in handy (see photo above).
Enjoy Arima Onsen and Golf Nearby!
From Arima Onsen - Complete Guide To Japan's Oldest Hot Spring Town

AEON MALL Kobe Kita is located close to Arima Onsen, one of Japan's leading sightseeing spots. This hot spring town has a history dating back more than 1,000 years.

In addition to traditional Japanese townscapes, visitors can also enjoy Arima's golden springs (kinsen) and silver springs (ginsen)—two categories of onsen that highlight the unique qualities of their hot spring waters.

There are also many golf courses in the vicinity of AEON MALL Kobe Kita. So after getting some exercise on a nearby course, we also recommend stopping in at the mall for a delicious meal or for some fun shopping.

AEON MALL Kobe Kita is appealing both as a shopping spot during your sightseeing trip and also as a place to pick up some household goods.

So please take advantage of everything it has to offer and make your Kobe shopping experience all the more fun and fulfilling!



Sponsored by AEON MALL
Written by Kumiko Ishigaki

The information presented in this article is based on the time it was written. Note that there may be changes in the merchandise, services, and prices that have occurred after this article was published. Please contact the facility or facilities in this article directly before visiting.