Processing Fish With Green Tea and Sake! Iiokaya Suisan in Oarai
It is a 90-minute drive from Tokyo to Oarai in Ibaraki Prefecture. This marine town is where Oarai Isosaki Shrine is located. In this article, we'll feature Oarai Seaside Station and Iiokaya Suisan, a company making seafood products using green tea and daiginjo sake.
Oarai: A Tourist Destination With a Thriving Fishing Industry
From Tokyo, it's a 90-minute drive to Oarai in Ibaraki Prefecture. This town is the home to Oarai Isosaki Shrine, which offers a stunning view, and the sacred location where "Girls und Panzer," a popular anime, is set. It has attracted a large number of overseas visitors in recent years.
Oarai is also famous for its fishing industry, where delicious seafood and processed marine products can be found.
The cold Oyashio current and the warm Kuroshio current collide off the coast of Oarai, making the area an excellent fishing ground with abundant plankton.
The town also releases baby clams and fish off the coast to preserve marine resources. Due to these efforts, fishery products such as clam, whitebait, flatfish, sardine, and mackerel are constantly caught at the Oarai Fishing Port.
Oarai Kaisen Ichiba, where visitors can taste fresh seafood, is located near the port. But those looking for souvenirs should try processed marine products, which are easier to take home.
MATCHA visited Iiokaya Suisan, a company making extraordinary dried fish using green tea and daiginjo sake. We asked about the manufacturing process and their recommended products.
Iiokaya Suisan: A Maker of Unique Processed Seafood
Iiokaya Suisan, a seafood processing company, was established in 1896. They also deal in the wholesale and retail business of their products.
While Iiokaya has developed a wide array of products, their shirasu-boshi (boiled whitebait) is a winner of the Minister of Agriculture, Forestry and Fisheries Award. The kinki-hiraki, or grilled sun-dried channel rockfish, is a recipient of the Ibaraki Prefectural Governor Award. At the same time, the yaki-hamaguri (baked hamaguri clams) received the President of Japan Fisheries Association Award. All three are their signature items.
MATCHA interviewed Masaru Sekine, the vice president of Iiokaya Suisan.
According to Mr. Sekine, the number of overseas visitors has not entirely recovered after the 2011 Great East Japan Earthquake and the COVID-19 pandemic. Currently, the company is exporting its products to Taiwan and USA, laying the groundwork for potential visitors in the future.
Regarding the manufacturing process, Mr. Sekine said that immersing the fish in saltwater is essential for making dried fish. He says, "The temperature affects both the water and the fish."
Iiokaya uses machines to keep the temperature at five degrees Celsius so as not to harm the fish and saltwater.
After being soaked in brine, the fish is dried quickly at high temperatures. The time ranges from an hour and a half to two hours. Mr. Sekine explained, "By completely drying the fish in a short time, we can bring out the umami and erase its odor, which leads to a high-quality product."
All of their products are based on unique ideas. Still, our writer was fascinated with the Ryokucha Ichibanboshi series and Daiginjo series, which employ green tea and daiginjo sake instead of salt water.
The writer sampled these rare products and the company's signature items: shirasu-boshi and yaki-hamaguri.
Amazig Flavors! Ryokucha Ichibanboshi and Daiginjo Zukuri
The Ryokucha Ichibanboshi and Daiginjo Zukuri are already hit products. They were produced during a project to create new, value-added merchandise.
In the early stages, ginger and collagen were also candidates to be used in the ingredients. But the fish either turned yellow or could not be adequately preserved during the test phases.
After a year of trial and error, Iiokaya decided to employ catechin extracted from green tea, and junmai sake. The former functions as an antioxidant, and the latter masks the fish odor, making both items popular among customers.
Our writer sampled horse mackerel from the green tea seasoned Ryokucha Ichibanboshi series.
It takes about ten minutes to prepare on the grill. The aroma of the fish is remarkable! The dish pairs well with alcohol or can be enjoyed on its own. However, the best pairing would be rice.
From the sake seasoned Daiginjo Zukuri series, we chose a thick cut of red sea bream. Although it was immersed in sake, there was no trace of alcohol, just the rich taste of sea bream.
Since it's odorless and easy to eat, this is an ideal dish for those who may not be accustomed to fish.
When preparing this product at home, it would be best not to overcook the meat and eat it while still hot. It should be heated moderately not to lose any savory fat.
Ryokucha Ichibanboshi (green tea seasoned) series: 4,980 yen (tax included)
Daiginjo Zukuri (sake seasoned) series: 4,980 yen (tax included)
Shirasu-Boshi (Boiled Whitebait)
Iiokaya makes two types of shirasu-boshi: kama-age and kachiri (*1). The shirasu (whitebait) is packed after evenly drying on a net under the sun.
*1 The kama-age type is boiled first and cooled afterward. It has a distinctive soft texture. Kachiri, on the other hand, has a drying process, resulting in a firmer texture.
Priced at 250 yen (100 grams, tax included), the product is available at the shop's direct sales store.
Shirasu-boshi, a product that won the Minister of Agriculture, Forestry and Fisheries Award, has a firm texture. Although it pairs well with rice, Mr. Sekine suggested topping the dried baby sardines over toast or pizza.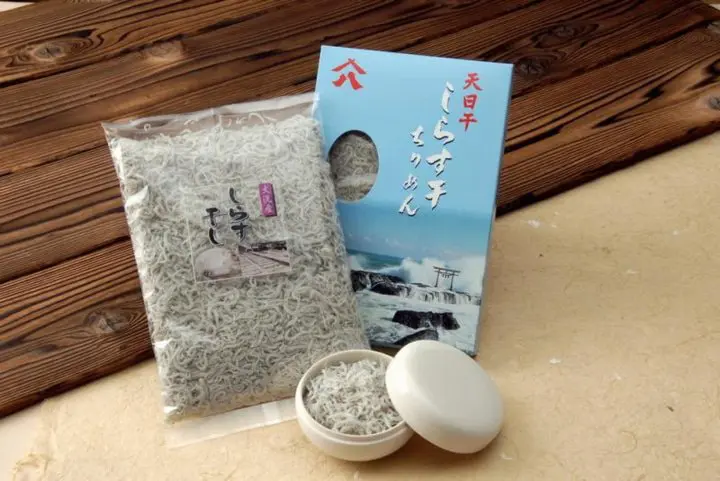 Picture courtesy of Iiokaya Suisan
It was surprising to learn that shirasu pairs deliciously with Western-style dishes!
Shirasu-boshi: 250 yen (100 grams, tax included) at the direct sales store.
The sun-dried shirasu-boshi (pictured on the right-hand side of the photo above) is sold for 600 yen (180 grams, tax included).
Yaki-Hamaguri (Baked Hamaguri Clams)
Picture courtesy of Iiokaya Suisan
Yaki-hamaguri (baked hamaguri clams) by Iiokaya is a pre-boiled product, so there is no need for additional preparation.
The clams are immersed in the company's original sweet and salty sauce, which makes them an ideal ingredient for seasoned rice. The soy sauce flavor and soft texture will be hard to resist.
Yaki-hamaguri: 200 grams 540 yen (tax included); 500 grams 1,300 yen (tax included)
Where to Buy Iiokaya Suisan Products
Iiokaya's products can be purchased at the direct sales store behind Oarai Town Hall. Umi Yama Direct Sales Center Ikiiki, located near the wholesale market, and Kaki-goya also handle the company's products.
At Kaki-goya, visitors can cook seafood such as shrimp and clams and taste them on the spot. They can choose souvenirs and sample local products as well.
Although Iiokaya does not have a mail order site, products can be purchased by phone (029-267-2839) or by fax (029-266-2588). Please note that orders can only be placed in Japanese.

Shopping and Local Food at Oarai Seaside Station
Some people may want to enjoy sightseeing and shopping in Oarai.
We suggest heading first to Oarai Seaside Station. It is a three-minute walk from the Oarai Port Ferry Terminal. Visitors can enjoy shopping and dining at this facility while experiencing the cool sea breeze.
The spacious facility is a renovated outlet mall with over 30 stores inside.
While walking around the mall and feeling the sea breeze, we arrived at Oarai Maiwai Ichiba. This store handles locally-grown vegetables and fruits along with processed seafood.
Choppiri Karai Iidako, a local specialty that received the Ibaraki Prefectural Governor Award, and Mehikari, produced by Iiokaya Suisan, can be found at this store. These products look like the perfect match for a drink, prompting some people to go on a shopping spree.
Places to Visit in Oarai
After a hearty meal, visit Oarai Isosaki Shrine, a prominent sightseeing spot.
The shrine was founded in 856, and the Kamiiso no Torii, an impressive shrine gate built on a reef, is a popular spot to take photographs.
The main shrine with its white torii gate is another eye-catching destination. The enshrined deities are believed to bless visitors who pray for the fulfillment of their relationships and the safety of their families. Fans of "Girls und Panzer," a popular anime based in Oarai, have also started a pilgrimage to this site.

Other tourist attractions near Oarai Fishing Port include Aqua World Oarai and Oarai Sun Beach's swimming area. It is also a 20-minute drive to Hitachi Seaside Park, another popular sightseeing spot in Ibaraki.

Visitors from Tokyo can enjoy a day trip or spend the night in Oarai. It might be fun to come when your favorite seafood is in season—be it clams, shirasu, or anglerfish. You'll be able to savor both local food and sightseeing spots in a single visit.

Written by nagino.an.
In cooperation with Iiokaya Suisan
Sponsored by the Reconstruction Fishery Processing Industry Market Recovery Promotion Center

The information presented in this article is based on the time it was written. Note that there may be changes in the merchandise, services, and prices that have occurred after this article was published. Please contact the facility or facilities in this article directly before visiting.