AEON MALL Okayama: One of the Largest Malls in Western Japan
AEON MALL Okayama, located in front of JR Okayama Station, is one of the largest malls in western Japan. Duty-free service is available at most shops, along with a wide variety of regional products. This is the perfect place to go shopping and enjoy local cuisine.
AEON MALL Okayama: A Five-Minute Walk from the Station
AEON MALL Okayama is connected to the Korakuen gate of JR Okayama Station via an underpass.
Those exiting from the east gate should turn right. You won't miss the AEON MALL signage.
This facility is one of the largest malls in the Chugoku region, which includes Hiroshima Prefecture. There are around 300 shops inside.
When the mall reopened in 2022 after renovations, Hobby Zone, which specializes in model kits, opened its first branch in Okayama Prefecture. There are around one hundred newly renovated shops, including TOYS SPOT PALO, a company handling capsule toy machines. The mall has become more attractive than ever.
About 40 shops offer duty-free services, so this mall is an ideal shopping ground for international visitors.
The following are two budget-friendly shops handling special clothing and general merchandise.
SENSE OF PLACE by URBAN RESEARCH
SENSE OF PLACE by URBAN RESEARCH is a popular brand among the younger generation.
The shop handles the latest clothing, bags, shoes, and accessories for men and women at affordable prices. Duty-free service is also available, so customers can fulfill their needs from head to toe.
salut!
Another popular shop among the youth is salut!. They handle general merchandise that changes seasonally to liven up your daily life. The name of the shop means "hi" in French.
Famous Japanese Brands
The following are internationally famous brands. While some have shops overseas, the stores at AEON MALL Okayama will be showcasing new products, so don't forget to take a look. Duty-free service is also available for international customers.
Nakagawa Masashichi Shoten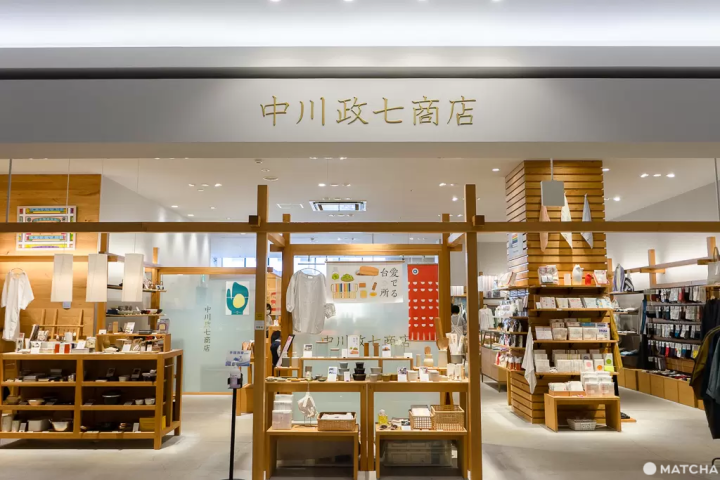 Nakagawa Masashichi Shoten, established in 1716, has become a prominent brand in Japanese craftwork.
The shop inside AEON MALL Okayama is one of the larger locations, handling a wide array of products.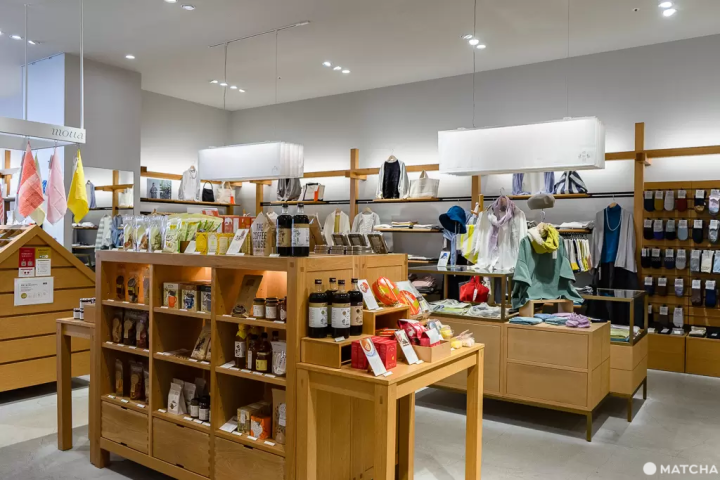 The company handles clothing nurtured by Japanese-style living and tableware that fits any dining room. They also offer daily items such as motta, a handkerchief brand, and 2&9 (Nitokyu), a lineup of socks.
These items offer inspiration for a better living.
3COINS + plus
3COINS + plus is a general merchandise shop. All items are priced moderately, designed adorably, and easy to use. Many customers are lured inside by the signage.
Transparent milk cartons, various infant items, and carefully chosen food products are popular items.
The charming items, designed with the latest fashion trends in mind, are priced moderately. This is why customers of all ages visit the shop.
The shelves at the AEON MALL Okayama shop are adequately spaced, making it easy to walk around. The items are sure to make your days much brighter.
URBAN RESEARCH Store
This shop mainly handles items by URBAN RESEARCH, a Japanese brand known for its distinctive quality and creativity.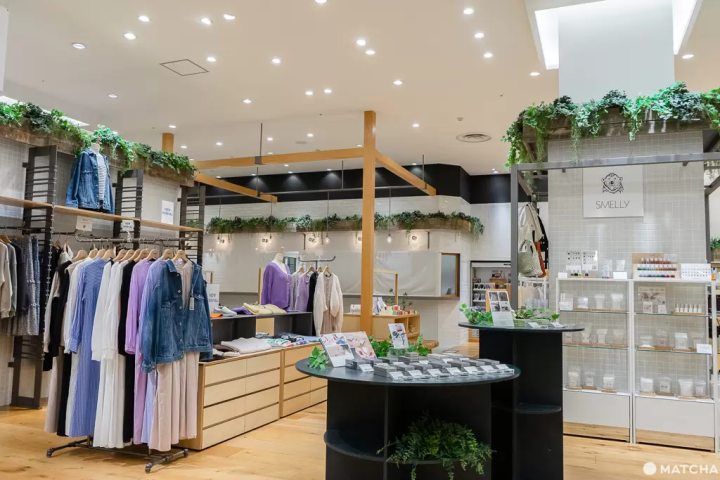 There is clothing for various age groups and gender, along with items for daily use. Duty-free service is also available, so try looking for an item that fits your taste.
& chouette gallery
& chouette, an affiliate of Samantha Thavasa, is a popular Japanese bag brand.
The simple and chic designs are available in various colors.
& chouette gallery is perfect for choosing a gift for someone special or a bag of your own.
Those with a limited budget and indecisive about which bag to purchase should remember that duty-free service is available at this shop.
Local Products Galore
Well-known for its delicious fruit, Okayama is also famous for its crafts and well-designed general merchandise.
Those looking for Okayama products should head to the supermarket inside AEON STYLE on the first floor of AEON MALL Okayama. Alternatively, we recommend heading to Haremachi Tokku 365 by Town Joho Okayama-Osera on the second floor.
AEON STYLE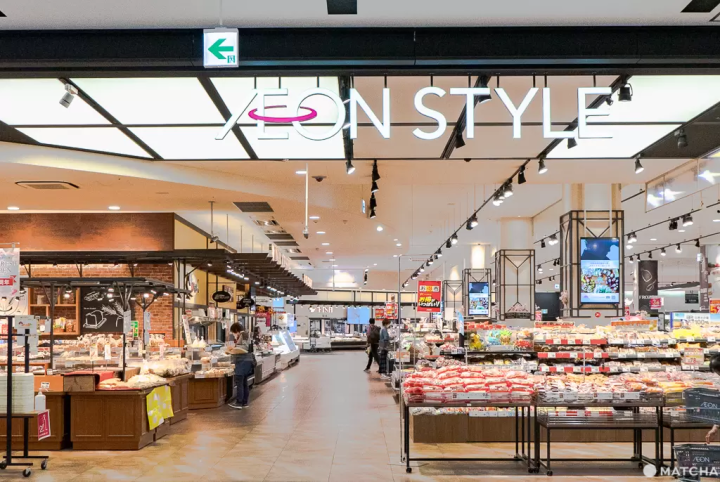 Aeon Style consists of four floors: a supermarket handling food and beverages, along with a drug store (first floor), a clothing and accessories shop (second floor), a living ware shop that handles furniture and bedding (third floor), and a shop for children's goods (fourth floor).
Those specifically searching for Okayama items, whether a snack or souvenir, should look for products labeled "Bokke Ume" (*) with a yellow stripe. The lineup includes vegetables, fruit, ice cream, biscuits, confections, and craft beer with an Okayama twist.
*: "Bokke" is an Okayama dialect meaning "very." "Bokke Ume" translates to "very delicious."
Haremachi Tokku 365 by Town Joho Okayama-Osera
Haremachi Tokku 365 was named after the catchphrase "Hare no Kuni Okayama" ("Okayama, the Sunny Region") often used in the travel business. The shop handles daily-use items by local manufacturers that are fun, delicious, and cute.
There are crafts produced by various companies, groups, and artists based in Okayama. The shop also handles confections and food, along with exclusive items only available here.
These items are sure to brighten anyone's daily life.
Recharge Your Energy with Western Japanese Cuisine
Fast food eateries are located from the second-floor basement to the second floor of AEON MALL Okayama. Haremachi Kitchen, a food court, is situated on the fourth floor. Various restaurants are located at Haremachi Diner on the sixth and seventh floors. All types of restaurants, from national franchises, diners from western Japan, and eateries serving Okayama cuisine, are lined up in the mall.
The menu for small children can be viewed on the official website. Please note that the pages are only available in Japanese.
Haremachi Kitchen
At Haremachi Kitchen, the famous eateries are laid out in a cafeteria style. Restaurants include Gyukatsu Uemura, specializing in beef cutlets, and Gyukaku Yakiniku Shokudo, a new type of restaurant managed by Gyukaku, the popular yakiniku (grilled meat) franchise.
There is also Bukkake Furuichi, a fashionable udon restaurant in Okayama and Kurashiki. The eatery won the All-Japan udon contest twice in a row, so customers frequently form a long line.
There is even a counter serving Doppo, a craft beer made in Okayama, so visitors can enjoy a drink at this food court.
Haremachi Diner
Haremachi Diner, consisting of restaurants on the sixth and seventh floors, features cuisine from nearby areas, such as the Setouchi region, Kochi Prefecture, and Fukuoka's Hakata Ward. There are all kinds of dishes, from Chinese and Italian to Japanese, so there will be something for everyone.
Each restaurant is laid out spaciously, designed in a chic style with numerous food samples. The dining experience is no different from eating at a restaurant outside the mall.
Nikusho Matsuya
Nikusho Matsuya, located on the seventh floor, is an affiliate of Matsuya Group, which is based in the Kansai region and specializes in eateries serving meat dishes.
The group was founded in 1961 and became famous for its quality cooking and ingredients.
The popular menu item at Nikusho is the harami (diaphragm). Matsuya Group has promoted harami from the start, even receiving the Ministry of Agriculture, Forestry and Fisheries Award for its high quality.
Nikuya Matsusho has a special sauce made from various natural ingredients.
First, dip the savory meat in the sauce. Then place it on top of chewy rice mixed with grains and nori (dried laver). It will be a dish that steals your heart.
The layout of the restaurant is also attractive. There are semi-private rooms, allowing customers to dine in an elegant ambiance.
Enjoy Shopping in Okayama!
AEON MALL Okayama is a rare shopping facility managed by Aeon Group. Since it is located in an urban area, customers can easily access it from a train station.

This is a perfect place to stop by on a trip to Okayama, whether shopping for a popular clothing brand and local crafts or savoring regional cuisine.



Sponsored by AEON MALL

Written by Lin

.

The information presented in this article is based on the time it was written. Note that there may be changes in the merchandise, services, and prices that have occurred after this article was published. Please contact the facility or facilities in this article directly before visiting.