Visiting Japan In Winter 2017-2018: Temperatures, Clothing, Travel Tips
If you are planning to visit Japan in the winter, read this article for information on weather, average temperatures and what to wear in the cold months. Recommended winter activities, snow festivals, and other travel tips are also introduced here.
The Highlights of Winter in Japan
Naturally, if we are talking about sights in winter, natural landscapes never fail to capture our hearts. The sight of entire vistas glittering white with freshly piled snow will both refresh and enthrall you. However, such scenes do not just occur everywhere in Japan. In fact, in big cities like Tokyo, Osaka, and Fukuoka, snow is a rare sight.
Hokkaido is the first area to experience snowfall in Japan, with the first snowflakes drifting down beginning at the end of October and early November. In the areas of Aomori, Akita, and Iwate, snow begins to fall from early November to mid-November, while in the areas of Yamagata, Miyagi and Fukushima, it will start falling from mid-November into late November.
In places such as Niigata, Toyama, Ishikawa, Fukui and Nagano, it begins snowing from late November to early December, so you can enjoy the scenery then.
Even in regions where snow does not tend to pile up, you can find snowy landscapes if you head towards the mountains. For example, snow is very rare in Kyoto itself but places like Kinkakuji Temple, Ginkakuji Temple, and Kifune Shrine are famous for their snowy backdrops in the winter. The combination of temples and gardens is particularly gorgeous, and many tourists come to Japan during wintertime just to enjoy these evocative scenes.
Winter Sports and Snow Festivals
Picture from 5 Ski Resorts You Can Enjoy on a Day Trip from Tokyo
Japan is mountainous country, which means it's an ideal environment for winter sports such as skiing, snowboarding, skating, and snow trekking.
You can find excellent ski resorts near Tokyo or you can enjoy a few days in Hokkaido, the most popular destination for exciting winter activities.
Picture from Six Winter Snow Festivals You Must Check Out In Japan!
Gorgeous snow festivals are being held at various locations in eastern and northern Japan. They all contain extravagant displays of buildings and statues made completely out of snow and ice, which are illuminated at night, creating a wonderful landscape that can be enjoyed only during this season.
Each festival has various events that attract many visitors from all around the country. The tasty hot local dishes available at the yatai food stalls are themselves one of the attractions at these events.
Enjoy the Winter Landscape from a Hot Spring!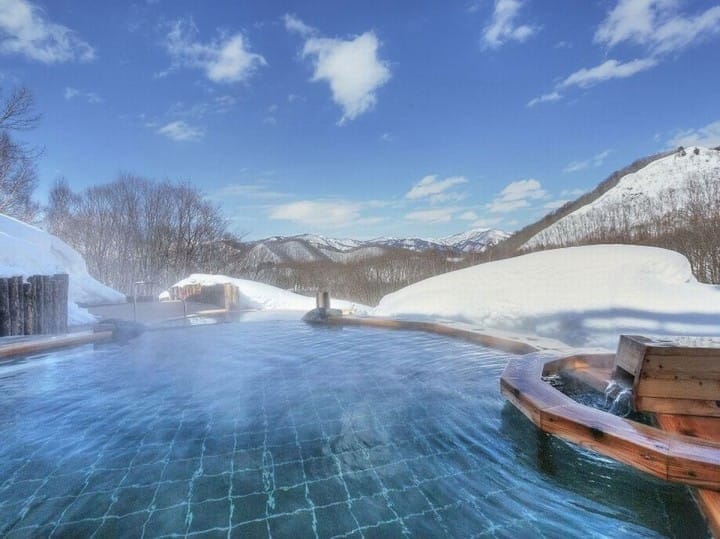 Picture from Minakami Onsen - Great Hot Springs Near Tokyo! Recommended Inns
Winter is also the best time to appreciate hot springs. There's nothing like warming up by taking a hot bath in thermal water. Moreover, many hot spring resorts in the mountains offer open-air baths with wonderful views. Minakami Onsen in Gunma or Nozawa Onsen in Nagano are just two of these place where you can enjoy the amazing experience of taking a bath while gazing at the snowy landscape outside.
Enjoy Your Winter Trip to Japan!
The Japanese winter is cold, but there are so many things that can only be enjoyed during this time: hot spring baths, hot pot dishes, snow-covered scenery, New Year events, and many more. Make sure to dress warmly and head out to experience everything that the season has to offer.