All You Need to Know About Using and Buying Electronics in Japan
We have compiled some basic information on electric plugs in Japan, and on what kind of adapters and converters are needed in order to use electronic devices during your trip.
While traveling around Japan, you have probably stopped to charge your cellphone or smartphone on more than one occasion. Also, you probably needed to carry around camera batteries, adapters or other such items with you. Electricity plugs in Japan though, have a different shape, and work on a different voltage that those of other countries, which might cause confusion among some travelers.
We will introduce here some useful information, such as what you should be careful of when buying electronics in Japan, as well as details on the Japanese electricity system.
Types of converters and adapters
Image from: Vault Coffee, an Akihabara cafe where you can charge your electronics and use WiFi for free
Electric plugs used in Japan are called A Type sockets. As you can see in the picture above, they have a long rectangular shape with the two slits lines up next to each other. This type of outlet is also used in Taiwan, Thailand, Vietnam, parts of South East Asia, America, Canada, and some parts of Central America. If you've brought devices with you that have a different type of plug, then you will need to get a plug converter which will convert the type of plug you are currently using, to an A type plug.
The output of Japanese electrical outlets is 100 V, which is lower than a fair amount of other countries, which means that even if you have the right plug, you might still need a voltage converter. Recent smartphones, digital cameras, and computers are built to overseas standards and automatically adjust to the different voltage, so there's also the possibility that you might not need a converter.
Iaage from: 東京でバリのようなリゾート空間。日本に着いた日には豪華なカプセルホテル「安心お宿」でひと休み(MATCHA article, Japanese)
Did you know that the Kantō and the Kansai areas use different electric frequencies (the number of electromagnetic waves, also known as Hz)? This is because when use of electricity was first getting popularized in Japan, from the late 19th century to early 20th century, Japan's electricity was handled by two different countries: Japan, and Germany. In Kantō they use 50Hz, while in Kansai they use 60Hz※. Japan-made electronic goods are good for use with both frequencies, but it certainly doesn't hurt to check the frequency before using your electronic device.
※Places like Niigata prefecture's Itogawa and Shizuoka prefecture's Fujiyama have areas where both 50Hz and 60Hz are used.
Should You Take Along Adapters With You?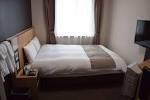 Photo from: Experience Japanese Hospitality at "Dormy Inn", Ueno
We would say that it might be a good idea for you to take your converter with you. Some hotels might have the devices you need, but they probably have a limited quantity, and you might not be able to use them when you need to.
While that may be the case, maybe you weren't able to finish preparations on time, or maybe you weren't sure exactly of what to buy. If you're looking to buy a converter while traveling in Japan, where would be the best place to purchase one?
Where to Find Voltage Converters in Japan
Photo courtesy of: Shinjuku's Top 5 Recommended Electronics Stores for Tourists
We can say with almost 100 percent confidence that large electronics retail stores in the inner city area will have adapters and converters which can be used within the country. Shops which we have already mentioned on this site, such as Bic Camera, Yodobashi Camera, Yamada Denki, and other electronic retail stores have not only English and Chinese speaking staff, but stores with multi-lingual speaking staff, as well as a Duty Free counter.
Things to Look Out For When Purchasing Electronics
Image from:  家電と衣料品が買える店!?新宿の新名所「ビックロ」の魅力とは (MATCHA article, Japanese)

Japanese electronics, which are well known for their functionality, boast an immense popularity as souvenirs. The large electronic retail stores in the metropolitan areas feature items geared for overseas use, and even corners dedicated to these kinds of products. When purchasing Japanese electronics, make sure to first check out the electrical plug type, and what voltage the product requires. You can probably find products which you can use outside of the Japan without having to use a converter.

Also, when using products which need a converter, make sure to check the capacity of the converter (electricity consumption, measured in W, for watts) before using the device.

The information presented in this article is based on the time it was written. Note that there may be changes in the merchandise, services, and prices that have occurred after this article was published. Please contact the facility or facilities in this article directly before visiting.