Hieizan Day Trip: Buddhist History, Traditional Food, and Relaxation in Kyoto's Mountains
This service includes sponsored advertisements.
A day trip to Enryakuji Temple on Mt. Hiei near Kyoto reveals a special destination with profound history and spiritual significance. From savoring an authentic Buddhist vegetarian feast to meditation and cultural activities, all visitors will be delighted by the charms of Hieizan.
A Day of Relaxation, History, and Delicious Cuisine on Mt. Hiei
Photo by Pixta
Picture exchanging a day filled with the busy pace of city life for a day immersed in the tranquility of nature, history, and self-reflection. Mt. Hiei, also known as Hieizan, is just northeast of Kyoto and beckons those seeking respite in the great outdoors.
Home to Enyrakuji, a prominent Buddhist temple designated as a UNESCO World Heritage Site, Mt. Hiei draws visitors from all over the world and Japan. Ideal to visit on a day trip from Kyoto or Osaka, visitors to the temple will be thrilled to experience the1,200-year-long history, beautiful architecture, and cultural and spiritual importance––all while surrounded by lush forests and sweeping views of the valley of Kyoto to the west, and Lake Biwa to the east.
A Brief History of Enyrakuji Temple
Buddhist monk Saicho (767 - 822) originally founded Enyrakuji in 788. Established as the head temple of the Tendai sect of Buddhism, which places emphasis on the potential for all people to achieve enlightenment, the temple quickly became a center for education. The temple flourished particularly throughout most of the Heian period (794 - 1195) in Japan, exercising its spiritual, political, and academic influence.
Enraykuji is also known for training notable monks who went on to found other Buddhist sects, including Pure Land Buddhism (Jodo Shinshu), Soto Zen, and Nichiren Buddhism. The temple is also known for its literature, architecture, and science teachings. To this day the temple still carries out Buddhist training for monks and an important role in educating the public.
Things to Do at Enryakuji
Enyrakuji Temple's grounds are expansive and there is much to explore. In addition to touring around the main temple halls, and enjoying the lush forests and wildlife, visitors can take part in a number of immersive activities for a full day of fun and immersion.
1. Savor Authentic Buddhist Cuisine
Monks at Enryakuji Temple adhere to a traditional Buddhist cuisine known as shojin ryori, vegetarian dishes typically eaten by monks during their training.
The dishes here feature a balance of fresh, seasonal vegetables, tofu and soy-based ingredients, as well as fermented foods.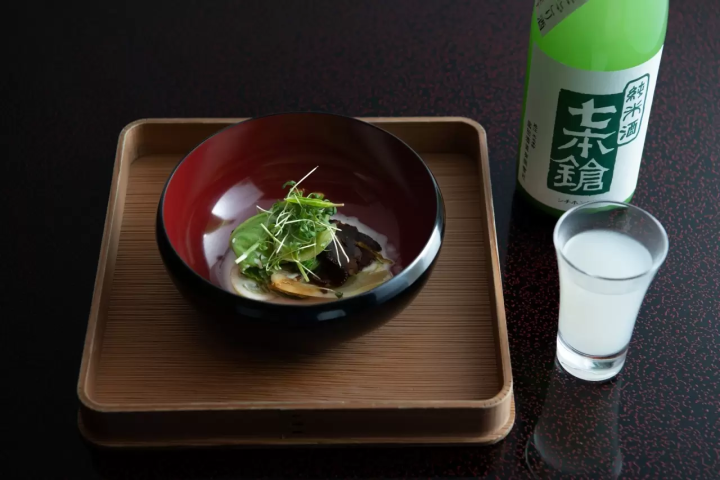 Shojin ryori also incorporates certain colors, flavors, and a variety of cooking methods, like roasting and steaming, providing diners with a well-balanced, nutritional meal.
Please note that visitors with special dietary concerns and allergies should inquire directly to confirm specific ingredients and meal preparation methods.
2. Practice Zen Meditation
Looking for a breath of relaxation and self-reflection? Visitors can enjoy a session of authentic Zen meditation at Enryakuji. The sessions include plenty of instruction and guidance, making it easy for first-time participants.
Each participant will receive a red candle placed on a wooden tray at the beginning of the session meant to improve focus and breathing to help clear the mind and increase focus on self-discovery. The meditation session begins when the monk lights these candles from the Fumetsu no Hoto torch, an inextinguishable light that Konpon Chudo Hall is famous for. During this special meditation session, participants face an expansive window that reveals the calming and beautiful nature of the temple's surroundings. The session concludes when the candles burn out naturally.
Throughout the session, the monk in charge will guide each participant to practice meditation at a level that is comfortable for them. All are encouraged to try this special session no matter if they have previous experience or not with Zen meditation.
3. Walk a Day in a Monk's Shoes
Throughout the 1,200 years of history at Enryrakuji, monks training here have worn waraji sandals, traditional sandals out of straw secured by laces that are secure around the wearer's feet. During special training, monks strap these lightweight sandals on and walk an average of about 30 kilometers (approximately 19 miles) around the mountainous temple grounds each day, offering prayers at sacred sites along the way. Monks today at Enryakuji Temple still carry out this practice.
Photo by Pixta
Visitors on a day trip can experience a less physically demanding version of this training by putting on waraji sandals themselves and feeling what it's like to stroll around the mountain paths at Mt. Hiei. Waraji sandals are very lightweight and typically only last for about 24 hours before they wear down, but they are more comfortable to walk in than geta and traditional footwear worn with kimono.
How to Get to Mt. Hiei and Enryakuji Temple
It takes about an hour and a half via public transport from Kyoto Station to get to Enryakuji, or less than one hour via car, depending on traffic conditions.
Those traveling via public transport should ride to Keihan Sakamoto-Hieizanguchi Station or Eizan Yase-Hieizanguchi Station. From there, visitors can take a cable car up the mountain. Keep in mind that the temple grounds are expansive and spread apart. There is a shuttle bus that operates that will take visitors between the different areas.
Check out this website for more information on access and getting around Mt. Hiei.
Take a Day Trip to Mt. Hiei
Exploring the highlights of Mt. Hiei's Enyrakuji on a day trip is a fantastic way to enjoy time away from the bustle of everyday life. Mt. Hiei is a destination that reveals a thoughtful and less explored side of Japan, filled with rich history and spiritual significance that will provide visitors with calm and opportunity for introspection. In addition to admiring the temple's pristine grounds and majestic forests, there are many activities visitors can partake in, from enjoying an authentic Buddhist vegetarian meal to meditation and trying on traditional waraji sandals.
Those interested in participating in the activities mentioned in this article should contact the Hieizan Tourism Restart Association via email at info@hiei-kanko.com, or contact Enryakuji Temple directly.
Written by Jasmine Ortlieb
Sponsored by the Hieizan Tourism Restart Association
Main image by Pixta
Pictures courtesy of ONESTORY unless noted otherwise
Written by

MATCHA's promotional account for corporate and local government advertising. We aim to provide useful information to our readers in an enjoyable manner.

The information presented in this article is based on the time it was written. Note that there may be changes in the merchandise, services, and prices that have occurred after this article was published. Please contact the facility or facilities in this article directly before visiting. Some of our articles contain affiliate links. We kindly ask our readers to exercise careful judgement when making a purchase or booking a service online.